BISO Home > USNMO/IIASA Homepage > IIASA History
About iiasa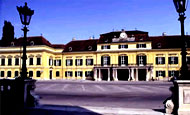 The International Institute for Applied Systems Analysis (IIASA), an international research organization near Vienna, Austria, conducts inter-disciplinary scientific studies on environmental, economic, technological and social issues in the context of global change. IIASA researchers utilize state-of-the-art methodology and analytical approaches in providing non-political and unbiased perspectives to decision-makers and the scientific community.



About the USNmo
The U.S. National Member Organization for IIASA (USNMO/IIASA) is charged with actively participating in the governance of the Institute through participation on the IIASA Council and direct interaction with the Directorate and guides the IIASA research program in ways that will maintain its quality and relevance to U.S. research and policy concerns. The national committee is also tasked with increasing participation in and awareness of IIASA by Americans in academia, government, industry, and non-governmental organizations as a liaison to the U.S. science, technology and policy communities. The USNMO/IIASA represents the National Academies of Sciences, Engineering, and Medicine as a National Member Organization to IIASA.
IIASA History
IIASA History Documents
Core support for USNMO/IIASA is provided by the National Science Foundation under Grant No. 1663864, with policy involvement of the Office of Science and Technology Policy, the Department of State, the Department of Energy, the Department of Commerce (NOAA), the USDA Forest Service, and the Environmental Protection Agency. Any opinions, findings, and conclusions or recommendations expressed in this material are those of the author(s) and do not necessarily reflect the views of the National Science Foundation.

To comment on this webpage or report an error, please send feedback to the
BISO Site Manager
.