BISO Home >USNC/Cr Homepage > USNC/Cr Background


About the Union



The International Union of Crystallography (IUCr) is an International Scientific Union that strives to promote international cooperation in crystallography and to contribute to all aspects of crystallography, to promote international publication of crystallographic research, to facilitate standardization of methods, units, nomenclatures and symbols, and to form a focus for the relations of crystallography to other sciences. IUCr is a member of the International Council for Science (ICSU).


About the USNC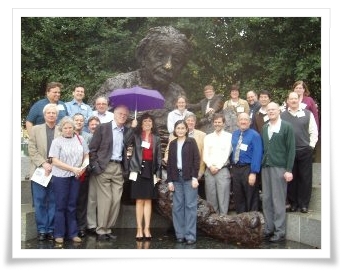 The U.S. National Committee for Crystallography (USNC/Cr) represents U.S. crystallographers in the International Union of Crystallography (IUCr) through The National Academies' National Research Council. The USNC/Cr promotes the advancement of the science of crystallography in the United States and throughout the world. Crystallography is a key tool for a variety of fields in biological and physical sciences. The USNC/Cr brings together crystallographers across these broad spectrums of fields and promotes the intellectual vigor and diversity of the crystallographic community through activities and issues in interdisciplinary research, research resources and facilities, education and travel support, Crystallographic databases, and publication standards and ethics.
By representing the broad U.S. crystallographic community, the USNC/Cr also serves a unique role in bringing together crystallographers with a wide range of perspectives. This role is increasingly important for maintaining a high level of professionalism in a community that spans several disciplines and professional societies and that needs communication and coordination internationally. The USNC/Cr will continue to seek to represent crystallographic leaders in the areas of biochemistry, structural biology, pharmaceuticals, materials research (including both amorphous materials and metals), surface studies, mineralogy, inorganic chemistry, powder diffraction, and crystal growth. Maintaining the vitality of crystallography is important to several university departments advancing science.
The Committee's primary functions are:
To inform crystallographers in the United States concerning the activities of the IUCr.
To advise the President of the National Academy of Sciences on matters pertaining to U.S. participation in the IUCr.
To nominate to the National Research Council persons to represent the crystallographers in the United States as delegates to the General Assemblies of the IUCr and other meetings sponsored by the Union.
To provide information and guidance for such delegates.
To plan and sponsor scientific meetings in the United States in consonance with the objectives of the IUCr.
To perform such other duties as are required of national committees of adhering countries under the statutes of the IUCr.
To take any other action directed toward the benefit and advancement of the science of crystallography in the United States and throughout the world.
This material is based upon work supported by the National Science Foundation under Grant Number PHY-1318107. Any opinions, findings, and conclusions or recommendations expressed in this material are those of the author(s) and do not necessarily reflect the views of the National Science Foundation.

To comment on this webpage or report an error, please send feedback to the
BISO Site Manager
.