BISO Home > USNC/Cr Homepage > USNC/Cr Activities and Events


PAST ACTIVITIES AND EVENTS

2018 and 2017 ACA Summer Schools
The 2018 ACA Summer Course in Chemical Crystallography was held from June 10 to June 17 at the University of Notre Dame. The course organizers were Charlotte Stern (Northwestern U), Christos Malliakas (Northwestern U), Allen Oliver (U Notre Dame), and Amy Sarjeant (CCDC). Thirty students and twelve instructors attended the 2018 summer course, which was sponsored by the ACA, the USNC/Cr, Bruker AXS, CCDC, the Pittsburgh Diffraction Society, MiTeGen, and Rigaku Americas.

In 2017, the summer school was held from June 25 to July 2. There were 26 attendees from across the globe, including Canada, South Korea, Uruguay, Venezuela, and the U.S., from academia and industry. Eighteen faculty experts in the field of either or both single crystal and powder diffraction led the sessions. Together, students and instructors collected 18 successful single crystal data sets and a number of powder diffractograms as well. Overall, the course was very well received by both students and instructors. The summer course has already proven to promote networking among all that are involved. As in past years, publication of collection diffraction data was encouraged during the course with a request that an acknowledgment to the ACA summer course be included.

For more information, please see the course website: http://acasummercourse.net.

American Chemical Society International Year of Crystallography 2014 Webinars
In honor of the International Year of Crystallography 2014, the American Chemical Society (ACS) has hosted several crystallography-related webinars. These webinars include "Advances in Macromolecules: Perspectives and Applications," which was hosted on October 9. In this webinar, Dr. Greg Petsko discussed the scope and limitations of structural methods in the quest to combat Alzheimer's, as well as other neurodegenerative diseases. On May 15, USNC/Cr ex-officio member, James A. Kaduk, and former USNC/Cr secretary, Cora Lind-Kovacs, participated in the webinar "Crystallography Frontiers: How Chemistry Reveals the Wonder of Everyday Materials." This webinar's topics included insights into structure and how function follows form, as well as the importance of crystallography in the analysis of everyday materials. This event was co-produced by the American Crystallographic Association Ad Hoc Task Force for the International Year of Crystallography 2014.

International Year of Crystallography Celebrated at 2014 USA Science and Engineering Festival
In April, 2014 the third USA Science and Engineering Festival was held in Washington, DC to promote STEM education. Approximately 325,000 people participated in the event. Many of these participants learned more about the 2014 International Year of Crystallography (IYCr) at the RCSB Protein Data Bank exhibit. The exhibit included interactive and educational materials for young children, teenagers, and adults. More details on IYCr's activities, can be found on the IYCr 2014 website.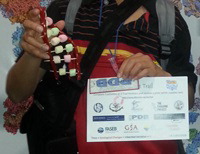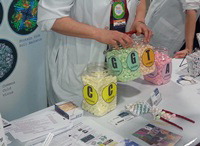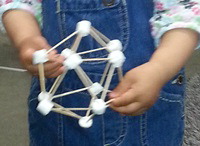 Crystallography in the University Curricula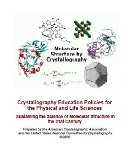 The USNC/Cr, in collaboration with the American Crystallographic Association (ACA) authored the 2006 white paper Crystallography Education Policies for the Physical and Life Sciences: Sustaining the Science of Molecular Structure in the 21st Century. The policy document explores how crystallography fits into the undergraduate curriculum for different disciplines and steps that can be taken to engage K-12 students in the field. Presentation posters related to this project were presented at several regional meetings at various scientific societies. Support for this project was received from private funds. Download 2.5MB PDF of this paper.


IYCr2014 Video Contest Winners Announced


In order to draw in younger students to the wonders of crystallography, a Video Contest was held for K-12 students in the US and Canada. The USNC/Cr supported this contest using private funds. The contest was set up as a Facebook Page where teachers or other school officials could upload videos produced by their students celebrating some aspect of crystallography. The contest was advertised on the IYCr2014 websites and through mass-mailings to various teacher mailing lists.

There were 8 videos posted to the site, all from US based schools. Though this was a much smaller response than was hoped for, the videos were viewed by many individuals and many viewers left comments on the Facebook page. The third place video was viewed by well over 2,000 people! The page will be kept active so that people can continue to view the videos.

Prizes were awarded for the following videos, with links to the videos themselves included:
Honorable Mention Prizes ($50 x 2) are awarded to Black Pine Circle School for Sam W's crystallization experiment video, and Jane, Abe and Daniel's video on scanning paper samples at the ALS.
Impact of 2014's International Year of Crystallography


In 1912 Max von Laue showed that X-rays were diffracted by crystals, and in 1913 W. H. and W. L. Bragg demonstrated that the diffraction of X-rays can be used to determine the positions of atoms within a crystal. These groundbreaking experiments mark the birth of modern crystallography. The International Union of Crystallography (IUCr) marked the centennial of these events by declaring 2014 the International Year of Crystallography (IYCr2014).

the International Year of Crystallography website

.

As part of the IYCr2014, the USNC/Cr held a "Crystallography World of Wonders" (CWOW) workshop for teachers at the 2014 ACA meeting. CWOW produced another two workshops at NSTA meetings in Boston and Long Beach, as well as a crystal growing contest for American high school students.

The importance of crystallography for chemistry and a variety of other scientific fields was highlighted in an article by

USNC/IUPAC

members Julia Chan, Jennifer Aitken, and Susan Latturner. Their article, "

Celebrating Crystallography

," can be found in Volume 92 of Chemical and Engineering News.





Open Access Crystallography: 3D Print Files


Through private funds, the USNC/Cr has supported a project to make interactive 3D visualizations of crystal structures and morphologies accessible to the public. Portland State University's Nano-Crystallography Group website can be utilized to create classroom demonstrations in introductory materials science and engineering courses, as well as in introductory nano-science and nano-technology courses. All of the crystallographic data featured can be freely accessed by anyone. For more details, please visit

Portland State University's Nano-Crystallography Group website

.
This material is based upon work supported by the National Science Foundation under Grant Number PHY-1318107. Any opinions, findings, and conclusions or recommendations expressed in this material are those of the author(s) and do not necessarily reflect the views of the National Science Foundation.

To comment on this webpage or report an error, please send feedback to the
BISO Site Manager
.