Past Activities and Events
IUGG Early Career Scientist Awardees
On November 5, 2014, ten scientists were given IUGG Early Career Scientist Awards for their outstanding research in Earth and space sciences and for their international research cooperation. The USNC/IUGG would like to congratulate the two awardees from the United States: Gregory Foltz (Oceanography) and Ben Kravitz (Atmospheric Sciences). The awards will be presented at the 26th IUGG General Assembly in Prague, Czech Republic, during an Honor ceremony. For more details, please consult the IUGG news release (PDF).

New Ice-Snow-Water Workshop Report: Motivating Research on the Science Communications Front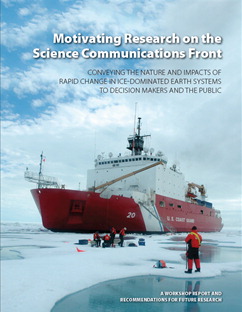 In November 2014, the World Bank hosted an international workshop entitled "Communicating the Science and Impacts of a Fundamental Earth System Change with a Focus on Ice-Snow-Water." This workshop, sponsored by NSF, the World Bank, the City University of New York, UNESCO IHP, and Vox Naturae of Iceland, concluded that extensive research on science communication is imperative. The workshop report suggests an interdisciplinary approach combining mathematics, anthropology, and the social sciences in order to better understand how belief systems affect public and stakeholder views on climate change.

Contributors to the workshop report include Jennifer Francis (Rutgers), who spoke at the 2014 AAAS symposium Santa's Revenge, and USNC/IUGG members Michael McCracken (The Climate Institute) and Tad Pfeffer (University of Colorado, Boulder). The complete report is available for PDF download here.

American Meteorological Society Policy Program presents Summer Policy Colloquium


Each year, the American Meteorological Society Policy Program brings a select group of graduate students and professionals to Washington, D.C. for an intense, ten-day immersion in atmospheric policy. The most recent colloquium was held June 1-10, 2014. More details can be found on the AMS Summer Policy Colloquium website.

National Academy of Sciences, Royal Society Release Joint Publication on Climate Change
On February 27, 2014, the U.S. National Academy of Sciences and the Royal Society, the national science academy of the U.K., released a joint publication that explains the clear evidence that humans are causing the climate to change, and that addresses a variety of other key questions commonly asked about climate change science. For more details and a link to the full report, please consult the Climate Change: Evidence and Causes press release.

America's Geologic Heritage Meeting Summary
In 2013, the Board on International Scientific Organizations of the National Academies convened the America's Geological Heritage Invitational Workshop in Denver, CO. The workshop was sponsored by the American Geosciences Institute (AGI), the Geological Society of America (GSA), the National Park Service (NPS), and the Colorado Geological Survey (CGS). A full meeting summary is available here (PDF).
SYMPOSIA AND PRESENTATIONS
February 15, 2014 AAAS Session: "Santa's Revenge: The Impacts of Arctic Warming on the Mid-Latitudes"

---
December 12, 2013 AGU Session (PDF): "Science Diplomacy in the Geosciences"

---
February 15, 2013 AAAS Session: "U.S. Climate and Weather Extremes: Past, Present, and Future"

---
December 7, 2012 AGU Town Hall (PDF): "International Geoscience"

---
February 19, 2012 AAAS Session: "Causes and Effects of Relative Sea-Level Changes in the Northeast Pacific"

---
February 17, 2012 AAAS Session: "Toward Stabilization of Net Global Carbon Dioxide Levels"

---
February 20, 2011 AAAS Session: "The Practice of Science Diplomacy in the Earth Sciences"

---
February 19, 2010 AAAS Session: "Dust in the Earth System"

---
December 17, 2009 AGU Poster Sessions: "Extreme Natural Hazards: Risk Assessment, Forecasting, and Decision Support"

---
February 16, 2009 AAAS Session: "Global Sea Level Rise: Observation, Causes, and Prediction"

---
September 25, 2008 BISO Symposium (PDF): "Global Connections among Earth Sciences, Health, and Policy"

---
February 15, 2008 AAAS Session (PDF): "Planet Earth: Lessons Ignored, Lessons Learned"