BISO Home > USNC/IUGG Homepage > 2014 AAAS Symposium

2014 AAAS Symposium - "Santa's Revenge: The Impacts of Arctic Warming on the Mid-Latitudes"

This event was spearheaded by the U.S. National Committee for Geodesy and Geophysics, and co-sponsored by the U.S. National Committees for INQUA, Soil Sciences, and Geological Sciences. The symposium examined high-latitude changes linked to mid-latitude weather and the effect of these complex phenomena on freshwater resources, food availability, and national security. Speakers included:
Mark Serreze (National Snow and Ice Data Center, University of Colorado-Boulder): "Impacts on Arctic Pack Ice Predictions of Extreme Weather and Natural Variability"
James Overland (NOAA/Pacific Marine Environmental Laboratory): "When Will the Summer Arctic be Nearly Sea Ice-Free?
Jennifer Francis (Rutgers University): "Evidence Linking Arctic Amplification with Changing Weather Patterns in Mid-Latitudes"
Jerry Hatfield (Iowa State University/USDA-Agricultural Research Service): "Agriculture Impacts and Impacts on International Food Supplies and Prices"
David Titley (Pennsylvania State University): "Impact of a Warming Arctic on National Security"
Organizer: Michael MacCracken, Climate Institute
Co-Organizers: Ester Sztein, National Academy of Sciences; and Robin Muench, Earth and Space Research
Discussant: Hajo Eicken, University of Alaska


If you would like to receive a CD containing the audio and presentations, please contact BISO@nas.edu.



Audio of Session (MP3)

Presentations (PDF Format):



Click below to see the BBC's coverage and interview with Jennifer Francis (1:51 minutes)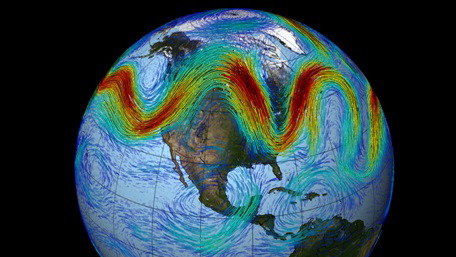 Image courtesy NASA. Original file at: http://www.nasa.gov/images/content/629341main_Earth_jet_stream.jpg.

More press from "Santa's Revenge: The Impacts of Arctic Warming on the Mid-Latitudes":

L'Agence France-Presse (AFP): Reprinted in Arab News, DNA, El Periódico de Guatemala, El Espectador, Gulf Times, La Nouvelle Gazette, La Province, La Razón, Ledauphine.com, Le Bien Public, L'Orient Le Jour, Le Point.fr, Phys.org, RTL Info, and Terra Daily
Ars Technica: Santa's revenge: melting Arctic ice may be driving this winter's chill
The Athens News: Temperate climates not getting off so easy on climate change
Austrian Tribune: Changes in Jet Stream to Cause Longer, Harsher Winter
Bfmtv.com: Le réchauffement arctique va-t-il entraîner un changement de climat en Europe? (French-language)
Catholic Online: Winter weather that may go on for months? Wavier jet stream 'may drive weather shift'
The Chronicle Herald: Winter: It's all about Arctic warming
CTV News: Warming Arctic changing jet stream and our weather: expert
The Daily Mail: Is the jet stream changing direction? Meandering air flow could lead to longer, harsher winters
The Davis Enterprise: Climate change needs long-term fix
Digital Journal: American and European weather alters because of 'new jet stream'
The Economist: Is polar warming to blame for America's and Britain's bad winter weather?
Examiner.com: Scientists blame extreme weather on arctic warming, weakened jet stream
Gawker: Change In Jet Stream Is the Likely Cause of Brutal Winter
The Globe and Mail: Santa's revenge: new evidence supports link between climate change, severe weather
Guardian Liberty Voice: Excessively Cold Winter May Be Caused by New Type of Jet Stream
The Hamilton Spectator: Dyer: It's abrupt climate change, stupid
I4U News: Longer jet streams are causing storms to last longer
Impact Magazine: Floody Hell: Why Are We Having Such Extreme Weather?
The Independent: UK weather: High anxiety among jet stream watchers
International Business Times: Brutal Winter Caused By Changing Jet Stream, Scientists Say Warming Arctic Temperatures Are To Blame
Kaleidoscope: Are the UAB snow days a product of global warming?
Kashmir Times: It's abrupt climate change, stupid
Lake Tahoe News: Warming Arctic may be causing jet stream changes
Lancastereaglegazette.com and Marionstar.com: When snow goes away, expect new problems
La Prensa: Ártico se oscurece (Spanish-language)
Latin Post: Jet Stream May be Responsible for Extreme Winter Weather Climate Change, Says Scientist
L'Est Républicain: Le régulateur du climat s'affaiblit en Arctique Le régulateur du climat s'affaiblit (French-language and subscribers only)
Le Figaro: La fonte de la banquise affecte le climat (French-language)
National Public Radio: Warming Arctic May Be Causing Jet Stream To Lose Its Way
Nature World Magazine: Changes in Jet Streams Might Lead to Harsher Winters, Researchers Say
The Nelson Daily: Faster, Higher, Stronger
Newser.com: Hating Winter? Blame the Weaker Jet Stream
News Tonight Africa: Scientists suggest Direct Link between Temperature and Speed of Jet Streams
Planet S - Saskatoon's City Magazine: Jet Stream Trouble
Physics World: Bad weather? Blame Santa
Radio New Zealand News: Jet stream shift 'may change weather'
RedOrbit.com: Colder US Winters Due To Shifting Polar Jet Stream: Study
SBS: Jet stream shift could prompt hard winters
Schwäbisch: Forscherin: Wetterchaos könnte mit Klimawandel zusammenhängen (German-language)
Science Recorder: Shift in jet stream could mean longer, harsher winters, new study says (Subscribers only)
Smithsonian Magazine: Why We Can Blame A Warm Arctic For This Winter's Icy Chill
Tageblatt.lu: Klimawandel könnte ein Grund sein (German-language)
Taranaki Daily News: 'Something' happening to the climate
Teinteresa.es: El cambio climático azota al mundo (Spanish-language)
Time Magazine: Tired Of Endless Winter? Blame Changing Jet Stream
The Toronto Star: Rapidly warming Arctic may be causing our polar-vortex winter
The Tripoli Post: Opinion: It's Abrupt Climate Change, Stupid
United Press International (UPI): Change in jet stream could mean longer, harsher winters
Wbur.org: Research Points To Jet Stream In Brutal Winter
Wired.co.uk: Wavier jet stream means changing weather patterns
Yale Environment 360: Is Weird Winter Weather Related to Climate Change?



This material is based upon work supported by the National Science Foundation under Grant Number ICER-1312037. Any opinions, findings, and conclusions or recommendations expressed in this material are those of the author(s) and do not necessarily reflect the views of the National Science Foundation.
To comment on this webpage or report an error, please send feedback to the
BISO Site Manager
.