BISO Home > USNC/IUPAC Homepage > USNC/IUPAC Activities and Events

ACTIVITIES AND EVENTS
---
49th IUPAC General Assembly and 46th World Chemistry Congress (2017), São Paulo, Brazil
The congress theme was "Sustainability & Diversity through Chemistry."

48th IUPAC General Assembly and 45th World Chemistry Congress (2015), Busan, Korea
The conference focused on "Smart Chemistry, Better Life." The events' scientific program included 61 symposia in 11 themes and eight plenary lectures.

47th IUPAC General Assembly and 44th World Chemistry Congress (2013), Istanbul, Turkey
The theme of the meeting was "Clean Energy Through Chemistry", and the program included symposia on Preserving Water Resources, Converting Biomass to Energy, Marine Pollution and Sustainable Management of the Coastal Environment, and more. It featured plenary and keynote speakers that reflected on the strength of chemistry globally.

For a complete list of IUPAC events, please visit the IUPAC website.

IUPAC Young Observer Program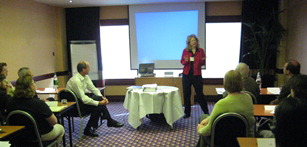 USNC/IUPAC member Angela Wilson addresses Young Observer Orientation session in Glasgow, UK in 2009
Established by the USNC/IUPAC in 1977 to foster interactions with internationally acclaimed scientists in various fields, the IUPAC Young Observer Program strives to introduce the work of IUPAC to a new generation of distinguished researchers and to provide an opportunity to address international scientific policy issues. The USNC holds a biennial competition to invite early career scientists to serve as United States Observers at the IUPAC World Chemistry Congress and General Assembly. Selected Young Observers may receive a fellowship grant.


Eligibility: Open to U.S. scientists and engineers (U.S. citizens and permanent residents) under age 45 with interests and expertise related to the working groups of IUPAC. To learn more about the program and view the list of recent Young Observers, please consult the
IUPAC Young Observer Program website
.
2014 International Year of Crystallography
The USNC/IUPAC joined the USNC/IUCr in celebrating the International Year of Crystallography (IYCr2014). The United Nations declared 2014 the International Year of Crystallography, in honor of the centennial of two groundbreaking events which marked the birth of modern crystallography. In 1912 Max von Laue showed that X-rays were diffracted by crystals, and in 1913 W. H. and W. L. Bragg demonstrated that the diffraction of X-rays can be used to determine the positions of atoms within a crystal.

The importance of crystallography for the chemistry community was recently highlighted in an article by USNC/IUPAC member Julia Chan, Jennifer Aitken, and Susan Latturner. Their article, "Celebrating Crystallography," can be found in Volume 92 of Chemical and Engineering News.




This material is based upon work supported by the National Science Foundation under Grant Number 1708170. Any opinions, findings, and conclusions or recommendations expressed in this material are those of the author(s) and do not necessarily reflect the views of the National Science Foundation.

To comment on this webpage or report an error, please send feedback to the
BISO Site Manager
.