BISO Home > USNC/TAM Homepage > USNC/TAM Events and Activities


PAST ACTIVITIES AND EVENTS

2018 IUTAM Congress and General Assembly
The USNC/TAM delegation of five to the General Assembly consisted of Gareth McKinley (MIT; Delegation Chair), Wendy Crone (University of Wisconsin-Madison), Linda Franzoni (Duke University), Wing Kam Liu (Northwestern University), and Krishnaswamy Ravi-Chandar (University of Texas at Austin). With the assistance of the USNC/TAM, the delegation prepared U.S. nominations, including nominations to the Congress Committee, and proposals for IUTAM activities and programs such as IUTAM Symposia, IUTAM Summer Schools, and ICTAM Thematic Sessions. More information is available on the General Assembly website.

The call for 2020-2021 IUTAM Symposia proposals resulted in 19 applications. The USNC/TAM reviews the proposals and submits the top applications to the IUTAM General Assembly. The three proposals presented by the United States are listed below:

SO.04 Optimal guidance and control for autonomous systems (Honolulu, Hawaii)
SO.07 Mechanics of smart and tough gels (Austin, Texas)
SO.08 Mechanics of liquid crystal elastomers (Houston, Texas)

An important decision related to IUTAM publications was made at the General Assembly. The Union is creating a new IUTAM book series developed in conjunction with Springer, and five volumes have been contracted. IUTAM is abandoning the IUTAM Proceedia developed with Elsevier. The chair of the U.S. delegation drafted a report, which is included as supplemental material.

2016 IUTAM Congress and General Assembly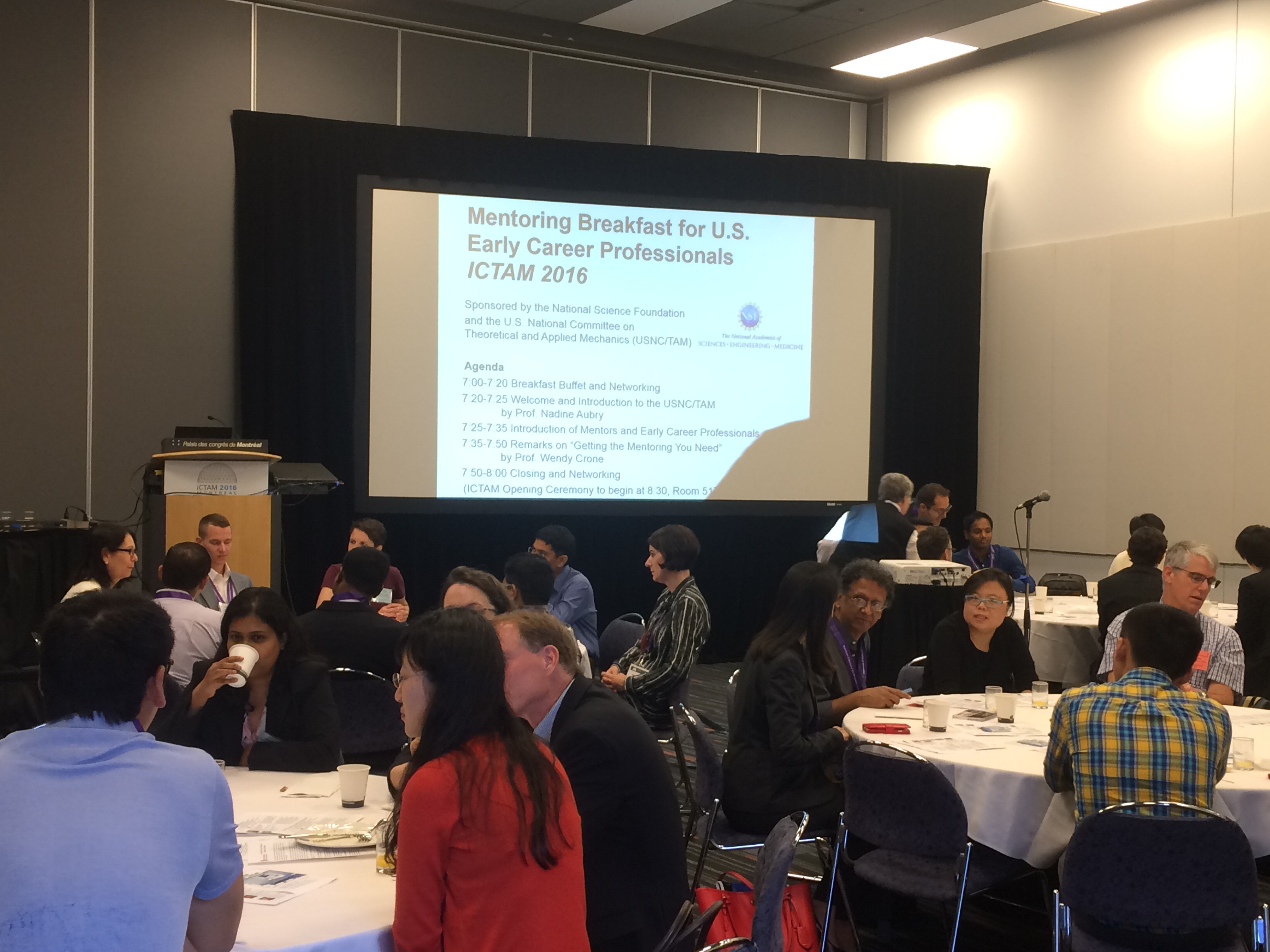 Early Careers at the USNC/TAM Mentoring Breakfast, ICTAM 2016 (click to enlarge)

Nadine Aubry, Dean of Engineering at Northeastern University, is not only the current president (and first female president) of IUTAM, but she also organized the IUTAM General Assembly in Boston on July 23--24, 2018. The IUTAM General Assemblies and Congresses are important because they allow delegates and other attendees to make decisions that affect the global mechanicians community.

The IUTAM Bureau Prize for best lecture in Solid Mechanics by a young scientist was awarded to Professor Stavros Gaitanaros. Dr. Gaitanaros is an Assistant Professor at Johns Hopkins University in Baltimore, and was recognized for his work on the effect of polydispersity on the crushing of open-cell random foams.

The USNC/TAM was proud to host a Mentoring Breakfast at ICTAM 2016. 46 early career professionals and mentors networked at the breakfast, during a session facilitated by USNC/TAM member Wendy Crone.

Download the 2016 USNC/TAM Annual Meeting Presentations
On April 22 and 23, the USNC/TAM held its 2016 meeting at the National Academies in Washington, D.C. Presentations from invited speakers are available for download here. If you are looking for the presentations from the 2015 USNC/TAM meeting, they are located here.

Additive Manufacturing Workshops Held in the United States and China
WAM2016, short for the Workshop on Predictive Theoretical, Computational, and Experimental Approaches for Additive Manufacturing (WAM 2016), was held in Dalian, China from October 17--19, 2016. The National Natural Science Foundation of China (NSFC) and the Chinese Society of Theoretical and Applied Mechanics (CSTAM) co-sponsored the event. The workshop report, authored by organizers Xu Guo, Gengdong Cheng, and Wing-Kam Liu, may be purchased on Springer.com.

The workshop is an extension of the October 2015 "A Workshop on Predictive Theoretical and Computational Approaches for Additive Manufacturing" held in Washington, DC at the National Academies of Sciences, Engineering, and Medicine. The U.S. workshop featured 24 presentations from speakers in academia, industry, and government labs, and the Livestream workshop broadcast has already reached over 200 live and 1,700 total viewers.
All workshop media, including session videos, meeting agenda, and presentation PDFs, are listed on the 2015 Additive Manufacturing Workshop page.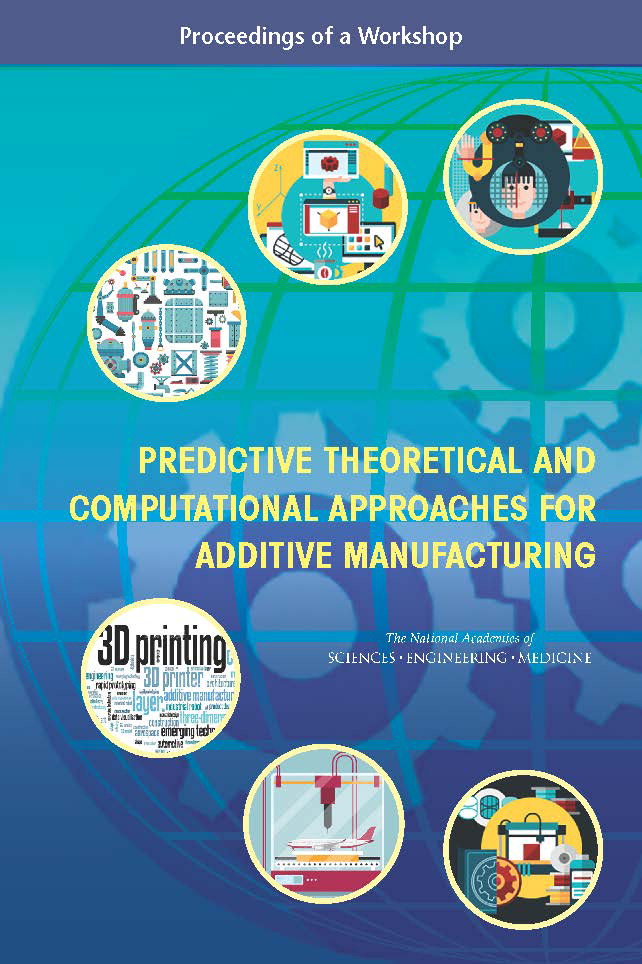 Predictive Theoretical and Computational Approaches for Additive Manufacturing: Proceedings of a Workshop is now available for download or purchase.

As a result of this workshop, Lyle Levine, Project Leader of Additive Manufacturing of Metals at NIST, has proposed a series of benchmark tests and an accompanying conference series. Dr. Levine's ideas for AM-Bench are loosely based upon his existing NUMISHEET benchmark test series, which has profoundly influenced the sheet metal field for over 25 years. The project, which aims to start developing AM standards, requires input from experts across the board in industry, national labs, and academia.

If you are interested in joining the planning committee, which will define the scope and organization of this series, please contact Lyle Levine at Lyle.Levine@nist.gov.



This material is based upon work supported by the National Science Foundation under Grant Number CMMI-1338717. Any opinions, findings, and conclusions or recommendations expressed in this material are those of the author(s) and do not necessarily reflect the views of the National Science Foundation.

To comment on this webpage or report an error, please send feedback to the
BISO Site Manager
.