Upcoming EVENTS

Scoping Workshop on Supporting Parents and Caregivers in STEMM
December 2, 2019
Washington, DC

Roundtable on Black Men and Black Women in Science, Engineering, and Medicine
December 2-3, 2019
Washington, DC

CWSEM Bi-annual Meeting
December 2-3, 2019
Washington, DC

Action Collaborative on Preventing Sexual Harassment in Higher Education 2019 Public Summit
November 19-20, 2019
Seattle, WA

Staying Power: A convening to examine what it takes for postdoctoral women to stay and thrive in science
November 6, 2019
Washington, DC

Addressing the Underrepresentation of Women of Color in Technical Disciplines Committee Meeting #1
October 24, 2019
Washington, DC


More past events...

Contact Us
Committee on Women in Science, Engineering, and Medicine
Keck Center
500 5th Street NW
Washington, DC 20001
Tel: 202.334.2389
Fax: 202.334.2290
Email:cwsem@nas.edu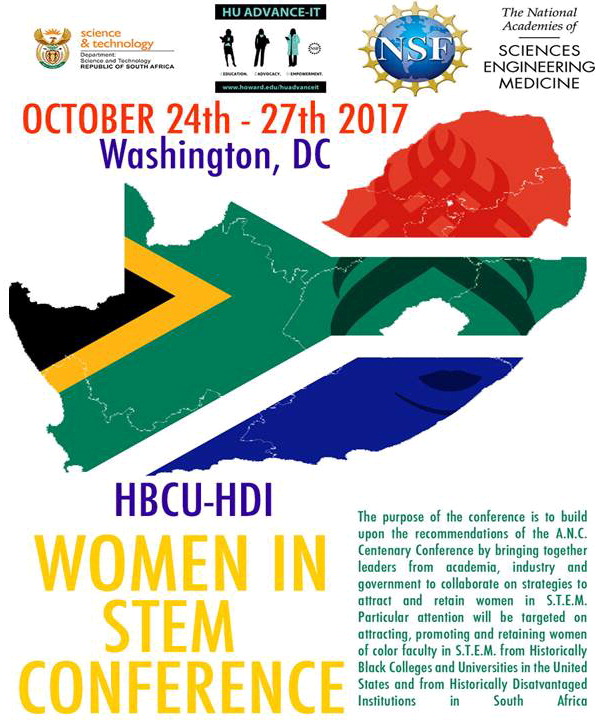 2017 US-HBCU/South Africa - HDI Women in STEM Conference
NAS Building
2101 Constitution Ave NW, Washington, DC 20418
October 23-25, 2017


On October 23-27, The Committee on Women in Sciences, Engineering, and Medicine will host a conference focused on attracting, promoting, and retaining women of color in STEM from Historically Black Colleges and Universities (HBCU) in the United States and from Historically Disadvantaged Institutions (HDI) in South Africa. The conference, held in collaboration with Howard University, will focus on exploring the following questions.

Conference Guiding Themes/Questions:

Career Path. What are the similarities in professional trajectory (e.g. recruitment, promotion) among women in STEM in South Africa and in the US? What kinds of institutions or STEM sub-disciplines are most likely to have a critical mass of women in STEM (US and South Africa)? What professions?
Climate/Culture. What is the professional climate for women working in STEM disciplines in South Africa and the US? Are programs used in the US to improve culture/climate applicable to South Africa and vice versa?
HBCU-HDI Context. Are there unique opportunities/challenges for women in STEM at HBCUs and HDIs? How can HBCU and HDI STEM Women faculty partner to encourage more South African women to purse STEM terminal degrees and faculty careers ?

The conference will build upon the recommendations of the 2012 HBCU-HDI USA ANC Centenary Conference by bringing together leaders from academia, industry and government to collaborate on strategies to attract and retain women in STEM.



The agenda can be found

here

.