Special Event
Launch of a National Research Council Report

Blueprint for the Future: Framing the Issues of Women in Science in a Global Context
Summary of a Workshop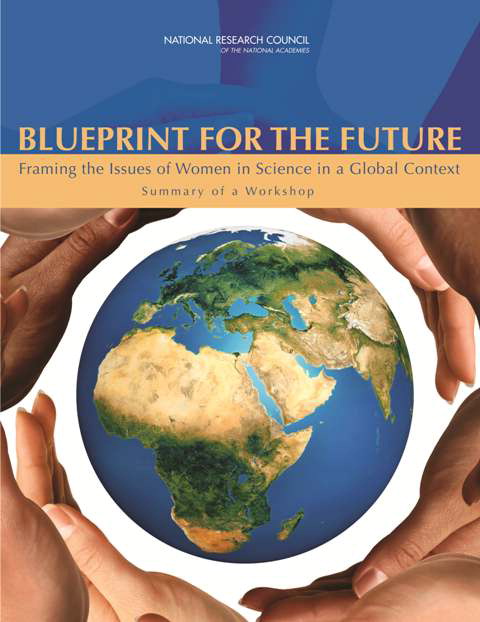 12:00 – 2:00 pm
Thursday, October 18, 2012
Keck Center, Room 100
The National Academies
500 Fifth Street, NW, Washington, DC 20001

The new report from the National Research Council (NRC) summarizes a workshop organized by the ad-hoc Committee on Status and Participation of Women in STEM Disciplines and Careers in 2011 to review the existing international knowledge base and exemplary policies and programs designed to enhance the status and participation of women in STEM disciplines with a focus on chemistry, computer science, and mathematics. It highlights some research results and findings on women in selected fields and helps to identify critical gaps in data and research. Individual authored papers with more information about the presenters' research are included in the report.
Program
12:00 - 12: 30 pm
Lunch
12:30 - 12:40 pm
Welcome

Rita Colwell (NAS)*, Chair, Committee on Women in Science, Engineering, and Medicine, and Distinguished University Professor, University of Maryland, College Park, and Johns Hopkins University Bloomberg School of Public Health

12:40 - 12:55 pm
Remarks: The Global Context for Women in STEM – U.S. State Department's Recent Efforts

Susan Gardner, Deputy Director, Office of Science and Technology Cooperation, U.S. Department of State

12:55 - 1:15 pm
Discussion of the Report's Impact & Next Steps (Download presentation slides)

Catherine Didion, Workshop Summary Report Rapporteur and Director, CWSEM
Lisa M. Frehill, Workshop Summary Report Rapporteur and Principal Analyst, Energetics Technology Center
Willie Pearson, Jr., Workshop Summary Report Rapporteur and Professor of Sociology, School of History, Technology, and Society, Georgia Institute of Technology

Audio (including General Discussion and Q&A) : Part 1 | Part 2

1:15 - 1:45 pm
General Discussion and Q&A Session
1:45pm
Adjournment
Audio webcast was available on the National Academies website (www.nationalacademies.org) at 12:30 pm on October 18.