Indonesian Science Fund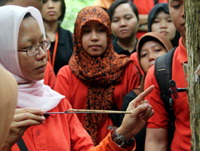 The Indonesian Science Fund
(Dana Ilmu Pengetahuan Indonesia or DIPI) has recently been established under the auspices of the Indonesian Academy of Sciences (AIPI) to provide independent scientific research funding to the Indonesian S&T research community. The objective of the Indonesian Science Fund Capacity building program at NAS is to increase the capacity of the Indonesian Science Fund to perform independent and transparent merit-based solicitation and review of grant proposals and allocate and manage grant funds provided by the Government of Indonesia's for this purpose; and to assist DIPI to build capacity to run as an independent entity that can receive funds from both the Government of Indonesia, as well as funds from private and international sources. Dr. Bruce Alberts is a member of DIPI's Science steering board responsible setting the strategy and research priority of DIPI.
The Indonesian Science fund has recently announced its first Research call for research proposals which aims to provide grants for research in the following two focus areas:
• Life, health and nutrition
• Identity, diversity and culture
Competitive research grants up to three years and IDR 1,5 billion/year will be offered for researchers from Indonesia to pursue high-quality scientific research projects. The newly established fund aims to support fundamental, frontier, and excellent research in the above two focus areas of importance to Indonesia's future. For this 2016 Research Call, Principal Investigators applying for the grants are required to be of Indonesian nationality and based in Indonesia. Domestic and international collaborations between researchers and their institutions are encouraged, as are interdisciplinary projects.
Online proposal submission
has begun on May 15, 2016. The deadline for proposal submission is July 31, 2016, at 11.59 WIB. More information on the current call can be found on ISF's website:
http://www.dipi.id/en/dipi2016/
. For more information on the Indonesian Science Fund Capacity building program at NAS, please contact Dr. Dalal Najib at dnajib@nas.edu.
---