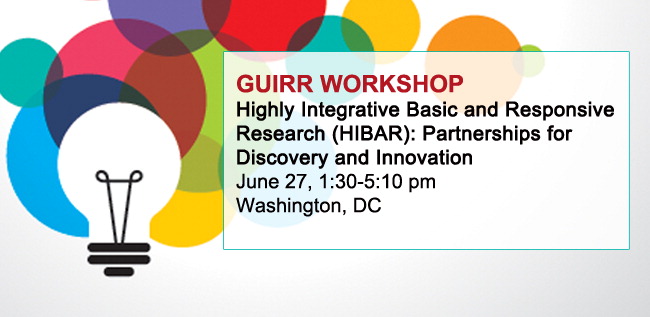 Academic, business, and government leaders are developing fresh research strategies to promote innovation and discovery. Their shared goal, building off strong historical precedents, is to achieve the twin-win of breakthrough research and societal benefits. Fundamental research carefully linked to real-world problem contexts appears to produce stronger theories and more societally valuable results. The term Highly Integrative Basic and Responsive (HIBAR) Research conveys these ambitious aspirations.
GUIRR hosted a half-day workshop to consider strategies to more reliably produce HIBAR research: (1) Partnerships with business and government (cities, counties, state, federal), as well as non-governmental organizations (NGOs) and (2) Policy changes to campus hiring/tenure/promotion rules so as to support teamwork and problem orientation that includes off-campus partnerships and on-campus collaborations.
Background Reading
Meeting Webcast
Panel 1: What is HIBAR and Why Is It Important?
Dan Sarewitz,Co-Director, Consortium for Science, Policy & Outcomes, and Professor of Science and Society, School for the Future of Innovation in Society at Arizona State University
Ben Shneiderman, Distinguished University Professor of Computer Science at the University of Maryland
Lorne Whitehead, Professor in the Department of Physics and Astronomy at the University of British Columbia


HIBAR Workshop – What is HIBAR and Why Is It Important? from The National Academies on Vimeo.
Panel 2: Promoting Cultural Change on Campus

Ben Shneiderman
Camille Crittenden, Deputy Director of CITRIS and the Banatao Institute at the University of California, Berkeley
Lorne Whitehead


HIBAR Workshop – Promoting Cultural Change on Campus from The National Academies on Vimeo.

Panel 3: Developing HIBAR Partnerships: Lessons from Experience