Competing in the 21st Century: Best Practices in State and Regional Innovation Initiatives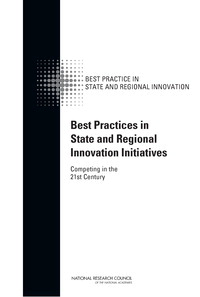 Project Scope
Responding to the challenges of fostering regional growth and employment in an increasingly competitive global economy, many U.S. states and regions have developed programs to attract and grow companies as well as attract the talent and resources necessary to develop a knowledge-based economy. These state and regionally based initiatives have a broad range of goals and increasingly include significant resources, often with a sectoral focus and often in partnership with foundations and universities.
This study examined selected state and regional programs in order to identify best practices with regard to their goals, structures, instruments, modes of operation, synergies across private and public programs, funding mechanisms and levels, and evaluation efforts. The committee reviewed selected state and regional efforts to capitalize on federal and state investments in areas of critical national needs. This review included both efforts to strengthen existing industries as well as specific new technology focus areas such as nanotechnology, stem cells, and energy in order to better understand program goals, challenges, and accomplishments.
The committee convened a series of public meetings and fourteen symposia involving responsible local, state, and federal officials and other stakeholders. These meetings and symposia enabled an exchange of views, information, experience, and analysis to identify best practice in the range of programs and incentives adopted. Ten symposium summaries were prepared. Drawing from discussions at these symposia, fact-finding meetings, and commissioned analyses of existing state and regional programs and technology focus areas, the committee subsequently produced a final report with findings and recommendations focused on lessons, issues, and opportunities for complementary U.S. policies created by these state and regional initiatives.

---
Meetings & Events

Meeting 13 - 04/03/2013
Meeting 12 - 09/12/2012
Meeting 11 - 06/28/2012
Meeting 10 - 04/25/2011
Meeting 9 - 01/13/2011
Meeting 8 - 03/08/2010
Meeting 7 - 02/25/2010
Meeting 6 - 07/29/2009
Meeting 5 - 06/03/2009
Meeting 4 - 04/23/2009
Meeting 3 - 02/20/2009
Meeting 2 - 09/23/2008
Meeting 1 - 07/29/2008


---
Reports


---
Committee Members

Dr. Mary L. Good - (Chair)
University of Arkansas at Little Rock
Mary L. Good is the Donaghey University Professor at the University of Arkansas at Little Rock, and serves as Dean for the College of Information Science and Systems Engineering. She is managing member for the Fund for Arkansas' Future, LLC. (an investment fund for start-up and early-stage companies), past President of the AAAS, past President of the ACS, and an elected member of the National Academy of Engineering. She presently serves on the Boards of Acxiom, Inc., St. Vincent Health System, and Delta Bank and Trust and is a member of the National Research Council's Board on Science, Technology, and Economic Policy.
Previously Dr. Good served a four-year term as the Under Secretary for Technology for the Technology Administration in the Department of Commerce, a Presidentially appointed, Senate confirmed, position. In addition, she chaired the National Science and Technology Council's Committee on Technological Innovation (NSTC/CTI), and served on the NSTC Committee on National Security. Previously she has served as the Senior Vice President for Technology for Allied Signal and as the Boyd Professor of Chemistry and Materials Science at Louisiana State University.
She was appointed to the National Science Board by President Carter in 1980 and by President Reagan in 1986. She was the chair of that board from 1988-1991, when she received an appointment by President Bush to be a member of the President's Council of Advisors on Science and Technology.
Dr. Good has received many awards, including the National Science Foundation's Distinguished Public Service Award, the American Institute of Chemists' Gold Medal, the Priestly Medal from the American Chemical Society, and the Vannevar Bush Award from the National Science Board, among others.
Dr. Good received her bachelor's degree in chemistry from the University of Central Arkansas and her M.S. and Ph.D. degrees in inorganic chemistry from the University of Arkansas at Fayetteville.

Mr. Richard A. Bendis
Bendis Investment Group, LLC
Mr. Bendis has distinguished himself as a successful entrepreneur, corporate executive, venture capitalist, investment banker, innovation and technology-based economic development leader, international speaker and consultant in the technology and healthcare industries.
He currently serves as the founding President and CEO of Innovation America (IA), a national 501c3 not for profit, private/public partnership focused on accelerating the growth of the entrepreneurial innovation economy in America.
Mr. Bendis has been engaged and appointed to selected national innovation related organizations and committees that include the White House U.S. Innovation Partnership (USIP) Advisory Task Force and Co-Chair of the Small Business Innovation Research Committee), the National Governor's Association (NGA) Science and Technology Council of the State's Executive Committee, the State Federal Technology Task Force, the National Academies (NAS) committee on "Competing in the 21st Century: Best Practices in State and Regional Innovation Initiatives"; National Academies National Research Review of "an Assessment of the SBIR Program; National Institute of Standards and Technology Manufacturing Extension Partnership (MEP) National Advisory Board; U.S. Small Business Administration's Angel Capital Electronic Network (ACENET) Board of Directors; American Academy for the Advancement of Science (AAAS) Nominating Committee and the American Association Research Competitiveness Program Advisory Committee; Council on Competitiveness – Clusters of Innovation Committee.
Mr. Bendis has also served as a board member and representative to the following organizations:
National Association of State Venture Funds (NASVF) Founding Board member and Executive Committee member; American Society of Mechanical Engineers (ASME) Strategic Innovations and Initiatives Committee; State Science and Technology Institute (SSTI) Founding Board member and Executive Committee member; Eisenhower Fellowships Nominating Committee and the Ernst and Young Entrepreneurial Institute as national/regional Judge.
Mr. Bendis has or continues to provide global consulting services to several international organizations including the International Science Parks and Innovation Expert Group, the United Nations, NATO, UK Trade and Industry, European Commission, French Embassy, the German Marshall Fund, and others global ventures.
Mr. Bendis founded the Bendis Investment Group LLC, (BIG), a financial intermediary and consulting firm which has a joint venture with the Fortress Investment Group (NYSE, FIG) and is responsible for the origination of debt and equity investments located in BIG's Network. Mr. Bendis, also recently provided interim CEO consulting services to the National Association of Seed and Venture Funds (NASVF) and strategic growth and repositioning services to the Pennsylvania Biotechnology Center.
Previously, Mr. Bendis served as President, and CEO of True Product ID, Inc.; a global publicly traded anti-counterfeiting technology company (NASDAQ, TPID), which he relocated to Beijing, China. Mr. Bendis also founded and served as the founding President and CEO of Innovation Philadelphia (IP), a three state regional public/private partnership dedicated to growing the wealth and workforce of the Greater Philadelphia Region. IP managed a portfolio of programs in four distinct areas: Direct Equity Investment/Financing Assistance; Technology Commercialization; Global/Regional Economic and Workforce Development; and Market Research and Branding. Mr. Bendis is on the IP Board of Directors.
Previously, Mr. Bendis successfully leveraged a career in the private sector (with Quaker Oats, Polaroid, Texas Instruments, Marion Laboratories, and Kimberly Services) and the venture capital industry (RAB Ventures) to lead the Kansas Technology Enterprise Corporation (KTEC). As its president and CEO, he developed KTEC into a globally recognized model for technology-based economic development. Mr. Bendis also successfully built an Inc. 500 healthcare software company, Continental Healthcare Systems, Inc., which he took public on NASDAQ and later sold to an international conglomerate. In addition, Mr. Bendis manages his own angel investment fund.
Mr. Bendis is a frequent consultant and speaker to the United Nations, NATO, the European Commission, METI, AKEA, National and International technology-based economic development organizations, as well as over 20 states, several U.S. cities and regions and 16 countries. Mr. Bendis serves on several regional and national not-for-profit boards and committees including the National Association of Seed and Venture Funds (NASVF) and the State Science and Technology Institute (SSTI), both of which he was a founding Board member. He was a nominee for the 2005 Ernst and Young National Entrepreneur Supporter of the Year Award (EOY) and was the 1996 recipient of the Regional Ernst and Young Entrepreneur of the Year Award; he currently serves as an EOY Judge. He also serves on the board of FlagshipPDG (NASDAQ, PDGE).


Mr. Michael G. Borrus
X/Seed Capital Management
Michael G. Borrus is the Founding General Partner of X/Seed Capital, a seed-focused early-stage venture fund focused on breakthrough innovation. Prior to founding X/Seed, he was an Executive in Residence (EIR) at Mohr Davidow Ventures (MDV) in Silicon Valley.
Mr. Borrus left his faculty position at the University of California, Berkeley (UC Berkeley), in 1999 to do a financial services start-up for the 5 years prior to joining MDV. He was Managing Director of the start-up, The Petkevich Group (TPG), a merchant bank providing financial advisory services and investment capital to growth companies in life sciences and technology. He led the technology banking group at Petkevich & Partners, TPG's broker-dealer subsidiary, executing a variety of financial transactions from M&A and capital raising to spinouts and bankruptcy reorganization.
Before TPG, Mr. Borrus was Adjunct Professor in UC Berkeley's College of Engineering, Co-founder and Co-Director of the Berkeley Roundtable on the International Economy (BRIE) at UC Berkeley, and a partner in Industry and Trade Strategies, a business consultancy. Much of his academic and consulting work has focused on how business models need to adjust to successfully commercialize new technologies, to exploit new market opportunities or to adapt to new competitors.
Mr. Borrus is the author of three books and over 70 chapters, articles, and monographs on a variety of topics including management of technology, high-technology competition, international trade and investment, and financial strategies for technology companies. He is a frequent speaker before corporate and public audiences, and has appeared in numerous media outlets from CNN and NPR to Business Week and the New York Times.
Mr. Borrus serves on several National Research Council committees, the Board of Trustees of the National Center for Women and Information Technology, and is a Director of Geniisis Agents (a privately held company), and served on the Advisory Committee to the U.S. Government's Advanced Technology Program (ATP).
Mr. Borrus is an honors graduate of Harvard Law School, the University of California, Berkeley, and Princeton University. He is a member of the California State Bar.

Dr. Susan Hackwood
California Council on Science and Technology
Susan Hackwood is currently Executive Director of the California Council on Science and Technology, Professor of Electrical Engineering at the University of California, Riverside (UCR), and Visiting Associate in Engineering at the California Institute of Technology. CCST is a not-for-profit corporation comprised of 150 science and technology leaders sponsored by the key academic and federal research institutions in the California, which advises the state on all aspects of science and technology including stem cell research, intellectual property, energy, information technology, biotechnology, and education.
Dr. Hackwood received a Ph.D. in solid state ionics in 1979 from DeMontfort University, UK. Before joining academia, she was Department Head of Device Robotics Technology Research at AT&T Bell Labs. In 1984 she joined the University of California, Santa Barbara, as Professor of Electrical and Computer Engineering and was founder and Director of the National Science Foundation Engineering Research Center for Robotic Systems in Microelectronics.
In 1990 Dr. Hackwood became the founding Dean of the Bourns College of Engineering at the University of California, Riverside. At UCR, she oversaw the development of all research and teaching aspects of five degree programs up to the Ph.D. level. Dr. Hackwood's current research interests include science and technology policy, distributed asynchronous signal processing, and cellular robot systems. Dr. Hackwood has published over 140 technical publications and holds seven patents. She is a Fellow of the IEEE and the AAAS and holds honorary degrees from Worcester Polytechnic Institute and DeMontfort University, UK. From 2003-2005 she was a visiting scholar at the Anderson School of Management, University of California, Los Angeles. In the fall of 2005 she was a visiting scholar at the California Institute of Technology.
Dr. Hackwood has worked extensively with industry, academic, and government partnerships to identify policy issues of importance to the country's citizens. She is also an active participant in regional and state economic development. With a strong interest in science and technology policy, Dr. Hackwood is currently involved with science and technology development in California, the United States, Mexico, Ireland, Taiwan, and Costa Rica. She has been appointed as an Honorary Member of the Comision Asesora en Alta Tecnologia for Costa Rica and the California-Mexico Commission on Education, Science, and Technology. In 2003 she was appointed as a member of the AAAS Committee on Science Engineering and Public Policy and is the 2007 Chair-Elect. From 2000-2002 she was a member of the AAAS Engineering Delegate and is currently Chair-Elect of the Section on Societal Impacts of Science and Engineering. She is a member of the IEEE Spectrum Editorial Board. She has also served on the Board of Directors and consults on new product development for several electronics companies.

Dr. William C. Harris
Science Foundation Arizona
William C. Harris is President and CEO of Science Foundation Arizona. Dr. Harris went to Ireland as Director General of Science Foundation Ireland (SFI) in 2001 and moved to Arizona in July 2006.
Dr. Harris served at the U.S. National Science Foundation from 1978 to 1996, including as the director for the mathematical and physical sciences directorate (1991-1996). In MPS, he was responsible for a federal grants appropriation of $750 million per year. At the NSF, he also established 25 science and technology centres (STCs) to support investigative, interdisciplinary research by multi-university consortia. Earlier in his career, he catalyzed the Research Experiences for Undergraduates (REU) program in the chemistry division and it became an NSF-wide activity.
Immediately prior to going to Ireland, Dr. Harris was vice president for research and professor of chemistry and biochemistry at the University of South Carolina, overseeing research activities throughout the USC system, several interdisciplinary centers and institutes, the USC Research Foundation, and sponsored research programs.
Dr. Harris has authored more than 50 research papers and review articles in spectroscopy and in 1997 became a fellow of the American Association for the Advancement of Science. In 2004, he received the Wiley Lifetime Achievement Award from California Polytechnic State University. He was elected a member of the Royal Irish Academy in 2005. He earned his undergraduate degree at the College of William and Mary and his Ph.D. in chemistry at USC.

Dr. W. Clark McFadden, II
Dewey & LeBoeuf, LLP
W. Clark McFadden II represents corporate clients in international trade, encompassing work in litigation, regulation and legislation. He also specializes in international corporate transactions, especially the formation of joint ventures and consortia, and international investigations and enforcement proceedings.
Mr. McFadden has a broad background in foreign affairs and international trade, having experience with Congressional committees, the U.S. Department of Defense and the National Security Council.
In 1986, he was appointed General Counsel, President's Special Review Board ("Tower Commission"), to investigate the National Security Council system and the Iran-Contra Affair.
In 1979, Mr. McFadden served as Special Counsel to the Senate Foreign Relations Committee on the Strategic Arms Limitations Treaty (SALT II). Previously, from 1973-1976, he was General Counsel, Senate Armed Services Committee, and was responsible to the Committee for all legislative, investigatory and oversight activities.
Mr. McFadden is the secretary to the Board of Directors of the Semiconductor Industry Association, the Optoelectronics Industry Development Association and the Semiconductor Research Corporation. He is also a member of the Steering Committee for Government-Industry Partnerships for the Development of New Technologies of the National Research Council of the National Academy of Sciences.

Mr. David T. Morgenthaler
Morgenthaler Ventures
David T. Morgenthaler founded Morgenthaler Ventures in 1968 and over 31 years has built a national reputation in venture capital. His current investment focus is on biotechnology. He is Chairman of the Board of Ribozyme Pharmaceuticals, Inc., and has been a director of a large number of companies, ranging in size from the startup stage to large public companies. Between 1957 and 1968 he was President of Foseco, Inc., a venture-backed manufacturer of specialty chemicals. From 1950-1957 he was Vice President and Director of Sales at Delavan Manufacturing Company, which became the largest manufacturer of jet aircraft fuel injection nozzles in the world. Previously, he was an entrepreneurial manager with several growth companies. He was an Advisor to the Brentwood Associates Fund and Vice Chairman of the Edison Biotechnology Institute. Mr. Morgenthaler is a member of the National Research Council's Board on Science, Technology, and Economic Policy.
Mr. Morgenthaler is serving or has served as a Trustee of The Cleveland Clinic Foundation; a member of the Visiting Committee of Carnegie Mellon University, the Sloan School of Massachusetts Institute of Technology, and the Weatherhead School of Business at Case Western Reserve University; and a trustee of various philanthropic organizations. He served as Senior Vice President-International for the Young Presidents' Organization and as President of the Chief Executives Organization. Mr. Morgenthaler was President of the National Venture Capital Association when the capital gains tax reduction was enacted in 1978 and played a leading role in testifying before Congress for the new legislation. He has frequently been asked to testify before Congress and to speak before various administrative groups on venture capital and economic development. He is the first recipient of the National Venture Capital Association's Lifetime Achievement Award and more recently was inducted into The Private Equity Analysts Venture Capital Hall of Fame. He is a graduate of Massachusetts Institute of Technology (B.S. and M.S. in mechanical engineering).


Dr. Edward E. Penhoet
Alta Partners
Edward E. Penhoet joined Alta Partners in 2000 as a director. He is a member of the boards of directors of ChemoCentryx, Chimerix, Renovis, Scynexis, and ZymoGenetics, and serves as the Chairman of the Board for Metabolex. Dr. Penhoet is a member of the National Research Council's Board on Science, Technology, and Economic Policy.
A co-founder of Chiron, Dr. Penhoet served as the Company's President and Chief Executive Officer from its formation in 1981 until April 1998. He is the Vice Chair of the Independent Citizens Oversight Committee for the California Institute of Regenerative Medicine (CIRM), and recently served as President of the Gordon and Betty Moore Foundation.
Dr. Penhoet is the immediate past Dean of the School of Public Health at the University of California, Berkeley. He is a member of the Institute of Medicine of the National Academy of Sciences and has co-authored more than 50 scientific articles and papers.
Dr. Penhoet is also a member of the Gordon & Betty Moore Foundation's Board of Trustees. He was the Foundation's president from 2004-2007, and prior to that, he worked as the organization's Chief Program Officer for the Science Program.
He has received numerous awards, including the Association of Fundraising Professionals' Outstanding Philanthropist award; the first Distinguished Faculty Award in the Life Sciences from the Department of Molecular and Cell Biology at the University of Califronia, Berkeley; the Northern California Entrepreneur of the Year Award presented by Ernst & Young and Inc. Magazine; and the Harvard Business School Northern California Alumni Chapter award as Entrepreneur of the Year.
Dr. Penhoet earned his A.B. in biology from Stanford University and his Ph.D. in biochemistry from the University of Washington. He was a post-doctoral fellow at the University of California, San Diego.
Dr. Penhoet has also served as chairman of the California Health Care Institute, of the Chabot Space & Science Center, and of the San Francisco Bay Area Bioscience Center.

Mr. Tyrone C. Taylor
Capitol Advisors on Technology, LLC
Tyrone C. Taylor is the President of Capitol Advisors on Technology, a technology management and consulting firm. He brings an exceptional combination of hands on experience in technology development and commercialization. He has held senior management positions in the federal government and the private sector and worked extensively in the R&D community. He is the former Director of Washington Relations at the West Virginia High Technology Foundation where he was responsible for developing and managing strategic partnerships with public, private, and academic representatives in the field of technology commercialization. He has provided technical support for technology transfer programs for the Department of Defense, the Department of Commerce, and the Department of Homeland Security, as examples. He also serves as the Chair of the Small Business Division at the National Defense Industrial Association. Mr. Taylor is well known within the federal research and development (R&D) organizations and small business community as an authoritative source with hands on experience in technology transfer and commercialization.
Reflecting his broad experience, Mr. Taylor has been asked to serve on numerous technology advisory committees at organizations such as the National Research Council, the National Science Foundation, and the Center for Commercialization of Advanced Technologies, and others. Congressional science and technology committees have also called on him to assess the impact of potential legislation affecting the technology community.
As an executive on loan, Mr. Taylor represented the entire federal R&D community as the Washington, DC, Representative for the Federal Laboratory Consortium for Technology Transfer, a congressionally chartered organization. In this capacity, he provided leadership in developing legislation that governs the private and public sectors' ability to collaborate in R&D activities, manage intellectual property, and commercialize technologies. Recognized for his efforts by Congress, Mr. Taylor often addresses audiences throughout the United States and abroad on technology development, transfer, and commercialization issues.
Mr. Taylor also served as President, Government Operations, and Senior Vice President for Marketing and Business Development for Unisphere, Inc., a technology assessment firm responsible for assessing and transitioning technologies with defense and commercial applications. In this capacity, he aided in the expansion and growth of small businesses and their clients, helping to generate over $25 million in revenue and produce over $64 million in cost savings. Due to his broad technology background, he is able to interact effectively with all aspects of the technology commercialization community including inventors, attorneys, acquisition managers, test and engineering, and marketing, as examples.
Mr. Taylor's technology management experience covers such areas as homeland security, medical technologies, energy and environment, advanced materials, infrared imaging, and aerospace.
Before joining Unisphere, Mr. Taylor served in the Senior Executive Service in a variety of executive management positions at NASA. He brings extensive program/project experience having managed almost $1 billion in contracts and grants for systems engineering, information systems, facilities management, and technical and administrative services as a member of the International Space Station program, which included Japan, Canada, and the European Space Agency.
Tyrone Taylor has a Masters in Business Administration from Southeastern University. He earned an A.B. in business administration from Wilmington College, and has served as Adjunct Professor for numerous technology transfer and commercialization courses. Other activities include serving on the board of Pediatric AIDS/HIV Care in Washington, DC, and nurturing businesses in the assistive technology arena.

---
Sponsors

Technology Innovation Program of the National Institute of Standards and Technology
The Economic Development Administration
Department of Energy
National Cancer Institute, The Heinz Endowments
Acciona Energy NA
SkyFuel, International Business Machines
Dow Corning
Association of University Research Parks.