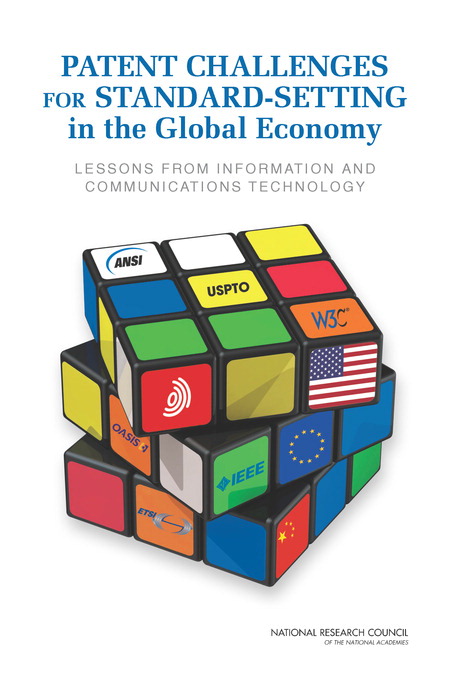 Project Scope

This report examines how leading national and multinational standard-setting organizations (SSOs) address patent disclosures, licensing terms, transfers of patent ownership, and other issues that arise in connection with developing technical standards for consumer and other microelectronic products, associated software and components, and communications networks including the Internet. Attempting to balance the interests of patent holders, other participants in standard-setting, standards implementers, and consumers, the report calls on SSOs to develop more explicit policies to avoid patent holdup and royalty-stacking, ensure that licensing commitments carry over to new owners of the patents incorporated in standards, and limit injunctions for infringement of patents with those licensing commitments. The report recommends government measures to increase the transparency of patent ownership and use of standards information to improve patent quality and to reduce conflicts of laws across countries.
Read the report brief.

Read online free

Buy the book or download the free PDF
---
Meetings & Events

Meeting 4 - January 10-11, 2013 (closed)
Meeting 3 - October 5, 2012 (closed)
Public Event: IP in Standards Symposium: October 3-4, 2012
Meeting 2: April 3-4, 2012
Meeting 1: November 3-4, 2011
---
Commissioned Papers


Intellectual Property in Standards in Brazil
Denis Borges Barbosa

A Study of IPR Policies and Practices of a Representative Group of Standard Setting Organizations Worldwide
Rudi Bekkers and Andrew Updegrove

Shaking Grounds? Technology Standards in China
Dan Breznitz and Michael Murphree

Survey of Bioinformatics Standards
Jorge L. Contreras

Materials Sustainability Standards and Intellectual Property
Jorge L. Contreras and Charles R. McManis

E-Government Acquisition Processes in the US, EU, Japan, and India
Laura DeNardis

Patents and Intellectual Property Management in Nanotechnology Standardization: A NIST Perspective
A. Jillavenkatesa, H. Evans, and H. Wixon

Patent Transfers in the Information Age: FRAND Commitments and Transparency
Jay P. Kesan and Carol M. Hayes

Intellectual Property and ICT Standards in India
T. Ramakrishna, S.K. Murthy, and Saurabh Malhatra

Synthetic Biology and Intellectual Property
Andrew W. Torrance and Linda J. Kahl
Cooperation between Patent Offices and Standards Developing Organizations
George T. Willingmyre
---
Reports


The report released on October 15, 2013.

---
Committee Members

Dr. Keith E. Maskus - (Chair)
University of Colorado at Boulder

Dr. Keith E. Maskus is Professor of Economics at the University of Colorado, Boulder. He has been a Lead Economist in the Development Research Group at the World Bank. Dr. Maskus is also a Research Fellow at the Peterson Institute for International Economics, a Fellow at the Kiel Institute for World Economics, and an Adjunct Professor at the University of Adelaide. He has been a visiting professor at the University of Bocconi, and a visiting scholar at the Center for Economic Studies-Ifo Institute at the University of Munich and the China Center for Economic Research at Peking University. He also serves as a consultant for the World Bank, the World Health Organization, and the World Intellectual Property Organization. Dr. Maskus received his Ph.D. in Economics from the University of Michigan in 1981 and has written extensively about various aspects of international trade. His current research focuses on the international economic aspects of protecting intellectual property rights. He is the author of "Intellectual Property Rights in the Global Economy," published by the Institute for International Economics, and co-editor of "International Public Goods and the Transfer of Technology under a Globalized Intellectual Property Regime," published by Cambridge University Press. He recently wrote a piece analyzing the need for reforms in U.S. patent policy, published by the Council on Foreign Relations.



Dr. Rudi Bekkers
Eindhoven University of Technology

Dr. Rudi Bekkers is a tenured faculty member at the Eindhoven University of Technology (The Netherlands) and specializes in the relationship between standardization and intellectual property rights. Over the last 15 years, he has published a number of papers on this topic in established journals. In addition, he performed more than a dozen commissioned studies and projects on standards for the European Commission, the Organization for Economic Cooperation and Development (OECD), various national ministries, standards bodies such as the European Standards Telecommunications Institute (ETSI), and for companies and other stakeholders. His recent projects include a fact-finding study on intellectual property rights in standards, commissioned by the European Commission. Executed in 2010-2011, this study included a quantitative study of disclosed intellectual property rights for standards, and considered how design aspects of IPR policies affect an efficient and well performing market. Currently, Dr. Bekkers is collaborating with Tim Simcoe (University of Boston) to create a comprehensive, a public database of IPR disclosures at standards bodies, a project that was first announced at the a National Bureau of Economic Research (NBER) preconference on Standards, Patents and Innovation in May 2011.

Mr. Sandy Block
International Business Machines Corporation

Sandy Block is currently IP Counsel at IBM working in standards, bankruptcy, and IP policy. For a period, Sandy managed the corporation's Latin American patent portfolio and also managed several intellectual property departments. For several years, Mr. Block was President of the International Intellectual Property Society (iipsny.org) and has been a board member for ten years. He was a contributor to the American Bar Association Manual on Standards and Development and has been a member of the ANSI IPR Policy Committee, AIPLA Open Source and Standards Committee, and IPO Standards Committee. He is also a guest lecturer at Cardozo Law School and has spoken and published articles in the fields of IP, standards, and bankruptcy. He recently participated as a panelist at the FTC Workshop on Patent Issues in Standards. Prior to IBM, he was a patent attorney at Hall, Myers and Rose in Potomac, Maryland and Washington DC. Also prior to IBM, a medication infusion system whose patent he prepared was named a 1984 Intellectual Property Owners Invention of the Year. In a previous incarnation, he was an officer in a Special Forces Signal Company (11th SF Group USAR) in Ft. Meade, Maryland. Mr. Block earned a BS in Electrical Engineering from Lehigh University and a JD from the George Washington University Law School.

Dr. Jorge Contreras
American University

Dr. Jorge L. Contreras is Visiting Associate Professor at American University's Washington College of Law where he teaches intellectual property law. Previously, he served as a Senior Lecturer in Law and Acting Director of the Intellectual Property Program at Washington University in St. Louis, School of Law. His research focuses on the effects of intellectual property structures and governmental regulation on the dissemination of scientific and technological innovation. Professor Contreras also serves as co-Chair of the American Bar Association's Section of Science and Technology Law Committee on Technical Standardization. He holds leadership positions with ASTM International, the Smart Grid Interoperability Panel (SGIP), American Intellectual Property Law Association (AIPLA), and similar organizations. He recently completed a four-year term on the Council of the National Human Genome Research Institute at the National Institutes of Health. Dr. Contreras is the editor of the American Bar Association's Technical Standards Patent Policy Manual (ABA Publishing: Chicago, 2007) and has published numerous articles and book chapters relating to the legal issues surrounding intellectual property, scientific research and standards development. He has served as the principal legal counsel to the Internet Engineering Task Force (IETF), the leading developer of Internet architecture, transport and security standards, since 1998.

Dr. Richard J. Gilbert
University of California, Berkeley

Dr. Richard Gilbert is Emeritus Professor of Economics and Professor of the Graduate School at the University of California at Berkeley. He was Chair of the Department of Economics at Berkeley from 2002 to 2005 and is currently Chair of the Berkeley Competition Policy Center. From 1993 to 1995, he was Deputy Assistant Attorney General in the Antitrust Division of the U.S. Department of Justice where he led the effort that developed joint Department of Justice and Federal Trade Commission Antitrust Guidelines for the Licensing of Intellectual Property. Before serving in the Department of Justice, Dr. Gilbert was the Director of the University of California Energy Institute and Associate Editor of the Journal of Industrial Economics, the Journal of Economic Theory, and the Review of Industrial Organization. He is a former President of the Industrial Organization Society. His research specialties are in the areas of competition policy, intellectual property, and research and development. He has lectured widely and testified in proceedings before state and federal courts, regulatory commissions, the California Legislature, and the U.S. Congress. Dr. Gilbert holds a Ph.D. in Engineering-Economic Systems from Stanford University and Bachelor of Science and Master of Science degrees in Electrical Engineering from Cornell University.

Dr. David J. Goodman
Polytechnic Institute of NYU

Dr. David Goodman is a member of the National Academy of Engineering and a foreign member of the Royal Academy of Engineering, a Fellow of the Institute of Electrical and Electronic Engineers, and a Fellow of the Institution of Engineering and Technology. He retired from his position as Professor of Electrical and Computer Engineering and Director of the Wireless Internet Center for Advanced Technology (WICAT) at Polytechnic Institute of New York University in June 2008. David's research has made fundamental contributions to digital signal processing, speech coding, and wireless information networks. He received the ACM/SIGMOBILE Award for "Outstanding Contributions to Research on Mobility of Systems Users, Data, and Computing" in 1997 and the Avant Garde award from the Vehicular Technology Society of the IEEE in 2003. In 1997, David served as Chairman of the National Research Council Committee studying "The Evolution of Untethered Communications." He has also worked as Program Director in the Computer and Network Systems Division of the National Science Foundation (2006-2007), Head of the Electrical and Computer Engineering Department at Polytechnic Institute (1999-2001), and Research Associate at the Program on Information Resources Policy at Harvard University (1995). He is author and co-editor of several other books on wireless communications. David received a Bachelor's degree at Rensselaer Polytechnic Institute (1960), a Master's at New York University (1962), and a Ph. D. at Imperial College, University of London (1967), all in Electrical Engineering.

Ms. Amy Marasco
Microsoft Corporation

Ms. Amy Marasco is the General Manager for Standards Strategy and Policy at Microsoft. She leads a team that addresses strategic policy and engagement issues on a corporate-wide, global basis. Ms. Marasco regularly engages in policy discussions involving standards, intellectual property rights and competition law issues at numerous standards bodies and in many other forums. She is a rapporteur at the ITU-T IPR Ad Hoc Group, a co-Chairman of the Standards Policy Committee at the Intellectual Property Owners Association, and Chairman of Standards and Intellectual Property Rights Policy Committee at the Telecommunications Industry Association. She has testified or given presentations on standards-related policy issues upon request by the U.S Federal Trade Commission and U.S. Department of Justice (Antitrust Division), the European Commission, the Japanese Ministry of Economy, Trade and Industry (METI), China Electronic Standards Institute (CESI) and the China National Institute of Standardization (CNIS) in the People's Republic of China. Ms. Marasco joined Microsoft after serving as the Vice President and General Counsel of the American National Standards Institute (ANSI) from 1994-2004. Prior to joining ANSI, she was an attorney with the law firm of Cadwalader, Wickersham & Taft in its New York office.

Dr. Tim Simcoe
Boston University

Dr. Tim Simcoe is Assistant Professor of Strategy and Innovation at Boston University School of Management. He is also a Faculty Research Fellow at the National Bureau of Economic Research and an Associate Editor of Management Science. Dr. Simcoe's research specialties are in the economics of innovation, science and technology policy, intellectual property and corporate strategy. He has published numerous articles and book chapters on intellectual property and standards development. Dr. Simcoe received an A.B. in Applied Math from Harvard University, an M.A. in Economics from the University of California at Berkeley, and Ph.D. in Business Administration from the University of California at Berkeley. He also studies information technology and how organizational structure drives innovation.

Mr. Oliver Smoot
Computer and Business Equipment Manufacturers Association (Retired)

Currently a consultant on standards and intellectual property issues, Oliver R. Smoot served as Chairman of the American National Standards Institute (ANSI) Board of Directors in 2001 and 2002, and past Chairman from 2003-2005. Before being elected as Chairman of the ANSI Board, Mr. Smoot served in numerous ANSI leadership posts, including Chair of ANSI's Finance Committee, Organizational Member Council, and Patent Group. In 2003-2004, Mr. Smoot was elected for a two-year term as President of the International Organization for Standardization (ISO), a worldwide federation of national standards bodies with representatives from over 150 countries. From 2000-2005, Mr. Smoot served as Vice-President for External Voluntary Standards Relations of the Information Technology Industry Council (ITI). Prior to that appointment Mr. Smoot was ITI's executive vice-president for 23 years. An active member of the American Bar Association for many years, Mr. Smoot served as chairman of the Section on Science and Technology Law and most recently as chairman of its Technical Standardization Law Committee. He has also served in numerous positions with the Computer Law Association (now the International Technology Law Association), culminating as President. Mr. Smoot currently serves on the Executive Committee of the U.S. Policy Committee of the Association for Computing Machinery. He received a BS from MIT and a JD from Georgetown University.

Dr. Richard P. Suttmeier
University of Oregon

Dr. Richard P. Suttmeier is a Professor of Political Science, Emeritus, at the University of Oregon. He has written widely on science and technology development issues in China. His most recent publications include: "China's IP Transition: Rethinking Intellectual Property Rights in a Rising China" (with Yao Xiangkui) (National Bureau of Asian Research. July, 2011) and "Standards, Stakeholders, and Innovation: China's Evolving Role in the Global Knowledge Economy" (with Scott Kennedy and Jun Su) (National Bureau of Asian Research. September, 2008). Dr. Suttmeier has served as Senior Analyst, Congressional Office of Technology Assessment and Director of the Beijing Office, National Academy of Sciences/Committee on Scholarly Communication with the People's Republic of China, and as a consultant to the World Bank, the UNDP, and the US government. He recently completed several months service as Senior Visiting Scholar at the Institute of Policy and Management of the Chinese Academy of Sciences.

Mr. Andrew Updegrove
Gesmer Updegrove, LLP

Mr. Andrew Updegrove is a founding partner of Gesmer Updegrove LLP, a Boston-based technology law firm. He has a broad range of experience in representing both mature and emerging high technology companies of all types in all aspects of their legal affairs. Since 1988, he has also represented and helped structure more than 110 worldwide standard setting, open source, research and development, promotional and advocacy consortia, including some of the largest standard setting organizations in the world. In 2005 he was elected to the Boards of Directors of the American National Standards Institute (ANSI) and to the Free Standards Group (FSG). In 2007 he was elected to the Board of Directors of the Linux Foundation. He is a current member of the Board of Advisors of Open Source for America, and a Charter Fellow of the OpenForum Academy. Mr.Updegrove has also provided testimony to the Department of Justice and Federal Trade Commission on standard setting and intellectual property rights, and written and filed pro bono "friend of the court" briefs in major standards-related litigation before the Federal Circuit Court, the Supreme Court, and the Federal Trade Commission. In 2002, he conceived and launched ConsortiumInfo.org, an extensive website intended to provide the most comprehensive and detailed source of news and information on standard-setting, open source software project development, and forming and maintaining consortia. Mr. Updegrove is a graduate of Yale University and the Cornell University Law School.


---
Sponsor



U.S. Patent & Trademark Office