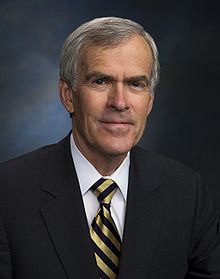 The Honorable Jeff Bingaman
Former Senator NM
United States Senate
Jeff Bingaman is a former United States Senator from New Mexico, serving from 1983 to 2013. He served as Chairman of the Committee on Outreach for the Senate Democratic Caucus. Bingaman held several committee assignments during his tenure in the U.S. Senate including: the Committee on Energy and Natural Resources, Committee on Finance, Joint Economic Committee, Committee on Armed Services, and the Committee on Health, Education, Labor, and Pensions. During much of his political career, Bingaman was involved in the immigration debate and has worked to protect wildlife and public lands. On the Senate Energy Committee, he has contributed to every major piece of energy policy legislation in the last two decades.
Prior to serving as a U.S. Senator, Bingaman worked as a private practice attorney. He served as counsel to the New Mexico Constitutional Convention of 1969. He was Attorney General of New Mexico from 1979 to 1983, a position in which he focused mainly on environmental and antitrust issues.
Senator Bingaman earned his BA from Harvard and his JD from Stanford University.