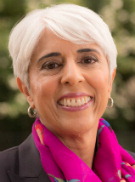 Former Director
Defense Advanced Research Projects Agency (DARPA)

Arati Prabhakar's current focus is bringing new kinds of innovation to society's most complex challenges. She was a fellow at the Center for Advanced Study in the Behavioral Sciences (CASBS) at Stanford University during 2017-18.

Arati was director of the Defense Advanced Research Projects Agency (DARPA) from 2012 to 2017. She focused the agency's efforts on rethinking complex military systems in fundamental ways; harnessing the information explosion to address national security challenges; and planting new seeds of technological surprise in fields as diverse as mathematics, synthetic biology, and neurotechnology. Under her leadership, DARPA established a new office dedicated to biological technologies, demonstrated foundational approaches to enhancing computer security and deep-web search, and initiated new system-of-systems and space programs with the potential to radically transform military capabilities.

She initially joined DARPA in 1986 as a program manager in advanced semiconductor technology and was the founding director of DARPA's Microelectronics Technology Office. In 1993, President Bill Clinton appointed her director of the National Institute of Standards and Technology (NIST), where she led the 3,000-person organization in its work with companies across multiple industries.

Arati moved to Silicon Valley in 1997, first as chief technology officer and senior vice president at Raychem, and later vice president and then president of Interval Research. From 2001 to 2011 she was a partner with U.S. Venture Partners, an early-stage venture capital firm, where she identified and served as a director for startup companies with the promise of significant growth. She worked with entrepreneurs building businesses in energy and efficiency technologies, consumer electronics components, and semiconductor process and design technologies.

Arati received her Ph.D. in applied physics and M.S. in electrical engineering from the California Institute of Technology. She received her B.S. in electrical engineering from Texas Tech University. She began her career as a Congressional Fellow at the Office of Technology Assessment. Arati is a member of the National Academy of Engineering and a fellow of the Institute of Electrical and Electronics Engineers.