Copyright in the Digital Era: Building Evidence for Policy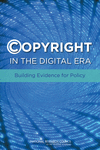 In a report released May 2, 2013
Copyright in the Digital Era: Building Evidence for Policy,
the National Academies call on federal agencies and foundations to support a broad range of empirical research studies to contribute to the comprehensive review of U.S. copyright law recommended by Register of Copyrights,
Maria Pallente
, and announced April 24, 2013 by House Judiciary Committee Chairman
Bob Goodlatte
(R-VA). The report also urges the federal government to consider instituting two regular, systematic surveys – one of businesses on their acquisition and use of intellectual property of all types and the other of consumers to understand how digital content is created and used.
The report describes a wide range of questions that are ripe for analysis: how incentives of creators, distributors and users are changing, what are the enablers of and impediments to voluntary licensing, what are the costs and effectiveness of copyright enforcement methods, and what are the costs and benefits of copyright exceptions and limitations. Answers to these questions will help inform decisions about copyright scope and duration, more effective licensing arrangements and enforcement mechanisms, and appropriate safe harbors and fair use exceptions.
The authors of the report acknowledge that lack of data has handicapped research on copyright. They call on a number of public and private holders of digital data to contribute to a data infrastructure available to qualified researchers willing and able to protect privacy and proprietary interests.
The report points out that copyright policy debates are increasingly strident and divisive, in part because they are poorly informed by carefully gathered evidence. This in contrast to patent policy debates, which have inspired a fairly robust research enterprise that helped inform the development of the America Invents Act of 2011, the most significant reform of patent law in 60 years.
Copyright in the Digital Era
is a report of the Academies' Board on Science, Technology, and Economic Policy (STEP) which also produced
A Patent System for the 21st Century
(2004), which helped launch the debate on patent reform.
Read report brief
.
---
---
Commissioned Papers
The Impact of Digitization on Business Models in Copyright-Driven Industries: A Review of the Economic Issues
Lisa Cameron and Coleman Bazelon
Christian Handke
Mark J. McCabe
Rachel Soloveichik and David Wasshausen
* Note: This revised version of the paper posted on 5/7/2013 replaces an earlier reviewed version on which the STEP committee relied on when writing its report, Copyright in the Digital Era: Building Evidence for Policy. In this version of the paper, the Bureau of Economic Affairs decided to substitute the term "entertainment originals" for "artistic originals" and revised upward the depreciation rate on those assets. As a result, some of the figures in the paper do not precisely match those in the report.
---
Meetings & Events
Public Event: May 6, 2013 (release luncheon)
Meeting 5: November 10, 2011 (closed)
Meeting 4: June 9, 2011
Meeting 3: June 8, 2011 (closed)
Meeting 2: October 15, 2010
Meeting 1: October 14, 2010

---
Committee Members
Dr. William J. Raduchel - (Chair)
Independent Director/Advisor

William J. Raduchel, Ph.D. is an independent director, angel investor and strategic advisor. He is chairman of Opera Software, and a director of two public companies (Blackboard, Inc. and Silicon Image) as well as Datran Media, ePals, Virident, Live Intent and moka5. Bill is also an adjunct professor at Georgetown University. He is a strategic advisor to Myriad International Holdings, Trion World Network and vMark. From March of 2004 through June 2006, he was the Chairman of the Board of Ruckus Network, a digital entertainment network for students at colleges and universities over the university network, and from May 2004 through January 2006 he also was chief executive officer. Through 2002 he was executive vice president and chief technology officer of AOL Time Warner,Inc, after earlier being senior vice president and chief technology officer of AOL, where he also served as a strategic advisor after leaving AOL Time Warner. Infoworld named him CTO of the year in 2001. Raduchel joined AOL in September 1999 from Sun Microsystems,Inc., where he was chief strategy officer and a member of its executive committee. In his eleven years at Sun, he also served as chief information officer, chief financial officer, acting vice president of human resources and vice president of corporate planning and development and oversaw relationships with the major Japanese partners. He was recognized separately as CIO of the year and as best CFO in the computer industry. In addition, he has held senior executive roles at Xerox Corporation and McGraw-Hill, Inc. He is a vice chairman of the National Advisory Board for the Salvation Army (and chairman of its Committee on Business Administration) and a member of the Conference of Business Economists and the Board on Science, Technology and Economic Policy of the National Academy of Sciences. He was a member of the National Academy Committee on Internet Navigation and Domain Name Services and the STEP committee which produced A Patent System for the 21st Century. He has several issued and pending patents. After attending Michigan Technological University, which gave him an honorary doctorate in business in 2002, Raduchel received his B.A. in economics from Michigan State University in 1966,and earned his A.M. (1968) and Ph.D. (1972) degrees in economics at Harvard. At Harvard, he taught economics, econometrics and public policy for ten years and was assistant dean of admissions and financial aid for Harvard and Radcliffe colleges. In both the fall and spring of 2003 he was the Castle Lecturer on Computer Science at the U.S. Military Academy at West Point.


Dr. Peter Menell - (Vice Chair)
University of California, Berkeley

Peter S. Menell, Vice Chair, is Robert L. Bridges Professor of Law at the University of California at Berkeley School of Law. He is one of the U.S. Patent and Trademark Office's inaugural Thomas Alva Edison Visiting Professionals, where he serves as an expert advisor. After graduating from law school, he clerked for the Honorable Jon O. Newman of the U.S. Court of Appeals for the Second Circuit. Dr. Menell joined the law faculty at the University of California at Berkeley in 1990, where his research and teaching have focused on intellectual property and the digital technology and entertainment industries, as well as environmental law, property law, and law and economics. In 1995, he co-founded the Berkeley Center for Law and Technology where he serves as a director. He has written more than 50 articles and numerous books, including Intellectual Property in the New Technological Age (with R. Merges and M. Lemley, now in its 6th edition) and Software and Internet Law (with M. Lemley, R. Merges, P. Samuelson, and B. Carver, now in its 4th edition). Dr. Menell has co-authored numerous articles on copyright law with David Nimmer and has contributed to Nimmer on Copyright, a leading treatise. He has organized more than 40 intellectual property education programs for the Federal Judicial Center since 1998. Dr. Menell founded and supervises the Annual Review of Law and Technology (now in its 16th year, published by the Berkeley Technology Law Journal). He has advised the U.S. Congress, federal agencies, state attorney generals, and major technology and entertainment companies on a wide range of intellectual property, licensing, and antitrust matters. Dr. Menell earned his S.B. from the Massachusetts Institute of Technology, his M.A. and Ph.D. in economics from Stanford University, and J.D. from Harvard Law School.

Ms. Marilyn Hall Patel
U.S. District Court for the Northern District of California

Judge Marilyn Hall Patel, has served as a judge on the United States District Court for the Northern District of California, sitting in San Francisco, since 1980 until 2012. She was the first woman to serve as Chief Judge of the Court and held that position from 1997 to 2004. Prior to her joining the federal bench, Judge Patel served on the bench of the state court of California. Judge Patel received her B.A. degree from Wheaton College in 1959 and her J.D. from Fordham University Law School in 1963. She is a member of the Bars of New York and California.

During her years on the bench, Judge Patel has presided many intellectual property cases ranging from patent to copyright and trademark to trade secret cases. Among them was the litigation involving the original peer-to-peer file sharing system Napster. Judge Patel hears all types of civil and criminal cases. She also has presided over a number of precedent setting cases.

Judge Patel has been involved in a number of advanced legal education programs instructing within and outside the United States on litigation, civil practice, securities law and intellectual property law as well as a number of other subjects. She has participated in programs conducted by Loyola School of Law and California Institute of Technology delving into the intersection of technology and other important issues including human genome research, communication and globalization. She has also been one of the initiators of judicial education programs in California and federal courts dealing with gender bias and equity, leading to the first gender bias studies and commissions in these courts.


Mr. Michael A. Keller
Stanford University

Michael A. Keller is the Ida M. Green University Librarian, Director of Academic Information Resources, Publisher of HighWire Press, and Publisher of the Stanford University Press. These titles touch on his major professional preoccupations: commitment to support of research, teaching and learning; effective deployment of information technology hand-in-hand with materials; active involvement in the evolution and growth of scholarly communication. He may be best known at present for his distinctively entrepreneurial style of librarianship. As University Librarian, he endeavors to champion deep collecting of traditional library materials (especially of manuscript and archival materials) concurrent with full engagement in emerging information technologies. Uniquely, Keller's responsibilities at Stanford encompass libraries, cybraries, academic and residential computing, publishing and publishing services.

Keller was educated at Hamilton College (B.A. Biology, Music 1967), SUNY Buffalo (M.A., Musicology, 1970), SUNY Geneseo (M.L.S., 1971), and SUNY Buffalo (a.b.d. Ph.D., Musicology). From 1973 to 1981, he served as Music Librarian and Sr. Lecturer in Musicology at Cornell University and then in a similar capacity at UC Berkeley. While at Berkeley, he also taught musicology at Stanford University and began the complete revision of the definitive Music Research and Reference Materials, an annotated bibliography popularly known as Duckles in honor of its original compiler. Yale called him to the post of Associate University Librarian and Director of Collection Development in 1986. In 1993, he joined the Stanford staff as the Ida M. Green Director of Libraries. In 1994, he was named to his current position of University Librarian and Director of Academic Information Resources. In 1995, by establishing HighWire Press, he became its publisher, and in April 2000, he was assigned similar strategic duty for the Stanford University Press. Keller speaks at about thirty professional, high-technology, and scholarly gatherings around the world every year on topics ranging from librarianship, musicology, information topography, to national and global information policy.


Mr. Christopher M. Kelly
Independent Consultant

Chris Kelly is a Silicon Valley based attorney with a long track record of representing innovative companies and helping make the Internet a safer place for kids and adults alike.

Most recently, Chris was a Democratic candidate for Attorney General of California, finishing second in a field of seven in the June 2010 primary election.

Previously, as the first Chief Privacy Officer, and Head of Global Public policy for Facebook, Chris worked with Attorneys General in all 50 states to develop safeguards protecting children from sexual predators and represented the company in complex situations involving privacy and intellectual property in the digital age.

As a policy advisor for President Clinton's 1992 campaign and then his White House Domestic Policy Council and Department of Education, Chris advanced critical domestic programs, including the successful initiative to put 100,000 new community police officers on America's streets and the formation of AmeriCorps, a network of national service programs that engage Americans to improve education, public safety, health, and the environment.

In 1997, Chris returned to California to clerk for federal Judge Barry Moskowitz of the United States District Court in San Diego. He assisted on a range of criminal and civil cases, including drug smuggling, immigration, and money laundering. In 1998, he returned to his boyhood home in Silicon Valley to practice law. Among other clients, Chris represented Netscape in the Microsoft antitrust case and Diamond Multimedia in the groundbreaking suit over the MP3 player that furthered personal use rights over digital content.

Chris received his undergraduate degree from Georgetown University, a master's degree from Yale University, and his law degree from Harvard University. Raised in Santa Ana and San Jose, he lives in Atherton with his wife Jennifer, and entrepreneur and former prosecutor, and their son Aidan. Chris also serves on the Board of Directors for the San Francisco 49ers Academy, a public middle school in East Palo Alto.


Professor Ruth Okediji
University of Minnesota, Minneapolis

Ruth L. Okediji is the William L. Prosser Professor of Law at the University of Minnesota Law School where she teaches contracts, copyright, trademarks, patents and global aspects of intellectual property law. She is an internationally renowned expert on international intellectual property with a special emphasis on innovation policy, technology transfer, copyright and new technologies.

Professor Okediji's scholarship focuses on the design and implementation of legal rules, institutions and processes that shape national and international policies on intellectual property rights. She is known worldwide for her work on international intellectual property issues with an emphasis on the geo-political relationship between multilateral trade law, innovation and intellectual property policy. Professor Okediji has written, lectured and published extensively on these topics. She has worked with numerous international organizations including the United Nations Development Program's (UNDP) flagship project on Innovation, Culture, Biogenetic Resources, and Traditional Knowledge; the United Nations Conference on Trade and Development (UNCTAD)-ICTSD Capacity Building Project on Intellectual Property Rights and Sustainable Development; and as an Advisor to various countries on intellectual property policies under the auspices of the Commercial Law Development Program of the U.S. Department of Commerce.

Professor Okediji has earned numerous teaching awards, citations, and held appointments in public service. She has served on many boards and has chaired numerous national and international committees. She currently sits on the Oxford University Taskforce for Knowledge Governance, and is a member of the ICTSD Expert Group on Climate Change and Technology Transfer. She has chaired the American Association of Law School's Section on Intellectual Property, Section on Law and Computers and the Nominating Committee. She also is a member of the Executive Board of the Order of the Coif. At the University of Minnesota, Professor Okediji recently Co-Chaired the University-wide Committee which helped develop the new Regents Copyright Policy. She has served and Chaired or Co-Chaired several committees at the Law School, including the Dean Review, Tenure, Promotion and Appointments Committees.

In addition to many articles, book chapters and monographs, Professor Okediji is the author of the forthcoming book GLOBAL PERSPECTIVES ON INTELLECTUAL PROPERTY (Oxford University Press, 2011); INTERNATIONAL PATENT LAW AND POLICY: CASES AND MATERIALS (Aspen, 2011); Global Perspectives on Patent Law (Oxford University Press, 2011); and coauthor of the leading copyright casebook, COPYRIGHT IN A GLOBAL INFORMATION ECONOMY (3rd Ed. Aspen, 2010 (with Julie Cohen, Maureen O'Rourke and Lydia Loren).

Professor Okediji previously held the Edith Gaylord Presidential Professorship at the University of Oklahoma Law School. From 1997-2000, she was Of Counsel with the Oklahoma City Law Firm of Crowe & Dunlevy. In 2002, she was appointed by Governor Frank Keating to the Oklahoma Public Employee Relations Board where she served until she joined the faculty at the University of Minnesota. She held the inaugural Solly Robins Distinguished Research Fellowship from 2006-2008.

Professor Okediji has held visiting research positions at Harvard Law School and the Max Planck Institute for International and Comparative Patent, Copyright, Trademark and Unfair Competition Law in Munich, Germany. Professor Okediji has been a visiting professor at St. Thomas Law School and at Duke Law School. She is a member of the New York Bar, the Minnesota Bar and
the American Bar Association. She is Of Counsel at Robins, Kaplan, Miller and Ciresi in Minneapolis, MN.


Dr. Mitch Singer
Sony Pictures Entertainment

Mitch Singer is the Executive Vice President of the Digital Policy Group of Sony Pictures Entertainment Inc. The Digital Policy Group was formed to coordinate digital policy across all Sony Pictures' businesses. Mitch focuses on emerging and disruptive technologies and evaluates and develops adaptive business models to stay ahead of the technological curve. Mitch has been involved in digital rights management from the launch of DVD and has been the lead negotiator for Sony Pictures in content protection technology licensing such as Digital Transmission Copy Protection (5C), Copy Protection for Pre-Recorded and Recordable Media (4C), High Definition Content Protection (HDCP), Blu-Ray Recordable and many others.

Singer joined SPE in 1990 as Counsel in the Litigation Group. In 1991, he became Counsel to the Television Legal Group, and was promoted to Senior Counsel in 1992. He was named Assistant General Counsel in 1994 and became Vice President in the Television Legal Group in 1996. That same year, he was named head of Columbia TriStar Home Entertainment Legal Affairs. In 1997, Singer became Senior Vice President and transferred to the Intellectual Property Department for SPE. In this capacity he was responsible for traditional intellectual property issues such as copyright and trademark, new technology licensing and content protection.


Mr. Christopher Sprigman
University of Virginia Law School

Christopher Sprigman teaches intellectual property law, antitrust law, competition policy, and comparative constitutional law at the University Of Virginia School Of Law. His scholarship focuses on how legal rules affect innovation and the deployment of new technologies.

Sprigman received his B.A. with honors from the University of Pennsylvania in 1988. He attended the University of Chicago Law School, serving as a Comment Editor of the University of Chicago Law Review and graduating with honors in 1993. Following graduation, Sprigman clerked for the Honorable Stephen Reinhardt of the U.S. Court of Appeals for the Ninth Circuit, and for Justice Lourens H. W. Ackermann of the Constitutional Court of South Africa. Sprigman also taught at the law school of the University of the Witwatersrand, in Johannesburg, South Africa.

From 1999 to 2001, Sprigman served as Appellate Counsel in the Antitrust Division of the U.S. Department of Justice, where he worked on U.S. v. Microsoft, among other matters. Sprigman then joined the Washington, D.C. office of King & Spalding LLP, where he was elected a partner. In 2003, he left law practice to become a Residential Fellow at the Center for Internet & Society at Stanford Law School. He joined the Virginia faculty in 2005.


Dr. Scott Stern
Massachusetts Institute of Technology

Scott Stern, is a Professor of Technological Innovation, Entrepreneurship, and Strategic Management at MIT's Sloan School of Management. Professor Stern is the co-organizer of the NBER Innovation Policy and the Economy Working Group and a Senior Fellow of the Searle Center on Law, Regulation and Economic Growth. He is an Associate Editor of Management Science, the Journal of Industrial Economics, the International Journal of Industrial Organization, serves on the Board of Management of the International Schumpeter Society, and has served on the editorial boards of the Antitrust Law Journal and the Journal of Business and Economics Statistics. In 2005, Stern was awarded the first Ewing Marion Kauffman Prize Medal for Distinguished Research in Entrepreneurship.

Stern explores how innovation — the production and distribution of "ideas" — differs from more traditional economic goods, and the implications of these differences for business and public policy. This research is at the intersection between industrial organization and the economics of technical change. Recent studies examine the drivers of commercialization strategy for technology entrepreneurs, the determinants of R&D productivity, and the role of incentives and organizational design on the process of innovation.

Professor Stern graduated with a BA degree in Economics from New York University, and received his PhD in Economics from Stanford University in 1996. From 2001-2003 Stern was a Non-Resident Senior Fellow of the Brookings Institution and, from 2001-2010, he was an Associate Professor at the Kellogg School of Management.


Ms. Molly S. Van Houweling
University of California, Berkeley

Molly S. Van Houweling, joined the Boalt faculty in fall 2005 from the University of Michigan Law School, where she had been an assistant professor since 2002. Van Houweling's teaching and research interests include intellectual property, law and technology, property, and constitutional law. She was a visiting professor at Boalt in 2004-05.

Before joining the Michigan faculty, Van Houweling was president of Creative Commons, a nonprofit group that facilitates sharing of intellectual property. Van Houweling has served as senior adviser to the president and board of directors of the Internet Corporation for Assigned Names and Numbers, the entity that oversees the Internet Domain Name System. She has been a research fellow at the Berkman Center for Internet & Society at Harvard Law School and at the Center for Internet and Society at Stanford Law School. Van Houweling clerked for Judge Michael Boudin of the U.S. Court of Appeals for the 1st Circuit and Justice David H. Souter of the U.S. Supreme Court.

Van Houweling's recent publications include "Distributive Values in Copyright" in the Texas Law Review (2005); "Enforcement of Foreign Judgments, the First Amendment, and Internet Speech: Notes for the Next Yahoo! v. LICRA (Special Feature: Cyberage Conflicts Law)" in the Michigan Journal of International Law (2003); and "Cultivating Open Information Platforms: A Land Trust Model" in the Journal of Telecommunications and High Technology Law (2002). Van Houweling received her B.A. from the University of Michigan (1994) and her J.D. from Harvard Law School (1998).


Mr. Paul Vidich
Independent Consultant

Paul Vidich left Time Warner in 2006 after 19 years as a senior executive in its AOL and Warner Music divisions, where he was executive vice-president in charge of worldwide strategy and business development. He served as senior entertainment industry executive and has played a major role in shaping global strategies and business development for many world-renowned organizations for the last twenty years. He played a key role in negotiating the first major label rights agreement with Apple, which led to launch of Apple's iTunes platform in 2002. At AOL, he managed AOL's acquisition of video search company, Truveo, and led AOL's investment in Brightcove. He led AOL's teams responsible for negotiating video rights and building out its video products and platforms. He joined Warner Communications in 1987 and joined the executive staff of Warner Music Group in 1991. Mr. Vidich served as Executive Vice President of Strategic Planning and Business Development at Warner Music Group Corp., where he was responsible for the organization's worldwide music strategies, market research, technology and business development activities, including joint-venture development, acquisitions and initiatives in mobile, e-commerce, electronic music distribution and new music formats. During his tenure at Warner Music Group, he served extensively with technology companies to help shape commercial music opportunities arising from the promise of the Internet, including various collaborations on digital distribution and new format projects with Apple, Microsoft, Sony, Philips, Matsushita, Toshiba, IBM, and Intel.

Mr. Vidich has been a Director of MediaNet Digital (also known as Musicnet) since 2006, a director of Reverbnation (December 2009), and Fanfeedr (June 2010). He previously served as an independent Director on the Boards of Scanscout and Brightcove. He serves as Vice Chairman of the Board of Governors, The New School For Social Research, and is a Director of Poets & Writers. He served as a Trustee of Wesleyan University 1997-2000. He serves as Member of Strategic Advisory Board at Brightcove, Inc. He served as a Non-Executive Director of Music Choice Europe PLC from 1998 to June 2004. Earlier in his career, he held editorial and reporting positions with various publishing companies, including Fairchild Publications. Mr. Vidich served as board member of Music Choice and Columbia House. Mr. Vidich holds an MBA from the Wharton School of Finance and Commerce at the University of Pennsylvania and a B.A. from Wesleyan University. He received his MFA in 2009 from Rutgers-Newark and his short fiction and essays have been published in a variety of publications, including The Nation, Narrative Magazine, Fugue Magazine and online journals.


Dr. Joel Waldfogel
University of Pennsylvania

Joel Waldfogel is Frederic R. Kappel Chair in Applied Economics at the University of Minnesota's Carlson School of Management and is a research associate of the National Bureau of Economic Research. Before coming to Carlson, Waldfogel was at the University of Pennsylvania's Wharton School (1997-2010), where he was the Ehrenkranz Family Professor of Business and Public Policy and had served as department chair and associate vice dean. Between 1990 and 1997, he was an assistant and later and associate professor of economics at Yale University.

Waldfogel's main research interests are industrial organization and law and economics. He has conducted empirical studies of price advertising, media markets, the operation of differentiated product markets, and issues related to digital products, including piracy, pricing and revenue sharing. He has published over 50 articles in scholarly outlets including the American Economic Review, the Journal of Political Economy, and the RAND Journal of Economics. He has published two books, The Tyranny of the Market: Why You Can't Always Get What You Want (Harvard University Press, 2007) and Scroogenomics: Why You Shouldn't Buy Presents for the Holidays (Princeton University Press, 2009). He has also written for Slate.

Waldfogel serves on the advisory boards of two companies, Tango Card, Inc. and HowMutch. He received an A.B. in economics from Brandeis University in 1984 and a Ph.D. in economics at Stanford University in 1990.

---
Sponsors
Alfred P. Sloan Foundation
American Chemical Society
Business Software Alliance
Entertainment Software Association
Ford Foundation
Google Inc.-Tides Foundation
Intel
Institute of Museum and Library Sciences
Microsoft
Motion Picture Association of America
National Science Foundation
Pamela Samuelson and Robert J. Gulshko.