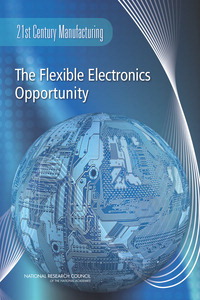 Project Scope
The Committee on Best Practice in National Innovation Programs for Flexible Electronics examined and compared selected innovation programs both foreign and domestic, and their potential to advance the production of flexible electronics technology in the United States. The analysis, carried out under the direction of the committee, included a review of the goals, concept, structure, operation, funding levels, and evaluation of foreign programs similar to major U.S. programs, e.g., innovation awards, S&T parks, and consortia. To assess these programs, the committee convened a series of meetings to gather data from responsible officials and program managers, and encouraged a systematic dissemination of information and analysis as a means of better understanding the transition of flexible electronics research into products and to identify specific recommendations to improve and to develop U.S. programs.

Specifically, the committee examined the role of research consortia around the world to advance flexible electronics technology, comparing their structure, focus, funding, and likely impact, and determining what appropriate steps the United States might consider to develop the industry in the United States. This review included the potential of the industry, the possible contributions of a consortium, and other measures contributing to the development of the industry in the United States. The committee undertook workshops to carry out this analysis, prepared a workshop summary capturing the tacit knowledge expressed, commissioned additional analyses, and developed findings and recommendations for inclusion in the committee's final consensus report.


---
Meetings & Events

Committee Meeting (Conference Call)
July 7, 2014

Committee Meeting (Conference Call)
January 23, 2014

Committee Meeting
November 18, 2013
Washington, DC

Committee Meeting
June 5, 2013
Cleveland, OH

The Flexible Electronics Opportunity and Industry Challenges
February 8, 2011
Phoenix, AZ
Flexible Electronics for Security, Manufacturing, and Growth in the United States
September 24, 2010
Washington, DC
Committee Meeting
September 23, 2010
Washington, DC

Committee Meeting (Conference Call)
August 25, 2010


---
Reports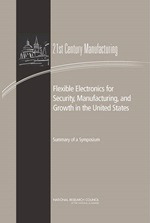 Flexible Electronics for Security, Manufacturing, and Growth in the United States: Summary of a Symposium is the summary of a workshop convened in September 2010 by Policy and Global Affairs' Board on Science, Technology, and Economic Policy to review challenges, plans, and opportunities for growing a robust flexible electronics industry in the United States. Business leaders, academic experts, and senior government officials met to review the role of research consortia around the world to advance flexible electronics technology. Presenters and participants sought to understand their structure, focus, funding, and likely impact, and to determine what appropriate steps the United States might consider to develop a robust flexible electronics industry.
Flexible electronics refers to technologies that enable flexibility in the manufacturing process as well as flexibility as a characteristic of the final product. Features such as unconventional forms and ease of manufacturability provide important advantages for flexible electronics over conventional electronics built on rigid substrates. Today, examples of flexible electronics technologies are found in flexible flat-panel displays, medical image sensors, photovoltaic sheets, and electronic paper. Some industry experts predict that the market for global flexible electronics will experience a double digit growth rate, reaching $250 billion by 2025, but most experts believe that the United States is not currently poised to fully capitalize on this opportunity. This report examines and compares selected innovation programs, both foreign and domestic, and their potential to advance the production of flexible electronics technology.
---
Committee Members
Dr. Donald Siegel - (Chair)
University at Albany
Donald Siegel is Dean of the School of Business and Professor of Management at the University at Albany, SUNY. He received his bachelor's degree in economics and master's and doctoral degrees in business economics from Columbia University. Dr. Siegel is editor of the Journal of Technology Transfer, an associate editor of the Journal of Business Venturing, Journal of Productivity Analysis, and Academy of Management Learning & Education, and serves on the editorial boards of the Journal of Management Studies, Journal of International Business Studies, Academy of Management Perspectives, Corporate Governance: An International Review, and Strategic Entrepreneurship Journal. Don was recently ranked #2 in the world for academic research on university entrepreneurship and #760 in the world among academic economists. He has published on issues relating to university technology transfer and entrepreneurship, the effects of corporate governance on economic performance, productivity analysis, and corporate social responsibility in such leading journals as American Economic Review, Economic Journal, The Review of Economics and Statistics, Journal of Law and Economics, Journal of Financial Economics, Brookings Papers on Economic Activity, Research Policy, Academy of Management Review, Academy of Management Journal, Strategic Management Journal, Journal of Business Venturing, Journal of International Business Studies, Journal of Management Studies, and Journal of Management. His most recent books are Innovation, Entrepreneurship, and Technological Change (Oxford University Press) and the Handbook of Corporate Social Responsibility (Oxford University Press). He is currently editing the Handbook of University Technology Transfer (University of Chicago Press) and conducting National Science Foundation-sponsored research on "University Research Parks and the Innovative Performance of Park Firms."
Dr. A. Michael Andrews, II
L-3 Communications Corporation
Dr. A. Michael Andrews II is L-3 Communications' Vice President for Research and Engineering and Chief Technology Officer. He guides the company's long-term R&D initiatives, is responsible for L-3's IR&D Program, provides input on new solutions to Department of Defense requirements and continually evaluates the evolving technologies used in L-3 products and chairs the Corporation's Engineering Council. Dr. Andrews was most recently serving as Deputy Assistant Secretary of Research and Technology and Chief Scientist for the United States Army, a position he held since 1998. He was responsible for the Army's entire Research and Technology program, spanning 21 Laboratories and Research, Development, and Engineering Centers, with approximately 9,000 scientists and engineers and a budget that, under his leadership, nearly doubled to $1.8 billion in fiscal year 2004. Dr. Andrews' effective work with senior staff principals, scientists and engineers from the Army, Department of Defense, and industry significantly enhanced the Army's efforts toward the development of the Future Combat Systems, Objective Force, and Transformation. Prior to coming to the Army in 1997, Dr. Andrews held a variety of corporate, engineering leadership and system development positions at Rockwell International. Dr. Andrews began his career at Rockwell in 1971, working on electro-optic and infrared research and development products. An author of over 50 technical articles, Dr. Andrews holds several patents in infrared sensors, materials and signal processors. Dr. Andrews is a recipient of various honors, including the Presidential Rank Award, the Meritorious Civilian Service Award, Rockwell's Engineer of the Year Award, University of Illinois Distinguished Alumnus Award and a Fellow of the Institute of Electrical & Electronics Engineers. He currently serves on one corporate governing board, three government committees, and one university advisory board. Dr. Andrews received his B.S. and M.S. in Electrical Engineering from the University of Oklahoma and received his Ph.D. in Electrical Engineering from the University of Illinois in 1971.

Dr. Byron C. Clayton
Nortech
Dr. Byron C. Clayton serves as the Vice President of NorTech, a nonprofit technology-based economic development organization that serves 21 counties in Northeast Ohio. Dr. Clayton is responsible for leading NorTech's Flexible Electronics cluster initiative to accelerate commercial activity and jobs in the sector. In this role, he will work with cluster companies, research institutions, entrepreneurs, investors, and state officials to catalyze cluster efforts to create economic impact in Northeast Ohio.
Dr. Clayton has over 25 years of experience developing new businesses and commercializing high tech systems for numerous industries including automotive, aerospace, defense (DOD), nuclear (DOE), space (NASA), and window manufacturing. For 15 of those years, he served as a senior or executive manager specializing in strategic management, product commercialization, and business development. He holds patents for innovative software systems and has been published in industry and academic journals.
Prior to joining NorTech, Dr. Clayton advised doctoral students at Case Western Reserve University on qualitative research methods and lectured undergraduate and graduate students on mergers and acquisitions. He simultaneously collaborated with Cleveland Clinic to conceptualize behavioral technology designed to optimize clinical and nonclinical processes. Dr. Clayton also formed and managed the NxWare Division of GED Integrated Solutions. During his tenure as president, NxWare received the prestigious Crystal Achievement Award recognizing the most innovative contributions to the window manufacturing industry.
Dr. Clayton received a doctor of management degree from Case Western Reserve University in Cleveland, Ohio. His dissertation explored the impact of financial and nonfinancial incentives on managerial motivation and performance during large scale organizational change. His other research domains included economic revitalization in Northeast Ohio, behavioral technology in healthcare, and the application of complexity science to improve success rates of mergers and acquisitions.

Dr. Nick Colaneri
Arizona State University
Nick Colaneri, Ph.D. is the Center Director with responsibility for strategic vision, funding acquisition, program goals, member recruitment and new business development. Nick has been involved in organic technologies since the discovery of polymer electroluminescence during his work as a Post Doctoral Research Assistant in Cambridge in 1989. He received his Ph.D. in Physics in 1987 from the University of California at Santa Barbara under the supervision of the 2000 Nobel Laureate in Chemistry, Professor Alan Heeger. Following postdoctoral research in the laboratories of Cavendish Professor Sir Richard Friend, FRS at Cambridge University, England, he became a founding employee of UNIAX Corporation in 1990. Over the following ten years, UNIAX became a global leader in the development of light emitting polymer technology. During that period, Nick served in a variety of technical and business roles, eventually being named VP of Business Development in 1998. He was a member of the executive team that arranged and completed the sale of UNIAX to the DuPont Corporation in 2000, and subsequently became Director of Strategic Planning for the new DuPont Displays SBU until 2003.

Dr. Stephen R. Forrest
University of Michigan
Stephen Forrest, PhD, Vice President for Research; Professor EECS, MS&E and Physics, University of Michigan. First at Bell Labs, he investigated photodetectors for optical communications. In 1985, Prof. Forrest joined the Electrical Engineering and Materials Science Departments at USC where worked on optoelectronic integrated circuits, and organic semiconductors. In 1992, Prof. Forrest became the James S. McDonnell Distinguished University Professor of Electrical Engineering at Princeton University. He served as director of the National Center for Integrated Photonic Technology, and as Director of Princeton's Center for Photonics and Optoelectronic Materials (POEM). From 1997-2001, he served as the Chair of the Princeton's Electrical Engineering Department. In 2006, he rejoined the University of Michigan as Vice President for Research, and as the William Gould Dow Collegiate Professor in Electrical Engineering, Materials Science and Engineering, and Physics. A Fellow of the IEEE and OSA and a member of the National Academy of Engineering, he received the IEEE/LEOS Distinguished Lecturer Award in 1996-97, and in 1998 he was co-recipient of the IPO National Distinguished Inventor Award as well as the Thomas Alva Edison Award for innovations in organic LEDs. In 1999, Prof. Forrest received the MRS Medal for work on organic thin films. In 2001, he was awarded the IEEE/LEOS William Streifer Scientific Achievement Award for advances made on photodetectors for optical communications systems. In 2006 he received the Jan Rajchman Prize from the Society for Information Display for invention of phosphorescent OLEDs, and is the recipient of the 2007 IEEE Daniel Nobel Award for innovations in OLEDs. Prof. Forrest has authored ~440 papers in refereed journals, and has 185 patents. He is co-founder or founding participant in several companies, including Sensors Unlimited, Epitaxx, Inc., Global Photonic Energy Corp., Universal Display Corp. (NASDAQ: PANL) and ASIP, Inc. He serves on the Board of Directors of Applied Materials (NASDAQ: AMAT). He holds a B. A. Physics, 1972, University of California; MSc and PhD Physics in 1974 and 1979, University of Michigan.
Disclosure of Conflict of Interest: Stephen Forrest (NAE)
Dr. Mary L. Good
University of Arkansas at Little Rock
Dr. Mary L. Good, founding Dean and Donaghey Professor, is well known for her distinguished career. She has held many high-level positions in academia, industry, and government. The 143,000-member American Association for the Advancement of Science (AAAS) elected Dr. Good to serve as the president, following Dr. Stephen Jay Gould. In 2004, Dr. Good was recipient of the National Science Foundation's highest honor, the Vannevar Bush Award. She was also the first female winner of the AAAS's prestigious Philip Hogue Abelson prize for outstanding achievements in education, research and development management, and public service, spanning the academic, industrial, and government sectors. Two of her more than 27 awards include the National Science Foundation Distinguished Service medal and the esteemed American Chemical Society Priestly Medal. She is also the 6th Annual Heinz Award Winner. During the terms of Presidents Carter and Reagan, Dr. Good served on the National Science Board and chaired it from 1988-1991. She was the Undersecretary for Technology in the U.S. Department of Commerce and Technology during President Clinton's first term. This agency assists American industry to advance productivity, technology, and innovation in order to make U.S. companies more competitive in the global market. Dr. Good has received 21 honorary degrees. Her undergraduate degree in chemistry is from the University of Central Arkansas. She earned her doctoral degree in inorganic chemistry from the University of Arkansas, Fayetteville, at age 24. Dr. Good spent 25 years teaching and researching at Louisiana State University and the University of New Orleans before becoming a guiding force in research and development for Allied Signal. Dr. Good was voted one of Arkansas' Top 100 Women by Arkansas Business.

Mr. James Turner
Association of Public and Land-Grant Universities
Jim Turner began working in January 2009 for the Association of Public and Land-Grant Universities (APLU) as a consultant on energy policy. This follows a career of over 30 years working for the House of Representatives, 29 of which were on the Professional staff of the Committee on Science and Technology which he first joined in 1977 and returned in 1984 after three years in the private sector. Most recently Jim was the Science Committee's Chief Counsel and worked across the board on the Committee's legislative agenda, which has jurisdiction over non-defense federal scientific research and development. In 2009 he has been chosen to receive the Bayh-Dole Award of the Association of University Technology Managers and an Award of Appreciation from the American Association for Engineering Education.

---
Sponsors

U.S. Department of Commerce
U.S. Department of Energy.