Dr. Jerry Miller appointed Director of Science and Technology for Sustainability Program

February 2, 2015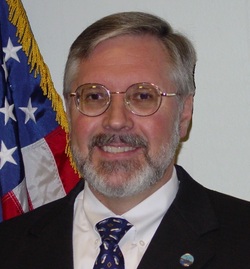 The National Academies of Sciences, Engineering, and Medicine announced today that Dr. Jerry Miller has been appointed as the Director of its Science and Technology for Sustainability (STS) Program in the Policy and Global Affairs Division (PGA). A senior executive with expertise in science and resource management policy with more than 20 years of experience, Dr. Miller will be the Academies' senior scientist driving policy and program direction on sustainability-related issues. Previously, Dr. Miller served as President of Science for Decisions, a consulting practice which he founded to ensure that solid science is available to inform policy and management decisions that impact natural resources and the livelihoods that depend upon them. From 2009 until 2013, Dr. Miller served as Assistant Director for Ocean Sciences at the White House Office of Science and Technology Policy (OSTP) prior to establishing Science for Decisions.

"I am pleased to welcome Jerry to the Academies," said Dr. Richard Bissell, PGA Executive Director. "His decades-long expertise in ocean and coastal sciences as well as management experience will be a great addition to our division. The STS Program has been a gateway to the Academies' rich portfolio of sustainability related programs. Jerry will oversee a tremendously diverse portfolio with topics ranging from the energy-water nexus to urban sustainability to global food security."

The long-term goal of the STS Program is to contribute to sustainable improvements in human well-being by creating and strengthening the strategic connections between scientific research, technological development, and decision-making. The program examines issues at the intersection of the three sustainability pillars—social, economic, and environmental—and aims to strengthen science for decision-making related to sustainability. The program concentrates on activities that are crosscutting in nature; require expertise from multiple disciplines; are important in both the United States and internationally; and engage multiple sectors, including academia, government, industry, and non-governmental organizations. The program's focus is on sustainability issues that have science and technology at their core, particularly those that would benefit substantially from more effective applications of science and technology. The main areas of current activity in the STS Program are the Roundtable on Science and Technology for Sustainability, a seminar series entitled the Network for Emerging Leaders in Sustainability (NELS), and sponsor-requested workshops and consensus studies.

"I am deeply honored by this appointment, and I am pleased to join this vibrant program," said Dr. Miller. "The activities conducted by the NRC are of the utmost importance to our nation. I look forward to working with the Academies' team and the national and international sustainability community to bring the benefits of science and technology to the public."

During his time at OSTP, Dr. Miller was instrumental in the creation of the nation's first National Ocean Policy and the development of its foundational science priorities. He was founding co-Director of the National Ocean Council Office and later served as its Deputy Director for Science and Technology. In addition to his policy work, he addressed science and technology aspects of major disasters including the Deepwater Horizon oil spill and the tsunami-induced Fukushima nuclear accident by fostering collaboration between the academic community and federal agencies during and after the events.

Before taking on his role at OSTP, Dr. Miller was Technical Director and Director of Research at the Consortium for Oceanographic Research and Education (now the Consortium for Ocean Leadership), where he had management and oversight responsibilities for the program offices of the US National Oceanographic Partnership Program, the national and international Census of Marine Life programs, and other community-wide activities. As Associate Director for Ocean, Atmosphere, and Space Sciences at the Office of Naval Research's global office in London, he built international programs in ocean and atmosphere modeling as well as remote sensing. At the Naval Research Laboratory and while on the faculty at Old Dominion University, he developed interdisciplinary numerical and observational projects focused on coastal environments. He collaborated with experts in microwave technologies to create an airborne surface salinity sensor and generated the first remotely-sensed images of sea surface salinity ever obtained. This catalyzed development of sensors now deployed on European and US satellites. Dr. Miller has published widely in the peer-reviewed literature and has made significant contributions to several major federal policy documents. His work has been recognized with awards both in the US and abroad, including with a Distinguished Career Achievement Award from the University of Rhode Island.

Dr. Miller received his B.S. in Marine Science from University of South Carolina, his M.S. in Oceanography from University of Rhode Island, and his Ph.D. in Meteorology and Physical Oceanography from University of Miami. Dr. Miller grew up on a family farm in coastal South Carolina and now lives near Washington, DC, with his wife, Bonny, a pianist and music historian from Los Angeles.