An ad hoc committee will organize a three day public symposium on fostering partnerships and linkages between disciplines, sectors, agencies and nations in sustainability science and innovation. The symposium will feature invited presentations and discussions to showcase federal investments and institutional structures regarding sustainability, identify opportunities to help promote practices that would lead communities toward sustainability, and address communication issues needed to recognize science and innovation as central to the understanding and adoption of sustainable practices. The symposium is intended to better define issues and help forge new collaborations. The format will include multi-partner panels, plenary and breakout sessions addressing a variety of sustainability concepts, including, but not limited to, examples of successful partnerships, communication and outreach of sustainability science, sustainability metrics, infrastructure and data needs, and international sustainability efforts. The symposium will include participants from federal, state and local government, the private sector, academia, nongovernmental organizations, and international bodies involved in sustainability issues. The symposium will be held in the spring of 2012 and a brief individually-authored summary of the event will be issued.

A National Academies Symposium: Science, Innovation, and Partnerships for Sustainability Solutions
May 16-18, 2012
Washington, DC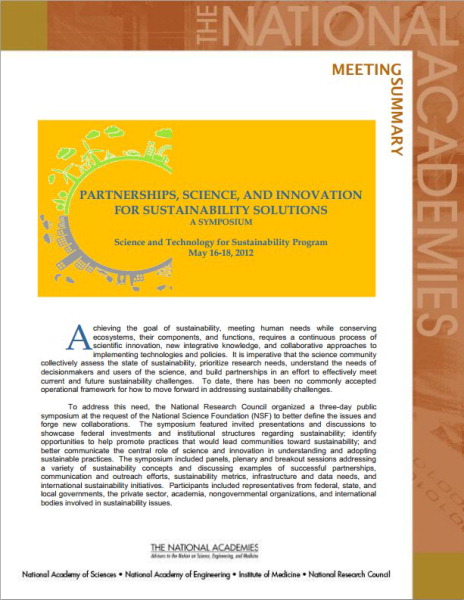 Partnerships, Science, and Innovation for Sustainability Solutions

The committee listed below was established by the National Academies of Sciences, Engineering and Medicine. The project's steering committee reviews all proposals and oversees the organization of the workshops.
Pamela Matson (Chair) (NAS)
Naramore Dean of the School of Earth Sciences, Goldman Professor of Environmental Science, Stanford University
Jonathan Foley
Director, Institute on the Environment (IonE); Professor and McKnight Presidential Chair, Department of Ecology, Evolution and Behavior, University of the Minnesota
Amy K. Glasmeier
Head, Department of Urban Studies and Planning, Massachusetts Institute of Technology
Neil Hawkins
Vice President of Sustainability and Environment, Health & Safety, The Dow Chemical Company
Steve Koonin (NAS)
Science and Technology Policy Institute
Kai Lee
Program Officer, Science Subprogram in Conservation & Science, The David and Lucile Packard Foundation
M. Granger Morgan (NAS)
University and Lord Chair Professor in Engineering; Professor and Head, Department of Engineering and Public Policy, Carnegie Mellon University
Donald Siegel
Professor of Environmental Science, Syracuse University
B. L. Turner II (NAS)
Gilbert F. White Professor of Environment and Society, School of Geographical Sciences and Urban Planning and School of Sustainability, Arizona State University

Staff
Marina Moses, Director, Science and Technology for Sustainability Program
Dominic Brose, Program Officer, Science and Technology for Sustainability Program
Emi Kameyama, Program Associate, Science and Technology for Sustainability Program

This project is sponsored by the National Science Foundation.