ACTIVITIES AND EVENTS
2014 AAAS Symposium - "Santa's Revenge: The Impacts of Arctic Warming on the Mid-Latitudes" - February 15, 2014
This symposium examined high-latitude changes linked to mid-latitude weather and the effect of these complex phenomena on freshwater resources, food availability, and national security. This event was spearheaded by the U.S. National Committee for Geodesy and Geophysics, and co-sponsored by the U.S. National Committees for INQUA, Soil Sciences, and Geological Sciences. More details can be found on the 2014 Santa's Revenge archive page.


2016 International Geological Congress: Cape Town, South Africa

From August 27th to September 4th, 2016, the International Geological Congress will be held in the southern African sub-continent for the first time since 1929. Three main conference themes have already been identified for the 35th IGC: Geology in Society, Geology in the Economy, and Geology in Science. For more details, please visit the 2016 ICG website.


PAST ACTIVITIES AND EVENTS

2014 GSA Annual Meeting: October 19-22 in Vancouver, Canada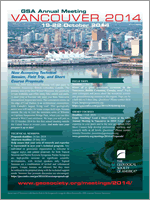 The 2014 Geological Society of America (GSA) Annual Meeting took place in Vancouver, British Columbia, Canada from October 19-22, 2014. The annual meeting included more than 250 technical sessions and symposia, plus special events. More details can be found on the 2014 GSA Annual Meeting website.





America's Geologic Heritage Invitational Workshop: Meeting Summary
The USNC/IUGS, with the sponsorship of the American Geosciences Institute, the Geological Society of America, the U.S. Geological Survey, the Bureau of Land Management, the U.S. Forest Service, the Association of American State Geologists, and the National Park Service, convened this workshop in March 2013 in Lakewood, CO, to examine geologic heritage principles and to promote collaboration and cooperation on geologic heritage and geologic conservation in the United States. A PDF of this meeting summary can now be found online.


2013 AAAS Symposium - "U.S. Climate and Weather Extremes: Past, Present, and Future"
Sponsored by the four USNCs for the Earth Sciences and spearheaded by the U.S. National Committee for the International Union for Quaternary Research. This session provided both current and paleoclimatic perspectives on the nature of recent extreme climate and weather events and their societal and ecological impacts, with a focus on the United States. The symposium was held February 15, 2013 at the AAAS meeting in Boston, Massachusetts. For more information about this meeting, including a list of speakers, please visit the 2013 AAAS Symposium webpage.
SYMPOSIA AND PRESENTATIONS
February 15, 2014 AAAS Session: "Santa's Revenge: The Impacts of Arctic Warming on the Mid-Latitudes"

---
December 12, 2013 AGU Session (PDF): "Science Diplomacy in the Geosciences"

---
February 15, 2013 AAAS Session: "U.S. Climate and Weather Extremes: Past, Present, and Future"

---
December 7, 2012 AGU Town Hall (PDF): "International Geoscience"

---
February 19, 2012 AAAS Session: "Causes and Effects of Relative Sea-Level Changes in the Northeast Pacific"

---
February 17, 2012 AAAS Session: "Toward Stabilization of Net Global Carbon Dioxide Levels"

---
February 20, 2011 AAAS Session: "The Practice of Science Diplomacy in the Earth Sciences"

---
February 19, 2010 AAAS Session: "Dust in the Earth System"

---
December 17, 2009 AGU Poster Sessions: "Extreme Natural Hazards: Risk Assessment, Forecasting, and Decision Support"

---
February 16, 2009 AAAS Session: "Global Sea Level Rise: Observation, Causes, and Prediction"

---
September 25, 2008 BISO Symposium (PDF): "Global Connections among Earth Sciences, Health, and Policy"

---
February 15, 2008 AAAS Session (PDF): "Planet Earth: Lessons Ignored, Lessons Learned"