ICMI Study 23 Proceedings Available Online


The Study Conference for ICMI 23 -- Primary Mathematics Study on Whole Numbers -- was held at the University of Macau, China, from Wednesday, June 3 through Sunday, June 7, 2015. For more information about this conference, visit the study conference website. To view the ICMI Study 23 proceedings, click here.
14th Inter-American Conference on Mathematics Education (IACME) Deemed a Great Success
The Inter-American Math Education Committee, a regional branch of ICMI, held the IACME XIV from May 3-7, 2015 in Tuxtla Gutierrez, Mexico. Over 49 international speakers were invited to the conference, which consisted of over 500 presentations and nearly 1000 participants from 23 countries.

The IACME General Assembly was held during this time, and leadership for the 2015-2019 period was selected. USNC/MI member Patrick Scott was re-elected to his position as IACME Second Vice President for the next four years. A decision was also reached to hold IACME XV in Medellín, Colombia, in 2019.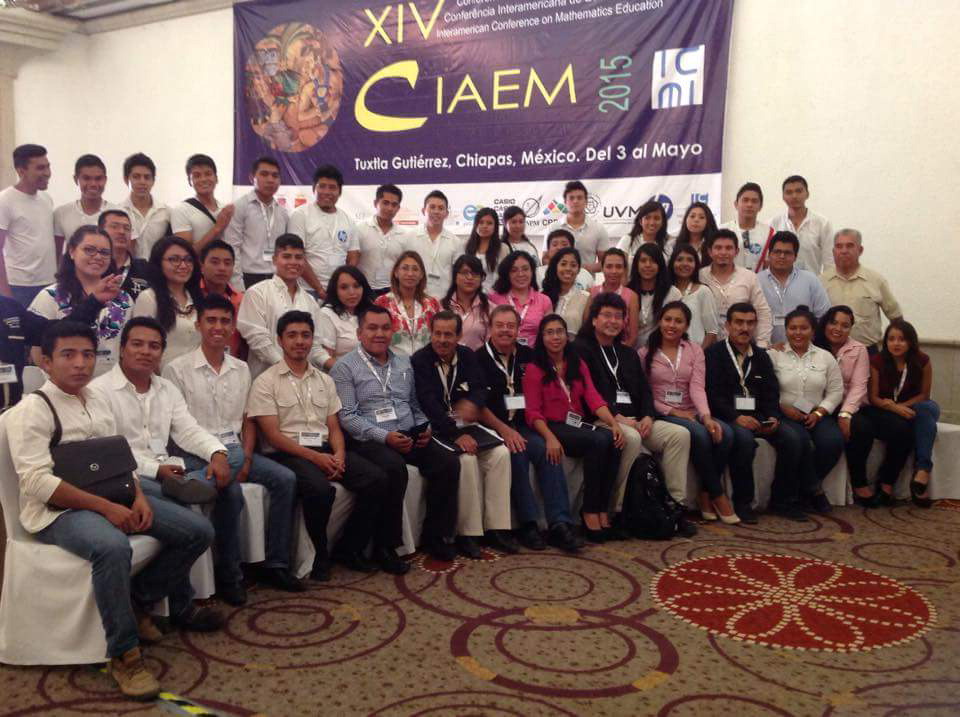 Local Organizers and student assistants at IACME XIV
USNC/MI Sessions at 2015 Meetings and Conferences
Tuesday, April 14, 2015, and Friday, April 17, 2015, at the
National Council of Teachers of Mathematics Annual Meeting and Exposition in Boston, MA
.
Tuesday, April 14 - "Engaging U.S. Researchers with the International Commission on Mathematical Instruction" - 10:00 to 11:15 a.m., Otis Room
Friday, April 17 - "Policy, Curriculum, Teacher Professionalism toward Effective Teaching: Why Korea Succeeded" - 2:00 to 3:00 p.m., 210B (BCEC) Room
Wednesday, April 15, 2015 at the
NCSM Leadership in Mathematics Education Annual Conference in Boston, MA
.
"International Perspectives on Supporting Mathematics Teaching & Learning" - 3:30 p.m.
Friday, November 13, 2015 at the
National Council of Teachers of Mathematics Annual Regional Conference in Minneapolis, MN
.
"Math is a Verb" - 3:30 to 4:30 p.m., 101 CD, Minneapolis Convention Center
Friday, November 20, 2015 at the
American Mathematical Association of Two-Year Colleges Annual Conference in New Orleans, LA
.
"Making Math Connections around the World" - 8:00 to 8:50 a.m., Oak Valley Room
Mathematics Education in the United States 2012: A Capsule Summary Fact Book

Under the auspices of the National Council of Teachers of Mathematics (NCTM) and the USNC/ICMI, John Dossey, Katherine Halvorsen, and Sharon McCrone prepared the 2012 update to the "Capsule Summary Fact Book" for ICME-12. The
89-page PDF report is available for download
.
China-U.S. Mathematics Education Workshop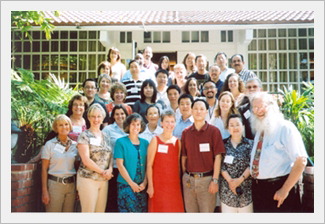 China-U.S. Math Workshop Participants
(Photo Credit: Mari Muri)