BISO Home > USNC/INQUA Homepage > Teaching Climate Change with Ice Core Data
USNC/INQUA ACTIVITIES
Teaching Climate Change with Ice Core Data
Building on the success of the 2006 workshop "Teaching Climate Change: Lessons from the Past," the national committee organized "Teaching Climate Change with Ice Core Data," a teaching workshop that took place on June 2-3, 2008 with a field trip on June 4. This event was held in conjunction with the 2008 AMQUA meeting at Pennsylvania State University and was co-sponsored by the national committee, AMQUA, and "On the Cutting Edge"—a program of professional development for geoscience faculty. The 30 participants included college instructors, scientists from national laboratories and universities, graduate students, and high school teachers.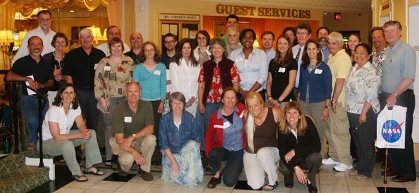 Participants in the Ice Core Teaching Workshop
The program included the following activities:

June 2:
Opening Plenary: "Ice Cores, Climate Change and Polar See-saws" by Richard Alley (Penn State), followed by an animated discussion among the participants.

June 3:

"Ice Sheets and Ice Cores" by Sridhar Anandakrishnan (Penn State)
"How is the Atmospheric CO2 Record Stored in Polar Ice Sheets?" by Todd Sowers (Penn State)
"Accessing Ice Core data in the NOAA Paleoclimatology Program" by Carrie Morrill (NOAA Boulder)
"What Makes a Good Activity? Lessons from Research on Learning and Classroom Experience" by Cathy Manduca (Science Education Resource Center, Carleton College)

Many of the participants also presented posters and other instructional materials at a "Share Fair" where the attendees shared their teaching materials with others and analyzed their effectiveness. The participants assembled themselves in small groups to prepare lesson plans on a variety of topics. At the end of the activity, one representative from each of the groups described the lesson plans to the rest of the participants, which stimulated interactions and new ideas.

June 4: Field trip to the Ice Core laboratories at Penn State led by Todd Sowers.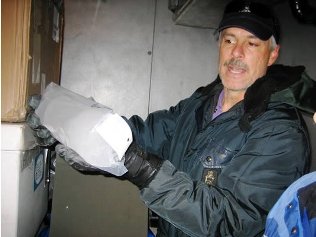 Penn State's Todd Sowers holds an ice core during
the tour of the ice core freezer and laboratory.
All presentations and reference materials discussed by the speakers, lesson plans, and other resource materials on climate change and ice core data interpretation were compiled on a website (http://serc.carleton.edu/NAGTWorkshops/climatechange08/index.html) for use by college instructors teaching classes in geology, biology, and environmental science and by other scientists and instructors at other levels.
Photos courtesy: http://serc.carleton.edu/NAGTWorkshops/climatechange08/index.html
To comment on this Web page or report an error, please send feedback to BISO Site Manager.