Resource Links: U.S. Societies and Associations
PUBLICATIONS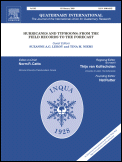 * Quaternary International is the official journal of the International Union for Quaternary Research.

* INQUA's newsletter Quaternary Perspectives contains current news about the organization its commissions, committees and projects.

American Geosciences Institute
AGI provides information services to geoscientists, serves as a voice of shared interests in the geological profession, plays a major role in strengthening geoscience education, and strives to increase public awareness of the vital role the geosciences play in society's use of resources and interaction with the environment.

American Geophysical Union (AGU)
AGU's mission is to promote the scientific study of the Earth and its environment in space; to promote cooperation among scientific organizations involved in geophysics and related disciplines; to initiate and participate in geophysical research programs; and to advance the various geophysical disciplines through scientific discussion, publication, and dissemination of information.

American Quaternary Association (AMQUA)
The American Quaternary Association (AMQUA) is a professional organization of North American scientists devoted to studying all aspects of the Quaternary Period, about the last 2 million years of Earth history. AMQUA was founded in 1970 primarily to foster cooperation and communication among the remarkably broad array of disciplines involved in studying the Quaternary Period.

Association of American Geographers (AAG)
The Association of American Geographers (AAG) is a scientific and educational society that has contributed to the advancement of geography for 100 years. The AAG advances professional studies in geography and encourages the application of geographic research in education, government, and business. The Geomorphology Specialty Group of the AAG is of special interest to Quaternarists.

Geological Society of America (GSA)
The mission of GSA is to advance the geosciences, to enhance the professional growth of its members, and to promote the geosciences in the service of humankind.