Activities and Events
2015 IUGG General Assembly in Prague, Czech Republic

The Institute of Geophysics of the Academy of Sciences of the Czech Republic and the Czech National Committee of Geodesy and Geophysics will host the XXVI General Assembly of the International Union of Geodesy and Geophysics (IUGG) from June 22 to July 2, 2015. This multi-disciplinary conference will cover the topics of all eight scientific associations of the IUGG. Conference details can be found on the XXVI IUGG General Assembly website.


2014 AAAS Symposium - "Santa's Revenge: The Impacts of Arctic Warming on the Mid-Latitudes" - February 15, 2014
This symposium examined high-latitude changes linked to mid-latitude weather and the effect of these complex phenomena on freshwater resources, food availability, and national security. This event was spearheaded by the U.S. National Committee for Geodesy and Geophysics, and co-sponsored by the U.S. National Committees for INQUA, Soil Sciences, and Geological Sciences. More details can be found on the 2014 Santa's Revenge archive page.


Past Activities and Events

2014 Fall AGU Meeting: December 15-19 in San Francisco, CA
The Fall Meeting of the American Geophysical Union was held December 15-19, 2014 in San Francisco, CA. With nearly 24,000 attendees, the AGU Fall Meeting is the largest Earth and space science meeting in the world. More details can be found on the AGU Meeting website.


2013 AAAS Symposium - "U.S. Climate and Weather Extremes: Past, Present, and Future"
The symposium was sponsored by the four USNCs for the Earth Sciences and spearheaded by the U.S. National Committee for the International Union for Quaternary Research. This session provided both current and paleoclimatic perspectives on the nature of recent extreme climate and weather events and their societal and ecological impacts, with a focus on the United States. The symposium was held February 15, 2013 at the AAAS meeting in Boston, Massachusetts. For more information about this meeting, including audio of the presentation and press coverage, please visit the 2013 AAAS Symposium website.


2012 AGU Town Hall: International Earth Science Organizations and You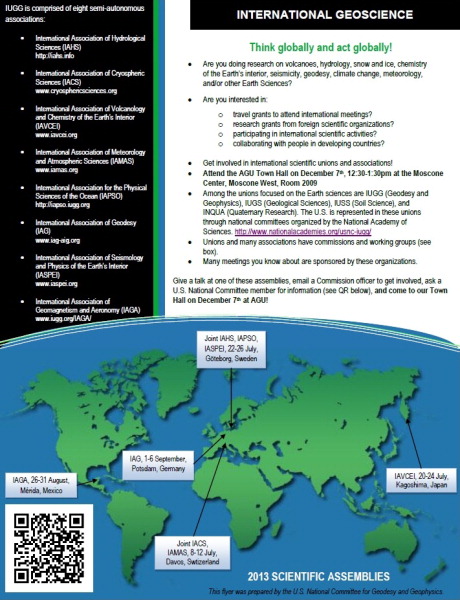 On December 7, 2012, during the American Geophysical Union (AGU) Fall Meeting, the USNC/IUGG hosted the town hall "International Earth Science Organizations and You". The event provided information on international activities by U.S. scientists and opportunities in international science organizations. Topics of particular interest included travel grants to attend international meetings, research grants from foreign scientific organizations, participation in international scientific activities, and collaboration with individuals in developing countries.



American Meteorological Society Policy Program presents Summer Policy Colloquium


Each year, the American Meteorological Society Policy Program brings a select group of graduate students and professionals to Washington, D.C. for an intense, ten-day immersion in atmospheric policy. The most recent colloquium was held June 1-10, 2014. More details can be found on the AMS Summer Policy Colloquium website.
SYMPOSIA AND PRESENTATIONS
February 15, 2014 AAAS Session: "Santa's Revenge: The Impacts of Arctic Warming on the Mid-Latitudes"

---
December 12, 2013 AGU Session (PDF): "Science Diplomacy in the Geosciences"

---
February 15, 2013 AAAS Session: "U.S. Climate and Weather Extremes: Past, Present, and Future"

---
December 7, 2012 AGU Town Hall (PDF): "International Geoscience"

---
February 19, 2012 AAAS Session: "Causes and Effects of Relative Sea-Level Changes in the Northeast Pacific"

---
February 17, 2012 AAAS Session: "Toward Stabilization of Net Global Carbon Dioxide Levels"

---
February 20, 2011 AAAS Session: "The Practice of Science Diplomacy in the Earth Sciences"

---
February 19, 2010 AAAS Session: "Dust in the Earth System"

---
December 17, 2009 AGU Poster Sessions: "Extreme Natural Hazards: Risk Assessment, Forecasting, and Decision Support"

---
February 16, 2009 AAAS Session: "Global Sea Level Rise: Observation, Causes, and Prediction"

---
September 25, 2008 BISO Symposium (PDF): "Global Connections among Earth Sciences, Health, and Policy"

---
February 15, 2008 AAAS Session (PDF): "Planet Earth: Lessons Ignored, Lessons Learned"