BISO Home > USNC/TAM Homepage > ICTAM 2008 Fellowships
ICTAM 2008 Fellowships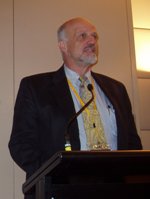 The USNC/TAM organized a fellowship program to provide funds for travel assistance to the 22nd International Congress on Theoretical and Applied Mechanics (ICTAM), held August 24-29, 2008 in Adelaide, Australia. Awards were made to 33 U.S. citizens and permanent residents who presented a paper at the Congress.

In addition to the fellowship awards, the committee also sponsored a breakfast at the congress for all award recipients where they learned more about the activities of the USNC and IUTAM. In addition, younger recipients were matched with USNC members in attendance at the congress for a mentoring experience.

The National Science Foundation, the Air Force Office of Scientific Research, the Office of Naval Research, and the U.S. National Committee provided support for the 2008 fellowships.
| | | |
| --- | --- | --- |
| | Fellowship recipients and USNC members at Congress breakfast in Adelaide | |
The following people were recipients of USNC/TAM ICTAM fellowships in 2008:
Silas Alben, Georgia Tech
Jose Andrade, Northwestern University
Paulo Arratia, University of Pennsylvania
Romesh Batra, Virginia Tech
John Brady, CalTech
Scott Case, Virginia Tech
Stephen Cowin, CCNY
Samantha Daly, University of Michigan
Harry Dankowicz, University of Illinois
Chiara Daraio, CalTech
James Diorio, University of Maryland
Andrew Duggleby, Texas A & M
Julia Greer, CalTech
Su Hao, Northwestern University
Howard Hu, University of Pennsylvania
Rui Huang, University of Texas at Austin
Kakani Katija, CalTech
Glenn Kraige, Virginia Tech
Andrew Kraynik, Sandia Nat. Lab
Ellen Kuhl, Stanford University
Shaofan Li, University of California at Berkeley
Wei Lu, University of Michigan
Richard McNitt, Pennsylvania State University
Jeffrey Palmer, MIT
Kishore Pochiraju, Stevens Institute of Technology
Thomas Siegmund, Purdue University
Meredith Silberstein, MIT
Pushpendra Singh, New Jersey Institute of Technology
John Socha, Virginia Tech
Mark Stremler, Virginia Tech
Lydia Trevino, CalTech
Jane Wang, Cornell University
Ting Zhu, Georgia Tech
To comment on this Web page or report an error, please send feedback to BISO Site Manager.