BISO Home > USNC/TAM Homepage > USNC/TAM Events and Activities


PAST EVENTS AND ACTIVITIES
2016 IUTAM Congress and General Assembly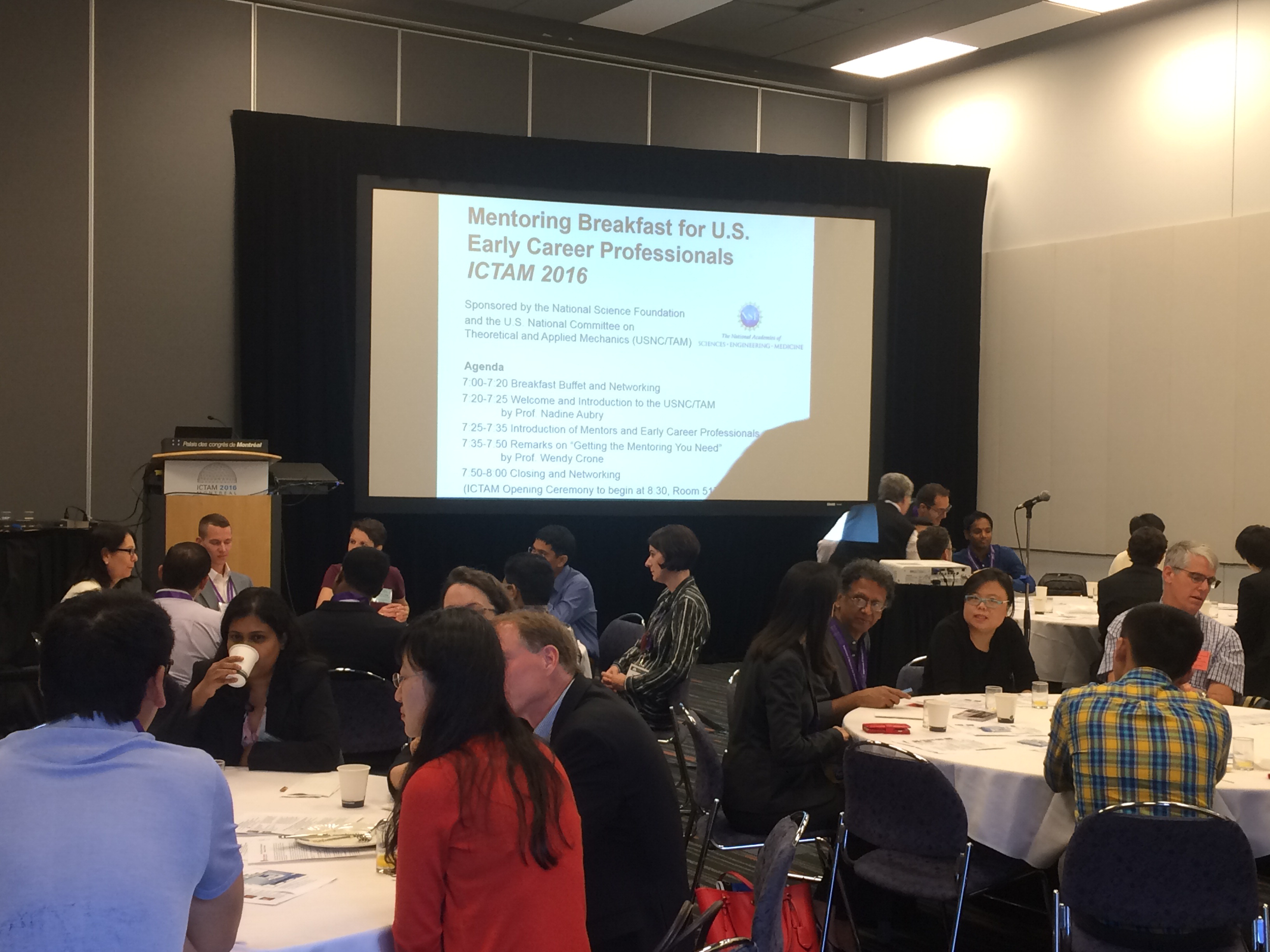 Early Careers at the USNC/TAM Mentoring Breakfast, ICTAM 2016 (click to enlarge)

Nadine Aubry of the United States was selected as the next president of IUTAM. Dr. Aubry is a current member of the USNC/TAM, and is also a Fellow of the American Physical Society (APS) and the American Society of Mechanical Engineers (ASME). She is Dean of the College of Engineering and a University Distinguished Professor at Northeastern University.

The IUTAM Bureau Prize for best lecture in Solid Mechanics by a young scientist was awarded to Professor Stavros Gaitanaros. Dr. Gaitanaros is an Assistant Professor at Johns Hopkins University in Baltimore, and was recognized for his work on the effect of polydispersity on the crushing of open-cell random foams.

The USNC/TAM was proud to host a Mentoring Breakfast at ICTAM 2016. 46 early career professionals and mentors networked at the breakfast, during a session facilitated by USNC/TAM member Wendy Crone.

The winners of 2018-2019 IUTAM Symposia were announced at ICTAM 2016. Here is the comprehensive list of American winners, which can also be accessed on the Symposia and Schools subpage:
IUTAM Symposium on Dynamics and Stability of Fluid Interfaces
Chair: Professor R. Narayanan, University of Florida
Place: Gainesville, Florida
Contact E-mail: ranga@ufl.edu
Date: TBD, 2018
IUTAM Symposium on Stochastic Dynamical Systems Approaches to Fluid Flow Transitions
Chair: Professor H. Dijkstra, Utrecht University
Place: Ithaca, New York
Contact E-mail: had54@cornell.edu
Date: TBD, 2018
IUTAM Symposium on Architectured Material Mechanics
Chair: Professor T. Siegmund, Purdue University
Place: Chicago, Illinois
Contact E-mail: francois.barthelat@mcgill.ca
Date: TBD, 2018
Website: https://engineering.purdue.edu/IUTAM2018AMS
IUTAM Symposium on Phase Transformation in Shape Memory Models: Modeling and Applications
Chair: Professor C. Landis, University of Texas
Place: Austin, Texas
Contact E-mail: landis@utexas.edu
Date: TBD, 2018
IUTAM Symposium on Vortex Dynamics in Science, Nature, and Technology
Chair: Professor S. Llewellyn Smith, University of California, San Diego
Place: La Jolla, California
Contact E-mail: sgls@ucsd.edu
Date: TBD, 2019
IUTAM Symposium on Viscoplastic Flows: From Theory to Application
Chair: Professor G. McKinley, MIT
Place: Cambridge, Massachusetts
Contact E-mail: gareth@mit.edu
Date: TBD, 2019

Download the 2016 USNC/TAM Annual Meeting Presentations
On April 22 and 23, the USNC/TAM held its 2016 meeting at the National Academies in Washington, D.C. Presentations from invited speakers are available for download here. If you are looking for the presentations from the 2015 USNC/TAM meeting, they are located here.

17th U.S. National Congress on Theoretical and Applied Mechanics
The 17th U.S. National Congress on Theoretical and Applied Mechanics was held June 15-20, 2014 at Michigan State University in East Lansing, Michigan. The Congress was co-chaired by John Foss and Tom Pence. Technical sessions covered a range of topics, including fluid mechanics, solid mechanics, dynamics, vibrations, controls, biomechanics, computational mechanics, applied physics, and applied mathematics. In addition, on June 15, the USNC/TAM held its meeting. For more details, please visit the 17th U.S. National Congress on Theoretical and Applied Mechanics website.
This material is based upon work supported by the National Science Foundation under Grant Number CMMI-1338717. Any opinions, findings, and conclusions or recommendations expressed in this material are those of the author(s) and do not necessarily reflect the views of the National Science Foundation.

To comment on this webpage or report an error, please send feedback to the
BISO Site Manager
.