BISO Home> USNC/TAM Homepage> ICTAM 2012 Fellowships
ICTAM 2012 Fellowships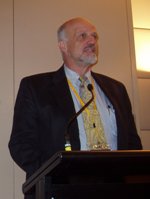 The USNC/TAM organized a fellowship program to provide funds for travel assistance to the 23rd International Congress on Theoretical and Applied Mechanics (ICTAM), held August 19-24, 2012 in Beijing, China. Awards were made to 19 U.S. citizens and permanent residents who presented a paper at the Congress.

In addition to the fellowship awards, the committee also sponsored a breakfast at the congress for all award recipients where they learned more about the activities of the USNC and IUTAM. In addition, younger recipients were matched with USNC members in attendance at the congress for a mentoring experience.

The National Science Foundation and the U.S. National Committee provided support for the 2012 fellowships.
| | |
| --- | --- |
| | Fellowship recipients and USNC members at Congress breakfast in Adelaide (2008 ICTAM) |
The following people are recipients of USNC/TAM ICTAM fellowships in 2012:

Paulo Arratia, University of Pennsylvania
Nathan Bechle, University of Texas
Katia Bertoldi, Harvard University
Kaushik Dayal, Carnegie Mellon University
Antonio Ferrante, University of Washington
Daniel Getsinger, UC Los Angeles
Joe Goddard, UC San Diego
Elizabeth Jones, University of Illinois, Urbana-Champaign
Changhong Ke, State University of New York at Birmingham
Yaning Li, Massachusetts Institute of Technology

Teng Li, University of Maryland
Haoxiang Luo, Vanderbilt University
Clara O'Farrell, California Institute of Technology
Kathryn Osterday, UC San Diego
Matthew Paoletti, University of Texas, Austin
Meredith Silberstein, University of Illinois, Urbana-Champaign
Ashkan Vaziri, Northeastern University
Lifeng Wang, Clarkson University
Xuanhe Zhao, Duke University
To comment on this Web page or report an error, please send feedback to BISO Site Manager.