The following publications represent the work of the Committee on Women in Science, Engineering, and Medicine from 2000 to the present. Before 2007, the committee was called the Committee on Women in Science and Engineering (CWSE).To order any of these publications or other documents from the National Academy of Sciences, National Academy of Engineering, Institute of Medicine, or National Research Council please contact the National Academy Press at: (800) 624-6242 or (202) 334-3313; or you may visit the Academy bookstore on 500 Fifth Street, NW, Washington, DC 20001; (202) 334-3980. All reports available on the National Academies Press (NAP) website are now offered free of charge to web visitors.
CWSEM Publications


Sexual Harassment of Women: Climate, Culture, and Consequences in Academic Sciences, Engineering, and Medicine (2018) Sexual Harassment of Women explores the influence of sexual harassment in academia on the career advancement of women in the scientific, technical, and medical workforce. This report reviews the research on the extent to which women in the fields of science, engineering, and medicine are victimized by sexual harassment and examines the existing information on the extent to which sexual harassment in academia negatively impacts the recruitment, retention, and advancement of women pursuing scientific, engineering, technical, and medical careers. It also identifies and analyzes the policies, strategies and practices that have been the most successful in preventing and addressing sexual harassment in these settings. View the report or learn more about the study...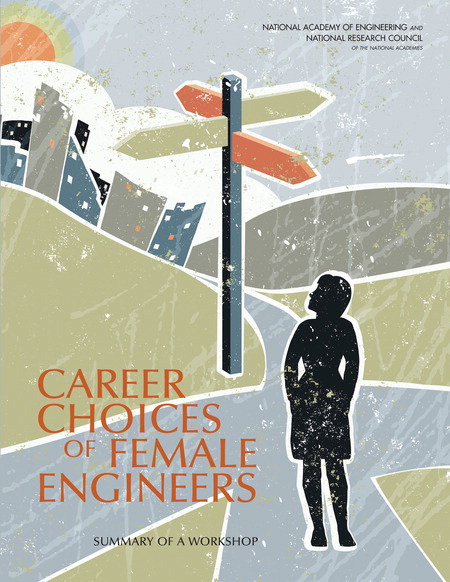 Career Choices of Female Engineers (2014) summarizes a workshop held by the National Research Council's Committee on Women in Science, Engineering, and Medicine and the National Academy of Engineering that explored research on career pathways and outcomes for women who have received bachelor's degrees in engineering. Despite decades of government, university, and employer efforts to close the gender gap in engineering, women engineers make up only 11 percent of practicing engineers in the United States. Presentations at the workshop examined trends in the numbers of women engineering graduates who enter the engineering workforce and remain there or leave as their careers progress, as well as factors that influence decisions to leave the profession. Individual speakers pointed to a range of factors that may contribute to women's decisions to leave, such as lack of advancement opportunities, lack of support for work-life balance, and uncomfortable work environments. The workshop report also includes information on the study Stemming the Tide: Why Women Leave Engineering by Nadya Fouad and Romila Singh. View more information at the National Academies Press website.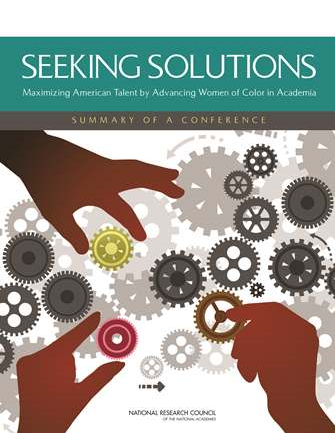 Seeking Solutions (2013) reviews the existing research on education and academic career patterns for minority women in science, engineering, and medicine to enhance understanding of the barriers and challenges to the full participation of all minority women in STEM disciplines and academic careers. Additionally, this report identifies reliable and credible data source and data gaps, as well as key aspects of exemplary policies and programs that are effective in enhancing minority women's participation in faculty ranks. Success in academia is predicated on many factors and is not solely a function of talent. Seeking Solutions elucidates those other factors and highlights ways that institutions and the individuals working there can take action to create institutional cultures hospitable to people of any gender, race, and ethnicity. The report includes a summary of all the discussion panels at the conference, two commissioned papers, an annotated bibliography of studies on women of color, and 28 written testimonies from professional societies, federal agenices and academic institutions. View more information at the National Academies Press website.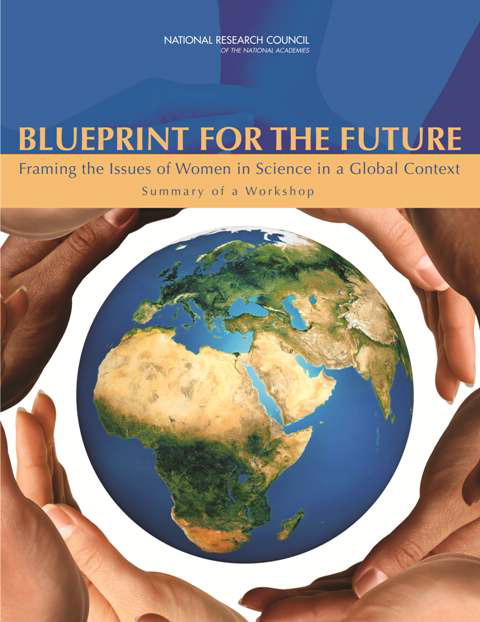 Blueprint for the Future: Framing the Issues of Women in Science in a Global Context: Summary of a Workshop (2012)
The scientific work of women is often viewed through a national or regional lens, but given the growing worldwide connectivity of most, if not all, scientific disciplines, there needs to be recognition of how different social, political, and economic mechanisms impact women's participation in the global scientific enterprise. Although these complex sociocultural factors often operate in different ways in various countries and regions, studies within and across nations consistently show inverse correlations between levels in the scientific and technical career hierarchy and the number of women in science: the higher the positions, the fewer the number of women. Understanding these complex patterns requires interdisciplinary and international approaches. In April 2011, a committee overseen by the National Academies' standing Committee on Women in Science, Engineering, and Medicine (CWSEM) convened a workshop entitled, "Blueprint for the Future: Framing the Issues of Women in Science in a Global Context". The scope of the workshop was limited to women's participation in three scientific disciplines: chemistry, computer science, mathematics, and statistics. The workshop presentations came from a group of scholars and professionals who have been working for several years on documenting, analyzing, and interpreting the status of women in selected technical fields around the world. Examination of the three disciplines-chemistry, computer science, and mathematics and statistics-can be considered a first foray into collecting and analyzing information that can be replicated in other fields. This book summarizes the workshop presentations, which provided an opportunity for dialogue about the issues that the authors have been pursuing in their work to date. View more information at the National Academies Press website.

From Science to Business: Preparing Female Scientists and Engineers for Successful Transitions into Entrepreneurship: Summary of a Workshop (2012)
This report is the summary of an August 2009 workshop that assesses the current status of women undertaking entrepreneurial activity in technical fields, to better understand the nature of the barriers they encounter, and to identify what it takes for women scientists and engineers to succeed as entrepreneurs. This report focuses on women's career transitions from academic science and engineering to entrepreneurship, with a goal of identifying knowledge gaps in women's skills as well as experiences crucial to future success in business and critical for achieving leadership positions in entrepreneurial organizations. From Science to Business makes the case that in addition to educating women scientists and engineers in rigorous problem solving, it is equally important to provide exposure and training to impart the skills that will enable more women to move from the role of expert to that of leader in dynamic new business enterprises. This book will be of interest to professionals in both academia and industry, graduate and post-graduate students, and organizations that advocate for a stronger economy. View more information at the National Academies Press website.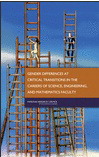 Gender Differences at Critical Transitions in the Careers of Science, Engineering, and Mathematis Faculty (2010)
This report presents new and surprising findings about career differences between female and male full-time, tenure-track, and tenured faculty in science, engineering, and mathematics at the nation's top research universities. Much of this congressionally mandated book is based on two unique surveys of faculty and departments at major U.S. research universities in six fields: biology, chemistry, civil engineering, electrical engineering, mathematics, and physics. A departmental survey collected information on departmental policies, recent tenure and promotion cases, and recent hires in almost 500 departments. A faculty survey gathered information from a stratified, random sample of about 1,800 faculty on demographic characteristics, employment experiences, the allocation of institutional resources such as laboratory space, professional activities, and scholarly productivity. View more information at the National Academies Press website.

Opportunities to Address Clinical Research Workforce Diversity Needs for 2010 (2006)
This report is about the increasing diversity and age of the U.S. population present new challenges for the U.S. clinical research community, whose role is to develop healthcare therapies and paradigms from the knowledge gained in basic research. A particularly acute challenge is the need to replenish and diversify its workforce, especially physician-scientists and nurses, whose small numbers are insufficient to meet the increasing need for clinical research. This project aimed to identify ways to recruit and retain more women and underrepresented minorities into the clinical research workforce to meet these challenges. This report is currently available as a pre-publication and is available online at the NAP website. View more information at the National Academy Press website.

To Recruit and Advance: Women Students and Faculty in U.S. Science and Engineering (2006)
Although more women than men participate in higher education in the United States, the same is not true when it comes to pursuing careers in science and engineering. To Recruit and Advance: Women Students and Faculty in Science and Engineering identifies and discusses better practices for recruitment, retention, and promotion for women scientists and engineers in academia. Seeking to move beyond yet another catalog of challenges facing the advancement of women in academic science and engineering, this book describes actions actually taken by universities to improve the situation for women. View more information at the National Academy Press website.

AXXS 2002: Achieving XXcellence in Science: The Role of Professional Societies in Advancing Women's Careers in Science and Clinical Research (2004)
CWSE held a one-and-a-half-day workshop, which gathered representatives of clinical societies to discuss ways for the societies to enhance the participation of women scientists in the clinical research workforce. The workshop was a follow-up to AXXS 1999, in which representatives of science societies gathered to identify ways to improve the advancement of women in their respective fields. The workshop proceedings are available online on the NAP Website. View more information at the National Academy Press website.

From Scarcity to Visibility: Gender Differences in the Career Outcomes of Doctoral Scientists and Engineers (2001)
This report compares the career outcomes of women and men scientists and engineers, matched by the same characteristics, across five broad fields: engineering, life sciences, mathematics, physical sciences, and social and behavioral sciences. The outcomes examined include employment status, salary, rank and tenure status, publications, amount of federal research support, employment sector, and the likelihood of remaining in science or engineering. In addition, regression analyses look at the differential effects of numerous antecedent conditions, including race/ethnicity, level of parents' education, citizenship, type of undergraduate institution, marriage, having children, quality of graduate department, and time to the Ph.D. View more information at the National Academy Press website.

Who Will Do the Science of the Future?: A Symposium on Careers of Women in Science (2000)
Who Will Do the Science of the Future? is the summary of a symposium on careers of women in science held on April 25, 1999 at the National Academy of Sciences annual meeting. The symposium was the first symposium on women in science held by the National Academies and incorporated three panels of presenters: one focusing on the next generation, Science for All Students; a second looking in depth at the issues reflected in one particular field of science, computer science and in particular, academic and industrial computer scientists; and a third focusing on strategies and policies to recruit, retain, and promote career advancement for women scientists. Lastly, there was a plenary address on how to ensure women continue to advance into positions of leadership in science. View more information at the National Academy Press website.
Other Publications Include:
Beyond Bias and Barriers: Fulfilling the Potential of Women in Academic Science and Engineering (COSEPUP)
The United States economy relies on the productivity, entrepreneurship, and creativity of its people. To maintain its scientific and engineering leadership amid increasing economic and educational globalization, the United States must aggressively pursue the innovative capacity of all its people—women and men. However, women face barriers to success in every field of science and engineering; obstacles that deprive the country of an important source of talent. Without a transformation of academic institutions to tackle such barriers, the future vitality of the U.S. research base and economy are in jeopardy. 2007.

Biological, Social, and Organizational Components of Success for Women in Academic Science and Engineering: Workshop Report (COSEPUP)
During the last 40 years, the number of women studying science and engineering (Science and Education) has increased dramatically. Nevertheless, women do not hold academic faculty positions in numbers that commensurate with their increasing share of the Science and Education talent pool. The discrepancy exists at both the junior and senior faculty levels. In December 2005, the National Research Council held a workshop to explore these issues. 2006.
Enhancing the Postdoctoral Experience for Scientists and Engineers: A Guide for Postdoctoral Scholars, Advisers, Institutions, Funding Organizations and Disciplinary Societies (COSEPUP)
The concept of postdoctoral training came to science and engineering about a century ago. Since the 1960s, the performance of research in the United States has increasingly relied on these recent PhDs who work on a full-time, but on a temporary basis, to gain additional research experience in preparation for a professional research career. 2000.
Women Scientists and Engineers Employed in Industry: Why So Few?
This report addresses issues facing women entering the profession, working as bench scientists and engineers and as managers of a technological work group. (130 pp.). 1994.
Science and Engineering Programs: On Target for Women?
Describes and analyzes a sample of postsecondary programs for recruiting and retaining potential and practicing scientists and engineers. Major chapters focus on undergraduate education, graduate education, and employment in academe, industry, and the federal government. (216 pp.). 1992. Marsha Lakes Matyas and Linda C. Skidmore, eds.
Women in Science and Engineering: Increasing Their Numbers in the 1990s
In addition to providing statistics on the participation of women in the education/employment pipeline, the report summarizes the Committee's deliberations relating to its role in increasing the participation and improving the status of women in science and engineering. The report further offers an ambitious strategic plan of both short-term and long-term activities. (152 pp.). 1991.