Pakistan-US Science and Technology Cooperation Program
Phase 2 (2006 Deadline)
Development of Biosecure, Sustainable, and Cost-Effective Culture Technologies for Edible Shrimp (Fenneropenaeus merguiensis) in Pakistan, Establishment of Viral-Pathogen-Free Populations of Farfantepenaeus duorarum, and Refinements of Super-Intensive Production Practices for Table-Litopenaeus vannamei in the United States

Tzachi Samocha, Texas A&M University, Corpus Christi
Zarrien Ayub, University of Karachi
Pakistani Funding (HEC): $271,677
US Funding: $116,003
Project Dates on US Side: February 1, 2007 - December 31, 2011
Project Overview
Pakistan does not have a previous history of farming shrimp, although it possesses considerable potential and resources for the development of such an industry, particularly along the Balochistan coast. Following the recommendations and guidelines available in the literature, and with the help of American partners, Pakistan can establish management practices for the successful production of edible shrimp under local environmental conditions, with an emphasis on biosecurity and sustainability.
The objectives of this project are to adopt and establish sustainable, biosecure, and cost-effective management practices for the production of edible shrimp suitable for the local environment and conditions in Pakistan to include (1) isolation of VPF broodstock population of Fenneropenaeus merguiensis; (2) building and operation of a closed-recirculating induced maturation system for F. merguiensis; (3) construction of a shrimp hatchery and development of a larval rearing protocol; (4) construction, operation, and development of protocols for intensive nursery and grow-out systems for shrimp under biosecure and limited discharge conditions; and (5) transfer of the technology to the end-users. The objectives for the portion of the project to be conducted in the United States are (1) development of VPF broodstock populations of Farfantepenaeus duorarum; (2) production of table-size shrimp in a super-intensive limited discharge and biosecure system; and (3) training and transfer of shrimp production technology to Pakistan.
Major Results
Developed breeding population of native shrimp species that are viral pathogen free and a biosecured super-intensive shrimp production system with no water exchange

Carried out more than 10 workshops / seminars were carried involving a total of more than 500 participants

Trained two PhD students from Pakistan and two MS students from the United StatesCompleted infrastructure construction and started operation of two 100 m3 super intensive raceways in Pakistan for production of marketable size shrimp

Established relationship with MIRZAM Holdings to develop live bait shrimp production and super intensive food shrimp production sites in Pakistan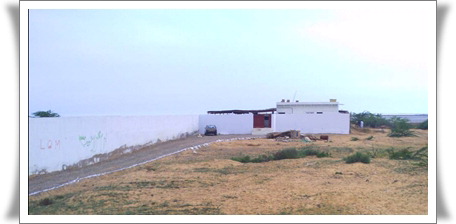 A view of the now completed shrimp research facility at Sonmiani
(photo courtesy of Dr. Zarrien Ayub, March 2010).
Quarterly Update
During 2011, the research team on the U.S. side is continuing to do research on induced maturation, larval rearing, and grow-out of live bait Atlantic White Shrimp, Litopenaeus setiferus. They are performing an intensive nursery and grow-out study with the Pacific White Shirmp, L. vannamei, and will also continue with the testing of the Taeration® system.
Progress Report Summaries
Show all progress summaries | Hide progress summaries
2010 Show summary || Hide summary
2009 Show summary || Hide summary
2008 Show summary || Hide summary
2007 Show summary || Hide summary
Back to Pakistan-US Science and Technology Cooperation Program Phase 2 Grants List