Pakistan-US Science and Technology Cooperation Program
Phase 2 (2006 Deadline)
Identification and Cloning of Drought-Related Genes in Wheat (T. aestivum)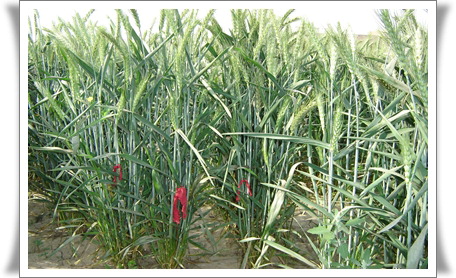 Transgenic wheat
Sona Pandey (beginning July 2010)
Daniel Schachtman (prior to August 1, 2008) and Liming Xiong (August 1, 2008-July 2010),
Donald Danforth Plant Science Center, St. Louis, MO
Nasir Saeed, National Institute for Biotechnology and Genetic Engineering, Faisalabad
Pakistani Funding (MoST): $100,000
US Funding: $109,963
Project Dates on US Side: February 1, 2007 - November 30, 2011
Project Overview
Wheat is the staple food of millions of people around the world, and drought is the major limiting factor in its production. Pakistan is located in arid and semi-arid climate zones and is facing severe and growing shortages of irrigation water. The country's average wheat yield is 2.5 metric tons per hectare, which is quite low compared with other countries like China (4.27), Egypt (6.07) and Mexico (4.62), and Pakistan has been a net importer of wheat grain in the last decade. To feed its growing population, there is a great need to focus on developing drought tolerant crops that can grow with limited water.
This project involves the use of microarray technology to identify and clone key genes involved in adaptation of wheat to drought stress. Candidate genes are being cloned into expression vectors for transformation and development of drought tolerant wheat. Wheat crop productivity and yield stability are affected by a number of factors (biotic and abiotic). In the past, attempts have been made to introduce drought tolerance genes by conventional breeding. Wheat and other crop genomes are being sequenced by a number of research teams, and many different genes have been tested under a range of conditions to determine whether they may contribute to drought tolerance. In this study, four drought tolerance enhancing genes (HVA1, WXP1, DREB1A and AtNCED3) and a stress responsive constitutive promoter rd29A have been chosen. Over-expression of these genes may enhance drought tolerance and agronomic value of wheat. Few studies have addressed the topic of drought tolerance in wheat using molecular tools; although breeding efforts and germplasm screens have been undertaken. In addition to using the above approach, microarray technology offers new ways to find gene expression changes and manipulate them for developing drought tolerant crops. It is particularly useful to examine where and when specific genes associated with water deficit stress are expressed. Full length cDNAs of a few candidate genes that are regulated by drought are being cloned into plant expression vectors for transformation, and the over-expression of these genes is being tested for their ability to increase wheat production under drought conditions.
Major Results
Provided training to four PhD students who work in wheat biotechnology projects, three internship graduate students, and two laboratory technicians

Transformed seven drought / salt tolerance enhancing genes into four wheat varieties / lines

Presented results at various forums in Pakistan, which contributed to the development of collaborations with several government institutes
Quarterly Update
In 2011 the researchers need to test and prove that the wheat transformed from drought genes is useful for regions with less rainfall and irrigation water. This requires confirmation of cloned genes in coming generations, PCR and Southern blot analysis, and testing under drought and salt stress. This work is ongoing on, with several wheat varieties with these genes being tested. This activity will continue in hopes of obtaining good material for cultivation.
Progress Report Summaries
Show all progress summaries | Hide progress summaries
2010 Show summary || Hide summary
2009 Show summary || Hide summary
2008 Show summary || Hide summary
2007 Show summary || Hide summary
Back to Pakistan-US Science and Technology Cooperation Program Phase 2 Grants List