Project Scope
An ad hoc committee evaluated the operation, achievements, and challenges of the Manufacturing Extension Partnership (MEP) program at the National Institute of Standards and Technology. The committee held a series of fact-finding workshops and commissioned research papers and case studies to review and document the program's current achievements, challenges, and new opportunities; identify and review similar national programs from abroad in order to draw on foreign practices, funding levels, and accomplishments as a point of reference; and discuss current needs and initiatives in light of the global focus on advanced manufacturing.
The committee will developed findings and recommendations to improve program operations and impact.


---
Meetings & Events
Meeting 9 - 05/08/2012
Meeting 8 - 04/20/2012
Meeting 7 - 03/26/2012
Meeting 6 - 03/25/2012
Meeting 5 - 02/14/2012
Meeting 4 - 02/07/2012
Meeting 3 - 01/24/2012
Meeting 2 - 11/14/2011
Meeting 1 - 11/13/2011

---
Reports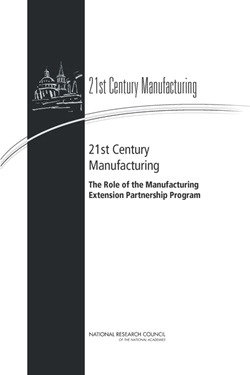 21st Century Manufacturing: The Role of the Manufacturing Extension Partnership Program
Strengthening American Manufacturing: The Role of the Manufacturing Extension Partnership - Summary of a Symposium
---
Members
Dr. Philip P. Shapira - (Chair)
University of Manchester and Georgia Institute of Technology

Philip Shapira is a Professor in the School of Public Policy at Georgia Institute of Technology and Professor of Innovation Management and Policy with the Manchester Institute of Innovation Research at the Manchester Business School, University of Manchester. His interests encompass science and technology policy, economic and regional development, innovation management and policy, industrial competitiveness, technology assessment, and policy evaluation.

Prof. Shapira has directed multiple research and policy studies on technology adoption and innovation including assessments of manufacturing extension services, industrial networking and manufacturing technology partnerships, entrepreneurship initiatives, and university-industry research networks and clustering. Current projects include the assessment of nanotechnology research and innovation systems, innovation in small and mid-size enterprises, regional innovation systems, and the analysis of highly creative research in Europe and the United States. He evaluated USNET - a pioneering US state and regional program to foster interfirm collaboration, clustering and industrial networking. Prof. Shapira is a co-director of the Georgia Manufacturing Survey, undertaken every 2-3 years since 1994 to assess the business and technological conditions of the state's manufacturers and to inform manufacturing assistance programs and regional innovation and sustainability initiatives in Georgia. He has also served as an external reviewer for several US manufacturing extension programs. Prof. Shapira has served as an expert panelist or advisor for international agencies, including the OECD (regional innovation system reviews) and the World Bank (most recently, serving as an advisor for SME innovation strategies in Turkey). Other international studies include the assessment of Czech international R&D linkages; an international analysis of technology extension services for CORFU (Chile); an evaluation of Japan's Advanced Materials Processing and Machining Technology Program; the assessment of intergovernmental research organizations for Forfas, Ireland; and the Midsize Cities Technology Development Initiative (a US-European learning network to promote research commercialization and innovation; manufacturing innovation in the US); knowledge economy measurement in Malaysia; and innovation strategy and governance in the Manchester city-region.

Prof. Shapira is a director of the Georgia Tech Program in Science, Technology and Innovation Policy. This is a collaborative initiative of the Georgia Tech School of Public Policy and the Georgia Tech Enterprise Innovation Institute to advance research and practice in science, technology, innovation, and spatial development policy. He has served as a Congressional Fellow with the Office of Technology Assessment of the United States Congress and has held visiting positions at international research institutions including the Japan Institute of Labor (Tokyo) and the Fraunhofer Institute for Systems and Innovations Research (Germany). He is currently a director of the Manchester Institute of Innovation Research. Prof. Shapira is the author or co-author of more than 50 journal articles, 30 book chapters, numerous professional and policy studies, and several monographs and edited volumes. His peer-reviewed articles have appeared in leading international journals in research policy, technology transfer, small business, and economic development. He is an editor of The Theory and Practice of Innovation Policy: An International Research Handbook (Edward Elgar, 2010). Prof. Shapira is a member of the editorial boards of the Journal of Technology Transfer, Research Policy, European Planning Studies, and the International Journal of Public Policy, and is an associate editor of the International Journal of Foresight and Innovation Policy.

Prof. Shapira holds a PhD in City and Regional Planning from the University of California, Berkeley, and is a Fellow of the Royal Society of Arts.


Mr. Edward Breinder
Schramm, Inc.

Edward J. Breiner, Ed serves as President and Chief Executive Officer of Schramm, Inc. Mr. Breiner has 25 years of experience in manufacturing, marketing and sales of drill rigs and construction equipment. He joined Schramm in 2000. He held several positions with Ingersoll-Rand Company in New Jersey, Texas and Pennsylvania culminating in his role as Vice-President & Branch Manager of Ingersoll Rand Equipment Sales located in Harrisburg, Pennsylvania. Mr. Breiner has been Director of Major Drilling Group International Inc. since June 7, 2006. He serves as Director of Schramm board and American Ground Water Trust. He serves as a director on the board of the American Ground Water Trust. He is Certified in Production and Inventory Management (CPIM) awarded by APICS, the Association of Operations Management. Mr. Breiner holds Bachelor of Science from Bloomsburg University of Pennsylvania and a Masters of Business Administration from the University of Dallas, Texas.


Dr. Mary L. Good
University of Arkansas at Little Rock

Dr. Mary L. Good is the Donaghey University Professor at the University of Arkansas, Little Rock and Dean Emeritus of the George W. Donaghey College of Engineering and Information Technology. She is also a managing member of the Fund for Arkansas, LLC and Stage 1 Diagnostics, and serves on the boards of Delta Trust & Bank and St. Vincent Infirmary. She has served previously on the boards of Biogen Idec, Inc. (NASDAQ: BIIB); IDEXX Laboratories, Inc. (NASDAQ: IDXX); Cincinnati Milacron, Inc.; and Ameritech, Inc. Previously, Dr. Good served four years as the Under Secretary for Technology for the Technology Administration in the Department of Commerce, a presidentially appointed, Senate confirmed, position.

The Technology Administration was the focal point in the federal government for assisting U.S. industry to improve its productivity, technology and innovation in order to compete more effectively in global markets. In particular, the Administration worked with industry to eliminate legislative and regulatory barriers to technology commercialization and to encourage adoption of modern technology management practices. The Technology Administration was comprised of the National Institute of Standards and Technology, the National Technical Information Service, the Office of the Assistant Secretary for Technology Policy, and the Office of Air and Space Commercialization.

In addition to her role as Under Secretary for Technology, Dr. Good chaired the National Science and Technology Council's Committee on Technological Innovation (NSTC/CTI), and served on the NSTC Committee on National Security.

Before joining the Administration, Dr. Good was the senior vice-president of technology at Allied Signal, Inc., where she was responsible for the centralized research and technology organizations with facilities in Morristown, NJ; Buffalo, NY; and Des Plaines, IL. She was a member of the Management Committee and responsible for technology transfer and commercialization support for new technologies. This position followed assignments as President of Allied Signal's Engineered Material Research Center, Director of the UOP Research Center, and President of the Signal Research Center. Dr. Good's accomplishments in industrial research management are the achievements of a second career, having moved to an industrial position after more than 25 years of teaching and research in the Louisiana State University system. Before joining Allied Signal, she was professor of chemistry at the University of New Orleans and professor of materials science at Louisiana State University, where she achieved the university's highest professional rank, Boyd Professor.

Dr. Good was appointed to the National Science Board by President Carter in 1980 and again by President Reagan in 1986. She was Chairman of that Board from 1988 until 1991, when she received an appointment from President Bush to become a member of the President's Council of Advisors on Science and Technology (PCAST). She was also a member of the National Advisory Board for the State of Arkansas.

Dr. Good is an elected member of the National Academy of Engineering, a past president of the American Chemical Society, a Fellow of the American Association for the Advancement of Science, and a member of the American Institute of Chemists and the Royal Society of Chemistry. She has been active on the boards of directors of such groups as the Industrial Research Institute, Oak Ridge Associated Universities, and the National Institute for Petroleum and Energy Research. She has also served on advisory panels for the National Research Council, the National Bureau of Standards, the National Science Foundation Chemistry Section, the National Institute of Health, and NASA, and on the executive committee for the International Union of Pure and Applied Chemistry.

Dr. Good received the National Science Foundation's Distinguished Public Service Award, the Albert Fox Demers Medal Award from Rensselaer Polytechnic Institute, the American Association for the Advancement of Science Award, the American Institute of Chemists' Gold Medal, and was chosen Scientist of the Year by Industrial Research and Development magazine. She was elected as a Foreign Member of the Royal Swedish Academy of Engineering Sciences in 1990, became a member of the Tau Beta Pi Association (the Engineering Honor Society), was awarded the Charles Lathrop Parsons Award of the America Chemical Society and received the Industrial Research Institute Medalist Award. In 1997, she received the Priestly medal from the American Chemical Society, the highest award given by the association. She has published over 100 articles in reference journals and is the author of a book, Integrated Laboratory Sequence, published by Barnes and Noble.

Dr. Good received her B.S. in chemistry from the University of Central Arkansas and her M.S. and Ph.D. degrees in inorganic chemistry from the University of Arkansas. She has also received numerous awards and honorary degrees from many colleges and universities, including most recently the College of William and Mary, Polytechnic University of New York, Louisiana State University, and Michigan State University.


Mr. James Griffith
Timken Company

James W. Griffith is president and chief executive officer of The Timken Company and a member of the company's board of directors. Since being named president in 1999, Griffith has led a transformation of The Timken Company focused on creating ever-increasing levels of value for customers and shareholders. By harnessing its legendary quality and industry-leading innovation, Timken has pushed beyond its historic leadership in the tapered roller bearing market into a vast global market for technologies to manage the friction generated by moving parts and improve the transmission of power in a wide array of machines.

Griffith joined The Timken Company in 1984 and has held positions as plant manager, vice president of manufacturing in North America and managing director of the company's business in Australia. From 1996 to 1999, he led Timken's automotive business in North America and the company's bearing business activities in Asia and Latin America. He was elected president, chief operating officer and director in 1999 and was named chief executive officer in 2002.

Griffith is president of the World Bearing Association and chairman of the board of directors of the Manufacturing Advocacy and Growth Network (MAGNET). He is vice president of the Management Executives' Society and serves on the boards of directors of the US-China Business Council and Goodrich Corporation (NYSE: GR). He also serves on the board of Mount Union College.

Griffith holds a bachelor's degree in industrial engineering and a Master of Business Administration from Stanford University.


Mr. Robert James
National Research Council of Canada

Robert (Rob) James is Acting Secretary General of the NRC, serving since late 2009. Prior to being named to this position, Mr. James was Director General of the NRC Strategy and Development Branch for four years, including an extended executive interchange as Director General, Policy, in the Science and Innovation Sector, Industry Canada. Additional prior roles within NRC included Director of Corporate Policy and Strategy, and Director of Policy, Planning and Assessment.

Over the course of 25 years, Mr. James has held various positions within the Government of Canada, most notably at Natural Resources Canada, Industry Canada and NRC. He possesses a sound knowledge of science and technology as well as innovation policy issues. He has contributed significantly to the design, implementation and management of NRC's national technology cluster initiatives with a strong focus on commercialization and competitiveness. And he brings broad experience and knowledge in the machinery of government. Mr. James has developed a strong Canadian and international business network, cutting across the public and private sectors.

Since 1985, his functional responsibilities have covered: corporate policy; strategic and operational planning; corporate coordination; national program management and implementation; communications and marketing; international relations; and audit, evaluation and performance management. Mr. James has also led various departmental/ministerial task forces, committees and secretariats, and been involved in initiatives such as the Rotman Expert Panel on Commercialization.

Mr. James earned a Masters degree in International Affairs from the Norman Paterson School of International Affairs and a Bachelors of Commerce from Carleton University.


Ms. Ginger Lew

Ginger Lew recently served as Senior Advisor to the White House National Economic Council and the Administrator of the Small Business Administration, providing economic policy advice on a broad range of matters, including innovation policy and economic development policy. In addition, she co-chaired the White House Interagency Group on Innovation and Entrepreneurship.

Prior to joining the Obama Administration, Ms. Lew was the managing partner of a communications venture capital fund, and a venture advisor to a Web 2.0 venture fund. Under the Clinton Administration, Ms. Lew was the Deputy Administrator and Chief Operating Officer of the U.S. Small Business Administration where she provided day to day management and operational oversight of a $42 billion loan portfolio. Before joining SBA, Ms. Lew was the General Counsel at the U.S. Department of Commerce where she specialized in international trade issues. Ms. Lew was unanimously confirmed by the United States Senate for both positions.

For the past ten years, Ms. Lew was Chairman and board member of an investment fund based in Europe. She has served on the boards of publicly traded companies, private companies and not profit organizations.


Dr. Deborah J. Nightingale
Massachusetts Institute of Technology

Deborah Nightingale is Professor of the Practice of Aeronautics and Astronautics and Engineering Systems, Director of the Center for Technology, Policy and Industrial Development, and Co-Director of the Lean Advancement Initiative at the Massachusetts Institute of Technology. She is a member of the National Academy of Engineering.

Professor Deborah Nightingale has over 35 years of broad-based experience with academia, the private sector and the government. Professor Nightingale joined the MIT faculty in 1997 and holds a dual appointment in the Dept. of Aeronautics and Astronautics and the Engineering Systems Division. At MIT she serves as the Co-Director of the Lean Advancement Initiative, a joint industry, government, and MIT consortium. Her research interests are focused on lean enterprise integration, enterprise architecting, and organizational transformation. She has led several executive lean transformation engagements in both industry and government.

Prior to joining MIT, Professor Nightingale headed up Strategic Planning and Global Business Development for AlliedSignal Engines. While at AlliedSignal she also held a number of executive leadership positions in operations, engineering, and program management, participating in enterprise-wide operations from concept development to customer support. Prior to joining AlliedSignal, she worked at Wright-Patterson AFB where she served as program manager for computer simulation modeling research, design, and development in support of advanced man-machine design concepts.

Professor Nightingale has a Ph.D. from The Ohio State University in Industrial and Systems Engineering. In addition, she holds MS and BS degrees in Computer and Information Science from Ohio State University and the University of Dayton, respectively. She is a Past-President and Fellow of the Institute of Industrial Engineers. She is a co-author of the book "Lean Enterprise Value: Insights from MIT's Lean Aerospace Initiative". Professor Nightingale serves on a number of boards and national committees, where she interacts extensively with industry, government and academic leaders.


Dr. Luis M. Proenza
University of Akron

Luis M. Proenza is chief executive officer of The University of Akron. He has led its transformation into a powerful engine for regional economic development, a catalyst for collaborative initiatives, and the preeminent public university in Northeast Ohio. In 12 years of his leadership, UA's revenue and research portfolio more than doubled, and private donations established all-time records. His initiatives have distinguished the university nationally and internationally and made it a national model for innovation. In 2001, President George W. Bush appointed Dr. Proenza to serve on the President's Council of Advisors on Science and Technology, the nation's highest-level policy advisory group for science and technology. Dr. Proenza also is a member of the executive committee for the Council on Competitiveness and its Manufacturing Competitiveness Steering Committee, the Government-University-Industry Research Roundtable of the National Academies, the Technology Innovation Program Advisory Board for the National Institute of Standards and Technology, and the Council on Foreign Relations. He holds a bachelor's degree from Emory University (1965), a master's from The Ohio State University (1966) and a doctorate from the University of Minnesota (1971).


Dr. Paul K. Wright
University of California, Berkeley

Paul K. Wright is the Director for Center for Information Technology in the Interest of Society (CITRIS) at UC Berkeley and a member of the National Academy of Engineering. CITRIS serves four University of California campuses and hosts many multi-disciplinary projects on large societal problems, including healthcare, services and intelligent infrastructures such as energy, water and sustainability. Professor Wright teaches in the Mechanical Engineering department, where he holds the A. Martin Berlin Chair. He also serves as co-director of the Berkeley Manufacturing Institute (BMI) and co-director of the Berkeley Wireless Research Center (BWRC). From 1995 to 2005 he served as co-chair of the Management of Technology Program (a joint program with the Haas School of Business). His research and teaching are in high-tech product design and rapid manufacturing. Currently, he and his colleagues are designing and prototyping wireless systems for "Demand Response Power Management" throughout California, funded by PIER/CEC (the Public Interest Energy Research program of the California Energy Commission). Born in London, England, he attended Birmingham and Cambridge universities prior to attaining previous U.S. faculty positions at New York University and Carnegie Mellon University.


---
Sponsors

National Institute of Standards and Technology