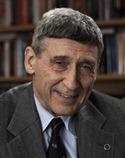 Ralph Gomory
Research Professor
Stern School of Business, New York University

President Emeritus
Alfred P. Sloan Foundation
Ralph E. Gomory joined New York University Stern School of Business as a Research Professor in April 2008. Prior to joining NYU Stern, Ralph was President of the Alfred P. Sloan Foundation (1989 to 2007). During his tenure at the Alfred P. Sloan Foundation, the foundation became a pioneer in the field of online learning before there was public internet, then supported its growth to over three million people taking courses for credit. They started the now widespread program of industry studies, and engaged a major program advocating a more flexible workplace. The foundation developed a novel and successful approach to the problem of producing minority PhD's in scientific and technical fields. The foundation was early in perceiving the threat of bioterrorism and was active in that area for years before the events of 9/11. The foundation also supported the widely recognized Sloan Sky Survey, and initiated the Census of Marine Life, a major worldwide effort to survey ocean life.

Before joining the Alfred P. Sloan Foundation, Ralph served as both head of IBM's Research Division, then as IBM Senior Vice President for Science and Technology. During his 30-year tenure at IBM, the firm's researchers invented what is now known as RISC architecture, and developed the concept, theory and first prototype of relational databases. They also won two successive Nobel Prizes in physics.

Ralph's research interests include studies of the nature of technology and product development, and models of international trade that include technological change and economies of scale. He has contributed extensively to the mathematical fields of linear and integer programming. He co-authored the MIT Press book, Global Trade and Conflicting National Interests with NYU Stern Professor William Baumol.

Ralph is a member of the National Academy of Science and the National Academy of Engineering. He has been a trustee of Princeton University and has served on the President's Council of Advisors on Science and Technology. He has been awarded eight honorary degrees and many prizes, including the National Medal of Science, both for his personal research and for his leadership is science and technology. Ralph was a director of several Fortune 500 companies including the Washington Post Company and the Bank of New York, and was named one of America's ten best directors by Director's Alert magazine in 2000. He graduated from Williams College, studied at Cambridge University and received his Ph.D. in Mathematics from Princeton University in 1954. He served in the U.S. Navy from 1954-1957.