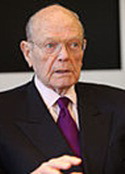 "David Morgenthaler, One of Venture Capital's Founding Fathers, Dies at 96."
Read
Wall Street Journal article.
With great sadness the STEP Board announces the loss of long-time board member David Morgenthaler. A pioneer of the nation's venture capital industry, David joined the STEP Board in July 2000, and he continued to serve on the Board and STEP's Innovation Policy Forum until his death on June 17, 2016 at the age of 96. David was committed to the work of STEP and was still providing guidance and advice to the Board in his last days.

In addition to his service on the STEP Board, David provided direct leadership and support to a number of projects under the Board's auspices. He chaired STEP's Committee on Competitiveness and Workforce Needs of United States Industry from 2006 to 2009. He also served on a number of other STEP committees: the Committee to Analyze Trends in Federal Spending on Scientific and Engineering Research and Their Impacts on Research Fields and Graduate Training in 2001, the Committee on Measuring and Sustaining the New Economy from 2001 to 2007, the Committee on Competing in the 21st Century: Best Practices in State and Regional Innovation Initiatives from 2008 to 2013.

He was also a founding member of STEP's Innovation Policy Forum, which acts as a focal point for national and international dialogue on innovation policy. As a venture capitalist, David was always on the lookout for the next "great enabler" that would help spur U.S. competitiveness, and he helped STEP develop a portfolio of projects on the economic impact of emerging technologies, innovation policy, and competitiveness. His enthusiasm, support, wisdom, and guidance will be sorely missed by the STEP Board and its staff.