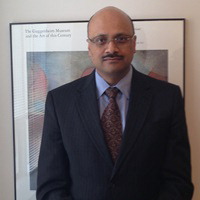 Sujai J. Shivakumar
Senior Program Officer
Email: SShivaku@nas.edu

Dr. Shivakumar directs the Academies' study of the Small Business Innovation Research program and the study of best practices in national innovation programs to support flexible electronics. Since joining The National Academies in 2001, Dr. Shivakumar has been the lead researcher in the STEP's evaluation of public-private technology partnerships and its multipart analysis of the drivers of the information technology-led productivity growth. He has also helped to lead the STEP's' review of national innovation policies around the world as well as its review of best practices in innovation policies among U.S. states and regions. In recognition of these contributions, the National Academies recently awarded Dr. Shivakumar its Distinguished Individual Service Award.
Dr. Shivakumar holds a doctorate in economics from George Mason University and was a Visiting Scholar at the Ostrom Workshop on Political Theory and Policy Analysis from 1997 to 2001. He is co-author with Nobel Laureate Elinor Ostrom of The Samaritan's Dilemma, the Political Economy of Development Aid (2005) and author of The Constitution of Development, Crafting Capabilities for Self-Governance (2005).