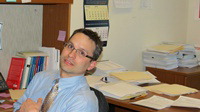 David Dierksheide
Program Officer
Board on Science, Technology, and Economic Policy
National Academies of Sciences, Engineering and Medicine
David Dierksheide is a Program Officer with the Board on Science, Technology, and Economic Policy. He joined STEP in 1999 as a Senior Project Assistant. His project portfolio while at STEP has included the Innovation Policy Forum, Best Practice in State and Regional Innovation Initiatives, Government-Industry Partnerships for the Development of New Technologies, Measuring and Sustaining the New Economy, and the assessments of the Small Business Innovation Research and Small Business Technology Transfer programs. He has contributed to the completion of nearly 40 STEP reports.

Prior to his work with the Academies he served as an assistant information officer at the Delegation of the European Commission in Washington, DC, and on Capitol Hill as a political affairs consultant at the Dutko Communications Strategies Group. He also served as interim director of Miriam's Kitchen.

Mr. Dierksheide holds a B.S. in geological sciences and B.A. in political science from George Washington University and a Master of Science in comparative social policy from Oxford University.