Sustainability - the Issue

"Can the transition to a stabilizing human population also be a transition to sustainability, in which the people living on earth over the next half-century meet their needs while nurturing and restoring the planet's life support systems?"
– Our Common Journey


Publications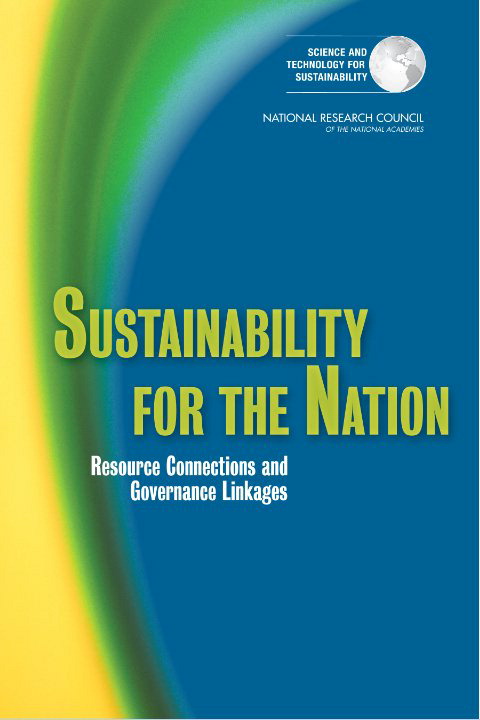 Sustainability for the Nation: Resource Connections and Governance Linkages (2013)
A new National Research Council report provides a decision framework which can be used by policymakers to examine the consequences, tradeoffs, synergies, and operational benefits of sustainability-oriented programs. The committee identifies linkages among areas such as energy, water, land, and nonrenewable resources that are critical to promoting and encouraging long term sustainability within the federal policy framework, recognizing that progress towards sustainability involves many institutions. The report also recommends priority areas for interagency cooperation on specific sustainability challenges; identifies impediments to interdisciplinary, cross-media federal programs; and highlights scientific research gaps as they relate to these interdisciplinary, cross-media approaches to sustainability. A booklet provides a short summary of the report.
Pathways to Urban Sustainability: A Focus on the Houston Metropolitan Region: Summary of a Workshop (2013)
The National Academies organized a public workshop to examine issues relating to sustainability and human-environment interactions in the Houston metropolitan region held in January 2012. Topics addressed included energy and air quality management, hazard mitigation, and land use considerations. The committee developed an agenda in consultation with regional stakeholders (academia, city/county governments), so that the presentations and panels reflect place-based knowledge and approaches to sustainability. The workshop featured invited presentations and group discussion, and was patterned after similar workshops held in 2009 on research and development on urban systems and in 2010 on urban sustainability in the Atlanta metropolitan region.
Sustainability Considerations for Procurement Tools and Capabilities: Summary of a Workshop (2012)
This report recaps a December 2011 workshop convened on behalf of the General Services Administration on how better to foster sustainability considerations into procurement tools and capabilities across the public and private sectors. It summarizes presentations and discussions that assessed the current landscape of green purchasing tools, identified opportunities and emerging requirements for enhanced and/or new tools, identified potential barriers to progress (such as cross-tool interoperability), and explored potential solutions. This summary also recaps discussions at the workshop on associated training required to realize the full benefits of these tools.
A Sustainability Challenge: Food Security for All: Report of Two Workshops(2011)
The National Research Council's Science and Technology for Sustainability Program hosted two workshops in 2011 addressing the sustainability challenges associated with food security for all. The first workshop, Measuring Food Insecurity and Assessing the Sustainability of Global Food Systems, explored the availability and quality of commonly used indicators for food security and malnutrition; poverty; and natural resources and agricultural productivity. The second workshop, Exploring Sustainable Solutions for Increasing Global Food Supplies , focused specifically on assuring the availability of adequate food supplies. How can food production be increased to meet the needs of a population expected to reach over 9 billion by 2050? Workshop objectives included identifying the major challenges and opportunities associated with achieving sustainable food security and identifying needed policy, science, and governance interventions. This is a report of two workshops.
Sustainability and the U.S. EPA (2011)
A report from the National Research Council presents a framework for incorporating sustainability into the U.S. Environmental Protection Agency's principles and decision making. The framework, which was requested by EPA, is intended to help the agency better assess the social, environmental, and economic impacts of various options as it makes decisions. The recommended sustainability approach both incorporates and goes beyond an approach based on assessing and managing the risks posed by pollutants that has largely shaped environmental policy since the 1980s. The report recommends that EPA formally adopt as its sustainability paradigm the widely used "three pillars" approach, which means considering the environmental, social, and economic impacts of an action or decision.
Pathways to Urban Sustainability: The Atlanta Metropolitan Region (2011)
The National Research Council's Science and Technology for Sustainability (STS) Program recently released the final summary report Pathways to Urban Sustainability: The Atlanta Metropolitan Region. The report summarizes discussions from a September 2010 workshop which focused on the Atlanta metropolitan region's approach to urban sustainability, including how the interaction of various systems (natural and human systems; energy, water, transportation systems) affect the region's social, economic, and environmental conditions. The report also summarized discussions of the challenges the region faces, innovate approaches being implemented to address these complex challenges, performance measures being used to gauge success, and potential opportunities to link knowledge with on-the-ground action.
America's Climate Choices (2011)
The National Research Council has released the final report of America's Climate Choices. It includes a CD of the four panel reports of the America's Climate Choices series as well as materials based on those reports. The report finds that the significant risks that climate change poses to human society and the environment provide a strong motivation to move ahead with substantial response efforts. Current efforts of local, state, and private sector actors are important, but not likely to yield progress comparable to what could be achieved with the addition of strong federal policies that establish coherent national goals and incentives, and that promote strong U.S. engagement in international-level response efforts. The inherent complexities and uncertainties of climate change are best met by applying an iterative risk management framework and making efforts to: significantly reduce greenhouse gas emissions; prepare for adapting to impacts; invest in scientific research, technology development, and information systems; and facilitate engagement between scientific and technical experts and the many types of stakeholders making America's climate choices.
Spring Issue of The Bridge on Urban Sustainability (2011)
Cities are home to half of the world's population--about 80% in the United States. These vibrant centers of activity impact global sustainability with their large footprints; concentrations of pollution and consumption; financial, technological, and knowledge networks; global business reach; and cultural influence. As the world urban population increases, however, risks to urban dwellers also increase. the articles in this issue are part of ongoing discussions about the challenges of urban sustainability. Glen Daigger of C2HM Hill focuses on the effective, efficient treatment and overall management of water resources. The potential of "city mining" is the subject of an article by Tom Graedel of Yale University.
Global Technology: Changes and Implications: Summary of a Forum (2011)
Engineers know what they mean by the word technology. They mean the things engineers conceive, design, build, and deploy. But what does the word global in the phrase global technology mean? Does it mean finding a way to feed, clothe, house, and otherwise serve the 9 billion people who will soon live on the planet? Does it mean competing with companies around the world to build and sell products and services? On a more immediate and practical level, can the rise of global technology be expected to create or destroy U.S. jobs? The National Academy of Engineering held a three-hour forum exploring these and related questions, which is summarized in the report.
Adapting to the Impacts of Climate Change (2010)
Much of the nation's experience to date in managing and protecting its people, resources, and infrastructure is based on the historic record of climate variability during a period of relatively stable climate. This report from the America's Climate Choices suite of studies concludes that adaptation to climate change calls for a new paradigm -- one that considers a range of possible future climate conditions and associated impacts, some well outside the realm of past experience. The report calls for a national adaptation strategy to support and coordinate decentralized efforts.



Advancing the Science of Climate Change (2010)
A strong, credible body of scientific evidence shows that climate change is occurring, is caused largely by human activities, and poses significant risks for a broad range of human and natural systems. As decision makers respond to these risks, the nation's scientific enterprise can contribute both by continuing to improve understanding of the causes and consequences of climate change, and by improving and expanding the options available to limit the magnitude of climate change and adapt to its impacts. To make this possible, the nation needs a comprehensive, integrated, and flexible climate change research enterprise that is closely linked with action-oriented programs at all levels.


Certifiably Sustainable?: The Role of Third-Party Certification Systems: Report of a Workshop (2010)
Consumption of goods and services represents a growing share of economic activity globally. In the United States, consumption accounts for more than two-thirds of gross domestic product. This trend of increasing consumption has brought with it negative consequences for the environment and human well-being. Global demand for energy, food, and all manner of goods is on the rise, putting strains on the natural and human capital required to produce them. Extractive industries and production processes are prominent causes of species endangerment. Modern economies are underpinned by substantial energy consumption, a primary contributor to the current climate crisis. Expanding international trade has led to many economic opportunities, but has also contributed to unfair labor practices and wealth disparities. While certain processes have improved or become more efficient, and certain practices have been outlawed or amended, the sheer scale of global consumption and its attendant impacts continue to be major challenges we face in the transition to sustainability. Third-party certification systems have emerged over the last 15 years as a tool with some promise. There has been anecdotal evidence of success, but to date the overall impact of certified goods and services has been small. Moreover, definitions of sustainable vary across sectors and markets, and rigorous assessments of these programs have been few and far between.


Expanding Biofuel Production: Sustainability and the Transition to Advanced Biofuels: Summary of a Workshop (2010)
While energy prices, energy security, and climate change are front and center in the national media, these issues are often framed to the exclusion of the broader issue of sustainability--ensuring that the production and use of biofuels do not compromise the needs of future generations by recognizing the need to protect life-support systems, promote economic growth, and improve societal welfare. Thus, it is important to understand the effects of biofuel production and use on water quality and quantity, soils, wildlife habitat and biodiversity, greenhouse gas emissions, air quality, public health, and the economic viability of rural communities.



Impact of Genetically Engineered Crops on Farm Sustainability in the United States (2010)
Corn, cotton, and soybean that have been engineered to resist insect pests and herbicides are now planted on almost half of all U.S. cropland. An analysis of the U.S. experience with genetically engineered crops shows that they offer substantial net environmental and economic benefits compared to conventional crops; however, these benefits have not been universal, some may decline over time, and potential benefits and risks may become more numerous as the technology is applied to more crops. Understanding the impacts of genetically engineered crops is vital to ensuring that crop-management practices and future research and development efforts realize the full potential of genetic engineering for commercial as well as public goods purposes, while maintaining the environmental, economic, and social sustainability of U.S. farms.


Informing an Effective Response to Climate Change (2010)
Demand for information to support climate-related decisions has grown rapidly as people, organizations, and governments have moved ahead with plans and actions to reduce greenhouse gas emissions and to adapt to the impacts of climate change. Today, however, the nation lacks comprehensive, robust, and credible information systems to inform climate choices and evaluate their effectiveness. This report from the America's Climate Choices suite of studies examines information needs and recommends ways the federal government can better inform responses by enhancing climate change and greenhouse gas information and reporting systems and by improving climate communication and education.
Limiting the Magnitude of Future Climate Change (2010)
Meeting internationally discussed targets for limiting atmospheric greenhouse gas concentrations and associated increases in global average temperatures will require a major departure from business as usual in how the world uses and produces energy. This report from the America's Climate Choices suite of studies recommends that a U.S. policy goal be stated in terms of a budget for cumulative greenhouse gas emissions over the period 2012-2050. The report concludes that a carbon pricing system (either cap-and-trade, taxes, or a combination of the two) is the most important step for providing needed incentives to reduce emissions.



Pathways to Urban Sustainability: Research and Development on Urban Systems (2010)
More than half of the world's people now live in cities. In the U.S., the figure is 80 percent. It is worthwhile to consider how this trend of increased urbanization, if inevitable, could be made more sustainable. One fundamental shortcoming of urban research and programs is that they sometimes fail to recognize urban areas as systems. Current institutions and actors are not accustomed to exploring human-environment interactions, particularly at an urban-scale. The fact is that these issues involve complex interactions, many of which are not yet fully understood. Thus a key challenge for the 21st century is this: How can we develop sustainable urban systems that provide healthy, safe and affordable environments for the growing number of Americans living in cities and their surrounding metropolitan areas? To address this question, the National Research Council organized a workshop exploring the landscape of urban sustainability research programs in the United States. The workshop is summarized in this volume.


The Causes and Impacts of Neglected Tropical and Zoonotic Diseases - Implications for Global Health and Opportunities for Novel Intervention Strategies (2010)
On April 20, 2010, the Deepwater Horizon drilling rig in the Gulf of Mexico exploded, causing an oil leak one mile beneath the ocean's surface. The explosion killed 11 workers and unleashed one of the largest offshore oil spills in history. The oil well was plugged in mid-July, but the effects of the spill on the short- and long-term health of individuals-including workers, volunteers, residents and visitors-remain uncertain. At the request of the U.S. Department of Health and Human Services, the IOM convened a public workshop June 22-23 to begin planning for the surveillance of the Gulf oil spill's effects on human health. Speakers explored the potential adverse health effects for at-risk populations living in the Gulf region or assisting with clean-up activities. Participants considered effective ways to communicate potential health risks to the public and to engage them in research on the spill's effects. This document summarizes the workshop. Presentations from the meeting as well as full video and transcripts are available online.


Toward Sustainable Agricultural Systems in the 21st Century (2010)
U.S. farmers are under pressure to satisfy multiple demands, such as to produce more crops, pollute less, fulfill consumer preferences, pay fair wages, and make a living-all with increasingly scarce natural resources such as land and water. To evolve farming systems that meet all of these demands, national agricultural policy, research programs, and food markets need to shift away from emphasizing low costs and high production exclusively and develop a more holistic perspective of how farms provide benefits to society. This report recommends reaching this goal through two parallel efforts: an incremental approach, in which the development of sustainable agricultural techniques will be continued and expanded; and a transformative approach, in which multiple research areas will be brought together to design farming systems that balance the competing demands from the outset.


Understanding Climate's Influence on Human Evolution (2010)
Improved understanding of how past climate may have influenced human evolution could be dramatically enhanced with an international cross-disciplinary research program to improve the sparse human fossil and incomplete climate records, and the link between the two. Climate and fossil records suggest that some events in human evolution - such as the evolution of new species or migration out of Africa - coincided with substantial changes in African and Eurasian climate. This raises the intriguing possibility that environmental factors affected or controlled our species' evolution. By altering the landscape, past changes in climate may have exerted pressures that led to genetic selection and innovation in humans. But because both the human fossil record and our understanding of past climate conditions are incomplete, the details of how past climates influenced human evolution remain unclear.

A New Biology for the 21st Century: Ensuring the United States Leads the Coming Biology Revolution (2009)
Now more than ever, biology has the potential to contribute practical solutions to many of the major challenges confronting the United States and the world. This report recommends that a ''New Biology'' approach - one that depends on greater integration within biology, and closer collaboration with physical, computational, and earth scientists, mathematicians and engineers - be used to find solutions to four key societal needs: sustainable food production, ecosystem restoration, optimized biofuel production, and improvement in human health. The approach calls for a coordinated effort to leverage resources across the federal, private, and academic sectors to help meet challenges and improve the return on life science research in general.


Disaster Risk Management in an Age of Climate Change: A Summary of the April 3, 2008 Workshop of the Disasters Roundtable (2009)
In its report Climate Change 2007 the Intergovernmental Panel on Climate Change (IPCC) noted that global change is likely to result in increased drought, intense tropical cyclone activity, heat waves, and floods in certain regions of the world, including parts of the United States, other developed countries, and developing nations. It further suggested that such developments would require policy makers and other stakeholders to give increased attention to managing new levels of risk posed by extreme events and their adverse impacts. The objective of this workshop was to consider disaster risk management challenges in the context of climate change. Knowledge derived from science and the experience of policy makers and practitioners informed the discussion.

Ecological Impacts of Climate Change (2009)
The world''s climate is changing, and it will continue to change throughout the 21st century and beyond. Rising temperatures, new precipitation patterns, and other changes are already affecting many aspects of human society and the natural world. In this book, the National Research Council provides a broad overview of the ecological impacts of climate change, and a series of examples of impacts of different kinds. The book was written as a basis for a forthcoming illustrated booklet, designed to provide the public with accurate scientific information on this important subject.



Enhancing the Effectiveness of Sustainability Partnerships: Summary of a Workshop (2009)
Sustainable development - meeting human needs while nurturing and restoring the planet's life support systems - requires a continuous process of scientific innovation, new knowledge and learning, and collaborative approaches to implementing technologies and policies. To address these challenges, different stakeholder groups are increasingly seeking to ally themselves through partnership, in order to implement projects, deliver services, establish secure funding mechanisms, and achieve on the ground results. Advocates of this collaborative approach point to the failure of governmental regulations, international commitments, or business as usual. However, skeptics often question the effectiveness of partnerships at achieving sustainable development goals and, in the absence of demonstrated results, wonder where partnerships are adding value. A symposium held in June 2008 and summarized in this volume, attempted to advance the dialogue on partnerships for sustainability in order to catalyze existing knowledge and inform future efforts. Ideas that came out of discussions at the symposium will help leaders in government, the private sector, foundations and NGOs, and universities, both in the United States and internationally, as they develop and participate in new partnerships for sustainability.


Environmental Health Sciences Decision Making: Risk Management, Evidence, and Ethics: Workshop Summary (2009)
Environmental health decision making can be a complex undertaking, as there is the need to navigate and find balance among three core elements: science, policy, and the needs of the American public. Policy makers often grapple with how to make appropriate decisions when the research is uncertain. The challenge for the policy maker is to make the right decision with the best available data in a transparent process. The Environmental Health Sciences Decision Making workshop, the first in a series, was convened to inform the Roundtable on Environmental Health Sciences, Research, and Medicine on emerging issues in risk management, ''weight of evidence,'' and ethics that influence environmental health decision making. The workshop, summarized in this volume, included an overview of the principles underlying decision making, the role of evidence and challenges for vulnerable populations, and ethical issues of conflict of interest, scientific integrity, and transparency.

Frontiers in Soil Science Research: Report of a Workshop (2009)
On December 12-14, 2005, the National Academies convened the Frontiers in Soil Science Research Workshop, summarized in this volume, to identify emerging areas for research in soil science by addressing the interaction of soil science subdisciplines, collaborative research with other disciplines, and the use of new technologies in research. The workshop focused around seven key questions addressing research frontiers for the individual soil science disciplines, and also addressing the need for integration across soil science with other disciplines.



Global Environmental Health: Research Gaps and Barriers for Providing Sustainable Water, Sanitation, and Hygiene Services (2009)
The Roundtable on Environmental Health Sciences, Research, and Medicine of the Institute of Medicine convened a workshop in October 2007, summarized in this volume, to address objectives related to Sustainable Water, Sanitation, and Hygiene Services. One of the objectives of the workshop was to think about the interdependence of environmental health and human health as connected through water. A second objective of the workshop was to consider how planning, management, and interdisciplinary approaches-including technology, social behavioral issues, gender, health, environment, economic, and political aspects-can be integrated to arrive at sustainable solutions. Many organizations and agencies are trying to forge a path toward sustainable practices in water, but the various sectors utilizing and governing water services are not interconnected. More integration and a greater understanding of holistic approaches are needed.

Global Issues in Water, Sanitation, and Health Workshop: Summary (2009)
As the human population grows - tripling in the past century while, simultaneously, quadrupling its demand for water - Earth's finite freshwater supplies are increasingly strained, and also increasingly contaminated by domestic, agricultural, and industrial wastes. Recognizing that water availability, water quality, and sanitation are fundamental issues underlying infectious disease emergence and spread, the Institute of Medicine held a two-day public workshop, summarized in this volume. Through invited presentations and discussions, participants explored global and local connections between water, sanitation, and health; the spectrum of water related disease transmission processes as they inform intervention design lessons learned from water-related disease outbreaks; vulnerabilities in water and sanitation infrastructure in both industrialized and developing countries; and opportunities to improve water and sanitation infrastructure so as to reduce the risk of water related infectious disease.

Hidden Costs of Energy Unpriced Consequences of Energy Production and Use (2009)
The benefits to society of energy production and use are well-known, but energy also has many adverse effects not reflected in market prices, such as the damage air pollution imposes on human health and the environment. This congressionally-requested report from the National Research Council examines those ''hidden costs'' in an effort to inform energy-related policy decisions. The damages that the committee was able to quantify were an estimated 120 billion in the United States in 2005, a number that reflects damages from air pollution associated with electricity generation relying on fossil fuels, motor vehicle transportation, and heat generation. The report also considers other effects that are not included in the figure, such as damages from climate change, harm to ecosystems, effects of some air pollutants such as mercury, and risks to national security.


Informing Decisions in a Changing Climate (2009)
Climate change will create a novel and dynamic decision environment that cannot be envisioned from past experience. Moreover, climatic changes will be superimposed on social and economic changes that are altering the climate vulnerability of different regions and sectors of society, as well as their ability to cope. Decision makers will need new kinds of information and new ways of thinking and learning to function effectively in a changing climate. The information that is needed is not only about climate, but also about changes in social and economic conditions that interact with climate change. This report provides a framework and a set of strategies and methods for organizing and evaluating decision support activities related to climate change. Based on basic knowledge of decision making; past experiences in other fields; experience with early efforts in the climate arena; and input from a range of decision makers, the book identifies six principles of effective decision support and recommends a strategy for implementing them in a national initiative to inform climate-related decisions.

Partnerships for Emerging Research Institutions: Report of a Workshop (2009)
Constituting one third of all U.S. institutions of higher education, emerging research institutions (ERIs) are crucial to sustaining the nation''s technological competitiveness through innovation and workforce development. Many, however, are not fully engaged in sustained sponsored research. This book summarizes the discussions at a workshop that examined the barriers ERIs face in building more robust research enterprises and approaches for overcoming those barriers. The book includes a description of federal programs that focus on capacity building and institutional collaborations.

Research and Applications Needs in Flood Hydrology Science: A Summary of the October 15, 2008 Workshop (2009)
Flood damages have increased greatly over the past century, in part because of increased development in floodplain areas. Unfortunately, conventional methods used to understand and plan for flooding -- for example by considering flood risk when designing structures and setting insurance rates -- have become outdated. This report summarizes the discussions at a two-day workshop held by the National Research Council to foster dialogue among the science and applications communities on issues related to planning for extreme hydrologic events. Discussions at the workshop focused on research needs in the new science of hydrologic extremes, the role of new and advancing methods to observe and predict flood events, and the interface between the science of hydrologic extremes and how science information is utilized, for example, by agencies to monitor flood levels.
Restructuring Federal Climate Research to Meet the Challenges of Climate Change (2009)
Climate change is one of the most important global environmental problems facing the world today. Policy decisions are already being made to limit or adapt to climate change and its impacts, but many of these decisions are being made without the science support that could help shape better outcomes. In the United States, the U.S. Climate Change Science Program (CCSP) is responsible for coordinating efforts to generate the scientific knowledge to understand, predict, and respond to climate change. At the request of the CCSP, the National Research Council established a committee to evaluate the progress of the program and to identify future priorities. This, the committee's second and final report, proposes six priorities for restructuring the United States' climate change research program to develop a more robust knowledge base and support informed responses.

Sustainable Critical Infrastructure Systems: A Framework for Meeting 21st Century Imperatives (2009)
For the people of the United States, the 20th century was one of unprecedented population growth, economic development, and improved quality of life. The critical infrastructure systems - water, wastewater, power, transportation, and telecommunications - built in the 20th century have become so much a part of modern life that they are taken for granted. Large segments and components of the nation''s critical infrastructure systems are now 50 to 100 years old, and their performance and condition are deteriorating. However, approaching infrastructure renewal by continuing to use the same processes, practices, technologies, and materials that were developed in the 20th century will likely yield the same results: increasing instances of service disruptions, higher operating and repair costs, and the possibility of catastrophic, cascading failures. If the nation is to meet some of the important challenges of the 21st century, a new paradigm for the renewal of critical infrastructure systems is needed. This book discusses the essential components of this new paradigm, and outlines a framework to ensure that ongoing activities, knowledge, and technologies can be aligned and leveraged to help meet multiple national objectives.

The Disposal of Activated Carbon from Chemical Agent Disposal Facilities (2009)
In March 2008, the Chemical Materials Agency asked the National Research Council to study, evaluate, and recommend the best methods for proper and safe disposal of the used carbon from the operational disposal facilities. This volume examines various approaches to handling carbon waste streams from the four operating chemical agent disposal facilities. The approaches that will be used at each facility will ultimately be chosen bearing in mind local regulatory practices, facility design and operations, and the characteristics of agent inventories, along with other factors such as public involvement regarding facility operations.



The New Orleans Hurricane Protection System: Assessing Pre-Katrina Vulnerability and Improving Mitigation and Preparedness (2009)
Hurricane Katrina, which struck New Orleans and surrounding areas in August 2005, ranks as one of the nation''s most devastating natural disasters. Shortly after the storm, the U.S. Army Corps of Engineers established a task force to assess the performance of the levees, floodwalls, and other structures comprising the area''s hurricane protection system during Hurricane Katrina. This report provides an independent review of the task force''s final draft report and identifies key lessons from the Katrina experience and their implications for future hurricane preparedness and planning in the region.



The Role of the Life Sciences in Transforming Americas Future Summary of a Workshop (2009)
The life sciences have a pivotal role to play in addressing many of the global challenges of the 21st century, such as providing food and water to an expanding human population, reducing and adapting to climate change, improving human health, and meeting increasing energy needs. However, steps must be taken quickly to create the conditions that will allow this tremendous potential to be realized. At the request of the National Institutes of Health and the National Science Foundation, the National Research Council has convened a committee to recommend actions federal policy makers can take to ensure that the United States maintains and builds on its lead in the life sciences in a consensus report to be released later in 2009. To inform that study, a major summit was held in December, 2008 that brought together leaders in industry, academia, government, and research foundations to discuss where the life sciences are headed and how best to pave the way for future innovations. This workshop summary describes those discussions.

The U.S. Commitment to Global Health: Recommendations for the Public and Private Sectors (2009)
The global health community has reached a critical juncture in that now, more than ever, the knowledge, innovative technologies, and proven tools to help millions of people in need are within reach. Despite demonstrated success in tackling certain health issues, a wide gap remains between what can be done with existing knowledge, and what is actually being done in disadvantaged communities. Neither the U.S. government nor any one U.S. organization can achieve global health acting alone, but only as part of a shared global endeavor/campaign. Addressing the vision for a renewed U.S. commitment to global health, the book communicates specific recommendations not just for the U.S. government, but also for several nongovernmental sectors, including foundations and philanthropies, academia, nonprofit organizations, and the commercial sector.


Transforming Agricultural Education for a Changing World (2009)
Many of today''s major challenges--including energy security, national security, human health, and climate change--are closely tied to the global food and agriculture enterprise. Academic institutions with programs in agriculture are in a perfect position to foster the next generation of leaders and professionals needed to address these challenges, but many institutions have struggled to keep pace with changing times. At the request of the U.S. Department of Agriculture, the W.K. Kellogg Foundation, the National Science Foundation, the Farm Foundation, and the American Farm Bureau Foundation for Agriculture, the National Research Council convened a committee to examine ways to effect change in undergraduate agricultural education to attract top students and prepare them for the challenges of tomorrow. The committee''s report identifies nine steps institutions can take to better meet the needs of students, employers, and the broader society.

Achieving Sustainable Global Capacity for Surveillance and Response to Emerging Diseases of Zoonotic Origin: Workshop Report (2008)
Most of the diseases that have emerged over the past six decades, including AIDS, Severe Acute Respiratory Syndrome (SARS), and Avian Influenza, have been caused by zoonotic pathogens--infectious agents that are transmitted from animals to humans. In today''s globalized world, the emergence of new zoonotic diseases could have devastating health, economic, environmental, agricultural, and sociopolitical impacts. At the request of the U.S. Agency for International Development, the Institute of Medicine and National Research Council convened a workshop to discuss the current global capacity for zoonotic disease surveillance as a way of detecting and preventing zoonotic disease outbreaks in humans and animals; this workshop report summarizes the discussions from that workshop. An independent committee of experts will follow up these discussions with a consensus study on improving the global capacity for zoonotic disease surveillance and response, to be released in June 2009.

Genetically Engineered Organisms, Wildlife, and Habitat A Workshop Summary (2008)
Research is needed to help us to better understand the interactions of genetically engineered organisms (GEOs) - organisms whose genetic material has been modified to produce desirable traits - with their surrounding ecosystems. Today, most GEOs are crops that contain one or two gene traits that improve weed and insect control. However, research and testing are underway in a large variety of plants, microorganisms, and animals to introduce a much broader range of traits with potential benefits to farmers, consumers, and other users. The diversity of traits suggests that future GEOs may interact with the environment in different ways than current GEOs. A quandary for researchers is that possible interactions are best studied in natural settings, but current regulations prohibit the release of many experimental GEOs until their likely impact can be established. Therefore, alternate research approaches are needed. This workshop summarizes discussions on the kind of research that can help to understand possible GEO-ecosystem interactions.


Global Climate Change and Extreme Weather Events: Understanding the Potential Contributions to the Emergence, Reemergence, and Spread of Infectious Disease: Workshop Summary (2008)
Long before the germ theory of disease was described, late in the nineteenth century, humans knew that climatic conditions influence the appearance and spread of epidemic diseases. Ancient notions about the effects of weather and climate on disease remain embedded in our collective consciousness -- through expressions such as cold for rhinovirus infections; malaria, derived from the Latin for bad air; and the common complaint of feeling under the weather. Today, evidence is mounting that earth''''s climate is changing at a faster rate than previously appreciated, leading researchers to view the longstanding relationships between climate and disease with new urgency and from a global perspective. On December 4 and 5, 2007, the Forum on Microbial Threats hosted a public workshop in Washington, DC to consider the possible infectious disease impacts of global climate change and extreme weather events on human, animal, and plant health, as well as their expected implications for global and national security.

New Directions in Climate Change Vulnerability, Impacts, and Adaptation Assessment: Summary of a Workshop (2008)
With effective climate change mitigation policies still under development, and with even the most aggressive proposals unable to halt climate change immediately, many decision makers are focusing unprecedented attention on the need for strategies to adapt to climate changes that are now unavoidable. The effects of climate change will touch every corner of the world''s economies and societies; adaptation is inevitable. The remaining question is to what extent humans will anticipate and reduce undesired consequences of climate change, or postpone response until after climate change impacts have altered ecological and socioeconomic systems so significantly that opportunities for adaptation become limited. This book summarizes a National Research Council workshop at which presentations and discussion identified specific needs associated with this gap between the demand and supply of scientific information about climate change adaptation.

Rebuilding the Research Capacity at HUD (2008)
Today, the nation faces an array of housing and urban policy challenges. No federal department other than the Department of Housing and Urban Development (HUD) focuses explicitly on the well being of urban places or on the spatial relationships among people and economic activities in urban areas. If HUD, Congress, mayors, and other policy makers are to respond effectively to urban issues, they need a much more robust and effective Office of Policy Development and Research (PD&R). With adequate resources, PDR could lead the nation's ongoing process of learning, debate, and experimentation about critical housing and urban development challenges. This book makes seven major recommendations about PD&R's resources and responsibilities, including more active engagement with policy makers, formalizing various informal practices, strengthening surveys and data sets, and more. Acknowledging that the current level of funding for PDandR is inadequate, the book also makes several additional recommendations to help enable PD&R to reach its full potential.

Review of Federal Strategy for Nanotechnology-Related Environmental, Health, and Safety Research(2008)
This new book from the National Research Council finds serious weaknesses in the government's plan for research on the potential health and environmental risks posed by nanomaterials, which are increasingly being used in consumer goods and industry. An effective national plan for identifying and managing potential risks is essential to the successful development and public acceptance of nanotechnology-enabled products. The book recommends a robust national strategic plan for addressing nanotechnology-related Environmental, Health and Safety (EHS) risks, which will need to focus on promoting research that can assist all stakeholders, including federal agencies, in planning, controlling, and optimizing the use of engineered nanomaterials while minimizing EHS effects of concern to society. Such a plan will ensure the timely development of engineered nanoscale materials that will bring about great improvements in the nation's health, its environmental quality, its economy, and its security.


Urban Stormwater Management in the United States(2008)
The rapid conversion of land to urban and suburban areas has profoundly altered how water flows during and following storm events, putting higher volumes of water and more pollutants into the nation's rivers, lakes, and estuaries. These changes have degraded water quality and habitat in virtually every urban stream system. The Clean Water Act regulatory framework for addressing sewage and industrial wastes is not well suited to the more difficult problem of stormwater discharges. This report calls for an entirely new permitting structure that would put authority and accountability for stormwater discharges at the municipal level. A number of additional actions, such as conserving natural areas, reducing hard surface cover (e.g., roads and parking lots), and retrofitting urban areas with features that hold and treat stormwater, are recommended.

Analysis of Global Change Assessments (2007)
Global change assessments inform decision makers about the scientific underpinnings of a range of environmental issues, such as climate change, stratospheric ozone depletion, and loss of biodiversity. Dozens of assessments have been conducted to date by various U.S. and international groups, many of them influencing public policies, technology development, and research directions. This report analyzes strengths and weaknesses of eight past assessments to inform future efforts. Common elements of effective assessments include strong leadership, extensive engagement with interested and affected parties, a transparent science-policy interface, and well defined communication strategies. The report identifies 11 essential elements of effective assessments and recommends that future assessments include decision support tools that make use of information at the regional and local level where decisions are made.

Environmental Public Health Impacts of Disasters--Hurricane Katrina, Workshop Summary (2007)
On October 20 2005, the Roundtable on Environmental Health Sciences, Research, and Medicine held a workshop entitled, Environmental Public Health Impacts of Disasters: Hurricane Katrina. The workshop brought together members of the scientific community to highlight the status of the recovery effort, consider the ongoing challenges in the midst of a disaster, look at the scientific issues involved, and be able to reassure the public with the best scientific information. The workshop provided an opportunity to explore some of the most pressing research and preparedness needs related to the health risks of Hurricane Katrina and also a chance to discuss the larger issues for scientific collaboration during a disaster of this magnitude.

Sustainable Management of Groundwater in Mexico--Proceedings of a Workshop, Series--Strengthening Science-Based Decision Making in Developing Countries (2007)
This report contains a collection of papers presented at a workshop in Merida, Mexico --- Strengthening Science-Based Decision Making: Sustainable Management of Groundwater in Mexico. The cross-cutting themes of the workshop were the elements or principles of science-based decision making and the role of the scientific community in ensuring that science is an integral part of the decision making process. Papers included in this volume describe the groundwater resources of Mexico''s Yucatan Peninsula, approaches to managing groundwater in Mexico and governmental and scientific institutions concerned with water resources. Other papers discuss US approaches to managing scarce water resources. Participants in the workshop included representatives from leading scientific and academic institutions, federal state and local governments, non-governmental organizations and businesses.

Linking Knowledge with Action for Sustainable Development: The Role of Program Management-Summary of a Workshop(2006)
This report summarizes a workshop organized by the National Academies Roundtable on Science and Technology for Sustainability. The workshop brought together a select group of program managers from the public and private sectors to discuss specific cases of linking knowledge to action in a diverse set of integrated observation, assessment, and decision support systems. Workshop discussions explored a wide variety of experiments in harnessing science and technology to goals of promoting development and conserving the environment. Participants reflected on the most significant challenges that they have faced when trying to implement their programs and the strategies that they have used to address them successfully. The report summarizes discussions at the workshop, including common themes about the process of linking knowledge with actions for sustainable development that emerged across a wide range of cases, sectors, and regions.

Knowledge-Action Systems for Seasonal to Interannual Climate Forecasting: Summary of a Workshop(2005)
The National Academies'' Roundtable on Science and Technology for Sustainability hosted a workshop "Knowledge-Action Systems for Seasonal to Interannual Climate Forecasting" in 2004 to discover and distill general lessons about the design of effective systems for linking knowledge with action from the last decade''s experience with the production and application of seasonal to interannual climate forecasts. Workshop participants described lessons they had learned based on their experiences developing, applying, and using decision support systems in the United States, Columbia, Brazil, and Australia. Some of the key lessons discussed, as characterized by David Cash and James Buizer, were that effective knowledge-action systems: define and frame the problem to be addressed via collaboration between knowledge users and knowledge producers; tend to be end-to-end systems that link user needs to basic scientific findings and observations; are often anchored in "boundary organizations" that act as intermediaries between nodes in the system - most notably between scientists and decision makers; feature flexible processes and institutions to be responsive to what is learned; use funding strategies tailored to the dual public/private character of such systems; and require people who can work across disciplines, issue areas, and the knowledge action interface.

Partnerships for Reducing Landslide Risk: Assessment of the National Landslide Hazards Mitigation Strategy(2004)
This NRC report commends the USGS for creating a national approach based on partnerships with federal, state, local, and non-governmental entities, and finds that the plan components are the essential elements of a national strategy. The report recommends that the plan should promote the use of risk analysis techniques, and should play a vital role in evaluating methods, setting standards, and advancing procedures and guidelines for landslide hazard maps and assessments. The NRC panel suggests that substantially increased funding will be required to implement a national landslide mitigation program, and that as part of a 10-year program the funding mix should transition from research and guideline development to partnership-based implementation of loss reduction measures.

Urbanization, Energy, and Air Pollution in China (2004)
In October 2003, a group of experts met in Beijing under the auspices of the Chinese Academy of Sciences, Chinese Academy of Engineering, and National Academy of Engineering (NAE)/National Research Council (NRC) of the National Academies to continue a dialogue and eventually chart a rational course of energy use in China. This collection of papers is intended to introduce the reader to the complicated problems of urban air pollution and energy choices in China.




Water and Sustainable Development: Opportunities for the Chemical Sciences - A Workshop Report to the Chemical Sciences Roundtable (2004)
The goal is, by the year 2015, to halve the proportion of people unable to reach or afford safe drinking water and the proportion of people without access to basic sanitation. Meeting this challenge will require the talents of chemists and chemical engineers, in addition to economists, city planners, and engineers in other fields.




Energy and Transportation: Challenges for the Chemical Sciences in the 21st Century (2003)
This report, also based on a workshop, assesses the current state of chemistry and chemical engineering at the interface with novel and existing forms of energy and transportation systems. The report also identifies challenges for the chemical sciences in helping to meet the increased demand for more energy, and opportunities for research in energy technologies and in the development of transportation vehicles.




Ensuring Environmental Health in Postindustrial Cities (2003)
This workshop is an opportunity for interested parties to discuss these local concerns in the broader environmental health context, and to help create partnerships to address these concerns as they currently exist and will likely emerge in the coming years. This meeting seeks to stimulate dialog about these issues among local business leaders, architects, urban planners, engineers, public health scientists, environmental scientists, health care providers, social scientists, clergy, educators, and the general public.



Down to Earth: Geographical Information for Sustainable Development in Africa (2002)
In 1992, world leaders adopted Agenda 21, the work program of the 1992 U.N. Conference on Environment and Development. This landmark event provided a political foundation and action items to facilitate the global transition toward sustainable development. The international community marked the tenth anniversary of this conference in Johannesburg, South Africa, in August 2002. Down to Earth, a component of the U.S. State Department''s Geographic Information for Sustainable Development project for the World Summit, focuses on sub-Saharan Africa with examples drawn from case-study regions where the U.S. Agency for International Development and other agencies have broad experience. Although African countries are the geographic focus of the study, the report has broader applicability. Down to Earth summarizes the importance and applicability of geographic data for sustainable development and draws on experiences in African countries to examine how future sources and applications of geographic data could provide reliable support to decision-makers as they work towards sustainable development. The committee emphasizes the potential of new technologies, such as satellite remote-sensing systems and geographic information systems, that have revolutionized data collection and analysis over the last decade.

The Drama of the Commons (2002)
The tragedy of the commons is a central concept in human ecology and the study of the environment. It has had tremendous value for stimulating research, but it only describes the reality of human-environment interactions in special situations. Research over the past thirty years has helped clarify how human motivations, rules governing access to resources, the structure of social organizations, and the resource systems themselves interact to determine whether or not the many dramas of the commons end happily. In this book, leaders in the field review the evidence from several disciplines and many lines of research and present a state-of-the-art assessment. They summarize lessons learned and identify the major challenges facing any system of governance for resource management. They also highlight the major challenges for the next decade: making knowledge development more systematic; understanding institutions dynamically; considering a broader range of resources (such as global and technological commons); and taking into account the effects of social and historical context.

Grand Challenges in Environmental Sciences (2001)
Scientists have long sought to unravel the fundamental mysteries of the land, life, water, and air that surround us. But as the consequences of humanity's impact on the planet become increasingly evident, governments are realizing the critical importance of understanding these environmental systems - and investing billions of dollars in research to do so. To identify high-priority environmental science projects, Grand Challenges in Environmental Sciences explores the most important areas of research for the next generation. The book's goal is not to list the world's biggest environmental problems. Rather it is to determine areas of opportunity that - with a concerted investment - could yield significant new findings. Nominations for environmental science's "grand" challenges were solicited from thousands of scientists worldwide. Based on their responses, eight major areas of focus were identified - areas that offer the potential for a major scientific breakthrough of practical importance to humankind, and that are feasible if given major new funding. The book further pinpoints four areas for immediate action and investment.

Information Systems and the Environment (2001)
Information technology is a powerful tool for meeting environmental objectives and promoting sustainable development. This collection of papers by leaders in industry, government, and academia explores how information technology can improve environmental performance by individual firms, collaborations among firms, and collaborations among firms, government agencies, and academia. Information systems can also be used by nonprofit organizations and the government to inform the public about broad environmental issues and environmental conditions in their neighborhoods. Several papers address the challenges to information management posed by the explosive increase in information and knowledge about environmental issues and potential solutions, including determining what information is environmentally relevant and how it can be used in decision making. In addition, case studies are described and show how industry is using information systems to ensure sustainable development and meet environmental standards. The book also includes examples from the public sector showing how governments use information knowledge systems to disseminate best practices beyond big firms to small businesses, and from the world of the Internet showing how knowledge is shared among environmental advocates and the general public.

Our Common Journey: A Transition Toward Sustainability (1999)
World human population is expected to reach upwards of 9 billion by 2050 and then level off over the next half-century. How can the transition to a stabilizing population also be a transition to sustainability? How can science and technology help to ensure that human needs are met while the planet''s environment is nurtured and restored?Our Common Journey examines these momentous questions to draw strategic connections between scientific research, technological development, and societies'' efforts to achieve environmentally sustainable improvements in human well being. The book argues that societies should approach sustainable development not as a destination but as an ongoing, adaptive learning process. Speaking to the next two generations, it proposes a strategy for using scientific and technical knowledge to better inform future action in the areas of fertility reduction, urban systems, agricultural production, energy and materials use, ecosystem restoration and biodiversity conservation, and suggests an approach for building a new research agenda for sustainability science.Our Common Journey documents large-scale historical currents of social and environmental change and reviews methods for what if analysis of possible future development pathways and their implications for sustainability. The book also identifies the greatest threats to sustainability--in areas such as human settlements, agriculture, industry, and energy--and explores the most promising opportunities for circumventing or mitigating these threats. It goes on to discuss what indicators of change, from children''s birth-weights to atmosphere chemistry, will be most useful in monitoring a transition to sustainability.