Sustainability - the Issue

"Can the transition to a stabilizing human population also be a transition to sustainability, in which the people living on earth over the next half-century meet their needs while nurturing and restoring the planet's life support systems?"
– Our Common Journey


Publications
Addressing the Energy-Water Nexus: Roundtable on Science and Technology for Sustainability (2015)
In 2013-2014, the Academies' Roundtable on Science and Technology for Sustainability, in collaboration with the Board on Energy and Environmental Systems (BEES) and the Water Science and Technology Board (WSTB), contributed to the emerging dialogue on the energy-water nexus by holding four related meetings in June 2013, December 2013, May 2014 and December 2014. This volume compiles the Meetings in Brief for the four events, highlighting the main topics discussed at each meeting.



Diplomacy for the 21st Century: Embedding a Culture of Science and Technology throughout the Department of State (2015)
This report recommends steps that the Department of State should embrace to take full advantage of the leading science and technology (S&T) capabilities of the United States. These capabilities provide the department with many opportunities to promote a variety of the interests of the United States and its allies in a rapidly changing world wherein S&T are important drivers of economic development at home and abroad and help ensure international security. The report assesses and makes recommendations concerning the changing environment for the conduct of diplomacy in the years ahead, with a focus on the role of S&T in the development and implementation of U.S. policies and programs.


Addressing the Energy-Water Nexus: Need for Improved Data and Decision Support Tools (2015)
As the fourth and final session of the Roundtable on Science and Technology for Sustainability's 2013-2014 initiative to examine the energy-water nexus, the December 2014 meeting featured panel discussions on improved data for water use, decision support tools, and frameworks for local and regional decision making. The panel was convened in collaboration with the Board on Energy and Environmental Systems (BEES) and the Water Science and Technology Board (WSTB). This Meeting in Brief synthesizes the discussions held during the event.




Critical Role of Animal Science Research in Food Security and Sustainability (2015)
An expert committee under the STS Program, in collaboration with the Board on Agriculture and Natural Resources (BANR), completed a report that identifies research priorities to sustainably meet expected increase in global demand for animal protein. The report assesses the global demand for products of animal origin in 2050 within the framework of ensuring global food security; evaluates how climate change and natural resource constraints may impact the ability to meet future global demand for animal products in sustainable production systems; and identifies factors that may impact the ability of the United States to meet demand for animal products, including the need for trained human capital, product safety and quality, and effective communication and adoption of new knowledge, information, and technologies.


Homelessness and Urban Sustainability: Implications of Changes to the US Health System on a Vulnerable Population (2015)
The STS Program, in collaboration with the National Alliance to End Homelessness, the National Health Care for the Homeless Council, and the Institute of Medicine's (IOM) Roundtable on the Promotion of Health Equity and the Elimination of Health Disparities, convened a session on November 12, 2014, to explore issues related to the impact of the changing US health care system under ACA on the homeless population in urban areas. This meeting in brief synthesizes the discussions held during the event.




Sustainability Concepts in Decision-Making: Tools and Approaches for the US Environmental Protection Agency (2014)
The Board on Environmental Studies and Toxicology (BEST), in collaboration with the STS Program, released a consensus report that examines scientific tools and approaches for incorporating sustainability concepts into assessments used to support the U.S. Environmental Protection Agency's (EPA's) decision making. Using specific case studies, this report considers the application of analytic and scientific tools, methods, and approaches presented in the 2011 NRC report Sustainability and the U.S. EPA. The report examines both currently available and emerging tools, methods, and approaches to find those most appropriate for assessing and/or evaluating potential economic, social and environmental outcomes within an EPA decision context. The report also discusses data needs and post-decision evaluation of outcomes on dimensions of sustainability.


Addressing the Energy-Water Nexus through Technological Innovation (2014)
In May 2014, the Roundtable on Science and Technology for Sustainability convened a panel to examine technological innovation to address the energy-water nexus. The panel examined research needs for optimizing current technologies, existing barriers, emerging technology innovations, and approaches for advancing the integrative field of the energy-water nexus to best address key challenges. The panel was convened in collaboration with the Board on Energy and Environmental Systems (BEES) and the Water Science and Technology Board (WSTB). This meeting summary synthesizes the discussions held during the event.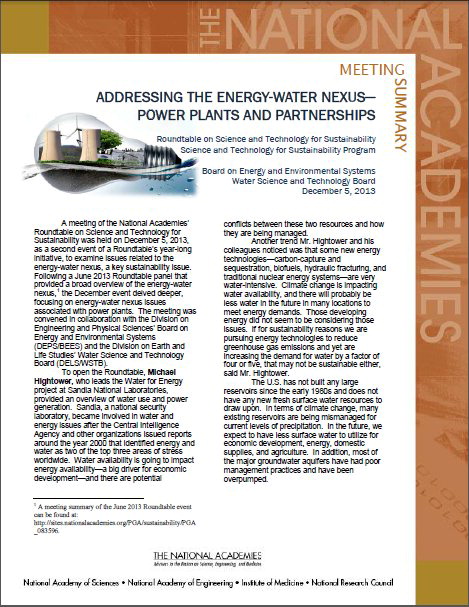 Addressing the Energy-Water Nexus: Power Plants and Partnerships (2014)
The National Academies' Roundtable on Science and Technology for Sustainability met on December 5, 2013, to examine issues related to the energy-water nexus. Following a June 2013 Roundtable panel that provided a broad overview of the energy-water nexus, the December event delved deeper, focusing on energy-water nexus issues associated with power plants. The meeting was convened in collaboration with the Board on Energy and Environmental Systems (BEES) and the Water Science and Technology Board (WSTB). This summary synthesizes the discussions held during the event.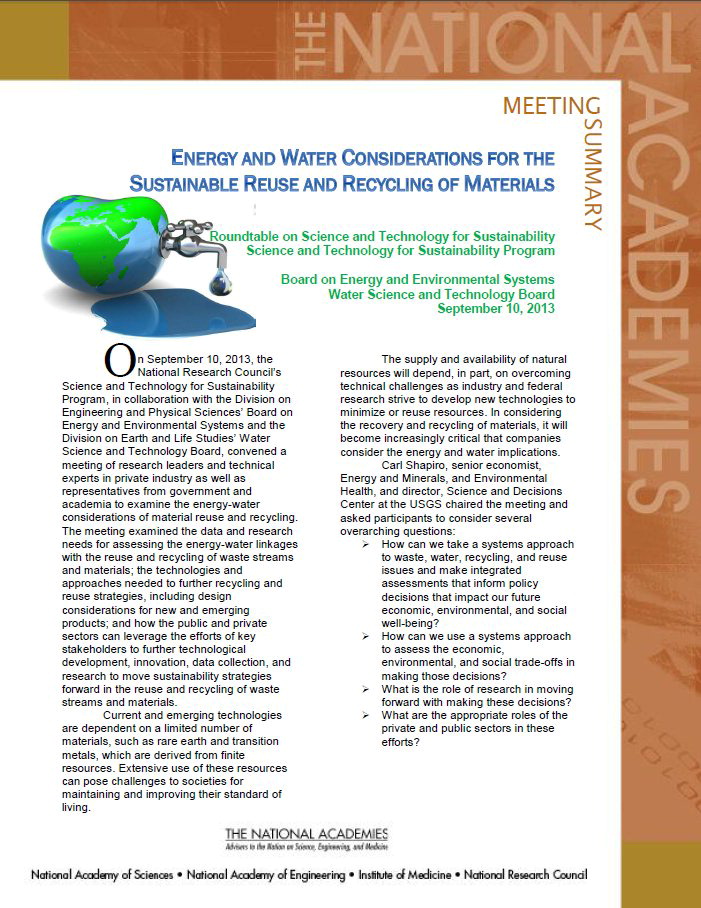 Energy and Water Considerations for the Sustainable Reuse and Recycling of Materials (2014)
In September 2013, the STS Program convened a meeting of research leaders and technical experts in private industry as well as representatives from government and academia to examine the energy-water considerations of material reuse and recycling. The meeting examined the data and research needs for assessing the energy-water linkages with the reuse and recycling of waste streams and materials; the technologies and approaches needed to further recycling and reuse strategies; and how the public and private sectors can leverage the efforts of key stakeholders to further technological development, innovation, data collection, and research. This meeting summary synthesizes the discussions held during the event.



Best Practices for Risk-Informed Decision Making Regarding Contaminated Sites: Summary of a Workshop Series (2014)
An ad hoc committee of the Division on Earth & Life Studies' Nuclear and Radiation Studies Board (DELS/NRSB), in collaboration with the STS program, organized two public workshops in October 2013 and January 2014 on best practices for risk-informed remedy selection, closure, and post-closure control of radioactive and chemically contaminated sites that present significant difficulty for remediation to unrestricted release. The workshop series aimed to explore best practices that promote effective, risk-informed decision making and future opportunities to improve remediation approaches and practices. This report is the summary of two workshops.



Can Earth's and Society's Systems Meet the Needs of 10 Billion People?: Summary of a Workshop (2014)
The Earth's population, currently 7.2 billion, is expected to continue to rise over the next 40 years. Current projections are that the Earth will likely need to support 9.6 billion people by the year 2050, a figure that climbs to nearly 11 billion by the year 2100. This report is the summary of a multi-disciplinary workshop convened by the National Academies in October 2013 to explore how to accommodate a world population of 10 billion in a sustainable way while simultaneously increasing the well-being and standard of living for that population. This report examines key issues in the science of sustainability that are related to overall human population size, population growth, aging populations, migration toward cities, differential consumption, and land use change, by different subpopulations, as viewed through the lenses of both social and natural science.


Pathways to Urban Sustainability: Perspectives from Portland and the Pacific Northwest (2014)
In May 2013, a committee under the STS Program convened a workshop to examine issues relating to sustainability and human-environment interactions in the Portland metropolitan region. Topics addressed included the role of land-use restrictions on development, transportation innovations, and economic and social challenges. The speakers at the workshop used examples from Portland and the greater Pacific Northwest region to explore critical questions in finding pathways to urban sustainability.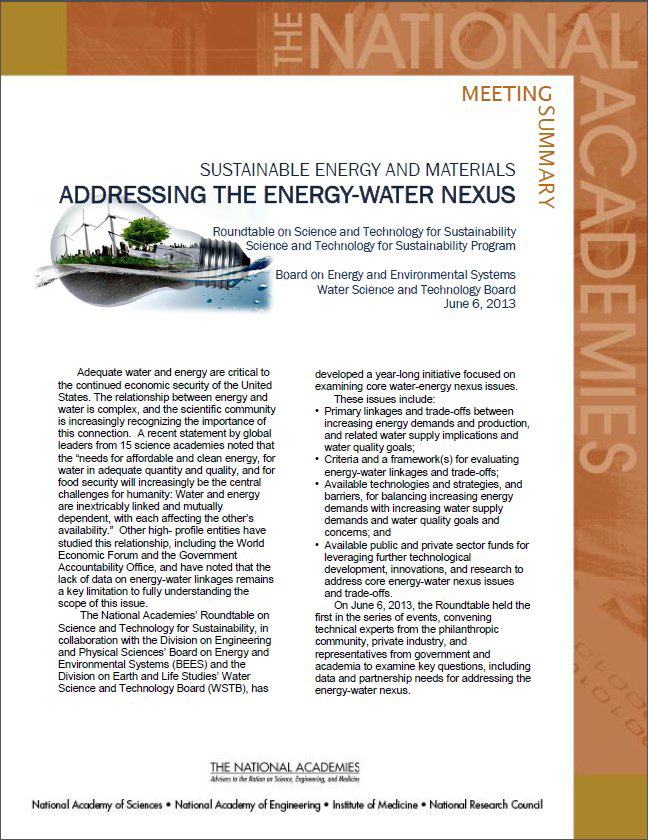 Sustainable Energy and Materials: Addressing the Energy-Water Nexus (2013)
As the first event of a year-long initiative, a session was held at the June 2013 Roundtable on Science and Technology for Sustainability meeting in collaboration with the Board on Energy and Environmental Systems (BEES) and the Water Science and Technology Board (WSTB). The session featured panel discussions focused on addressing issues related to the energy-water nexus, a key sustainability issue, as adequate water and energy are critical to the continued economic security of the United States. The event examined key questions, including data and partnerships needs for addressing the energy-water nexus.




The Nexus of Biofuels, Climate Change, and Human Health: Workshop Summary (2013)
Liquid fuels are a major part of modern life. They supply energy for ground, water, and air transportation as well as power for industrial and farming machinery. However, the use of fossil fuels has obvious health downsides, such as emissions of pollutants that are directly harmful to health. In the face of these concerns, new policies have been created that encourage the development of renewable sources of energy in general and biofuels in particular. In January 2013, the Roundtable on Environmental Health Sciences, Research, and Medicine of the Institute of Medicine held a workshop on the intersection of biofuels, climate change, and human health. This report summarizes the workshop proceedings.



Urban Forestry: Toward an Ecosystem Services Research Agenda: A Workshop Summary (2013)
Much of the ecological research in the past decades has focused on rural or wilderness areas. Today, however, ecological research has been taking place in our cities, where our everyday decisions can have profound effects on our environment. This research, or urban ecology, includes an important element, trees. Trees have had a variety of environmental benefits for our environment including the sequestering carbon, reducing urban heat island effects, providing vital habitat for wildlife, and making nature accessible. In order to gain more knowledge into this urban forestry, the National Academy of Sciences held a workshop February 25-26, 2013. This report presents an overview of the issues discussed by the workshop's breakout groups; summarizes presentations from the four panels which included Biophysical Services of the Urban Forest; and provides context for the study with introductory material from the workshop.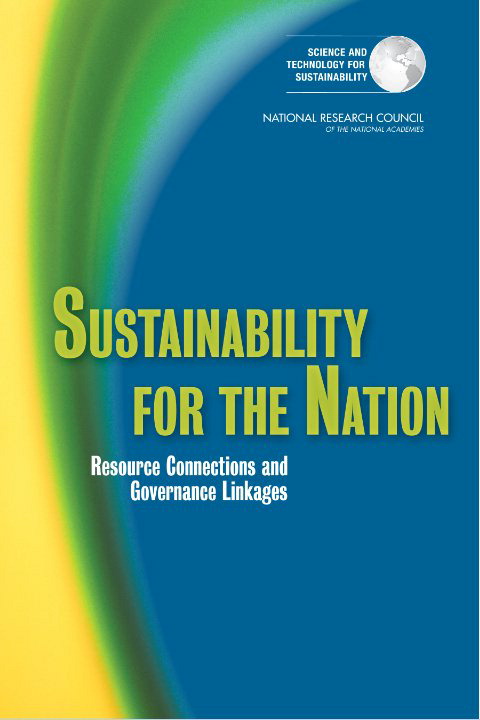 Sustainability for the Nation: Resource Connections and Governance Linkages (2013)
A new National Research Council report provides a decision framework which can be used by policymakers to examine the consequences, tradeoffs, synergies, and operational benefits of sustainability-oriented programs. The committee identifies linkages among areas such as energy, water, land, and nonrenewable resources that are critical to promoting and encouraging long term sustainability within the federal policy framework, recognizing that progress towards sustainability involves many institutions. The report also recommends priority areas for interagency cooperation on specific sustainability challenges; identifies impediments to interdisciplinary, cross-media federal programs; and highlights scientific research gaps as they relate to these interdisciplinary, cross-media approaches to sustainability. A booklet provides a short summary of the report.

Pathways to Urban Sustainability: A Focus on the Houston Metropolitan Region: Summary of a Workshop (2013)
The National Academies organized a public workshop to examine issues relating to sustainability and human-environment interactions in the Houston metropolitan region held in January 2012. Topics addressed included energy and air quality management, hazard mitigation, and land use considerations. The committee developed an agenda in consultation with regional stakeholders (academia, city/county governments), so that the presentations and panels reflect place-based knowledge and approaches to sustainability. The workshop featured invited presentations and group discussion, and was patterned after similar workshops held in 2009 on research and development on urban systems and in 2010 on urban sustainability in the Atlanta metropolitan region.

Sustainability Considerations for Procurement Tools and Capabilities: Summary of a Workshop (2012)
This report recaps a December 2011 workshop convened on behalf of the General Services Administration on how better to foster sustainability considerations into procurement tools and capabilities across the public and private sectors. It summarizes presentations and discussions that assessed the current landscape of green purchasing tools, identified opportunities and emerging requirements for enhanced and/or new tools, identified potential barriers to progress (such as cross-tool interoperability), and explored potential solutions. This summary also recaps discussions at the workshop on associated training required to realize the full benefits of these tools.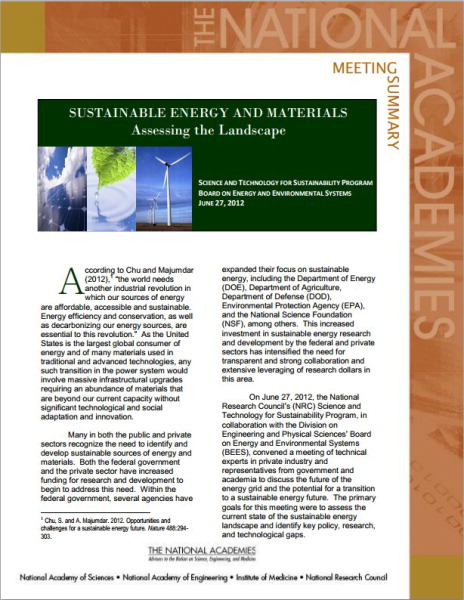 Sustainable Energy and Materials: Assessing the Landscape (2012)
As the largest global consumer of energy and of many materials used in traditional and advanced technologies, there is an increased recognition among US federal agencies and the corporate sector of the need to identify and develop sustainable sources of energy and materials. This is evidenced by the increase in funding for research and development in this area in both sectors. The June meeting of the Roundtable on Science and Technology for Sustainability included a session that provided an overview of the landscape of efforts underway on sustainable energy and materials, such as identifying any key policy, research, and technological gaps. Presentations during the session addressed the future of nuclear and wind energy; the evolution of energy systems; and material constraints of energy technologies.



A Sustainability Challenge: Food Security for All: Report of Two Workshops (2011)
The Science and Technology for Sustainability Program hosted two workshops in 2011 addressing the sustainability challenges associated with food security for all. The first workshop, Measuring Food Insecurity and Assessing the Sustainability of Global Food Systems, explored the availability and quality of commonly used indicators for food security and malnutrition; poverty; and natural resources and agricultural productivity. The second workshop, Exploring Sustainable Solutions for Increasing Global Food Supplies , focused specifically on assuring the availability of adequate food supplies. Workshop objectives included identifying the major challenges and opportunities associated with achieving sustainable food security and identifying needed policy, science, and governance interventions. This is a report of two workshops.
Sustainability and the U.S. EPA (2011)
A report from the National Research Council presents a framework for incorporating sustainability into the U.S. Environmental Protection Agency's principles and decision making. The framework, which was requested by EPA, is intended to help the agency better assess the social, environmental, and economic impacts of various options as it makes decisions. The recommended sustainability approach both incorporates and goes beyond an approach based on assessing and managing the risks posed by pollutants that has largely shaped environmental policy since the 1980s. The report recommends that EPA formally adopt as its sustainability paradigm the widely used "three pillars" approach, which means considering the environmental, social, and economic impacts of an action or decision.

Pathways to Urban Sustainability: The Atlanta Metropolitan Region (2011)
The National Research Council's Science and Technology for Sustainability (STS) Program recently released the final summary report Pathways to Urban Sustainability: The Atlanta Metropolitan Region. The report summarizes discussions from a September 2010 workshop which focused on the Atlanta metropolitan region's approach to urban sustainability, including how the interaction of various systems (natural and human systems; energy, water, transportation systems) affect the region's social, economic, and environmental conditions. The report also summarized discussions of the challenges the region faces, innovate approaches being implemented to address these complex challenges, performance measures being used to gauge success, and potential opportunities to link knowledge with on-the-ground action.
America's Climate Choices (2011)
The National Research Council has released the final report of America's Climate Choices. It includes a CD of the four panel reports of the America's Climate Choices series as well as materials based on those reports. The report finds that the significant risks that climate change poses to human society and the environment provide a strong motivation to move ahead with substantial response efforts. Current efforts of local, state, and private sector actors are important, but not likely to yield progress comparable to what could be achieved with the addition of strong federal policies that establish coherent national goals and incentives, and that promote strong U.S. engagement in international-level response efforts. The inherent complexities and uncertainties of climate change are best met by applying an iterative risk management framework and making efforts to: significantly reduce greenhouse gas emissions; prepare for adapting to impacts; invest in scientific research, technology development, and information systems; and facilitate engagement between scientific and technical experts and the many types of stakeholders making America's climate choices.


Certifiably Sustainable?: The Role of Third-Party Certification Systems: Report of a Workshop (2010)
Consumption of goods and services represents a growing share of economic activity globally. In the United States, consumption accounts for more than two-thirds of gross domestic product. This trend of increasing consumption has brought with it negative consequences for the environment and human well-being. Global demand for energy, food, and all manner of goods is on the rise, putting strains on the natural and human capital required to produce them. Extractive industries and production processes are prominent causes of species endangerment. Modern economies are underpinned by substantial energy consumption, a primary contributor to the current climate crisis. Expanding international trade has led to many economic opportunities, but has also contributed to unfair labor practices and wealth disparities. While certain processes have improved or become more efficient, and certain practices have been outlawed or amended, the sheer scale of global consumption and its attendant impacts continue to be major challenges we face in the transition to sustainability. Third-party certification systems have emerged over the last 15 years as a tool with some promise. There has been anecdotal evidence of success, but to date the overall impact of certified goods and services has been small. Moreover, definitions of sustainable vary across sectors and markets, and rigorous assessments of these programs have been few and far between.


Expanding Biofuel Production: Sustainability and the Transition to Advanced Biofuels: Summary of a Workshop (2010)
While energy prices, energy security, and climate change are front and center in the national media, these issues are often framed to the exclusion of the broader issue of sustainability--ensuring that the production and use of biofuels do not compromise the needs of future generations by recognizing the need to protect life-support systems, promote economic growth, and improve societal welfare. Thus, it is important to understand the effects of biofuel production and use on water quality and quantity, soils, wildlife habitat and biodiversity, greenhouse gas emissions, air quality, public health, and the economic viability of rural communities.




Impact of Genetically Engineered Crops on Farm Sustainability in the United States (2010)
Corn, cotton, and soybean that have been engineered to resist insect pests and herbicides are now planted on almost half of all U.S. cropland. An analysis of the U.S. experience with genetically engineered crops shows that they offer substantial net environmental and economic benefits compared to conventional crops; however, these benefits have not been universal, some may decline over time, and potential benefits and risks may become more numerous as the technology is applied to more crops. Understanding the impacts of genetically engineered crops is vital to ensuring that crop-management practices and future research and development efforts realize the full potential of genetic engineering for commercial as well as public goods purposes, while maintaining the environmental, economic, and social sustainability of U.S. farms.


Pathways to Urban Sustainability: Research and Development on Urban Systems (2010)
More than half of the world's people now live in cities. In the U.S., the figure is 80 percent. It is worthwhile to consider how this trend of increased urbanization, if inevitable, could be made more sustainable. One fundamental shortcoming of urban research and programs is that they sometimes fail to recognize urban areas as systems. Current institutions and actors are not accustomed to exploring human-environment interactions, particularly at an urban-scale. The fact is that these issues involve complex interactions, many of which are not yet fully understood. Thus a key challenge for the 21st century is this: How can we develop sustainable urban systems that provide healthy, safe and affordable environments for the growing number of Americans living in cities and their surrounding metropolitan areas? To address this question, the National Research Council organized a workshop exploring the landscape of urban sustainability research programs in the United States. The workshop is summarized in this volume.


The Causes and Impacts of Neglected Tropical and Zoonotic Diseases - Implications for Global Health and Opportunities for Novel Intervention Strategies (2010)
On April 20, 2010, the Deepwater Horizon drilling rig in the Gulf of Mexico exploded, causing an oil leak one mile beneath the ocean's surface. The explosion killed 11 workers and unleashed one of the largest offshore oil spills in history. The oil well was plugged in mid-July, but the effects of the spill on the short- and long-term health of individuals-including workers, volunteers, residents and visitors-remain uncertain. At the request of the U.S. Department of Health and Human Services, the IOM convened a public workshop June 22-23 to begin planning for the surveillance of the Gulf oil spill's effects on human health. Speakers explored the potential adverse health effects for at-risk populations living in the Gulf region or assisting with clean-up activities. Participants considered effective ways to communicate potential health risks to the public and to engage them in research on the spill's effects. This document summarizes the workshop. Presentations from the meeting as well as full video and transcripts are available online.


Toward Sustainable Agricultural Systems in the 21st Century (2010)
U.S. farmers are under pressure to satisfy multiple demands, such as to produce more crops, pollute less, fulfill consumer preferences, pay fair wages, and make a living-all with increasingly scarce natural resources such as land and water. To evolve farming systems that meet all of these demands, national agricultural policy, research programs, and food markets need to shift away from emphasizing low costs and high production exclusively and develop a more holistic perspective of how farms provide benefits to society. This report recommends reaching this goal through two parallel efforts: an incremental approach, in which the development of sustainable agricultural techniques will be continued and expanded; and a transformative approach, in which multiple research areas will be brought together to design farming systems that balance the competing demands from the outset.


Understanding Climate's Influence on Human Evolution (2010)
Improved understanding of how past climate may have influenced human evolution could be dramatically enhanced with an international cross-disciplinary research program to improve the sparse human fossil and incomplete climate records, and the link between the two. Climate and fossil records suggest that some events in human evolution - such as the evolution of new species or migration out of Africa - coincided with substantial changes in African and Eurasian climate. This raises the intriguing possibility that environmental factors affected or controlled our species' evolution. By altering the landscape, past changes in climate may have exerted pressures that led to genetic selection and innovation in humans. But because both the human fossil record and our understanding of past climate conditions are incomplete, the details of how past climates influenced human evolution remain unclear.


Older Publications