"More often than not, when development is discussed, the emphasis is on the economy, with its productive sectors providing the incentives and the means for investment as well as the funds for environmental maintenance and restoration."
– Our Common Journey

Publications

Effects of U.S. Tax Policy on Greenhouse Gas Emissions (2013)
The tax system affects emissions primarily through changes in the prices of inputs and outputs or goods and services. Most of the tax provisions considered in this report relate directly to the production or consumption of different energy sources. However, there is a substantial set of tax expenditures called "broad-based" that favor certain categories of consumption-among them, employer-provided health care, owner-occupied housing, and purchase of new plants and equipment. This report examines both tax expenditures and excise taxes that could have a significant impact on GHG emissions.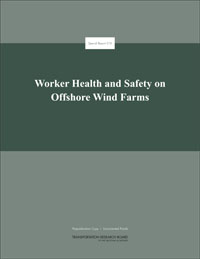 Worker Health and Safety on Offshore Wind Farms (2013)
TRB Special Report 310: Worker Health and Safety on Offshore Wind Farms examines the hazards and risks to workers on offshore wind farms on the outer continental shelf as compared to offshore oil and gas operations; explores gaps and overlaps in jurisdictional authority for worker health and safety on offshore wind farms; and evaluates the adequacy of-and recommends enhancements to-the existing safety management system (SMS) requirement published in 30 CFR 585.810. Specifically, the committee recommends that the U.S. Department of Interior's Bureau of Ocean Energy Management (BOEM) adopt a full SMS rule for workers on offshore wind farms at a level of detail that includes the baseline elements identified in this report. An enhanced SMS rule should require the use of human factors engineering elements in the design process and should encompass all activities that the lessee and its contractors undertake. In collaboration with other regulatory agencies and industry stakeholders, BOEM should clearly define roles and responsibilities and indicate which standards could apply for all phases of wind farm development regardless of jurisdiction. Also, with the help of stakeholders, BOEM should support the development of guidelines and recommended practices that could be used as guidance documents or adopted by reference.
Renewable Fuel Standard: Potential Economic and Environmental Effects of U.S. Biofuel Policy (2011)
In the United States, we have come to depend upon plentiful and inexpensive energy to support our economy and lifestyles. In recent years, many questions have been raised regarding the sustainability of our current pattern of high consumption of nonrenewable energy and its environmental consequences. This report evaluates the economic and environmental consequences of increasing biofuels production as a result of Renewable Fuels Standard, as amended by EISA (RFS2). The report describes biofuels produced in 2010 and those projected to be produced and consumed by 2022, reviews model projections and other estimates of the relative impact on the prices of land, and discusses the potential environmental harm and benefits of biofuels production and the barriers to achieving the RFS2 consumption mandate.
TRB Special Report 305: Structural Integrity of Offshore Wind Turbines: Oversight of Design, Fabrication, and Installation explores the U.S. Department of the Interior's Bureau of Ocean Energy Management, Regulation and Enforcement (BOEMRE) approach to overseeing the development and safe operation of wind turbines on the outer continental shelf, with a focus on structural safety. The committee that developed the report recommended that in order to facilitate the orderly development of offshore wind energy and support the stable economic development of this nascent industry, the United States needs a set of clear requirements that can accommodate future design development.
Sustainability and the U.S. EPA (2011)
A new report from the National Research Council presents a framework for incorporating sustainability into the U.S. Environmental Protection Agency's principles and decision making. The framework, which was requested by EPA, is intended to help the agency better assess the social, environmental, and economic impacts of various options as it makes decisions.The recommended sustainability approach both incorporates and goes beyond an approach based on assessing and managing the risks posed by pollutants that has largely shaped environmental policy since the 1980s. The report recommends that EPA formally adopt as its sustainability paradigm the widely used "three pillars" approach, which means considering the environmental, social, and economic impacts of an action or decision
Building the 21st Century: U.S. China Cooperation on Science, Technology and Innovations
(2011)
The global economy is characterized by increasing locational competition to attract the resources necessary to develop leading-edge technologies as drivers of regional and national growth. One means of facilitating such growth and improving national competitiveness is to improve the operation of the national innovation system. This report studies selected foreign innovation programs and comparing them with major U.S. programs. This analysis of Comparative Innovation Policy includes a review of the goals, concept, structure, operation, funding levels, and evaluation of foreign programs designed to advance the innovation capacity of national economies and enhance their international competitiveness. This analysis focuses on key areas of future growth, such as renewable energy, among others, to generate case-specific recommendations where appropriate.
Assessment of Fuel Economy Technologies for Light-Duty Vehicles (2011)
Various combinations of commercially available technologies could greatly reduce fuel consumption in passenger cars, sport-utility vehicles, minivans, and other light-duty vehicles without compromising vehicle performance or safety. This report estimates the potential fuel savings and costs to consumers of available technology combinations for three types of engines: spark-ignition gasoline, compression-ignition diesel, and hybrid. The book focuses on fuel consumption--the amount of fuel consumed in a given driving distance--because energy savings are directly related to the amount of fuel used. In contrast, fuel economy measures how far a vehicle will travel with a gallon of fuel. Because fuel consumption data indicate money saved on fuel purchases and reductions in carbon dioxide emissions, the book finds that vehicle stickers should provide consumers with fuel consumption data in addition to fuel economy information.
Spring Issue of The Bridge on Urban Sustainability(2011)
Cities are home to half of the world's population--about 80% in the United States. These vibrant centers of activity impact global sustainability with their large footprints; concentrations of pollution and consumption; financial, technological, and knowledge networks; global business reach; and cultural influence. As the world urban population increases, however, risks to urban dwellers also increase. the articles in thisissue are part of ongoing discussions about the challenges of urban sustainability. Glen Daigger of C2HM Hill focuses on the effective, efficient treatment and overall management of water resources. The potential of "city mining" is the subject of an article by Tom Graedel of Yale University.
Analysis of Causes of the Deepwater Horizon Explosion, Fire, and Oil Spill to Identify Measures to Prevent Similar Accidents in the Future: Interim Report (2010)
The National Academy of Engineering and the National Research Council have released the interim report of the Committee on the Analysis of Causes of the Deepwater Horizon Explosion, Fire, and Oil Spill to Identify Measures to Prevent Similar Accidents in the Future. The interim report includes the committee's preliminary findings and observations on various actions and decisions including well design, cementing operations, well monitoring, and well control actions. The interim report also considers management, oversight, and regulation of offshore operations.


Describing Socioeconomic Futures for Climate Change Research and Assessment (2010)
The implications of climate change for the environment and society depend on the rate and magnitude of climate change, but also on changes in technology, economics, lifestyles, and policy that will affect the capacity both for limiting and adapting to climate change. This book reviews the state of science for considering socioeconomic changes over long time frames and clarifies definitions and concepts to facilitate communication across research communities. The book also explores driving forces and key uncertainties that will affect impacts, adaptation, vulnerability and mitigation in the future. Furthermore, it considers research needs and the elements of a strategy for describing socioeconomic and environmental futures for climate change research and assessment.


Strategic Planning for the Florida Citrus Industry: Addressing Citrus Greening(2010)
Citrus greening, a disease that reduces yield, compromises the flavor, color, and size of citrus fruit and eventually kills the citrus tree, is now present in all 34 Floridian citrus-producing counties. A successful citrus greening response will focus on earlier detection of diseased trees, so that these sources of new infections can be removed more quickly, and on new methods to control the insects that carry the bacteria. In the longerterm, technologies such as genomics could be used to develop new citrus strains that are resistant to both the bacteria and the insect.



Advancing the Competitiveness and Efficiency of the U.S. Construction Industry (2009)
Construction productivity – how well, how quickly, and at what cost buildings and infrastructure can be constructed – directly affects prices for homes and consumer goods and the robustness of the national economy. Industry analysts differ on whether construction industry productivity is improving or declining. Still, advances in available and emerging technologies offer significant opportunities to improve construction efficiency substantially in the 21st century and to help meet other national challenges, such as environmental sustainability. This report identifies five interrelated activities that could significantly improve the quality, timeliness, cost-effectiveness, and sustainability of construction projects.

Partnerships for Emerging Research Institutions: Report of a Workshop(2009)
Constituting one third of all U.S. institutions of higher education, emerging research institutions (ERIs) are crucial to sustaining the nation''s technological competitiveness through innovation and workforce development. Many, however, are not fully engaged in sustained sponsored research. This book summarizes the discussions at a workshop that examined the barriers ERIs face in building more robust research enterprises and approaches for overcoming those barriers. The book includes a description of federal programs that focus on capacity building and institutional collaborations.



Shellfish Mariculture in Drakes Estero, Point Reyes National Seashore, California (2009)
When Drakes Estero, which lies within the Point Reyes National Seashore (PRNS) about 25 miles northwest of San Francisco, California, was designated by Congress in 1976 as Potential Wilderness, it contained a commercial shellfish mariculture operation. Oyster mariculture began in Drakes Estero with the introduction of the nonnative Pacific oyster in 1932, and has been conducted continuously from that date forward. Hence, the cultural history of oyster farming predates the designation of Point Reyes as a National Seashore in 1962. Nevertheless, with the approach of the 2012 expiration date of the current National Park Service (NPS) Reservation of Use and Occupancy (RUO) and Special Use Permit (SUP) that allows Drakes Bay Oyster Company (DBOC) to operate within the estero, NPS has expressed concern over the scope and intensity of impacts of the shellfish culture operations on the estero''s ecosystem. Public debate over whether scientific information justifies closing the oyster farm led to the request for this study to help clarify the scientific issues raised with regard to the shellfish mariculture activities in Drakes Estero.

2008 Bus Rapid Transit Vehicle Demand and Systems Analysis Update (2008)
The U.S. Federal Transit Administration (FTA) has released a report that explores the state of the U.S. market demand for bus rapid transit (BRT) heavy vehicles and systems. At the request of industry stakeholders, an analysis characterizing the U.S. demand for vehicles suitable for use in BRT systems was published in 2002, with an updated edition published in 2004. This analysis is the third in this series of reports, all of which are part of the FTAs BRT Action Plan. The FTA intends to identify effective ways to encourage the supply of vehicles made in the United States to BRT communities.


Airport Sustainability Practices (2008)
TRB's Airport Cooperative Research Program (ACRP) Synthesis 10: Airport Sustainability Practices documents a range of airport sustainability practices gathered from a literature review and web-based survey. The report specifically targets airport operators and provides a snapshot of airport sustainability practices across the triple bottom line of environmental, economic, and social issues.



Emerging Technologies to Benefit Farmers in Sub-Saharan Africa and South Asia (2008)
Increased agricultural productivity is a major stepping stone on the path out of poverty in sub-Saharan Africa and South Asia, but farmers there face tremendous challenges improving production. Poor soil, inefficient water use, and a lack of access to plant breeding resources, nutritious animal feed, high quality seed, and fuel and electricity combined with some of the most extreme environmental conditions on Earth have made yields in crop and animal production far lower in these regions than world averages. This report identifies sixty emerging technologies with the potential to significantly improve agricultural productivity in sub-Saharan Africa and South Asia. Eighteen technologies are recommended for immediate development or further exploration.

Societal and Economic Factors (2008)
TRB's Transportation Research Record: Journal of the Transportation Research Board, No. 2067 includes 18 papers that explore the effects of socioeconomic status on hurricane disaster relief plans, inadequate transportation as a barrier to community involvement, mode choice of sociodemographic groups, geographic and demographic profiles of morning peak-hour commuters on highways, environmental justice for lowincome and minority communities adjacent to ports, and urban road pricing impact on low-income car drivers. This issue of the TRR also examines the attitude differences of men and women toward transportation, driver frustration with bicyclists and pedestrians, gender and travel behavior, impact of climate change on transportation and the economy, economic impact of traffic incidents on businesses, highway-induced development in metropolitan areas, and endogenous regional economic growth through transportation investment. In addition, this TRR includes a comparison of rail transit benefits for single-family and condominium units, critical steps for enacting cultural change within a state department of transportation, sustainable urban transportation policies for developing countries, indicators for sustainable transportation planning, and sustainable road systems.

The Role of Transit in Emergency Evacuation: Special Report 294 (2008)
TRB Special Report 294: The Role of Transit in Emergency Evacuation explores the roles that transit systems can play in accommodating the evacuation, egress, and ingress of people from and to critical locations in times of emergency. The report focuses on major incidents that could necessitate a partial to full evacuation of the central business district or other large portion of an urban area. According to the committee that produced the report, transit agencies could play a significant role in an emergency evacuation, particularly in transporting carless and special needs populations, but few urban areas have planned for a major disaster and evacuation that could involve multiple jurisdictions or multiple states in a region, or have focused on the role of transit and other public transportation providers in such an incident. The report offers recommendations for making transit a full partner in emergency evacuation plans and operations, while cautioning emergency managers, elected officials, and the general public to be realistic in their expectations, particularly in a no-notice incident that occurs during a peak service period.

Use of Biodiesel in a Transit Fleet (2008)
TRB's Transit Cooperative Research Program (TCRP) Synthesis 72: Use of Biodiesel in a Transit Fleet explores potential benefits offered by biodiesel in order to help transit agencies make informed decisions regarding its use.





Enhancing Productivity Growth in the Information Age--Measuring and Sustaining the New Economy (2007)
Starting in the mid 1990s, the United States economy experienced an unprecedented upsurge in economic productivity. Rapid technological change in communications, computing, and information management continue to promise further gains in productivity, a phenomenon often referred to as the New Economy. To better understand the sources of these gains and the policy measures needed to sustain these positive trends, the National Academies Board on Science, Technology, and Economic Policy (STEP) convened a series of workshops and commissioned papers on Measuring and Sustaining the New Economy. This report reviews the lessons learned from the project's focus on telecommunications, software, semiconductors, and computer components. The report also contains Committee findings and policy recommendations to improve measurement capabilities and on steps needed to sustain the substantial gains in productivity that characterize the American economy today.

Exploring Opportunities in Green Chemistry and Engineering Education-- A Workshop Summary to the Chemical Sciences Roundtable (2007)
This publication summarizes a workshop convened by the National Research Council to explore the widespread implementation of green chemistry and chemical engineering concepts into undergraduate and graduate education and how to integrate these concepts into the established and developing curricula. The goal of the workshop was to inform the Chemical Sciences Roundtable, which provides a science-oriented, apolitical forum for leaders in the chemical sciences to discuss chemically related issues affecting government, industry, and universities.



Global Environmental Health in the 21st Century: From Governmental Regulation to Corporate Social Responsibility, Workshop Summary (2007)
Global regulatory standards will always be a major driver in the field of environmental health, but there is a growing understanding of the value of voluntary standards to fill in gaps or to work in concert with formal regulations. The Roundtable on Environmental Health Sciences, Research, and Medicine held a workshop to examine some of the issues surrounding the impact international regulations and corporate social responsibility (CSR) has on environmental health. The workshop summary captures the dialogue on the challenges and advancement of non-regulatory mechanisms to address complex environmental exposures and opportunities to improve environmental health.


Green Healthcare Institutions--Health, Environment, and Economics, Workshop Summary (2007)
The Institute of Medicine''s Roundtable on Environmental Health Sciences, Research, and Medicine held a workshop and released the summary entitled, Green Healthcare Institutions-- Health, Environment, and Economics. The workshop focused on the environmental and health impacts related to the design, construction, and operation of healthcare facilities, which are part of one of the largest service industries in the United States. The workshop summary captures the discussions and presentations by the speakers and participants. They identified the areas in which additional research is needed, the processes by which change can occur, and the gaps in knowledge.


Implementing the Stockholm Convention on Persistent Organic Pollutants--Summary of a Workshop in China (2007)
This report summarizes a workshop organized as part of the Academies' workshop series on strengthening science-based decision-making in developing countries. The workshop, ''Implementing the Stockholm Convention on Persistent Organic Pollutants'' was held June 7-10, 2004, in Beijing, China. The presentations and discussions summarized here describe the types of scientific information necessary to make informed decisions to eliminate the production and use of Persistent Organic Pollutants (POPs) banned under the Stockholm Convention; sources of information; scientifically informed strategies for eliminating POPs; elements of good scientific advice, such as transparency, peer review, and disclosure of conflicts of interest; and information dealing with POPs that decision makers need from the scientific community, including next steps to make such science available and ensure its use on a continuing basis. This workshop was organized by the Science and Technology for Sustainability Program of the Academies'' Office of Policy and Global Affairs.

Minerals, Critical Minerals, and the U.S. Economy (2007)
Minerals are part of virtually every product we use. Common examples include copper used in electrical wiring and titanium used to make airplane frames and paint pigments. The Information Age has ushered in a number of new mineral uses in number of products including cell phones and liquid crystal displays. For some minerals, such as the platinum group metals used to make cataytic converters in cars, there is no substitute. If the supply of any given mineral were to become restricted, consumers and sectors of the U.S. economy could be significantly affected. Risks to minerals supplies can include a sudden increase in demand or the possibility that natural ores can be exhausted or become too difficult to extract. Minerals are more vulnerable to supply restrictions if they come from a limited number of mines, mining companies, or nations. Baseline information on minerals is currently collected at the federal level, but no established methodology has existed to identify potentially critical minerals. This report develops such a methodology and suggests an enhanced federal initiative to collect and analyze the additional data needed to support this type of tool.

National Land Parcel Data: A Vision for the Future (2007)
Land parcel data (also known as cadastral data) provides geographically-referenced information about the rights, interests, and ownership of land and are an important part of the financial, legal and real estate systems of society. The data are used by governments to make decisions about land development, business activities, regulatory compliance, emergency response, and law enforcement. In 1980, a National Research Council report called for nationally-integrated land parcel data, but despite major progress in development of land parcel databases in many local jurisdictions, little progress has been made towards a national system. Therefore, this National Research Council report was sponsored by the Bureau of Land Management, the Census Bureau, the Federal Geographic Data Committee, the Department of Homeland Security, and Environmental Systems Research Institute, to look at the current status of land parcel data in the United States.


Sediment Dredging at Superfund Megasites-Assessing the Effectiveness (2007)
Some of the nation's estuaries, lakes and other water bodies contain contaminated sediments that can adversely affect fish and wildlife and may then find their way into people''s diets. Dredging is one of the few options available for attempting to clean up contaminated sediments, but it can uncover and re-suspend buried contaminants, creating additional exposures for wildlife and people. At the request of Congress, EPA asked the National Research Council to evaluate dredging as a cleanup technique. The report finds that, based on a review of available evidence, dredging''s ability to decrease environmental and health risks is still an open question. Analysis of pre-dredging and post-dredging at about 20 sites found a wide range of outcomes in terms of surface sediment concentrations of contaminants: some sites showed increases, some no change, and some decreases in concentrations. Evaluating the potential long-term benefits of dredging will require that the U.S. Environmental Protection Agency step up monitoring activities before, during and after individual cleanups to determine whether it is working there and what combinations of techniques are most effective.

Sustainable Management of Groundwater in Mexico--Proceedings of a Workshop, Series--Strengthening Science-Based Decision Making in Developing Countries (2007)
This report contains a collection of papers presented at a workshop in Merida, Mexico --- Strengthening Science-Based Decision Making: Sustainable Management of Groundwater in Mexico. The cross-cutting themes of the workshop were the elements or principles of science-based decision making and the role of the scientific community in ensuring that science is an integral part of the decision making process. Papers included in this volume describe the groundwater resources of Mexico's Yucatan Peninsula, approaches to managing groundwater in Mexico and governmental and scientific institutions concerned with water resources. Other papers discuss US approaches to managing scarce water resources. Participants in the workshop included representatives from leading scientific and academic institutions, federal state and local governments, non-governmental organizations and businesses.

The Metropolitan Planning Organization, Present and Future (2007)
TRB's Conference Proceedings 39: The Metropolitan Planning Organization, Present and Future summarizes an August 2006 conference that explored the organizational structure of metropolitan planning organizations, MPOs, the current state of the practice for regional decision making among MPOs of various sizes, and approaches to integrating a wide array of additional considerations into the MPO planning process. The conference also examined approaches to institutionalizing an integrated approach to comprehensive planning, and development of relationships with local decision-making bodies within the MPO region. The conference proceeding includes summaries of the presentations made in each conference session, as well as a summary of the participants'' discussions in the final breakout sessions, focused on research and capacity building.


Toxicity Testing in the Twenty-first Century--A Vision and a Strategy (2007)
Advances in molecular biology and toxicology are paving the way for major improvements in the evaluation of the hazards posed by the large number of chemicals found at low levels in the environment. The National Research Council was asked by the U.S. Environmental Protection Agency to review the state of the science and create a far-reaching vision for the future of toxicity testing. The report finds that developing, improving, and validating new laboratory tools based on recent scientific advances could significantly improve our ability to understand the hazards and risks posed by chemicals. This new knowledge would lead to much more informed environmental regulations and dramatically reduce the need for animal testing because the new tests would be based on human cells and cell components.

Alternatives to Indian Point for Meeting New York Energy Needs (2006)
Since the September 11, 2001 terrorist attacks on the World Trade Center, many in the New York City area have become concerned about the possible consequences of a similar attack on the Indian Point nuclear power plants located about 40 miles from Manhattan, and have made calls for their closure. Any closure, however, would require actions to replace the 2000 MW of power supplied by the plants. To examine this issue in detail, the Congress directed DOE to request a study from the NRC of options for replacing the power. This report presents detailed review of both demand and supply options for replacing that power as well as meeting expected demand growth in the region. It also assesses institutional considerations for these options along with their expected impacts. Finally, the report provides an analysis of scenarios for implementing the replacement options using simulation modeling.

Decreasing Energy Intensity in Manufacturing: Assessing the Strategies and Future Directions of the Industrial Technologies Program (2005)
The leadership of the ITP asked the National Research Council''s Board on Manufacturing and Engineering Design to assess the overall technical quality and effectiveness of the program by assessing the strategy, management, and decision-making processes used by the ITP to determine research directions as well as the application of these processes to individual subprograms and the program as a whole. The Committee for Review of the Department of Energy''s Industrial Technologies Program was formed to undertake this task. It was asked to include in its report findings and recommendations related to the quality and appropriateness of all projects and programs in the ITP. This report represents the consensus conclusions and recommendations of the committee.


Prospective Evaluation of Applied Energy Research and Development at DOE (Phase one): A First Look Forward (2005)
It is important to emphasize that Phase One was focused tightly on the basic problem of adapting the retrospective methodology to a prospective context. As a result, some important issues had to be deferred to Phase Two. For example, the issue of how to characterize national security benefits has not been explored. Security threats to the energy system have multiplied in number and kind since the retrospective study, but the committee intentionally deferred this and other issues to Phase Two of the project. In addition, the committee cautions against using the three expert panel case studies to assess the benefits of the three programs because the panels'' findings on the programs were developed for the express purpose of helping the committee to refine its methodology.


Sustainability in the Chemical Industry: Grand Challenges and Research Needs - A Workshop Report (2005)
Through innovative design, creation, processing, use, and disposal of substances, the chemical industry plays a major role in advancing applications to support sustainability in a way that will allow humanity to meet current environmental, economic, and societal needs without compromising the progress and success of future generations. Based on a workshop held in February 2005 that brought together a broad cross section of disciplines and organizations in the chemical industry, this report identifies a set of overarching Grand Challenges for Sustainability research in chemistry and chemical engineering to assist the chemical industry in defining a sustainability agenda. These Grand Challenges include life cycle analysis, renewable chemical feedstocks, and education, among others.

A Geospatial Framework for the Coastal Zone: National Needs for Coastal Mapping and Charting (2004)
A Geospatial Framework for the Coastal Zone National Needs identifies and suggests mechanisms for addressing national needs for spatial information in the coastal zone. It identifies high priority needs, evaluates the potential for meeting those needs based on the current level of effort, and suggests steps to increase collaboration and ensure that the nation s need for spatial information in the coastal zone is met in an efficient and timely manner.




The Hydrogen Economy: Opportunities, Costs, Barriers, and R&D Needs (2004)
The announcement of a hydrogen fuel initiative in the President s 2003 State of the Union speech substantially increased interest in the potential for hydrogen to play a major role in the nation s long-term energy future. Prior to that event, DOE asked the National Research Council to examine key technical issues about the hydrogen economy to assist in the development of its hydrogen R&D program. Included in the assessment were the current state of technology; future cost estimates; CO2 emissions; distribution, storage, and end use considerations; and the DOE RD&D program. The report provides an assessment of hydrogen as a fuel in the nation s future energy economy and describes a number of important challenges that must be overcome if it is to make a major energy contribution. Topics covered include the hydrogen end-use technologies, transportation, hydrogen production technologies, and transition issues for hydrogen in vehicles.

Urbanization, Energy, and Air Pollution in China (2004)
In October 2003, a group of experts met in Beijing under the auspices of the Chinese Academy of Sciences, Chinese Academy of Engineering, and National Academy of Engineering (NAE)/National Research Council (NRC) of the National Academies to continue a dialogue and eventually chart a rational course of energy use in China. This collection of papers is intended to introduce the reader to the complicated problems of urban air pollution and energy choices in China.



End Points for Spent Nuclear Fuel and High-Level Radioactive Waste in Russia and the United States (2003)
This report provides an analysis of the management of spent nuclear fuel and high-level radioactive waste in Russia and the United States, describing inventories, comparing approaches, and assessing the end-point options for storage and disposal of materials and wastes. The committee finds that despite differences in philosophy about nuclear fuel cycles, Russia and the United States need similar kinds of facilities and face similar challenges, although in Russia many of the problems are worse and funding is less available. The report contains recommendations for immediate and near-term actions, for example, protecting and stabilizing materials that are security and safety hazards, actions for the longer term, such as developing more interim storage capacity and studying effects of deep injection, and areas for collaboration.

Energy and Transportation: Challenges for the Chemical Sciences in the 21st Century (2003)
This report, also based on a workshop, assesses the current state of chemistry and chemical engineering at the interface with novel and existing forms of energy and transportation systems. The report also identifies challenges for the chemical sciences in helping to meet the increased demand for more energy, and opportunities for research in energy technologies and in the development of transportation vehicles.




Frontiers of Engineering: Reports on Leading-Edge Engineering from the 2002 NAE Symposium on Frontiers of Engineering (2003)
This collection includes summaries of presentations given at the NAE Symposium in September 2002. Topics include chemical and molecular engineering in the 21st century, human factors engineering, the future of nuclear energy, and engineering challenges for quantum information technology.






Improving the Scientific Basis for Managing Nuclear Materials and Spent Nuclear Fuel (2003)
The report provides recommendations to the Department of Energy''s Environmental Management Science Program on ways to improve the scientific basis for treatment, storage, and disposal of spent nuclear fuel and nuclear materials currently stored at DOE sites or those that will be produced as part of DOE''s cleanup program.




IT Roadmap to a Geospatial Future (2003)
This report focuses computer science research on the challenges associated with rapid proliferation of geospatial information. Based on an October 2001 workshop, it illuminates interdisciplinary, coordinated research opportunities in location-aware computing, databases and data mining, and visualization and human-computer interaction.




Materials and Society: From Research to Manufacturing -- Report of a Workshop (2003)
To address this overarching issue, the National Academies formed the Committee on Materials and Society: From Research to Manufacturing. The committee convened a workshop in March 2002 to hear from leading scientists, engineers, educators, entrepreneurs, and policy makers engaged in materials research and development activities. The committee report, Materials and Society: From Research to Manufacturing, summarizes the workshop and the public policy concerns that present both opportunities and barriers to progress in this field.



Oil in the Sea III: Inputs, Fates, and Effects (2003)
Since the early 1970s, experts have recognized that petroleum pollutants were being discharged in marine waters worldwide, from oil spills, vessel operations, and land-based sources. Public attention to oil spills has forced improvements. Still, a considerable amount of oil is discharged yearly into sensitive coastal environments.Oil in the Sea provides the best available estimate of oil pollutant discharge into marine waters, including an evaluation of the methods for assessing petroleum load and a discussion about the concerns these loads represent. Featuring close-up looks at the Exxon Valdez spill and other notable events, the book identifies important research questions and makes recommendations for better analysis of -- and more effective measures against -- pollutant discharge.

Personal Cars and China (2003)
This collaborative study between the NRC and the Chinese Academy of Engineering (CAE) addresses the problems facing China in the next twenty years as it attempts to provide personal transport desired by millions of Chinese, while preserving the environment and the livability of its cities. According to Song Jian, president of the CAE, the decision has already been taken to produce a moderate cost family car in China, which will greatly increase the number of vehicles on the roads. This study explores the issues confronting the country, including health issues, the challenge to urban areas, particularly the growing number of megacities, environmental protection, infrastructure requirements, and technological options for Chinese vehicles. It draws on the experience of the United States and other countries and review model approaches to urban transportation and land use planning. Recommendations and policy choices for China are described in detail.

Review of DOE''s Vision 21 Research and Development Program -- Phase 1 (2003)
The goal of the Department of Energy's Vision 21 program is to develop an array of advanced technologies that could be incorporated into future Vision 21 plants for converting fossil fuel into electricity, process heat, fuels and-or chemicals with high efficiency and very low emissions including of carbon dioxide. The program's goals are extremely challenging and ambitious, and success would essentially eliminate many of the environmental concerns currently associated with the use of fossil fuels. In 2000, the National Research Council published a report that reviewed the program in its initial stages. Two years later, the DOE Deputy Assistant Secretary for Coal and Power Systems requested the NRC to review the progress of the Vision 21 program. The current report identifies significant progress that has been made in the program since the last NRC review, and makes recommendations for enhancement of the program.

Using Remote Sensing in State and Local Government: Information for Management and Decision Making (2003)
Advances in spatial, spectral, and temporal resolution over the past several years have greatly expanded opportunities for practical applications of remote sensing data. To explore the implications of these possibilities, the NRC held a series of three workshops on different facets of remote sensing applications. This report is on the third of those workshops: the development and use of remote sensing data and information by state, local, and regional governments.




Effectiveness and Impact of Corporate Average Fuel Economy (CAFE) Standards (2002)
Since CAFE standards were established 25 years ago, there have been significant changes in motor vehicle technology, globalization of the industry, the mix and characteristics of vehicle sales, production capacity, and other factors. This volume evaluates the implications of these changes as well as changes anticipated in the next few years, on the need for CAFE, as well as the stringency and-or structure of the CAFE program in future years.




Evolutionary and Revolutionary Technologies for Mining (2002)
The NRC formed a multidisciplinary committee of 14 experts (biographical information on committee members is provided in Appendix A) from academia, industry, state governments, and national laboratories. Committee members have recognized expertise in exploration geology and geophysics; mining practices and processes for coal, minerals, and metals; process engineering; resource economics; the environmental impacts of mining; mineral and metal extraction and processing technologies; and health and safety.



Marine Biotechnology in the Twenty-First Century: Problems, Promise, and Products (2002)
Dramatic developments in understanding the fundamental underpinnings of life have provided exciting opportunities to make marine bioproducts an important part of the U.S. economy. Several marine based pharmaceuticals are under active commercial development, ecosystem health is high on the public's list of concerns, and aquaculture is providing an ever greater proportion of the seafood on our tables. Nevertheless, marine biotechnology has not yet caught the public''s, or investor's, attention. Two workshops, held in October 1999 and November 2001 at the National Academies, were successful in highlighting new developments and opportunities in environmental and biomedical applications of marine biotechnology, and also in identifying factors that are impeding commercial exploitation of these products. This report includes a synthesis of the 2001 sessions addressing drug discovery and development, applications of genomics and proteomics to marine biotechnology, biomaterials and bioengineering, and public policy and essays contributed by the workshop speakers.

Materials Science and Technology: Challenges for the Chemical Sciences in the 21st Century (2002)
The report assesses the current state of chemistry and chemical engineering at the interface with materials science and identifies challenges for research. Recent advances are blurring the distinction between chemistry and materials science and are enabling the creation of new materials that, to date, have only been predicted by theory. These advances include a greater ability to construct materials from molecular components, to design materials for a desired function, to understand molecular "self-assembly", and to improve processes by which the material is "engineered" into the final product.



Privatization of Water Services in the United States: An Assessment of Issues and Experience (2002)
In the quest to reduce costs and improve the efficiency of water and wastewater services, many communities in the United States are exploring the potential advantages of privatization of those services. Unlike other utility services, local governments have generally assumed responsibility for providing water services. Privatization of such services can include the outright sale of system assets, or various forms of public-private partnerships from the simple provision of supplies and services, to private design construction and operation of treatment plants and distribution systems. Many factors are contributing to the growing interest in the privatization of water services. Higher operating costs, more stringent federal water quality and waste effluent standards, greater customer demands for quality and reliability, and an aging water delivery and wastewater collection and treatment infrastructure are all challenging municipalities that may be short of funds or technical capabilities. For municipalities with limited capacities to meet these challenges, privatization can be a viable alternative. This report evaluates the fiscal and policy implications of privatization, scenarios in which privatization works best, and the efficiencies that may be gained by contracting with private water utilities.

Surface Transportation Environmental Research: Long-Term Strategy (2002)
TRB Special Report 268 - Surface Transportation Environmental Research: A Long-Term Strategy defines a broad and ambitious research program to address and inform major public policy debates about the effects of surface transportation facilities and operations on the human and natural environments. The committee that conducted the study identified major gaps in knowledge that could be filled through a cooperative program of research involving federal agencies, states, and environmental organizations. The committee recommended creation of a new cooperative research program to carry out its recommended research agenda.


The Congestion Mitigation and Air Quality Improvement Program: Assessing 10 Years of Experience -- Special Report 264 (2002)
TRB Special Report 264 - Congestion Mitigation and Air Quality Improvement Program: Assessing 10 Years of Experience recommends that Congress retain the sole federal surface transportation program that funds projects to reduce pollution and traffic congestion in areas that must comply with national air quality standards.




Disposition of High-Level Waste and Spent Nuclear Fuel: The Continuing Societal and Technical Challenges (2001)
Focused attention by world leaders is needed to address the substantial challenges posed by disposal of spent nuclear fuel from reactors and high-level radioactive waste from processing such fuel. The biggest challenges in achieving safe and secure storage and permanent waste disposal are societal, although technical challenges remain. Disposition of radioactive wastes in a deep geological repository is a sound approach as long as it progresses through a stepwise decision-making process that takes advantage of technical advances, public participation, and international cooperation. Written for concerned citizens as well as policymakers, this book was sponsored by the U.S. Department of Energy, U.S. Nuclear Regulatory Commission, and waste management organizations in eight other countries.

Effectiveness of Vehicle Emission Inspection and Maintenance Programs (2001)
Emissions inspection and maintenance (I/M) programs subject vehicles to periodic inspections of their emission control systems. Despite widespread use of these programs in air-quality management, policy makers and the public have found a number of problems associated with them. Prominent among these issues is the perception that emissions benefits and other impacts of I/M programs have not been evaluated adequately. Evaluating Vehicle Emissions Inspection and Maintenance Programs assesses the effectiveness of these programs for reducing mobile source emissions. In this report, the committee evaluates the differences in the characteristics of motor vehicle emissions in areas with and without I/M programs, identifies criteria and methodologies for their evaluation, and recommends improvements to the programs. Most useful of all, this book will help summarize the observed benefits of these programs and how they can be redirected in the future to increase their effectiveness.

Energy Research at DOE: Was It Worth It? Energy Efficiency and Fossil Energy Research 1978 to 2000 (2001)
The Congress initiated a study with the Academy to review DOE's research and development in energy efficiency and fossil energy technologies that was conducted from 1978 to 2000. Estimates of the economic, environmental, and energy security benefits for many different energy efficiency and fossil energy programs were made. The committee was able to select a manageable number of case studies, 22, that covered almost all of the research expenditures in the DOE fossil energy program since 1978.



Information Systems and the Environment (2001)
Information technology is a powerful tool for meeting environmental objectives and promoting sustainable development. This collection of papers by leaders in industry, government, and academia explores how information technology can improve environmental performance by individual firms, collaborations among firms, and collaborations among firms, government agencies, and academia. Information systems can also be used by nonprofit organizations and the government to inform the public about broad environmental issues and environmental conditions in their neighborhoods. Several papers address the challenges to information management posed by the explosive increase in information and knowledge about environmental issues and potential solutions, including determining what information is environmentally relevant and how it can be used in decision making. In addition, case studies are described and show how industry is using information systems to ensure sustainable development and meet environmental standards. The book also includes examples from the public sector showing how governments use information knowledge systems to disseminate best practices beyond big firms to small businesses, and from the world of the Internet showing how knowledge is shared among environmental advocates and the general public.

Making Transit Work: Insight from Western Europe, Canada, and the United States -- Special Report 257 (2001)
Making Transit Work: Insight from Western Europe, Canada, and the United States describes the differences in public transit use among U.S., Canadian, and Western European cities; identifies those factors, from urban form to automobile usage, that have contributed to these differences; and offers hypotheses about the reasons for these differences-from historical, demographic, and economic conditions to specific public policies, such as automobile taxation and urban land use regulation.



Cooperation in the Energy Futures of China and the United States(2000)
Today we recognize the importance of the pending transition in energy resource utilization in the coming century. Two major players in this transition will be two of the world''s superpowers - - China and the United States. Cooperation in the Energy Futures of China and the United States focuses on collaborative opportunities to provide affordable, clean energy for economic growth and social development, to minimize future energy concerns, environmental threats to our global society, and the health and economic impacts on energy production and use.



Renewable Power Pathways: A Review of the U.S. Department of Energy's Renewable Energy Programs (2000)
In response to a request from OPT for an independent review of its programs, the National Research Council formed the Committee for the Programmatic Review of the Office of Power Technologies (see Appendix A for biographical information). A Statement of Task was developed in consultation with OPT and its parent office, the DOE Office of Energy Efficiency and Renewable Energy (EERE), to conduct a programmatic review of OPT and recommend ways to strengthen the office and its programs.



Review of the Research Program of the Partnership for a New Generation of Vehicles: Sixth Report (2000)
As the committee has noted in previous reports, and as has been noted in a number of other studies, achieving significant improvements in automotive fuel economy and developing competitive advanced automotive technologies and vehicles can provide important economic benefits to the nation, improve air quality, improve the nation's balance of payments, and reduce emissions of greenhouse gases to the atmosphere (DOE, 1997; NRC, 1992, 1997, 1998; OTA, 1995; PCAST, 1997; Sissine, 1996). Although U.S. gasoline prices have risen in recent months, they are relatively low in real terms, and U.S. automobile purchasers have little incentive to consider fuel economy as a major factor in their purchase decisions. In addition, the sales of light trucks, especially sport utility vehicles, which have lower legislated fuel economy requirements than automobiles, continue to increase. The lack of market incentives in the United States for buyers to purchase vehicles with high fuel economy has made it difficult to realize public benefits from improvements in fuel economy. The PNGV strategy of developing an automobile with a fuel economy of up to 80 mpg that maintains current performance, size, utility, and cost levels while meeting safety and emissions standards would circumvent the lack of economic incentives for buying automobiles with high fuel economy.

Review of the U.S. Department of Energy's Heavy Vehicle Technologies Program (2000)
In response to a request from the director of OHVT, the National Research Council formed the Committee on Review of DOE''s Office of Heavy Vehicle Technologies to conduct a broad, independent review of its research and development activities. This Executive Summary includes the committee's major findings and recommendations. Findings and recommendations for specific technical programs can be found in the body of the report.




Vision 21: Fossil Fuel Options for the Future (2000)
The committee''s review was based primarily on the Vision 21 Program Plan: Clean Energy Plants for the 21st Century published by DOE in April 1999 (DOE, 1999). The committee also invited speakers from government, industry, and academia to comment on the technical challenges and other issues facing the Vision 21 Program. The committee''s principal findings and recommendations on the program as a whole, as well as on individual program components, are summarized below. Additional findings and recommendations appear in the body of this report.