"Sustaining the supply of energy and materials needed to support current levels of consumption, making them available where most needed, and addressing the environmental problems resulting from their extraction, consumption and disposal may be the most significant challenges to a sustainability transition...."
–

Publications


Opportunities and Obstacles in Large-Scale Biomass Utilization: The Role of the Chemical Sciences and Engineering Communities: A Workshop Summary (2013)
Based on a one-day public workshop held in Washington, DC, this workshop summary explores the current state of biomass utilization for bulk-production of sustainable fuels and chemicals. The discussion focused on the chemistry and chemical engineering opportunities to meet the aforementioned objectives. Both formal presentations and breakout working groups were components of the workshop in an effort to stimulate engaging discussion among participants from widely varying fields.
Review of the Research Program of the U.S. DRIVE Partnership: Fourth Report(2013)
This report follows on three previous NRC reviews of the FreedomCAR and Fuel Partnership, which was the predecessor of the U.S. DRIVE Partnership (NRC, 2005, 2008a, 2010). The U.S. DRIVE (Driving Research and Innovation for Vehicle Efficiency and Energy Sustainability) vision, according to the charter of the Partnership, is this: American consumers have a broad range of affordable personal transportation choices that reduce petroleum consumption and significantly reduce harmful emissions from the transportation sector. Its mission is as follows: accelerate the development of pre-competitive and innovative technologies to enable a full range of efficient and clean advanced light-duty vehicles (LDVs), as well as related energy infrastructure. The Partnership focuses on precompetitive research and development (R&D) that can help to accelerate the emergence of advanced technologies to be commercialization-feasible.
An Evaluation of the U.S. Department of Energy's Marine and Hydrokinetic Resource Assessments (2013)
Increasing renewable energy development, both within the United States and abroad, has rekindled interest in the potential for marine and hydrokinetic (MHK) resources to contribute to electricity generation. These resources derive from ocean tides, waves, and currents; temperature gradients in the ocean; and free-flowing rivers and streams. One measure of the interest in the possible use of these resources for electricity generation is the increasing number of permits that have been filed with the Federal Energy Regulatory Commission (FERC). However, most of these permits are for developments along the Mississippi River, and the actual benefit realized from all MHK resources is extremely small.This report focuses on the findings and conclusions regarding a conceptual framework for developing the resource assessments, the aggregation of results into a single number, and the consistency across and coordination between the individual resource assessments.
Transitions to Alternative Vehicles and Fuels (2013)
For a century, almost all light-duty vehicles (LDVs) have been powered by internal combustion engines (ICEs) operating on petroleum fuels. Energy security concerns over petroleum imports and the effect of greenhouse-gas (GHG) emissions on global climate are driving interest in alternatives. This report assesses the potential for reducing petroleum consumption and GHG emissions by 80% across the U.S. LDV fleet by 2050, relative to 2005. It examines the current capability and estimated future performance and costs for each vehicle type and non-petroleum-based fuel technology as options that could significantly contribute to these goals. By analyzing scenarios that combine various fuel and vehicle pathways, the report also identifies barriers to implementation of these technologies and suggests policies to achieve the desired reductions. Several scenarios are promising, but strong, effective, and sustained but adaptive policies such as research and development (R&D), subsidies, energy taxes, or regulations will be necessary to overcome barriers such as cost and consumer choice.
Sustainable Development of Algal Biofuels (2012)
Biofuels made from algae are gaining attention as a domestic source of renewable fuel. However, with current technologies, scaling up production of algal biofuels to meet even 5 percent of U.S. transportation fuel needs could create unsustainable demands for energy, water, and nutrient resources. Continued research and development could yield innovations to address these challenges, but determining if algal biofuel is a viable fuel alternative will involve comparing the environmental, economic and social impacts of algal biofuel production and use to those associated with petroleum-based fuels and other fuel sources.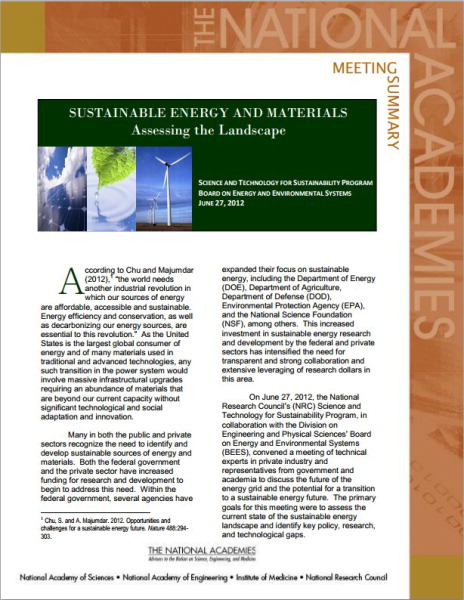 Sustainable Energy and Materials: Assessing the Landscape (2012)
As the largest global consumer of energy and of many materials used in traditional and advanced technologies, there is an increased recognition among US federal agencies and the corporate sector of the need to identify and develop sustainable sources of energy and materials. This is evidenced by the increase in funding for research and development in this area in both sectors. The June meeting of the Roundtable on Science and Technology for Sustainability included a session that provided an overview of the landscape of efforts underway on sustainable energy and materials, such as identifying any key policy, research, and technological gaps. Presentations during the session addressed the future of nuclear and wind energy; the evolution of energy systems; and material constraints of energy technologies.
Induced Seismicity Potential in Energy Technologies (2012)
In the past several years, some energy technologies that inject or extract fluid from the Earth, such as oil and gas development and geothermal energy development, have been found or suspected to cause seismic events, drawing heightened public attention. Although only a very small fraction of injection and extraction activities among the hundreds of thousands of energy development sites in the United States have induced seismicity at levels noticeable to the public, understanding the potential for inducing felt seismic events and for limiting their occurrence and impacts is desirable for state and federal agencies, industry, and the public at large. This report identifies gaps in knowledge and research needed to advance the understanding of induced seismicity; identify gaps in induced seismic hazard assessment methodologies and the research to close those gaps; and assess options for steps toward best practices with regard to energy development and induced seismicity potential.
Renewable Fuel Standard: Potential Economic and Environmental Effects of U.S. Biofuel Policy (2011)
In the United States, we have come to depend upon plentiful and inexpensive energy to support our economy and lifestyles. In recent years, many questions have been raised regarding the sustainability of our current pattern of high consumption of nonrenewable energy and its environmental consequences. This report evaluates the economic and environmental consequences of increasing biofuels production as a result of Renewable Fuels Standard, as amended by EISA (RFS2). The report describes biofuels produced in 2010 and those projected to be produced and consumed by 2022, reviews model projections and other estimates of the relative impact on the prices of land, and discusses the potential environmental harm and benefits of biofuels production and the barriers to achieving the RFS2 consumption mandate.
TRB Special Report 305: Structural Integrity of Offshore Wind Turbines: Oversight of Design, Fabrication, and Installation explores the U.S. Department of the Interior's Bureau of Ocean Energy Management, Regulation and Enforcement (BOEMRE) approach to overseeing the development and safe operation of wind turbines on the outer continental shelf, with a focus on structural safety. The committee that developed the report recommended that in order to facilitate the orderly development of offshore wind energy and support the stable economic development of this nascent industry, the United States needs a set of clear requirements that can accommodate future design development.
Assessment of Fuel Economy Technologies for Light Duty Vehicles
(2011)
Various combinations of commercially available technologies could greatly reduce fuel consumption in passenger cars, sport-utility vehicles, minivans, and other light-duty vehicles without compromising vehicle performance or safety. This book estimates the potential fuel savings and costs to consumers of available technology combinations for three types of engines: spark-ignition gasoline, compression-ignition diesel, and hybrid. The book focuses on fuel consumption--the amount of fuel consumed in a given driving distance--because energy savings are directly related to the amount of fuel used. In contrast, fuel economy measures how far a vehicle will travel with a gallon of fuel. Because fuel consumption data indicate money saved on fuel purchases and reductions in carbon dioxide emissions, the book finds that vehicle stickers should provide consumers with fuel consumption data in addition to fuel economy information.
Turning Science On: Improving Access to Energy in Sub-Saharan Africa (2010)
This new report prepared for the Academy of Science of South Africa (ASADI)'s sixth annual conference, held in November 2010 in Somerset West, South Africa, calls for energy access to be added to the list of U.N. Millennium Development Goals. The report recommends steps the private and public sector can take to expand delivery of electricity, including turning to science for solutions. It also urges the promotion of improved stoves that limit indoor air pollution.



The Power of Renewables: Opportunities and Challenges for China and the United States (2010)
The United States and China are the world's top two energy consumers and, as of 2010, the two largest economies. Consequently, they have a decisive role to play in the world's clean energy future. Both countries are also motivated by related goals, namely diversified energy portfolios, job creation, energy security, and pollution reduction, making renewable energy development an important strategy with wide-ranging implications. The U.S. National Academies, in collaboration with the Chinese Academy of Sciences (CAS) and Chinese Academy of Engineering (CAE), reviewed renewable energy development and deployment in the two countries, to highlight prospects for collaboration across the research to deployment chain and to suggest strategies which would promote more rapid and economical attainment of renewable energy goals.


Realizing the Energy Potential of Methane Hydrate for the United States (2010)
Natural gas, composed mostly of methane, is the cleanest of all the fossil fuels, emitting 25-50% less carbon dioxide than either oil or coal for each unit of energy produced. In recent years, natural gas supplied approximately 20-25% of all energy consumed in the United States. Methane hydrate is a potentially enormous and as yet untapped source of methane. The Department of Energy's Methane Hydrate Research and Development Program has been tasked since 2000 to implement and coordinate a national methane hydrate research effort to stimulate the development of knowledge and technology necessary for commercial production of methane from methane hydrate in a safe and environmentally responsible way. This report evaluates the program's research projects and management processes since its congressional re-authorization in 2005, and presents recommendations for its future research and development initiatives.


Real Prospects for Energy Efficiency in the United States(2010)
America's economy and lifestyles have been shaped by the low prices and availability of energy. In the last decade, however, the prices of oil, natural gas, and coal have increased dramatically, leaving consumers and the industrial and service sectors looking for ways to reduce energy use. To achieve greater energy efficiency, we need technology, more informed consumers and producers, and investments in more energy-efficient industrial processes, businesses, residences, and transportation. As part of the America's Energy Future project, this book examines the potential for reducing energy demand through improving efficiency by using existing technologies, technologies developed but not yet utilized widely, and prospective technologies.


Representing Freight in Air Quality and Greenhouse Gas Models(2010)
Transportation Research Board (TRB)'s National Freight Cooperative Research Program (NFCRP) Report 4: Representing Freight in Air Quality and Greenhouse Gas Models explores the current methods used to generate air emissions information from all freight transportation activities and their suitability for purposes such as health and climate risk assessments, prioritization of emission reduction activities, and public education. The report highlights the state of the practice, and potential gaps, strengths, and limitations of current emissions data estimates and methods. The report also examines a conceptual model that offers a comprehensive representation of freight activity by all transportation modes and relationships between modes.


Residential Energy Consumption Letter Report(2010)
The Commercial Buildings Energy Consumption Survey (CBECS) is a survey of commercial buildings in the United States, mandated by Congress to provide comprehensive information about energy use in commercial buildings. At the request of the Energy Information Administration, the National Research Council is conducting a comprehensive 30-month study of the CBECS and the corresponding study of Residential Energy Consumption Survey (RECS). Because plans for the upcoming 2011 round of CBECS must be finalized in the near future, the panel was charged to comment as soon as possible on design and data collection options that would enable the upcoming round of this survey to better support U.S. Department of Energy program information needs, reduce respondent burden, and increase the quality and timeliness of the data.


Technologies and Approaches to Reducing the Fuel Consumption of Medium- and Heavy-Duty Vehicles(2010)
This report evaluates various technologies and methods that could improve the fuel economy of medium- and heavy-duty vehicles, such as tractor-trailers, transit buses, and work trucks. The book also recommends approaches that federal agencies could use to regulate these vehicles' fuel consumption. Currently there are no fuel consumption standards for such vehicles, which account for about 26 percent of the transportation fuel used in the U.S.




A Transportation Research Program for Mitigating and Adapting to Climate Change and Conserving Energy: Special Report 299(2009)
Transportation Research Board (TRB) Special Report 299 suggests that federal, state, and local policy makers need informed guidance about the effectiveness, costs, feasibility, and acceptability of transportation strategies to mitigate transportation greenhouse gas emissions and conserve energy and to adapt to climate change. The report covers strategies affecting travel and mode choice, models and decision tools, infrastructure investment options, and infrastructure construction, operation, and maintenance.



Letter Report on the Review of the Research Program of the FreedomCAR and Fuel Partnership, Phase 3 (2009)
This letter report broadly reviews the strategy and structure of the FreedomCAR and Fuel Partnership, as requested by the U.S. Department of Energy. Although the Obama Administration''s focus on nearer-term technologies is on the right track, there remains a need for continued investment in longer-term, higher-risk, higher-payoff vehicle technologies that could be highly transformational with regard to reduced use of petroleum and reduced emissions. Such technologies include advanced batteries, technologies for hydrogen storage, and hydrogen/fuel cells. For researchers, contractors, and investors to be willing to make long-term commitments to these and other potentially important developing technologies, a consistent year-to-year level of support must be provided.


Advice on the Department of Energys Cleanup Technology Roadmap: Gaps and Bridges (2009)
The Department of Energy (DOE) is responsible for removing or remediating radioactive waste and other contamination from its former nuclear weapons production sites. The job is expected to cost between about 265 billion dollars and 305 billion dollars over the next approximately 30 years. DOE has stated that the work, which is being conducted by its Office of Environmental Management (EM), is one of the most technically challenging and complex cleanup efforts in the world. EM asked the National Academies to convene a committee to assist in preparing a congressionally requested engineering and technology roadmap to support the cleanup effort. The committees report identifies 13 technology gaps in areas of tank waste retrieval and processing, groundwater and soil remediation, and facility deactivation and decommissioning.


America's Energy Future: Technology and Transformation: Summary Edition (2009)
The National Academy of Sciences and the National Academy of Engineering have released a report that analyzes the potential of a wide range of technologies for generation, distribution, and conservation of energy. The report considers technologies to increase energy efficiency, coal-fired power generation, nuclear power, renewable energy, oil and natural gas, and alternative transportation fuels. It assesses the associated impacts and projected costs of implementing each technology and categorizes them into three time frames for implementation.




Benefit/Cost Analysis of Converting a Lane for Bus Rapid Transit (2009)
TRB's National Cooperative Highway Research Program (NCHRP) Research Results Digest 336: Benefit/Cost Analysis of Converting a Lane for Bus Rapid Transit examines issues, potential solutions, and outstanding questions related to converting a roadway lane to bus rapid transit use.





Catalysis for Energy Fundamental Science and Long-Term Impacts of the US Department of Energy Basic Energy Sciences Catalysis Science Program (2009)
Catalysis, the process by which a substance (a catalyst) increases the rate of a chemical reaction, is essential to the ability to control chemical reactions, including those involved in energy transformations. Catalysis is therefore integral to current and future energy solutions, for example, developing environmentally benign energy sources such as biomass and solar energy, and developing efficient energy systems such as fuel cells. This report presents an in-depth analysis of the investment in catalysis basic research by the U.S. Department of Energy Office of Basic Energy Sciences Catalysis Science Program. On the basis of the information that was evaluated, the report concludes that the program has invested well in catalysis basic research. The DOE Catalysis Science Initiative has been a particularly effective mechanism for bringing to the program new funds, new researchers, and innovative research topics -- especially in heterogeneous catalysis. However, there are variations in the quality and relevance of the research in the program's portfolio, which are discussed in detail in the report.


Driving and the Built Environment: The Effects of Compact Development on Motorized Travel, Energy Use, and CO2 Emissions: Special Report 298 (2009)
Transportation Research Board (TRB) Special Report 298: Driving and the Built Environment Effects of Compact Development on Motorized Travel, Energy Use, and CO2 Emissions examines the relationship between land development patterns and vehicle miles traveled (VMT) in the United States to assess whether petroleum use, and by extension greenhouse gas (GHG) emissions, could be reduced by changes in the design of development patterns. The report estimates the contributions that changes in residential and mixed-use development patterns and transit investments could make in reducing VMT by 2030 and 2050, and the impact this could have in meeting future transportation-related GHG reduction goals.


Electricity from Renewable Resources: Status, Prospects, and Impediments (2009)
A component in the America's Energy Future study, Electricity from Renewable Resources examines the technical potential for electric power generation with alternative sources such as wind, solar-photovoltaic, geothermal, solar-thermal, hydroelectric, and other renewable sources. The book focuses on those renewable sources that show the most promise for initial commercial deployment within 10 years and will lead to a substantial impact on the U.S. energy system. In addition to a principal focus on renewable energy technologies for power generation, the book addresses the challenges of incorporating such technologies into the power grid, as well as potential improvements in the national electricity grid that could enable better and more extensive utilization of wind, solar-thermal, solar photovoltaics, and other renewable technologies.


Forecasting Metropolitan Commercial and Freight Travel (2009)
TRB's National Cooperative Highway Research Program (NCHRP) Synthesis 384: Forecasting Metropolitan Commercial and Freight Travel explores methods of freight and commercial vehicle forecasting currently in professional practice, along with promising methods emerging from ongoing research. The primary focus of the report is on metropolitan-level forecasting, although some consideration is given to statewide freight models.




Hidden Costs of Energy Unpriced Consequences of Energy Production and Use (2009)
The benefits to society of energy production and use are well-known, but energy also has many adverse effects not reflected in market prices, such as the damage air pollution imposes on human health and the environment. This congressionally-requested report from the National Research Council examines those ''hidden costs'' in an effort to inform energy-related policy decisions. The damages that the committee was able to quantify were an estimated 120 billion in the United States in 2005, a number that reflects damages from air pollution associated with electricity generation relying on fossil fuels, motor vehicle transportation, and heat generation. The report also considers other effects that are not included in the figure, such as damages from climate change, harm to ecosystems, effects of some air pollutants such as mercury, and risks to national security.


Liquid Transportation Fuels from Coal and Biomass: Technological Status, Costs, and Environmental Impacts(2009)
The transportation sector cannot continue on its current path: the volatility of oil prices threatens the U.S. economy, the large proportion of oil importation threatens U.S. energy security, and the massive contribution of greenhouse gases threatens the environment. The development of domestic sources of alternative transportation fuels with lower greenhouse emissions is now a national imperative. Coal and biomass are in abundant supply in the United States and can be converted to liquid fuels that can be combusted in existing and future vehicles. Their abundant supply makes them attractive candidates to provide non-oil-based liquid fuels to the U.S. transportation system. However, there are important questions about the economic viability, carbon impact, and technology status of these options. This report provides a snapshot of the potential costs of liquid fuels from biomass by biochemical conversion and from biomass and coal by thermochemical conversion.


Public Transportation's Role in Addressing Global Climate Change (2009)
Transportation Research Board''s Transit Cooperative Research Program (TCRP) Research Results Digest 89: Public Transportation's Role in Addressing Global Climate Change provides an overview of an International Transit Studies Program mission that investigated public transportation's role in addressing global climate change in several cities in Ireland, Germany, Italy, and Spain.




Review of Site (Point-of-Use) and Full-Fuel-Cycle Measurement Approaches to DOE/EERE Building Appliance Energy-Efficiency Standards: Letter Report (2009)
Currently, DOE sets appliance efficiency standards using primarily ''site'' (or point-of-use) measurements, which reflect only the energy consumed to operate the appliance. Site measurements allow consumers to compare energy efficiency among appliances, but offer no information about other energy costs involved. The report discusses the U.S. Department of Energy should consider gradually changing its system of setting appliance energy efficiency standards to a full-fuel-cycle measurement, which takes into account both the energy used to operate an appliance, as well as upstream energy costs--energy consumed in producing and distributing fuels from coal, oil, and natural gas, and energy lost in generating and delivering electric power. This change would offer consumers more complete information on household energy consumption and its environmental impacts.


Technical Peer Review of a Proposed Risk Assessment Methodology on Alaskas Oil and Gas Infrastructure: Letter Report (2009)
Transportation Research Board (TRB) has released a letter report produced by the Committee on Alaskas Oil and Gas Infrastructure Risk Assessment Peer Review that examines a contract teams proposed risk assessment of Alaskas oil and gas infrastructure designed to identify, quantify, and evaluate current and future significant risks from a systems-level perspective. According to the committee, the management plan is not feasible given real-world constraints, the proposed risk methods are too detailed and lack a sufficient top-down perspective necessary for capturing important risks, and the proposed outputs are static and stop well short of providing Alaska with tools capable of evaluating risk mitigation opportunities. In addition, the committee recommends that the methodology should be redesigned to ensure a rigorous, well-balanced assessment that will address the issues of most concern to the state.


Transitions to Alternative Transportation Technologies: Plug-in Hybrid Electric Vehicles (2009)
The nation has compelling reasons to reduce its consumption of oil and emissions of carbon dioxide. Plug-in hybrid electric vehicles (PHEVs) promise to contribute to both goals by allowing some miles to be driven on electricity drawn from the grid, with an internal combustion engine that kicks in when the batteries are discharged. However, while battery technology has made great strides in recent years, batteries are still very expensive. This report, builds on a 2008 National Research Council report on hydrogen fuel cell vehicles, reviews the current and projected technology status of PHEVs; considers the factors that will affect how rapidly PHEVs could enter the marketplace; and determines a maximum practical penetration rate for PHEVs consistent with the time frame and factors considered in the 2008 Hydrogen report.


Assessment of Technologies for Improving Light Duty Vehicle Fuel Economy: Letter Report (2008)
The National Highway Traffic Safety Administration requested that the National Academies provide an objective and independent update of the 2001 National Research Council report Effectiveness and Impact of Corporate Average Fuel Economy (CAFE) Standards and add to its assessment other technologies that have emerged since that report was prepared. This letter is an interim report that discusses the technologies to be analyzed in the final report, the types of vehicles that may use them, the estimated improvements in fuel economy that may result, and the computational models that will be used in analysis. The report represents the preliminary judgment of the committee and it will continue to revise the list of technologies and fuel-economy benefits as it completes its study. The final report is to be provided in late spring of 2008.


Bioinspired Chemistry for Energy: A Workshop Summary to the Chemical Sciences Roundtable (2008)
Faced with the steady rise in energy costs, dwindling fossil fuel supplies, and the need to maintain a healthy environment - exploration of alternative energy sources is essential for meeting energy needs. Biological systems employ a variety of efficient ways to collect, store, use, and produce energy. By understanding the basic processes of biological models, scientists may be able to create systems that mimic biomolecules and produce energy in an efficient and cost effective manner. On May 14-15, 2007 a group of chemists, chemical engineers, and others from academia, government, and industry participated in a workshop sponsored by the Chemical Sciences Roundtable to explore how bioinspired chemistry can help solve some of the important energy issues the world faces today. The workshop featured presentations and discussions on the current energy challenges and how to address them, with emphasis on both the fundamental aspects and the robust implementation of bioinspired chemistry for energy.

Developing Countries 2008 (2008)
TRB's Transportation Research Record (TRR): Journal of the Transportation Research Board, No. 2048 includes 9 papers that explore sustainable mobility; competition in and for the public transportation market; rail transit impacts on land use; multicriteria fuzzy methodology for feasibility study of transport projects; and the effects of attitudes, and socioeconomic and travel characteristics on stated route diversion. This issue of the TRR also examines walking behavior and pedestrian flow on different types of walking facilities, operating speeds of bicycles and electric bicycles, exposure of motorcycles at signalized intersections, and helmet effectiveness in reducing the severity of head injuries.

Environment and Energy 2008 (2008)
TRB's Transportation Research Record (TRR): Journal of the Transportation Research Board, No. 2058 includes 21 papers that explore the planning and environment linkages umbrella to streamline transportation decision making, infrastructure strategies to reduce emissions from intermodal freight movement in southern California, link-based emission factors for heavy-duty diesel trucks, and B20 biodiesel emissions compared to petroleum diesel emissions. In addition, this issue of the TRR addresses a consistent wildlife habitat classification to improve transportation and conservation planning, wireless sensor networks for assessing the environmental impact of transport noise, environmental assessment of tire-pavement noise, linking the National Environmental Policy Act and planning, behavioral response to fuel-cell vehicle fleet and hydrogen fueling infrastructure, and vehicle and E85 stations needed to achieve ethanol goals.


Interim Report from the National Research Council Committee on Development and Implementation of a Cleanup Technology Roadmap (2008)
Over the last 60 years, the wide range of operations carried out by Department of Energy (DOE) (and its predecessor organizations) has resulted in accumulation of hazardous and radioactive waste in tanks, soil, groundwater, and buildings at various sites across the nation. DOE conducts ongoing cleanup efforts at those sites. To ensure that the best modern technologies are available for this work, which will continue for 30 years or more, Congress requested DOE to develop a cleanup technology roadmap. The DOE's Office of Environmental Management asked the National Research Council to assist DOE in preparing the roadmap, which must identify technology gaps in DOE''s site cleanup program and to develop a strategy, with funding proposals, to address them. This interim report provides initial technical and strategic advice to assist DOE''s fiscal year 2009 planning, development, and implementation of its cleanup technology roadmap. The final report, which will fully address the statement of task, will be completed in February, 2009.


Review of the Research Program of the FreedomCAR and Fuel Partnership: Second Report (2008)
The FreedomCAR and Fuel Partnership is a collaborative effort among the Department of Energy (DOE), the U.S. Council for Automotive Research (USCAR), and five major energy companies to manage research that will enable the vision of "a clean and sustainable transportation energy future." It envisions a transition from more efficient internal combustion engines (ICEs), to advanced ICE hybrid electric vehicles, and to enabling a private-sector decision by 2015 on hydrogen-fueled vehicle development. At the request of DOE, the NRC has undertaken an effort to provide biennial reviews of the progress of the research program. Phase I of that review was described in a report issued in 2005 (http://www.nap.edu/catalog.php?record_id=11406). This second report presents an assessment of the progress in the research program management areas as well as the responses of program management to recommendations provided in the Phase I report. Covered in this second report are major crosscutting issues; vehicle subsystems; hydrogen production, delivery, and dispensing; and an overall assessment of the program.

Societal and Economic Factors (2008)
TRB's Transportation Research Record: Journal of the Transportation Research Board, No. 2067 includes 18 papers that explore the effects of socioeconomic status on hurricane disaster relief plans, inadequate transportation as a barrier to community involvement, mode choice of sociodemographic groups, geographic and demographic profiles of morning peak-hour commuters on highways, environmental justice for lowincome and minority communities adjacent to ports, and urban road pricing impact on low-income car drivers. This issue of the TRR also examines the attitude differences of men and women toward transportation, driver frustration with bicyclists and pedestrians, gender and travel behavior, impact of climate change on transportation and the economy, economic impact of traffic incidents on businesses, highway-induced development in metropolitan areas, and endogenous regional economic growth through transportation investment.

Sustainability, Energy, and Alternative Fuels 2007 (2008)
TRB's Transportation Research Record--Journal of the Transportation Research Board, No. 2017 includes 8 papers that explore policy making for sustainability in transport, indicators for comprehensive and sustainable transport planning, measuring sustainable accessibility, energy use of plug-in hybrid electric vehicles, attitudes of diesel and hybrid new car buyers, greenhouse gas emissions of the U.S. transportation sector, oil independence, and macroeconomic effects of climate policies on road transport.



The National Academies Summit on America''s Energy Future: Summary of a Meeting (2008)
On March 13-14, 2008, the National Academies brought together many of the most knowledgeable and influential people working on energy issues today to discuss how we can meet the need for energy without irreparably damaging Earth''s environment or compromising U.S. economic and national security -- a complex problem that will require technological and social changes that have few parallels in human history. The summit is part of the ongoing project America''s Energy Future: Technology Opportunities, Risks, and Tradeoffs, which will produce a series of reports providing authoritative estimates and analysis of the current and future supply of and demand for energy; new and existing technologies to meet those demands; their associated impacts; and their projected costs (more information can be found at www.nationalacademies.org/energy). This workshop summary is an essential base for anyone with an interest in strategic, tactical, and policy issues. Federal and state policy makers will find this book invaluable, as will industry leaders, investors, and others willing to convert concern into action to solve the energy problem.


The Potential Impacts of Climate Change on U.S. Transportation (2008)
TRB and the Division on Earth and Life Studies (DELS) have released the pre-publication version of TRB Special Report 290, The Potential Impacts of Climate Change on U.S. Transportation, which explores the consequences of climate change for U.S. transportation infrastructure and operations. The report provides an overview of the scientific consensus on the current and future climate changes of particular relevance to U.S. transportation, including the limits of present scientific understanding as to their precise timing, magnitude, and geographic location; identifies potential impacts on U.S. transportation and adaptation options; and offers recommendations for both research and actions that can be taken to prepare for climate change.


Transitions to Alternative Transportation Technologies: A Focus on Hydrogen (2008)
Hydrogen fuel cell vehicles (HFCVs) could alleviate the nations dependence on oil and reduce U.S. emissions of carbon dioxide, the major greenhouse gas. Industry-and government-sponsored research programs have made very impressive technical progress over the past several years, and several companies are currently introducing pre-commercial vehicles and hydrogen fueling stations in limited markets. However, to achieve wide hydrogen vehicle penetration, further technological advances are required for commercial viability, and vehicle manufacturer and hydrogen supplier activities must be coordinated. In particular, costs must be reduced, new automotive manufacturing technologies commercialized, and adequate supplies of hydrogen produced and made available to motorists. These efforts will require considerable resources, especially federal and private sector funding. This book estimates the resources that will be needed to bring HFCVs to the point of competitive self-sustainability in the marketplace. It also estimates the impact on oil consumption and carbon dioxide emissions as HFCVs become a large fraction of the light-duty vehicle fleet.

Transit: Management, Technology, and Planning 2008 (2008)
TRB's Transportation Research Record: Journal of the Transportation Research Board, No. 2063 includes 21 papers that explore the use of smart card data to define public transit use, innovative public/private cooperation for urban transport, modeling the impact of transit operator fleet size, bus deployment strategies and automatic vehicle location to improve bus service reliability, and a fleet-size model for light rail and bus rapid transit systems. In addition, this TRR highlights innovative planning and financing strategies for a downtown circulator bus route, links between transit ridership and gasoline prices, land use-based transit planning, transit-oriented development's effect on transit ridership, safety analysis of road surface transit, and transportation policy effect on public transit.

Transportation Implications of Emerging Economic Development Trends (2008)
This report explores economic development trends and how transportation relates to these trends. The report focuses on business production, inventory, and logistics and distribution trends and practices; site selection research and practices; labor market considerations; urban and rural development practices; and international trade and global market trends and implications.

Use of Biodiesel in a Transit Fleet (2008)
TRB's Transit Cooperative Research Program (TCRP) Synthesis 72: Use of Biodiesel in a Transit Fleet explores potential benefits offered by biodiesel in order to help transit agencies make informed decisions regarding its use.



Coal: Research and Development to Support National Energy Policy (2007)
Coal provides nearly a quarter of U.S. energy supplies and is used to generate more than half of the nation's electricity. Although future use of coal may be impacted by regulation of carbon dioxide emissions, coal demand is expected to increase over the next 10-15 years. At the request of Congress, the National Research Council conducted a study to examine R and D funding needs to support such upstream aspects of coal mining as worker safety, environmental protection and reclamation, coal reserve assessments, and mining productivity. The report concludes that an increased R and D investment is needed in these areas and recommends that an additional 144 million dollars should be allocated. This R&D effort should be coordinated through stronger partnerships among federal agencies, with involvement of states and industry.


Energy Futures and Urban Air Pollution: Challenges for China and the United States (2007)
The United States and China are the top two energy consumers in the world. As a consequence, they are also the top two emitters of numerous air pollutants which have local, regional, and global impacts. Urbanization has led to serious air pollution problems in U.S. and Chinese cities; although U.S. cities continues to face challenges, the lessons they have learned in managing energy use and air quality are relevant to the Chinese experience. This report summarizes current trends, profiles two U.S. and two Chinese cities, and recommends key actions to enable each country to continue to improve urban air quality.



Environmental Impacts of Wind Energy Projects (2007)
There has been rapid growth in the construction of wind-powered electricity generating facilities over the past 25 years in the United States. Wind-energy facilities emit no atmospheric pollutants and are driven by a renewable source, addressing multiple environmental concerns such as air quality and climate change. But the expansion of such facilities can carry adverse environmental impacts. As wind energy development continues to expand, federal, state and local agencies should adopt a coordinated approach to evaluating the planning, regulation, and location of wind-energy projects. This National Research Council report provides a framework that can help in evaluating tradeoffs between the benefits of new wind-energy projects and risks of adverse environmental impacts before projects begin.


Lighting the Way: Toward a Sustainable Energy Future, A Report by the InterAcademy Council (2007)
Commissioned by the governments of Brazil and China, this report identifies a scientific consensus framework for directing global energy development. It lays out the science, technology and policy roadmap for developing energy resources to drive economic growth in both industrialized and developing countries while also securing climate protection and global development goals. The report was produced by a study panel of 15 world-renowned energy experts, co-chaired by Nobel Laureate Steven Chu, Director of the Lawrence Berkeley National Lab in the United States, and Jose Goldemberg, former Secretary of State for the Environment for the State of Sao Paulo, Brazil. Lighting the way establishes the best practices for a global transition to a clean, affordable and sustainable energy supply in both developing and developed countries.


Prospective Evaluation of Applied Energy Research and Development at DOE: Phase Two (2007)
Over the past several years, Federal agencies, largely at the direction of Congress, have expanded efforts to measure the performance of their activities. Through the Government Performance and Results Act, GRPA, and other mandates, the agencies have developed indicators of program performance. At the request of Congress, the NRC has undertaken a series of studies using quantitative indicators to evaluate the effectiveness of applied energy research and development at DOE. This is the third report in the series and presents the results of the application of benefits evaluation methodology developed in the second study to six research and development programs within DOE.


Review of DOE's Nuclear Energy Research and Development Program (2007)
There has been a substantial resurgence of interest in nuclear power in the United States over the past few years. One consequence has been a rapid growth in the research budget of DOE's Office of Nuclear Energy--NE. In light of this growth, the Office of Management and Budget included within the FY2006 budget request a study by the National Academy of Sciences to review the NE research programs and recommend priorities among those programs. The programs to be evaluated were: Nuclear Power 2010, NP 2010, Generation IV, the Nuclear Hydrogen Initiative, the Global Nuclear Energy Partnership, Advanced Fuel Cycle Initiative, and the Idaho National Laboratory facilities. This report presents a description and analysis of each program along with specific findings and recommendations. It also provides an assessment of program priorities and oversight.


Alternatives to Indian Point for Meeting New York Energy Needs (2006)
Since the September 11, 2001 terrorist attacks on the World Trade Center, many in the New York City area have become concerned about the possible consequences of a similar attack on the Indian Point nuclear power plants located about 40 miles from Manhattan, and have made calls for their closure. Any closure, however, would require actions to replace the 2000 MW of power supplied by the plants. To examine this issue in detail, the Congress directed DOE to request a study from the NRC of options for replacing the power. This report presents detailed review of both demand and supply options for replacing that power as well as meeting expected demand growth in the region. It also assesses institutional considerations for these options along with their expected impacts. Finally, the report provides an analysis of scenarios for implementing the replacement options using simulation modeling.


Decreasing Energy Intensity in Manufacturing: Assessing the Strategies and Future Directions of the Industrial Technologies Program (2005)
The leadership of the ITP asked the National Research Council's Board on Manufacturing and Engineering Design to assess the overall technical quality and effectiveness of the program by assessing the strategy, management, and decision-making processes used by the ITP to determine research directions as well as the application of these processes to individual subprograms and the program as a whole. The Committee for Review of the Department of Energy's Industrial Technologies Program was formed to undertake this task. It was asked to include in its report findings and recommendations related to the quality and appropriateness of all projects and programs in the ITP. This report represents the consensus conclusions and recommendations of the committee.


Prospective Evaluation of Applied Energy Research and Development at DOE (Phase one): A First Look Forward (2005)
It is important to emphasize that Phase One was focused tightly on the basic problem of adapting the retrospective methodology to a prospective context. As a result, some important issues had to be deferred to Phase Two. For example, the issue of how to characterize national security benefits has not been explored. Security threats to the energy system have multiplied in number and kind since the retrospective study, but the committee intentionally deferred this and other issues to Phase Two of the project. In addition, the committee cautions against using the three expert panel case studies to assess the benefits of the three programs because the panels'' findings on the programs were developed for the express purpose of helping the committee to refine its methodology.



Urbanization, Energy, and Air Pollution in China (2004)
In October 2003, a group of experts met in Beijing under the auspices of the Chinese Academy of Sciences, Chinese Academy of Engineering, and National Academy of Engineering (NAE)/National Research Council (NRC) of the National Academies to continue a dialogue and eventually chart a rational course of energy use in China. This collection of papers is intended to introduce the reader to the complicated problems of urban air pollution and energy choices in China.




End Points for Spent Nuclear Fuel and High-Level Radioactive Waste in Russia and the United States (2003)
This report provides an analysis of the management of spent nuclear fuel and high-level radioactive waste in Russia and the United States, describing inventories, comparing approaches, and assessing the end-point options for storage and disposal of materials and wastes. The committee finds that despite differences in philosophy about nuclear fuel cycles, Russia and the United States need similar kinds of facilities and face similar challenges, although in Russia many of the problems are worse and funding is less available. The report contains recommendations for immediate and near-term actions, for example, protecting and stabilizing materials that are security and safety hazards, actions for the longer term, such as developing more interim storage capacity and studying effects of deep injection, and areas for collaboration.


Energy and Transportation: Challenges for the Chemical Sciences in the 21st Century(2003)
This report, also based on a workshop, assesses the current state of chemistry and chemical engineering at the interface with novel and existing forms of energy and transportation systems. The report also identifies challenges for the chemical sciences in helping to meet the increased demand for more energy, and opportunities for research in energy technologies and in the development of transportation vehicles.




Ensuring Environmental Health in Postindustrial Cities (2003)
This workshop is an opportunity for interested parties to discuss these local concerns in the broader environmental health context, and to help create partnerships to address these concerns as they currently exist and will likely emerge in the coming years. This meeting seeks to stimulate dialog about these issues among local business leaders, architects, urban planners, engineers, public health scientists, environmental scientists, health care providers, social scientists, clergy, educators, and the general public.




Improving the Scientific Basis for Managing Nuclear Materials and Spent Nuclear Fuel (2003)
The report provides recommendations to the Department of Energy's Environmental Management Science Program on ways to improve the scientific basis for treatment, storage, and disposal of spent nuclear fuel and nuclear materials currently stored at DOE sites or those that will be produced as part of DOE's cleanup program.




Personal Cars and China (2003)
This collaborative study between the NRC and the Chinese Academy of Engineering (CAE) addresses the problems facing China in the next twenty years as it attempts to provide personal transport desired by millions of Chinese, while preserving the environment and the livability of its cities. According to Song Jian, president of the CAE, the decision has already been taken to produce a moderate cost family car in China, which will greatly increase the number of vehicles on the roads. This study explores the issues confronting the country, including health issues, the challenge to urban areas, particularly the growing number of megacities, environmental protection, infrastructure requirements, and technological options for Chinese vehicles. It draws on the experience of the United States and other countries and review model approaches to urban transportation and land use planning. Recommendations and policy choices for China are described in detail.


Review of DOE's Vision 21 Research and Development Program: Phase 1 (2003)
The goal of the Department of Energy's Vision 21 program is to develop an array of advanced technologies that could be incorporated into future Vision 21 plants for converting fossil fuel into electricity, process heat, fuels and-or chemicals with high efficiency and very low emissions including of carbon dioxide. The program's goals are extremely challenging and ambitious, and success would essentially eliminate many of the environmental concerns currently associated with the use of fossil fuels. In 2000, the National Research Council published a report that reviewed the program in its initial stages. Two years later, the DOE Deputy Assistant Secretary for Coal and Power Systems requested the NRC to review the progress of the Vision 21 program. The current report identifies significant progress that has been made in the program since the last NRC review, and makes recommendations for enhancement of the program.


Effectiveness and Impact of Corporate Average Fuel Economy (CAFE) Standards (2002)
Since CAFE standards were established 25 years ago, there have been significant changes in motor vehicle technology, globalization of the industry, the mix and characteristics of vehicle sales, production capacity, and other factors. This volume evaluates the implications of these changes as well as changes anticipated in the next few years, on the need for CAFE, as well as the stringency and-or structure of the CAFE program in future years.





Disposition of High-Level Waste and Spent Nuclear Fuel: The Continuing Societal and Technical Challenges(2001)
Focused attention by world leaders is needed to address the substantial challenges posed by disposal of spent nuclear fuel from reactors and high-level radioactive waste from processing such fuel. The biggest challenges in achieving safe and secure storage and permanent waste disposal are societal, although technical challenges remain. Disposition of radioactive wastes in a deep geological repository is a sound approach as long as it progresses through a stepwise decision-making process that takes advantage of technical advances, public participation, and international cooperation. Written for concerned citizens as well as policymakers, this book was sponsored by the U.S. Department of Energy, U.S. Nuclear Regulatory Commission, and waste management organizations in eight other countries.


Effectiveness of Vehicle Emission Inspection and Maintenance Programs (2001)
Emissions inspection and maintenance (I/M) programs subject vehicles to periodic inspections of their emission control systems. Despite widespread use of these programs in air-quality management, policy makers and the public have found a number of problems associated with them. Prominent among these issues is the perception that emissions benefits and other impacts of I/M programs have not been evaluated adequately. Evaluating Vehicle Emissions Inspection and Maintenance Programs assesses the effectiveness of these programs for reducing mobile source emissions. In this report, the committee evaluates the differences in the characteristics of motor vehicle emissions in areas with and without I/M programs, identifies criteria and methodologies for their evaluation, and recommends improvements to the programs. Most useful of all, this book will help summarize the observed benefits of these programs and how they can be redirected in the future to increase their effectiveness.


Energy Research at DOE: Was It Worth It? Energy Efficiency and Fossil Energy Research 1978 to 2000 (2001)
The Congress initiated a study with the Academy to review DOE''s research and development in energy efficiency and fossil energy technologies that was conducted from 1978 to 2000. Estimates of the economic, environmental, and energy security benefits for many different energy efficiency and fossil energy programs were made. The committee was able to select a manageable number of case studies, 22, that covered almost all of the research expenditures in the DOE fossil energy program since 1978.



Cooperation in the Energy Futures of China and the United States (2000)
Today we recognize the importance of the pending transition in energy resource utilization in the coming century. Two major players in this transition will be two of the world's superpowers - - China and the United States. Cooperation in the Energy Futures of China and the United States focuses on collaborative opportunities to provide affordable, clean energy for economic growth and social development, to minimize future energy concerns, environmental threats to our global society, and the health and economic impacts on energy production and use.



Renewable Power Pathways: A Review of the U.S. Department of Energy's Renewable Energy Programs (2000)
In response to a request from OPT for an independent review of its programs, the National Research Council formed the Committee for the Programmatic Review of the Office of Power Technologies (see Appendix A for biographical information). A Statement of Task was developed in consultation with OPT and its parent office, the DOE Office of Energy Efficiency and Renewable Energy (EERE), to conduct a programmatic review of OPT and recommend ways to strengthen the office and its programs.



Review of the U.S. Department of Energy''s Heavy Vehicle Technologies Program (2000)
In response to a request from the director of OHVT, the National Research Council formed the Committee on Review of DOE''s Office of Heavy Vehicle Technologies to conduct a broad, independent review of its research and development activities. This Executive Summary includes the committee''s major findings and recommendations. Findings and recommendations for specific technical programs can be found in the body of the report.




Vision 21: Fossil Fuel Options for the Future (2000)
The committee's review was based primarily on the Vision 21 Program Plan: Clean Energy Plants for the 21st Century published by DOE in April 1999 (DOE, 1999). The committee also invited speakers from government, industry, and academia to comment on the technical challenges and other issues facing the Vision 21 Program. The committee''s principal findings and recommendations on the program as a whole, as well as on individual program components, are summarized below. Additional findings and recommendations appear in the body of this report.