Strengthening Sustainability Program at the Undergraduate and Graduate Levels: A Workshop
February 13, 2019, Washington, DC

View a list of Sustainability-related meetings at the National Academies of Sciences, Engineering, and Medicine
No More Time to Waste: Moving Science to Action at Scales that Matter
December 10, 2018, Washington, DC
6:45 PM - 8:45 PM

Reducing Food Loss and Waste Workshop
October 17, 2018, Washington, DC

Report Release: Housing, Health and Homelessness
July 11, 2018 11am-12pm, Washington, DC

Roundtable on Science and Technology for Sustainability
January 30-21, 2018, Washington, DC


March 2013
Table of Contents
We are pleased to present you with Sustainability at the National Academies, a monthly update highlighting activities related to sustainable development from throughout the National Academies. Please visit our website for additional information on these and other activities at http://sites.nationalacademies.org/PGA/sustainability.
The Roundtable on Science and Technology for Sustainability provides a unique forum for sharing views, information, and analyses related to sustainability. The goal for the Roundtable is to mobilize, encourage, and use scientific knowledge and technology to help achieve sustainability goals and to support the implementation of sustainability practices. Through its activities, the Roundtable identifies new ways in which science and technology can contribute to sustainability. What follows is a brief summary of sustainability-related activities being conducted throughout the National Academies.
You are receiving this update based on your participation in ongoing or past activities of the Roundtable. If you would prefer not to receive future monthly updates or would like to be added to the recipient list, please contact Dylan Richmond at 202-334-2489 or Sustainability@nas.edu or visit our website.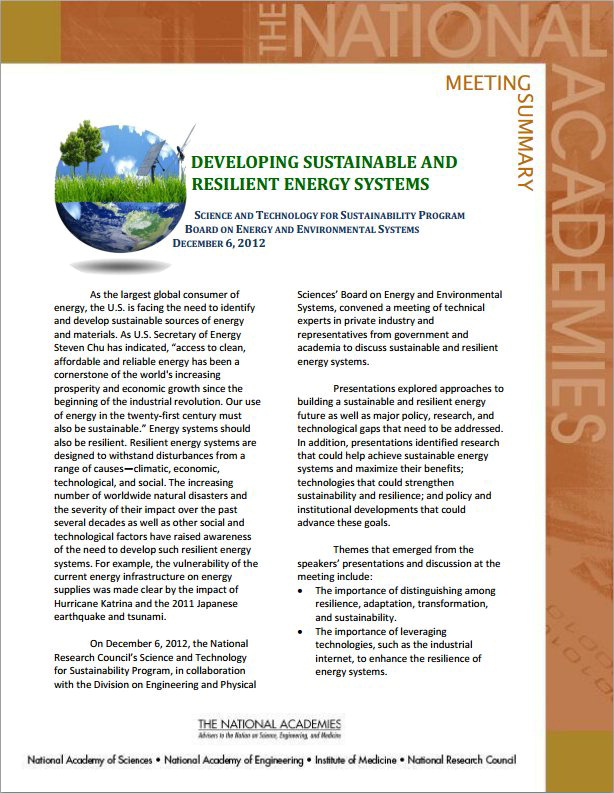 Developing Sustainable and Resilient Energy Systems
As the largest global consumer of energy, there is a critical need for the United States to identify and develop sustainable sources of energy and materials. A critical aspect of building sustainable energy systems is to also to ensure that they are resilient. Resilient energy systems are those that are designed to withstand perturbations, including those related to climatic, economic, technological, and social causes. As the number of worldwide natural disasters has increased dramatically in the past several decades, the need to develop such resilient energy systems has never been more evident. For example, the vulnerability of the energy infrastructure has been evidenced by the impact of natural disasters such as Hurricane Katrina and the 2011 Japanese earthquake and tsunami on the energy supplies for those communities. Developing resilient and sustainable energy systems will be a critical issue for the next decade. In December 2012 the Roundtable on Science and Technology for Sustainability convened a meeting of technical experts in private industry and representatives from government and academia to discuss sustainable and resilient energy systems. This meeting summary discusses some of themes that emerged from the speakers' presentations and discussion at the meeting.

Underground Engineering for Sustainable Urban Development
For thousands of years, the underground has provided humans refuge, useful resources, physical support for surface structures, and a place for spiritual or artistic expression. More recently, many urban services have been placed underground. Over this time, humans have rarely considered how underground space can contribute to or be engineered to maximize its contribution to the sustainability of society. As human activities begin to change the planet and population struggle to maintain satisfactory standards of living, placing new infrastructure and related facilities underground may be the most successful way to encourage or support the redirection of urban development into sustainable patterns. Well maintained, resilient, and adequately performing underground infrastructure, therefore, becomes an essential part of sustainability, but much remains to be learned about improving the sustainability of underground infrastructure itself. This report explains the findings of researchers and practitioners with expertise in geotechnical engineering, underground design and construction, trenchless technologies, risk assessment, visualization techniques for geotechnical applications, sustainable infrastructure development, life cycle assessment, infrastructure policy and planning, and fire prevention, safety and ventilation in the underground.

Transitions to Alternative Vehicles and Fuels

For a century, almost all light-duty vehicles (LDVs) have been powered by internal combustion engines (ICEs) operating on petroleum fuels. Energy security concerns over petroleum imports and the effect of greenhouse-gas (GHG) emissions on global climate are driving interest in alternatives. This report assesses the potential for reducing petroleum consumption and GHG emissions by 80% across the U.S. LDV fleet by 2050, relative to 2005. It examines the current capability and estimated future performance and costs for each vehicle type and non-petroleum-based fuel technology as options that could significantly contribute to these goals. By analyzing scenarios that combine various fuel and vehicle pathways, the report also identifies barriers to implementation of these technologies and suggests policies to achieve the desired reductions. Several scenarios are promising, but strong, effective, and sustained but adaptive policies such as research and development (R&D), subsidies, energy taxes, or regulations will be necessary to overcome barriers such as cost and consumer choice.
Energy and Workforce Trends in the U.S. Energy and Mining Industries: A Call to Action
Energy and mineral resources are essential for the nation's fundamental functions, its economy, and security. Nonfuel minerals are essential for the existence and operations of products that are used by people every day and are provided by various sectors of the mining industry. Energy in the United States is provided from a variety of resources including fossil fuels, and renewable and nuclear energy, all with established commercial industry bases. The United States is the largest electric power producer in the world. The overall value added to the U.S. gross domestic product (GDP) in 2011 by major industries that consumed processed nonfuel mineral materials was $2.2 trillion. Recognizing the importance of understanding the state of the energy and mining workforce in the United States to assure a trained and skilled workforce of sufficient size for the future, the Department of Energy's (DOE's) National Energy technology Laboratory (NETL) contracted with the National Research Council (NRC) to perform a study of the emerging workforce trends in the U.S. energy and mining industries. This report summarizes the findings of this study.
Options for Implementing the Requirement of Best Available and Safest Technologies for Offshore Oil and Gas Operations
An ad hoc committee will identify options the Department of Interior's Bureau of Safety and Environmental Enforcement (BSEE) could use for improving the implementation of the "best available and safest technologies" (BAST) requirement in the Outer Continental Shelf Lands Act. As the committee develops options, it will review those options and issues that BSEE itself already is considering; examples of which include the feasibility and appropriateness of establishing a formal industry committee to make BAST determinations about new and improved technologies; whether it will need to develop test protocols for every technology it evaluates in order to fairly compare competing technologies; how to determine economic feasibility in a manner that is independent of industry; whether it should rely on the development of consensus standards; and whether it should initiate a more vigorous process with various possible improvements to blowout preventers.
Sustainability Linkages in the Federal Government
An ad hoc committee under the STS Program will identify the linkages among areas such as energy, water, health, agricultural production, and biodiversity that are critical to promoting and encouraging long term sustainability within the federal policy framework, recognizing that progress towards sustainability necessarily involves other levels of government, the private sector, and civil society. The premise is that achieving sustainability is a systems challenge that cannot be realized by separately optimizing pieces of the system. The study will build upon existing and emerging expertise throughout the scientific and technological communities. It will describe the nexus where domains intersect but in which existing institutions and disciplines often do not intersect. A consensus report is tentatively scheduled for publication in 2013.
Symposium on Science, Innovation, and Partnerships for Sustainability Solutions
An ad hoc committee under the STS Program held a three day public symposium, May 16-18, 2012, on fostering partnerships and linkages between disciplines, sectors, agencies and nations in sustainability science and innovation. The symposium featured invited presentations and discussions to showcase federal investments and institutional structures regarding sustainability, identify opportunities to help promote practices that would lead communities toward sustainability, and address communication issues needed to recognize science and innovation as central to the understanding and adoption of sustainable practices.
Video
of the sessions,
PowerPoint presentations
, and the symposium summary are available on the STS website. Dissemination activities are being planned for 2013.
Sustainability and the U.S. EPA
An ad hoc committeee under the STS program has authored a consensus report, released in August 2011, for the U.S. Environmental Protection Agency (EPA)'s Office of Research and Development (ORD) to help define their efforts to incorporate sustainability concepts into agency programs. This report builds on existing sustainability efforts that ORD has conducted by strengthening the analytic and scientific basis for sustainability as it applies to human health and environmental protection within the Agency's decision-making process. Dissemination activities are being planned for 2013.
April 2013
A Review of the USDA Agricultural and Food Research Initiative
April 1-2, 2013, Washington, DC
Distinctive Voices: NAS, 150 Years of Service
April 4, 2013, Irvine, CA
Guidance for and Review of EPA's IRIS Toxicological Assessment of Inorganic Arsenic
April 4-5, 2013, Washington, DC
Distinctive Voices: Science and diplomacy
April 24, 2013, Irvine, CA

PNAS Sustainability Science, Special Features
PNAS offers a series of special feature issues that highlight emerging fields in the physical, social, and biological sciences and are edited by leaders in the field. Special Features include a cluster of Perspectives and peer-reviewed research articles. As a service to readers, Special Features are freely available online from the date of publication.
From the March 2013 issue:

To learn more about sustainability activities, both in the STS program and throughout the other boards and committees of the National Academies, please visit our webpage .
Preparation of this update was supported by the National Academies' George and Cynthia Mitchell Endowment for Sustainability Science
Questions?
Send questions or comments to Sustainability@nas.edu

Copyright © 2013. National Academies.
500 Fifth Street Northwest, Washington, D.C. 20001.
Privacy Statement