November 2012
Table of Contents
We are pleased to present you with Sustainability at the National Academies, a monthly update highlighting activities related to sustainable development from throughout the National Academies. Please visit our website for additional information on these and other activities at http://sites.nationalacademies.org/PGA/sustainability.
The Roundtable on Science and Technology for Sustainability provides a unique forum for sharing views, information, and analyses related to sustainability. The goal for the Roundtable is to mobilize, encourage, and use scientific knowledge and technology to help achieve sustainability goals and to support the implementation of sustainability practices. Through its activities, the Roundtable identifies new ways in which science and technology can contribute to sustainability. What follows is a brief summary of sustainability-related activities being conducted throughout the National Academies.
You are receiving this update based on your participation in ongoing or past activities of the Roundtable. If you would prefer not to receive future monthly updates or would like to be added to the recipient list, please contact Dylan Richmond at 202-334-2489 or Sustainability@nas.edu or visit our website.

Network for Emerging Leaders in Sustainability (NELS)
NELS invites you to attend an upcoming even on Tuesday, December 4th, from 4:30-6:00 pm at the Koshland Science Museum (525 E St NW, Washington, DC). Dr. Adam C. Powell, IV, Chief Technology Officer and Co-founder, Metal Oxygen Separation Technologies, Inc., will deliver remarks on computer modeling for materials science and sustainability. To attend this event, please register by December 3rd.

New Video from National Academies regarding African Science Academy Development Initiative
Ralph Cicerone and Harvey Fineberg, presidents of the U.S. National Academy of Sciences (NAS) and Institute of Medicine (IOM), discuss the success of the African Science Academy Development Initiative, and comment on climate change in Africa, the focus of the initiative's annual conference this year.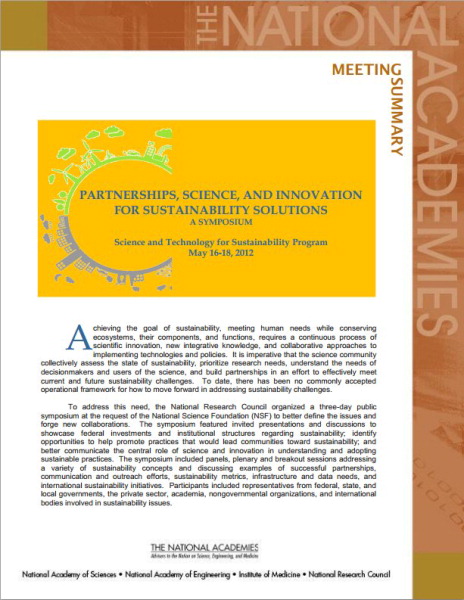 Partnerships, Science, and Innovation for Sustainability Solutions: A Symposium
As many in the private and public sector have begun to incorporate sustainability principles into their activities, it is imperative that the science community collectively assess the state of sustainability, prioritize research needs and data gaps, and build effective partnerships in an effort to effectively meet current and future sustainability challenges. To address this need, the National Research Council organized a three day public symposium at the request of the National Science Foundation (NSF) to better define the issues and forge new collaborations. The symposium featured invited presentations and discussions to share the NSF's and other Federal agencies' investments and institutional structures regarding sustainability, including the most significant outcomes of investments in research. Participants also sought to identify opportunities and key priorities to link knowledge with decision making and to help promote practices that would lead communities toward sustainabilityoster partnerships and linkages between disciplines, sectors, agencies and nations in sustainability science, innovation and application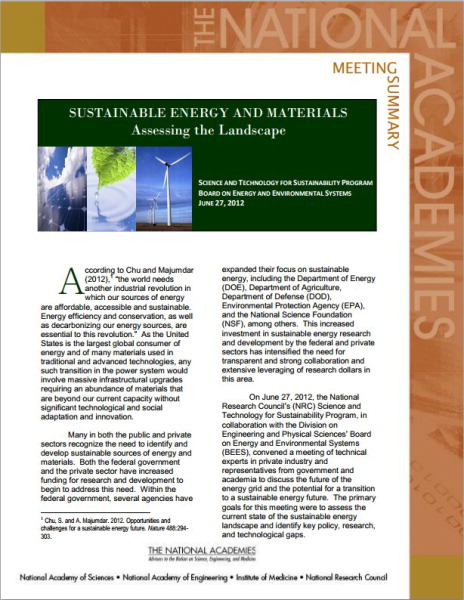 Sustainable Energy and Materials: Assessing the Landscape
As the largest global consumer of energy and of many materials used in traditional and advanced technologies, there is an increased recognition among US federal agencies and the corporate sector of the need to identify and develop sustainable sources of energy and materials. This is evidenced by the increase in funding for research and development in this area in both sectors. The June meeting of the Roundtable on Science and Technology for Sustainability included a session that provided an overview of the landscape of efforts underway on sustainable energy and materials, such as identifying any key policy, research, and technological gaps. Presentations during the session addressed the future of nuclear and wind energy; the evolution of energy systems; and material constraints of energy technologies.
Exploring Health and Environmental Costs of Food: Workshop Summary
The U.S. food system provides many benefits, not the least of which is a safe, nutritious, and consistent food supply. However, the same system also creates significant environmental, public health, and other costs that generally are not recognized and not accounted for in the retail price of food. A better understanding of external costs would help decision makers at all stages of the life cycle to expand the benefits of the U.S. food system even further. A workshop held in April 2012 focused on the environmental and health impacts of food, using externalities as a basis for discussion and animal products as a case study. The intention was not to quantify costs or benefits, but rather to lay the groundwork for doing so. A major goal of the workshop was to identify information sources and methodologies required to recognize and estimate the costs and benefits of environmental and public health consequences associated with the U.S. food system.
Alternatives for Managing the Nation's Complex Contaminated Groundwater Sites
Across the United States, thousands of hazardous waste sites are contaminated with chemicals that prevent the underlying groundwater from meeting drinking water standards. These include Superfund sites and other facilities that handle and dispose of hazardous waste, active and inactive dry cleaners, and leaking underground storage tanks; many are at federal facilities such as military installations. While many sites have been closed over the past 30 years through cleanup programs run by the U.S. Department of Defense, the U.S. EPA, and other state and federal agencies, the remaining caseload is much more difficult to address because the nature of the contamination and subsurface conditions make it difficult to achieve drinking water standards in the affected groundwater. This report estimates that at least 126,000 sites across the U.S. still have contaminated groundwater, and their closure is expected to cost at least $110 billion to $127 billion. About 10 percent of these sites are considered "complex," meaning restoration is unlikely to be achieved in the next 50 to 100 years due to technological limitations.
Seasonal-to-Decadal Predictions of Arctic Sea Ice: Challenges and Strategies
Recent well documented reductions in the thickness and extent of Arctic sea ice cover, which can be linked to the warming climate, are affecting the global climate system and are also affecting the global economic system as marine access to the Arctic region and natural resource development increase. Understanding and projecting future sea ice conditions is important to a growing number of stakeholders, including local populations, natural resource industries, fishing communities, commercial shippers, marine tourism operators, national security organizations, regulatory agencies, and the scientific research community. However, gaps in understanding the interactions between Arctic sea ice, oceans, and the atmosphere, along with an increasing rate of change in the nature and quantity of sea ice, is hampering accurate predictions. Establishing sustained communication between the user, modeling, and observation communities could help reveal gaps in understanding, help balance the needs and expectations of different stakeholders, and ensure that resources are allocated to address the most pressing sea ice data needs.
Regional Approaches to Urban Sustainability: A Focus on the Portland Region
An ad hoc committee under the Science and Technology for Sustainability Program will organize a public workshop to examine issues relating to sustainability and human-environment interactions in the Portland metropolitan region. Likely topics that will be addressed include: the role of land use restrictions on development; transportation innovations and economic and social challenges. The committee will develop an agenda in consultation with regional stakeholders (academia, city/county governments), so that the presentations and panels reflect place-based knowledge and approaches to sustainability. The workshop will feature invited presentations and group discussion, and will likely be patterned after similar workshops that were held in Atlanta and Houston.
Sustainability Linkages in the Federal Government
An ad hoc committee under the STS Program will identify the linkages among areas such as energy, water, health, agricultural production, and biodiversity that are critical to promoting and encouraging long term sustainability within the federal policy framework, recognizing that progress towards sustainability necessarily involves other levels of government, the private sector, and civil society. The premise is that achieving sustainability is a systems challenge that cannot be realized by separately optimizing pieces of the system. The study will build upon existing and emerging expertise throughout the scientific and technological communities. It will describe the nexus where domains intersect but in which existing institutions and disciplines often do not intersect.

Pathways to Urban Sustainability: A Focus on the Houston Metropolitan Region
The National Academies organized a public workshop to examine issues relating to sustainability and human-environment interactions in the Houston metropolitan region held in January 2012. Topics addressed included energy and air quality management, hazard mitigation, and land use considerations. The committee developed an agenda in consultation with regional stakeholders (academia, city/county governments), so that the presentations and panels reflect place-based knowledge and approaches to sustainability. The workshop featured invited presentations and group discussion, and was patterned after similar workshops held in 2009 on research and development on urban systems and in 2010 on urban sustainability in the Atlanta metropolitan region. A workshop summary will be forthcoming.


Sustainability and the U.S. EPA
An ad hoc committeee under the STS program has authored a consensus report, released in August 2011, for the U.S. Environmental Protection Agency (EPA)'s Office of Research and Development (ORD) to help define their efforts to incorporate sustainability concepts into agency programs. This report builds on existing sustainability efforts that ORD has conducted by strengthening the analytic and scientific basis for sustainability as it applies to human health and environmental protection within the Agency's decision-making process. Dissemination activities are being planned for early 2013.
PNAS Sustainability Science, Special Features
PNAS offers a series of special feature issues that highlight emerging fields in the physical, social, and biological sciences and are edited by leaders in the field. Special Features include a cluster of Perspectives and peer-reviewed research articles. As a service to readers, Special Features are freely available online from the date of publication.
From the November 2012 issue:

To learn more about sustainability activities, both in the STS program and throughout the other boards and committees of the National Academies, please visit our webpage at: http://sites.nationalacademies.org/PGA/sustainability/PGA_052387
Preparation of this update was supported by the National Academies' George and Cynthia Mitchell Endowment for Sustainability Science
Questions?
Send questions or comments to Sustainability@nas.edu

Copyright © 2013. National Academies.
500 Fifth Street Northwest, Washington, D.C. 20001.
Privacy Statement