October 2012
Table of Contents
We are pleased to present you with Sustainability at the National Academies, a monthly update highlighting activities related to sustainable development from throughout the National Academies. Please visit our website for additional information on these and other activities at http://sites.nationalacademies.org/PGA/sustainability.
The Roundtable on Science and Technology for Sustainability provides a unique forum for sharing views, information, and analyses related to sustainability. The goal for the Roundtable is to mobilize, encourage, and use scientific knowledge and technology to help achieve sustainability goals and to support the implementation of sustainability practices. Through its activities, the Roundtable identifies new ways in which science and technology can contribute to sustainability. What follows is a brief summary of sustainability-related activities being conducted throughout the National Academies.
You are receiving this update based on your participation in ongoing or past activities of the Roundtable. If you would prefer not to receive future monthly updates or would like to be added to the recipient list, please contact Dylan Richmond at 202-334-2489 or Sustainability@nas.edu or visit our website.

Sustainability Considerations for Procurement Tools and Capabilities
On September 27, 2012, Acting Administrator of the General Services Administration Daniel M. Tangherlini spoke at an event hosted by the Science and Technology for Sustainability Program (STS) to release a new report summarizing a workshop held in December 2011. A dissemination event was held on September 28th to discuss some of the themes that emerged from the workshop. Video of both events and presentations from the dissemination event have been posted on the STS website.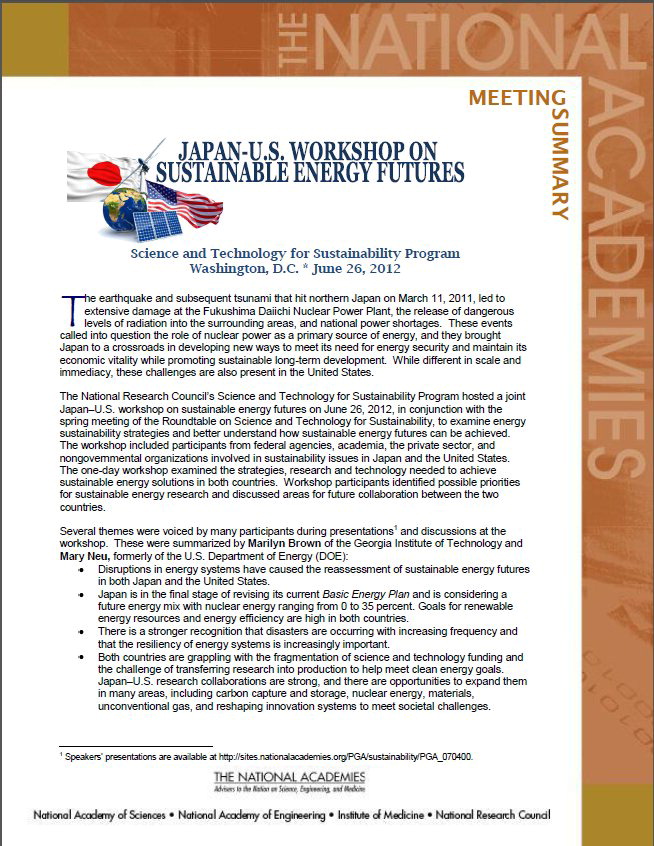 Japan U.S. Workshop on Sustainable Energy Futures
The STS Program hosted a joint Japan–U.S. workshop on sustainable energy futures on June 26, 2012, in conjunction with the spring meeting of the Roundtable on Science and Technology for Sustainability, to examine energy sustainability strategies and better understand how sustainable energy futures can be achieved. The workshop included participants from federal agencies, academia, the private sector, and nongovernmental organizations involved in sustainability issues in Japan and the United States. The one-day workshop examined the strategies, research and technology needed to achieve sustainable energy solutions in both countries. Workshop participants identified possible priorities for sustainable energy research and discussed areas for future collaboration between the two countries.
Sustainable Development of Algal Biofuels
Biofuels made from algae are gaining attention as a domestic source of renewable fuel. However, with current technologies, scaling up production of algal biofuels to meet even 5 percent of U.S. transportation fuel needs could create unsustainable demands for energy, water, and nutrient resources. Continued research and development could yield innovations to address these challenges, but determining if algal biofuel is a viable fuel alternative will involve comparing the environmental, economic and social impacts of algal biofuel production and use to those associated with petroleum-based fuels and other fuel sources.
Advancing Strategic Science: A Spatial Data Infrastructure Roadmap for the U.S. Geological Survey

Science is increasingly driven by data, and spatial data underpin the science directions laid out in the 2007 U.S. Geological Survey (USGS) Science Strategy. A robust framework of spatial data, metadata, tools, and a user community that is interactively connected to use spatial data in an efficient and flexible way—known as a spatial data infrastructure (SDI)—must be available for scientists and managers to find, use, and share spatial data both within and beyond the USGS. Over the last decade, the USGS has conducted breakthrough research that has overcome some of the challenges associated with implementing a large SDI. This report is intended to ground those efforts by providing a practical roadmap to full implementation of an SDI to enable the USGS to conduct strategic science.
National Summit on Strategies to Manage Herbicide-Resistant Weeds: Proceedings of a Symposium
Preserving the efficacy of herbicides and of herbicide-resistance technology depends on awareness of the increasing resistance of weeds to herbicides used in agriculture and coordinated action to address the problem by individuals at the farm level and beyond. In convening stakeholders for this event, participants took a step toward a recommendation from the 2010 National Research Council report. The Impact of Genetically Engineered Crops on Farm Sustainability in the United States that federal and state government agencies, private-sector technology developers, universities, farmer organizations, and other relevant stakeholders collaborate to document emerging weed-resistance problems and to develop cost-effective resistance-management programs and practices that preserve effective weed control. This report contains a brief synopsis of key points made by each speaker at the summit.
Environment 2012
Transportation Research Record: Journal of the Transportation Research Board, No. 2270 consists of 22 papers that explore laboratory tests of tire-pavement noise for hot mix asphalt, temperature effects on onboard sound intensity measurement of tire-pavement noise, annoyance of traffic noise on roads and rail, alternative uses of highway rights-of-way, wildlife crossing structures location and design, exposure of bicyclists to air pollution, and quantitative decision-making framework for evaluating environmental commitment tracking systems.
Responding to Oil Spills in Arctic Marine Environments

The National Research Council will assess the current state of the science regarding oil spill response and environmental assessment in the Arctic region (with a specific focus on the regions north of the Bering Strait), with emphasis on potential impacts in U.S. waters. As part of its report, the NRC-appointed committee will assess existing decision tools and approaches that utilize a variety of spill response technologies under the types of conditions and spill scenarios encountered at high latitudes. The committee will review new and ongoing research activities (in both the public and private sectors), identify opportunities and constraints for advancing oil spill research, describe promising new concepts and technologies for improving the response, including containment (surface and subsurface) approaches to reduce spill volume and/or spatial extent, and recommend strategies to advance research and address information gaps. The committee will also assess the types of baselines needed in the near-term for monitoring the impacts of an oil spill and for developing plans for recovery and restoration following an oil spill in U.S or international waters where a spill could potentially impact US natural resources.
Sustainability Linkages in the Federal Government
An ad hoc committee under the STS Program will identify the linkages among areas such as energy, water, health, agricultural production, and biodiversity that are critical to promoting and encouraging long term sustainability within the federal policy framework, recognizing that progress towards sustainability necessarily involves other levels of government, the private sector, and civil society. The premise is that achieving sustainability is a systems challenge that cannot be realized by separately optimizing pieces of the system. The study will build upon existing and emerging expertise throughout the scientific and technological communities. It will describe the nexus where domains intersect but in which existing institutions and disciplines often do not intersect.

Pathways to Urban Sustainability: A Focus on the Houston Metropolitan Region
The National Academies organized a public workshop to examine issues relating to sustainability and human-environment interactions in the Houston metropolitan region held in January 2012. Topics addressed included energy and air quality management, hazard mitigation, and land use considerations. The committee developed an agenda in consultation with regional stakeholders (academia, city/county governments), so that the presentations and panels reflect place-based knowledge and approaches to sustainability. The workshop featured invited presentations and group discussion, and was patterned after similar workshops held in 2009 on research and development on urban systems and in 2010 on urban sustainability in the Atlanta metropolitan region. A workshop summary will be forthcoming.

A Sustainability Challenge: Food Security for All
An ad hoc committee under the STS program organized two public workshops in 2011 addressing the sustainability challenges associated with food security for all. Measuring Food Insecurity and Assessing the Sustainability of Global Food Systems , held on February 16-17, 2011, reviewed commonly used indicators for food security and malnutrition; poverty; and natural resources and agricultural productivity. Exploring Sustainable Solutions for Increasing Global Food Supplies , held on May 2-4, 2011, examined a set of issues fundamental to assuring that food supplies can be increased to meet the needs of the world's growing population--now expected to grow to 9 billion by the year 2050. A summary of both workshops was published in February 2012.
Sustainability and the U.S. EPA
An ad hoc committeee under the STS program has authored a consensus report for the U.S. Environmental Protection Agency (EPA)'s Office of Research and Development (ORD) to help define their efforts to incorporate sustainability concepts into agency programs. This report builds on existing sustainability efforts that ORD has conducted by strengthening the analytic and scientific basis for sustainability as it applies to human health and environmental protection within the Agency's decision-making process.
November
Understanding and Monitoring Abrupt Climate Change and its Impacts
November 5-6, 2012, Washington, DC
A Research Strategy for Environmental, Health, and Safety Aspects of Engineered Nanomaterials
November 7-9, 2012, Washington, DC
2012 UTC Spotlight Conference on Sustainable Energy and Transportation: Strategies, Research, Data
November 8-9, 2012, Washington, DC
Understanding the Connections between Coastal Waters and Ocean Ecosystem Serice and Human Health: Basic Services, Valuation, and Resiliency
November 13-14, 2012, Washington, DC
Global Environmental Health and Sustainable Development Innovation Collaborate Webinar #2
November 15, 2012
Lessons Learned from the Fukushima Nuclear Accident for Improving Safety and Security of U.S. Nuclear Plants
November 26-28, 2012, Tokyo, Japan
Independent Scientific Review of Everglades Restoration Progress
November 27-28, 2012, Fort Lauderdale, FL

PNAS Sustainability Science, Special Features
PNAS offers a series of special feature issues that highlight emerging fields in the physical, social, and biological sciences and are edited by leaders in the field. Special Features include a cluster of Perspectives and peer-reviewed research articles. As a service to readers, Special Features are freely available online from the date of publication.
From the October 2012 issue:

To learn more about sustainability activities, both in the STS program and throughout the other boards and committees of the National Academies, please visit our webpage at:http://sites.nationalacademies.org/PGA/sustainability/PGA_052387
Preparation of this update was supported by the National Academies' George and Cynthia Mitchell Endowment for Sustainability Science
Questions?
Send questions or comments to Sustainability@nas.edu

Copyright © 2013. National Academies.
500 Fifth Street Northwest, Washington, D.C. 20001.
Privacy Statement