Reducing Food Loss and Waste Workshop
October 17, 2018, Washington, DC
Registration opens soon

View a list of Sustainability-related meetings at the National Academies of Sciences, Engineering, and Medicine
Roundtable on Science and Technology for Sustainability
January 30-21, 2018, Washington, DC

Symposium at the National Council for Science and the Environment Conference
January 23, 2018 Arlington, VA

The Network for Emerging Leaders in Sustainability (NELS)
October 26, 2017 Washington, DC





May 2013
Table of Contents
We are pleased to present you with Sustainability at the National Academies, a monthly update highlighting activities related to sustainable development from throughout the National Academies. Please visit our website for additional information on these and other activities at http://sites.nationalacademies.org/PGA/sustainability.
The Roundtable on Science and Technology for Sustainability provides a unique forum for sharing views, information, and analyses related to sustainability. The goal for the Roundtable is to mobilize, encourage, and use scientific knowledge and technology to help achieve sustainability goals and to support the implementation of sustainability practices. Through its activities, the Roundtable identifies new ways in which science and technology can contribute to sustainability. What follows is a brief summary of sustainability-related activities being conducted throughout the National Academies.
You are receiving this update based on your participation in ongoing or past activities of the Roundtable. If you would prefer not to receive future monthly updates or would like to be added to the recipient list, please contact Dylan Richmond at 202-334-2489 or Sustainability@nas.edu or visit our website.

Forthcoming Report: Sustainability for the Nation: Resource Connections and Governance Linkages
The National Research Council's (NRC) Science and Technology for Sustainability (STS) Program will be releasing a report in June that provides a decision framework which can be used by policymakers to examine the consequences, tradeoffs, synergies, and operational benefits of sustainability-oriented programs. A public launch event will be held July 24, 2013, on the campus of the University of California, Davis. That event will be webcast.

Pathways to Urban Sustainability: A Focus on Portland
The STS Program recently organized a public workshop to examine issues relating to urban sustainability in the Portland metropolitan region. The two-day workshop was held May 28-29, 2013, at the Ecotrust Natural Capital Center in Portland's Pearl District. Presentations from the meeting will be posted on the STS website.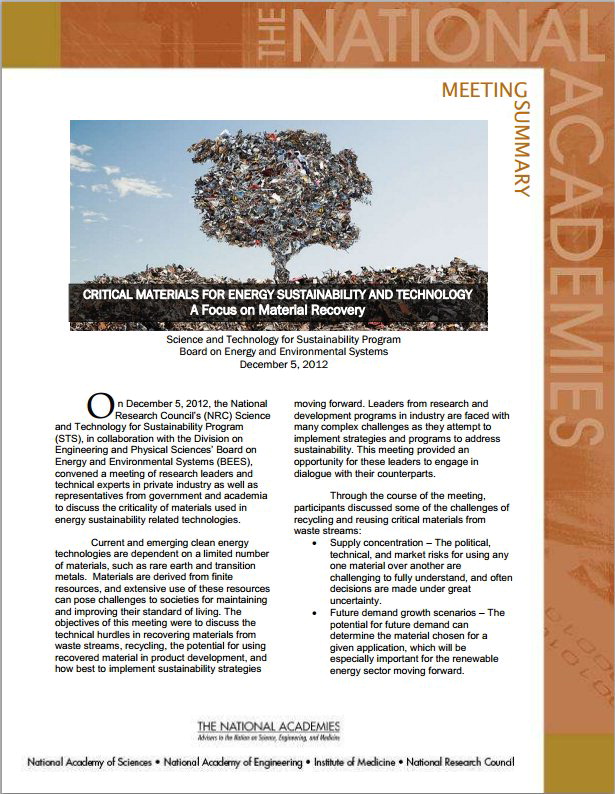 Critical Materials for Energy Sustainability and Technology: A Focus on Material Recovery
The STS Program, in collaboration with the Division on Engineering and Physical Sciences' Board on Energy and Environmental Systems (BEES), convened a meeting with the participation of a small group of research leaders and technical experts in private industry as well as representatives from government and academia to discuss the criticality of materials used in energy sustainability related technologies. Current and emerging clean energy technologies are dependent on a limited number of materials, such as rare earth and transition metals (e.g. platinum group metals and actinides). Materials are derived from finite resources, and extensive use of these resources can pose challenges to societies for maintaining and improving their standard of living. Certain materials can be considered "critical" when their supply is at risk because of constraints on extraction due to environmental, social, or economic implications. The supply and availability of energy critical materials requires not only overcoming technical challenges as industry and federal research strive to understand physical and chemical behavior of materials and find alternatives, but also policy challenges due to complicated geopolitical relationships. This short meeting summary synthesizes the discussions held.
Assessing Risks to Endangered and Threatened Species from Pesticides
The US Fish and Wildlife Service (FWS) and the National Marine Fisheries Service (NMFS) are responsible for protecting species that are listed as endangered or threatened under the Endangered Species Act (ESA) and for protecting habitats that are critical for their survival. The US Environmental Protection Agency (EPA) is responsible for registering or reregistering pesticides under the Federal Insecticide, Fungicide, and Rodenticide Act (FIFRA) and must ensure that pesticide use does not cause any unreasonable adverse effects on the environment, which is interpreted to include listed species and their critical habitats. The agencies have developed their own approaches to evaluating environmental risk, and their approaches differ because their legal mandates, responsibilities, institutional cultures, and expertise differ. Over the years, the agencies have tried to resolve their differences but have been unsuccessful in reaching a consensus regarding their assessment approaches. As a result, FWS, NMFS, EPA, and the US Department of Agriculture asked the NRC to examine scientific and technical issues related to determining risks posed to listed species by pesticides. Specifically, the NRC was asked to evaluate methods for identifying the best scientific data available; to evaluate approaches for developing modeling assumptions; to identify authoritative geospatial information that might be used in risk assessments; to review approaches for characterizing sublethal, indirect, and cumulative effects; to assess the scientific information available for estimating effects of mixtures and inert ingredients; and to consider the use of uncertainty factors to account for gaps in data. This report, which was prepared by the NRC Committee on Ecological Risk Assessment under FIFRA and ESA, is the response to that request.
Overcoming Barriers to Electric-Vehicle Deployment: Interim Report
The electric vehicle offers many promises-increasing U.S. energy security by reducing petroleum dependence, contributing to climate-change initiatives by decreasing greenhouse gas (GHG) emissions, stimulating long-term economic growth through the development of new technologies and industries, and improving public health by improving local air quality. There are, however, substantial technical, social, and economic barriers to widespread adoption of electric vehicles, including vehicle cost, small driving range, long charging times, and the need for a charging infrastructure. Although a person might derive some personal benefits from ownership, the costs of achieving the social benefits, such as reduced GHG emissions, are borne largely by the people who purchase the vehicles. Given the recognized barriers to electric-vehicle adoption, Congress asked the Department of Energy (DOE) to commission a study by the National Academies to address market barriers that are slowing the purchase of electric vehicles and hindering the deployment of supporting infrastructure. As a result of the request, the NRC appointed the Committee on Overcoming Barriers to Electric-Vehicle Deployment. This committee documented their findings in two reports-a short interim report focused on near-term options, and a final comprehensive report. This interim report fulfills the request for the short interim report that addresses specifically the following issues: infrastructure needs for electric vehicles, barriers to deploying the infrastructure, and possible roles of the federal government in overcoming the barriers. This interim report does not address the committee's full statement of task and does not offer any recommendations because the committee is still in its early stages of data-gathering. The committee will continue to gather and review information and conduct analyses through late spring 2014 and will issue its final report in late summer 2014.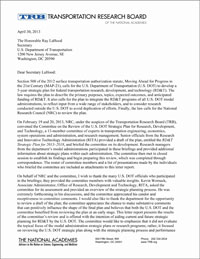 Letter Report on Review of the U.S. DOT Strategic Plan for Research, Development, and Technology 2013-2018
On April 30, 2013, TRB's Committee for Review of the U.S. Department of Transportation (DOT) Strategic Plan for Research, Development, and Technology (RD&T) sent its letter report to Ray LaHood, Secretary of the U.S. DOT. Section 508 of the 2012 surface transportation authorization statute, as amended by Moving Ahead for Progress in the 21st Century (MAP 21), requires the U.S. DOT to develop a 5-year strategic plan for federal transportation RD&T that describes the primary purposes, topics, expected outcomes, and anticipated funding of RD&T. The committee's letter report presents the results of its review of the draft RD&T plan. The report includes both short- and long-term recommendations; the former apply to the current plan and the latter to future strategic plans.
A Framework for Assessing Health, Environmental, and Social Effects of the Food System
An ad hoc expert committee will develop a framework for assessing the environmental, social and health effects (positive and negative) associated with the ways in which food is grown, processed, distributed, and marketed within the U.S. food system. The framework is envisioned as a systematic approach, using a variety of methods, to compare alternative configurations and their respective effects. Alternative configurations may be activities, practices, or other aspects of concern within or across the food system. Although the committee will carry out its task from the perspective of the U.S. food system, it will consider implications derived from the global food system when warranted and feasible. The committee will describe examples to illustrate the potential utility of the framework and identify additional needs for its further improvement.

Assessment of Technologies for Reducing the Fuel Consumption of Medium- and Heavy-Duty Vehicles, Phase 2
The ad hoc committee formed to carry out this study will continue the work of the National Research Council for the U.S. Department of Transportation's National Highway Traffic Safety Administration (NHTSA) in an updated assessment of technologies and programs for reducing the fuel consumption of medium- and heavy-duty vehicles. The committee will reassess the technologies analyzed in the NRC report, Technologies and Approaches to Reducing the Fuel Consumption of Medium- and Heavy-Duty Vehicles (2010), providing updated estimates of the cost, potential efficiency improvements, and barriers to commercial deployment of technologies that might be employed in model years 2022 and beyond. The assessment will reflect developments since the initial report was issued and investigate any new technologies that may become important in model years beyond 2022/2023. The committee will also examine and make recommendations for improvements to the medium- and heavy-duty fuel efficiency program.

A Decadal Survey of Ocean Sciences: Guidance for NSF on National Ocean Research Priorities
The committee for the Decadal Survey of Ocean Sciences 2015 (DSOS) will develop a list of the top ocean science priorities for the next decade in the context of the current state of knowledge, ongoing research activities, and resource availability. The DSOS committee's report will present a compelling research strategy for increased understanding of the oceans over the decade 2015-2025. The final report will recommend a strategy to optimize investments that will advance knowledge in the most critical and/or opportune areas of investigation while also continuing to support core disciplinary science and infrastructure.
Sustainability for the Nation: Resource Connections and Governance Linkages
An ad hoc committee under the STS Program will identify the linkages among areas such as energy, water, health, agricultural production, and biodiversity that are critical to promoting and encouraging long term sustainability within the federal policy framework, recognizing that progress towards sustainability necessarily involves other levels of government, the private sector, and civil society. The premise is that achieving sustainability is a systems challenge that cannot be realized by separately optimizing pieces of the system. The study will build upon existing and emerging expertise throughout the scientific and technological communities. It will describe the nexus where domains intersect but in which existing institutions and disciplines often do not intersect. The consensus report will be released in June 2013.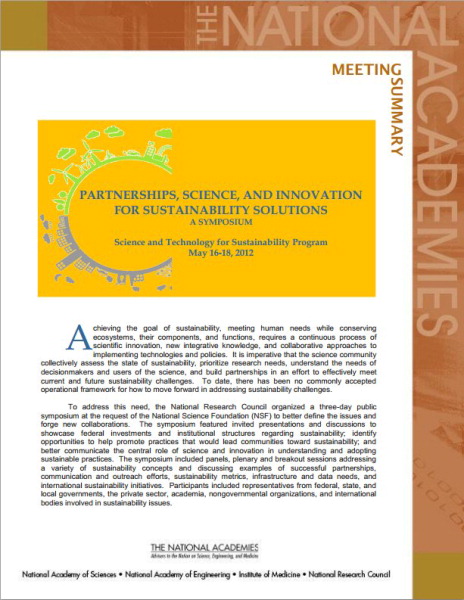 Symposium on Science, Innovation, and Partnerships for Sustainability Solutions
An ad hoc committee under the STS Program held a three day public symposium, May 16-18, 2012, on fostering partnerships and linkages between disciplines, sectors, agencies and nations in sustainability science and innovation. The symposium featured invited presentations and discussions to showcase federal investments and institutional structures regarding sustainability, identify opportunities to help promote practices that would lead communities toward sustainability, and address communication issues needed to recognize science and innovation as central to the understanding and adoption of sustainable practices.
Video
of the sessions,
PowerPoint presentations
, and the symposium summary are available on the STS website. Dissemination activities are being planned for 2013.


Sustainability and the U.S. EPA
An ad hoc committeee under the STS program has authored a consensus report, released in August 2011, for the U.S. Environmental Protection Agency (EPA)'s Office of Research and Development (ORD) to help define their efforts to incorporate sustainability concepts into agency programs. This report builds on existing sustainability efforts that ORD has conducted by strengthening the analytic and scientific basis for sustainability as it applies to human health and environmental protection within the Agency's decision-making process. Dissemination activities are being planned for 2013.
June 2013

Strategic Research for Integrated Water Resources Management
June 3-4, 2013, Washington, DC
A Review of the USDA Agricultural and Food Research Initiative
June 3-4, 2013, WashingtonDC
a href="http://click.newsletters.nas.edu/?qs=4ba596564079890ca3d0a62b706fd070272c08c6307cf143ab123e6a4b6851b0" title="NAE Shale Gas Promises and Challenges" >NAE Shale Gas Promises and Challenges
June 18-19, 2013, Cleveland, OH
The Global Nitrogen Cycle
June 19, 2013, Woods Hole, MA
2013 International Conference on Ecology and Transportation
June 23-27, 2013, Scottsdale, AZ
Health in the Context of Global Climate Change
June 27, 2013, Webinar, 2:30 PM Eastern
PNAS Sustainability Science, Special Features
PNAS offers a series of special feature issues that highlight emerging fields in the physical, social, and biological sciences and are edited by leaders in the field. Special Features include a cluster of Perspectives and peer-reviewed research articles. As a service to readers, Special Features are freely available online from the date of publication.
From the May 2013 issue:

To learn more about sustainability activities, both in the STS program and throughout the other boards and committees of the National Academies, please visit our webpage.
Preparation of this update was supported by the National Academies' George and Cynthia Mitchell Endowment for Sustainability Science
Unsubscribe
To stop receiving these emails, use this link to unsubscribe or reply to this message with "unsubscribe" in the subject line.

Questions?
Send questions or comments to Sustainability@nas.edu

Copyright © 2013. National Academies.
500 Fifth Street NW, Washington, D.C. 20001.
Privacy Statement