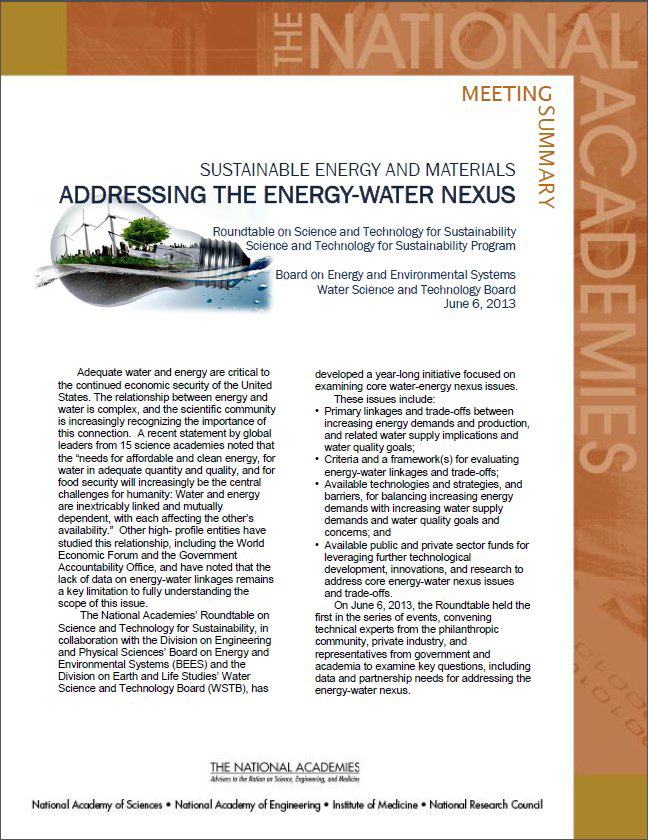 The most recent meeting of the Roundtable on Science and Technology for Sustainability was held on June 6-7, 2012. As the first event of a year-long initiative, the June 6th meeting was convened in collaboration with the Division on Engineering and Physical Sciences' Board on Energy and Environmental Systems (BEES) and Division on Earth and Life Studies' Water Science and Technology Board (WSTB). The event featured panel discussions focused on addressing issues related to the energy-water nexus, a key sustainability issue, as adequate water and energy are critical to the continued economic security of the United States. The relationship between energy and water is complex; the scientific community is increasingly recognizing the importance of this connection. The event examined key questions, including data and partnerships needs for addressing the energy-water nexus.

The June 7th event addressed issues related to sustainability and the transformation of infrastructure. As urban areas continue to grow due to the influx and growth of populations, there is increased stress on the infrastructure that supports our standards of living. With time, this infrastructure has decayed and there exists a need to address the sustainability of the systems we have become reliant on – i.e., water, energy, transportation, food supply. The panel examined the transformation needs of infrastructure, how climate will affect planning needs, and how to manage for and address the sustainability of extreme events.
Roundtable members were provided with updates on current and planned STS Program activities including Sustainability Linkages in the Federal Government (Report Forthcoming), Pathways to Urban Sustainability: Challenges and Opportunities (Project in development), and Energy-Water Considerations for the Sustainable Reuse and Recycling of Waste Streams and Materials (Project in development). Updates on recent STS publications including Developing Sustainable and Resilient Energy Systems (March 2013), Critical Materials for Energy Sustainability and Technology: A Focus on Material Recovery (May 2013), and Pathways to Urban Sustainability: A Focus on the Houston Metropolitan Region: Summary of a Workshop (December 2012), were also provided. Paul Chang, IBM Corporation, spoke to the group at a working dinner on June 6. Roundtable members also discussed strategic planning for future Roundtable activities.
Roundtable on Science and Technology for Sustainability
June 6-7, 2013
Keck Center of the National Academies
500 Fifth Street NW, Room 100
Washington, DC 20001
June 6 (Keck 100)
9:00 am Welcome, Introductions and Meeting Goals
Thomas Graedel, STS Roundtable Co-chair
9:30 am Keynote Remarks
Peter Gleick, Pacific Institute
Addressing the Energy-Water Nexus (Paulo Ferrão, Technical University of Lisbon)
10:00 am Introduction to Panel
Paulo Ferrão, Technical University of Lisbon
10:10 am Panel I: Overview of the Energy-Water Nexus: Characterizing the Issue
· Honorable Katherine Hammack, U.S. Department of the Army
· David LoPiccolo, Siemens
· David Wegner, U.S. House of Representatives
11:10 am Q&A and Discussion
11:25 am BREAK
11:40 am Panel II: Data and Research Gaps
· Corinne Scown, Lawrence Berkeley National Laboratory
· Matthew J. Eckelman, Northeastern University
12:20 pm Q&A and Discussion
12:30 pm LUNCH
1:30 pm Panel III: Current Approaches and Strategies for Addressing Data and Research Gaps
· Ahmed Ghoniem, Massachusetts Institute of Technology
· Nancy Stoner, U.S. Environmental Protection Agency
· Holmes Hummel, U.S. Department of Energy
2:30 pm Q&A and Discussion
2:45 pm Discussion: Building a Comprehensive Strategy for Addressing the Energy-Water Nexus
Moderator: Marilu Hastings, Cynthia and George Mitchell Foundation
· Michael Webber, University of Texas
· Steve Clemmer, Union of Concerned Scientists
· Paul Faeth, CNA
3:45 pm BREAK
Current Activities (Thomas Graedel, STS Roundtable Co-Chair)
4:00 pm Sustainability Linkages in the Federal Government
Thomas Graedel, Yale University, STS Roundtable Co-Chair
4:15 pm Pathways to Urban Sustainability: Challenges and Opportunities (Project in development)
Jack Kaye, National Aeronautics and Space Administration
4:25 pm Energy-Water Considerations for the Sustainable Reuse and Recycling of Waste Streams and Materials (Project in development)
Carl Shapiro, U.S. Geological Survey
4:35 pm STS Program and Publication Updates
Marina Moses, National Research Council
4:50 pm Wrap up and Plans for next day (Thomas Graedel, STS Roundtable Co-Chair)
5:00 pm Adjourn
June 7 (Keck 100)
9:00 am Welcome and Feedback from Previous Day
Thomas Graedel / Ann Bartuska, STS Roundtable Co-chair
Sustainability and the Transformation of Infrastructure
9:15 am Introduction to Panel
Steve Bergman, Shell International Exploration & Production
9:20 am Climate Change and Transformation of Infrastructure in Developing Countries
Mohamed H. A. Hassan, IAP- the Global Network of Science Academies
9:45 am Managing for Extreme Events and Sustainability
Maureen Sullivan, U.S. Department of Defense
10:10 am Infrastructure Implications of Natural Disasters
Erin Walsh, Federal Emergency Management Agency
10:35 am BREAK
10:50 am Energy Reliability, Extreme Events and Sustainability
Alison Silverstein, Independent Consultant
11:15 am Infrastructure Management and Needs for Sustainability
Chris Hendrickson, Carnegie Mellon University
11:40 am Q&A and Discussion
12:00 pm Strategic Planning for Future Roundtable Activities (Thomas Graedel / Ann Bartuska)
12:20 pm Wrap up (Thomas Graedel / Ann Bartuska)
12:30 pm Adjourn