Strengthening Sustainability Program at the Undergraduate and Graduate Levels: A Workshop
February 13, 2019, Washington, DC

View a list of Sustainability-related meetings at the National Academies of Sciences, Engineering, and Medicine
No More Time to Waste: Moving Science to Action at Scales that Matter
December 10, 2018, Washington, DC
6:45 PM - 8:45 PM

Reducing Food Loss and Waste Workshop
October 17, 2018, Washington, DC

Report Release: Housing, Health and Homelessness
July 11, 2018 11am-12pm, Washington, DC

Roundtable on Science and Technology for Sustainability
January 30-21, 2018, Washington, DC


July 2013
Table of Contents
We are pleased to present you with Sustainability at the National Academies, a monthly update highlighting activities related to sustainable development from throughout the National Academies. Please visit our website for additional information on these and other activities at http://sites.nationalacademies.org/PGA/sustainability.
The Roundtable on Science and Technology for Sustainability provides a unique forum for sharing views, information, and analyses related to sustainability. The goal for the Roundtable is to mobilize, encourage, and use scientific knowledge and technology to help achieve sustainability goals and to support the implementation of sustainability practices. Through its activities, the Roundtable identifies new ways in which science and technology can contribute to sustainability. What follows is a brief summary of sustainability-related activities being conducted throughout the National Academies.
You are receiving this update based on your participation in ongoing or past activities of the Roundtable. If you would prefer not to receive future monthly updates or would like to be added to the recipient list, please contact Dylan Richmond at 202-334-2489 or Sustainability@nas.edu or visit our website.

Urban Forestry: Toward an Ecosystem Services Research Agenda: A Workshop Summary
Much of the ecological research in the past decades has focused on rural or wilderness areas. Today, however, ecological research has been taking place in our cities, where our everyday decisions can have profound effects on our environment. This research, or urban ecology, includes an important element, trees. Trees have had a variety of environmental benefits for our environment including the sequestering carbon, reducing urban heat island effects, providing vital habitat for wildlife, and making nature accessible.In order to gain more knowledge into this urban forestry, the National Academy of Sciences (NAS) held a workshop February 25-26, 2013. The workshop brought together more than 100 people with various interests in urban forestry research to share information and perspectives, foster communication across specific areas of ecosystem service research, and consider integrated approaches that cut across these realms. This report presents an overview of the issues discussed by the workshop's breakout groups; summarizes presentations from the four panels which included Biophysical Services of the Urban Forest; and provides context for the study with introductory material from the workshop.
An Ecosystem Services Approach to Assessing the Impacts of the Deepwater Horizon Oil Spill in the Gulf of Mexico
As the Gulf of Mexico recovers from the Deepwater Horizon oil spill, natural resource managers face the challenge of understanding the impacts of the spill and setting priorities for restoration work. The full value of losses resulting from the spill cannot be captured, however, without consideration of changes in ecosystem services--the benefits delivered to society through natural processes. This report discusses the benefits and challenges associated with using an ecosystem services approach to damage assessment, describing potential impacts of response technologies, exploring the role of resilience, and offering suggestions for areas of future research.
Public Health Linkages with Sustainability: Workshop Summary
In preparation to the 2012 Earth Summit, the Institute of Medicine's (IOM's) Roundtable on Environmental Health Sciences, Research, and Medicine held a workshop to inform some the policies that were discussed. The workshop, held in July 2011, focused on the issue of sustainability and health as well as the linkages that are currently present between the two. The workshop included presentations and discussions which are summarized in this report. The report presents how different areas of public health, such as food and water resources, link to sustainability and opportunities or venues that can be examined.
Determinants of Market Adoption of Advanced Energy Efficiency and Clean Energy Technologies
An ad hoc committee of experts with industrial, financial, academic, and public policy backgrounds will hold a series of workshops, commission research, and prepare a report with recommendations. The study will focus on whether the federal government should and can play a role in accelerating market adoption of advanced energy efficiency and clean energy technologies. The committee will analyze market imperfections in different stages of the deployment chain for different technologies and seek to identify the appropriate extent of federal involvement and what policy instruments - such as direct subsidies, tax incentives, demonstration projects, loan guarantees and other financial instruments, procurement, regulation, and trade agreements - can help overcome the market imperfections and catalyze private investment.

Making Value for America: Foundational Study
In the 21st century, "making things" (i.e., the production of physical goods) cannot be considered in isolation from innovation, product design, and the production and bundling of software and services--all are integrated global activities. To succeed in the current complex environment, companies must focus holistically on "making value" by producing positive customer experiences. The purpose of this project is to clearly define this new context by examining business best practices in the integrated innovation-design-manufacturing value chain. The committee will hold information-gathering meetings and subsequently prepare a foundational report that identifies the factors at play in "making value" with a sustainable business model.
Sustainability for the Nation: Resource Connections and Governance Linkages
An ad hoc committee under the STS Program identifies linkages among areas such as energy, water, health, agricultural production, and biodiversity that are critical to promoting and encouraging long term sustainability within the federal policy framework, recognizing that progress towards sustainability necessarily involves other levels of government, the private sector, and civil society. The premise is that achieving sustainability is a systems challenge that cannot be realized by separately optimizing pieces of the system. The study builds upon existing and emerging expertise throughout the scientific and technological communities. It describes the nexus where domains intersect but in which existing institutions and disciplines often do not intersect.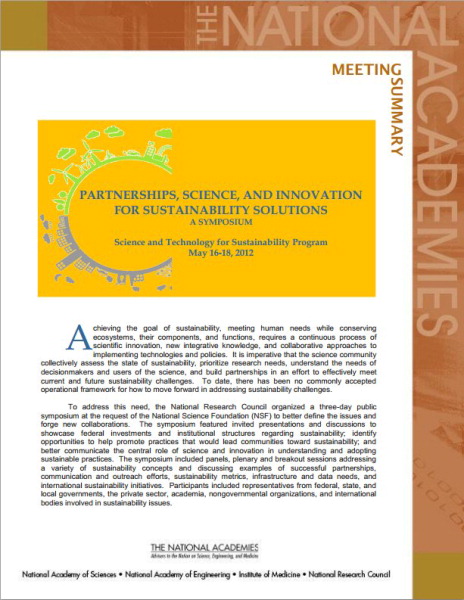 Symposium on Science, Innovation, and Partnerships for Sustainability Solutions
An ad hoc committee under the STS Program held a three day public symposium, May 16-18, 2012, on fostering partnerships and linkages between disciplines, sectors, agencies and nations in sustainability science and innovation. The symposium featured invited presentations and discussions to showcase federal investments and institutional structures regarding sustainability, identify opportunities to help promote practices that would lead communities toward sustainability, and address communication issues needed to recognize science and innovation as central to the understanding and adoption of sustainable practices.
Video
of the sessions,
PowerPoint presentations
, and the symposium summary are available on the STS website. Dissemination activities are being planned for 2013.


Sustainability and the U.S. EPA
An ad hoc committee under the STS program has authored a consensus report, released in August 2011, for the U.S. Environmental Protection Agency (EPA)'s Office of Research and Development (ORD) to help define their efforts to incorporate sustainability concepts into agency programs. This report builds on existing sustainability efforts that ORD has conducted by strengthening the analytic and scientific basis for sustainability as it applies to human health and environmental protection within the Agency's decision-making process. Dissemination activities are being planned for 2013.
August 2013
International Symposium of Climatic Effects on Pavements and Geotechnical Infrastructure
August 4-7, 2013, Fairbanks, AK
Review of the Buzzards Bay Maritime Risk Assessment
August 5-6, 2013, Woods Hole, MA
Nutrient Requirements of Beef Cattle (Eighth Revised Edition)
August 12, 2013, Washington, DC
Overcoming Barriers to Electric Vehicle Deployment
August 13-14, 2013, Washington, DC
Risk Management and Governance Issues in Shale Gas Development: Two Workshops
August 15-16, 2013, Washington, DC
Engaging Family Private Forest Owners on Issues Related to Climate Change: A Workshop
August 26-27, 2013, Washington, DC
Distinctive Voices: Regenerative Engineering
August 27, 2013, Woods Hole, MA
NAS Gulf Program Advisory Group
August 29-30, 2013, Washington, DC
PNAS Sustainability Science, Special Features
PNAS offers a series of special feature issues that highlight emerging fields in the physical, social, and biological sciences and are edited by leaders in the field. Special Features include a cluster of Perspectives and peer-reviewed research articles. As a service to readers, Special Features are freely available online from the date of publication.
From the July 2013 issue:

To learn more about sustainability activities, both in the STS program and throughout the other boards and committees of the National Academies, please visit our webpage.
Preparation of this update was supported by the National Academies' George and Cynthia Mitchell Endowment for Sustainability Science
Unsubscribe
To stop receiving these emails, use this link to unsubscribe or reply to this message with "unsubscribe" in the subject line.

Questions?
Send questions or comments to Sustainability@nas.edu

Copyright © 2013. National Academies.
500 Fifth Street NW, Washington, D.C. 20001.
Privacy Statement