Reducing Food Loss and Waste Workshop
October 17, 2018, Washington, DC
Registration opens soon

View a list of Sustainability-related meetings at the National Academies of Sciences, Engineering, and Medicine
Roundtable on Science and Technology for Sustainability
January 30-21, 2018, Washington, DC

Symposium at the National Council for Science and the Environment Conference
January 23, 2018 Arlington, VA

The Network for Emerging Leaders in Sustainability (NELS)
October 26, 2017 Washington, DC





August 2013
Table of Contents
We are pleased to present you with Sustainability at the National Academies, a monthly update highlighting activities related to sustainable development from throughout the National Academies. Please visit our website for additional information on these and other activities at http://sites.nationalacademies.org/PGA/sustainability.
The Roundtable on Science and Technology for Sustainability provides a unique forum for sharing views, information, and analyses related to sustainability. The goal for the Roundtable is to mobilize, encourage, and use scientific knowledge and technology to help achieve sustainability goals and to support the implementation of sustainability practices. Through its activities, the Roundtable identifies new ways in which science and technology can contribute to sustainability. What follows is a brief summary of sustainability-related activities being conducted throughout the National Academies.
You are receiving this update based on your participation in ongoing or past activities of the Roundtable. If you would prefer not to receive future monthly updates or would like to be added to the recipient list, please contact Dylan Richmond at 202-334-2489 or Sustainability@nas.edu or visit our website.

Landsat and Beyond: Sustaining and Enhancing the Nation's Land Imaging Program
In 1972 the National Aeronautics and Space Administration (NASA) launched the Earth Resources Technology Satellite (ETRS), now known as Landsat 1, and on February 11, 2013 launched Landsat 8. Currently the United States has collected 40 continuous years of satellite records of land remote sensing data from satellites similar to these. Even though this data is valuable to improving many different aspects of the country such as agriculture, homeland security, and disaster mitigation; the availability of this data for planning our nation's future is at risk. This report review the needs and opportunities necessary for the development of a national space-based operational land imaging capability. The report identifes stakeholders and their data needs and providing recommendations to facilitate the transition from NASA's research-based series of satellites to a sustained U.S. Geological Survey land imaging program.
Engaging the Public in Critical Disaster Planning and Decision Making-Workshop Summary
Public engagement allows citizens to give government officials input about pending policy decisions that can require difficult choices between competing values in the development of disaster plans. Public engagement can help inform members of the community, include their input in disaster planning to increase legitimacy and acceptance, and reveal public misunderstandings, biases, and areas of deep disagreement. Building on recommendations and guidance from the 2012 Institute of Medicine (IOM) report, Crisis Standards of Care: A Systems Framework for Catastrophic Disaster Response, the IOM sponsored an interactive workshop at the National Association of County and City Health Officials Public Health Preparedness Summit in 2013. The workshop aimed to provide practitioners with guidance and key principles of public engagement to encourage attendees to begin engaging the public in their own communities. This report summarizes the workshop proceedings.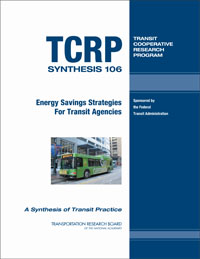 Energy Savings Strategies for Transit Agencies
The Transportation Research Board's Transit Cooperative Research Program (TCRP) Synthesis 106: Energy Savings Strategies for Transit Agencies describes energy reduction strategies being used in the United State and Canada that address vehicle technologies; vehicle operations, maintenance, and service design; non-revenue vehicles; stations and stops; building; indirect energy use; and renewable power generation.
Scientific Tools and Approaches for Sustainability
The Board on Environmental Studies and Toxicology (BEST) in collaboration with the Science and Technology for Sustainability (STS) Program will convene an ad hoc committee to examine applications of numerous scientific tools and approaches for incorporating sustainability concepts into assessments used to support Environmental Protection Agency (EPA) decision making. Using specific case studies it develops (e.g., environmental media and sector-based), the committee will consider the application of analytic and scientific tools, methods, and approaches in the Sustainability Assessment and Management (SAM) process presented in the 2011 NRC report Sustainability and the U.S. EPA. The recommended process is intended to assess options for optimizing environmental, social (including health), and economic outcomes in EPA decisions. The committee will focus on analytic and scientific tools, methods, and approaches and will not recommend specific policy choices.

Strengthening the U.S. Environmental Protection Agency Laboratory Enterprise: Phase 1--Priority Needs, Guiding Principles, and Overall Goals
An NRC committee will assess EPA's highest priority needs for mission-relevant laboratory science and technical support, now and during the next ten years. Recognizing the need to operate within budget constraints and growing demands, and recognizing the potential contributions of external sources of scientific information from other government agencies, industry, and academia in the U.S. and other nations, the committee will develop principles for the efficient and effective management of EPA's laboratory enterprise to meet the agency's mission needs and strategic goals.
Sustainability for the Nation: Resource Connections and Governance Linkages
On June 28, 2013, an ad hoc committee under the STS Program publicly released a landmark consensus report that provides a decision framework for policymakers to examine the consequences and operational benefits of sustainability-oriented programs. The report also recommends priority areas for interagency cooperation on specific sustainability challenges; identifies impediments to interdisciplinary, cross-media federal programs; and highlights scientific research gaps as they relate to these interdisciplinary, cross-media approaches to sustainability. A booklet provides a brief summary of the report. Dissemination activities are being planned for 2013 and 2014.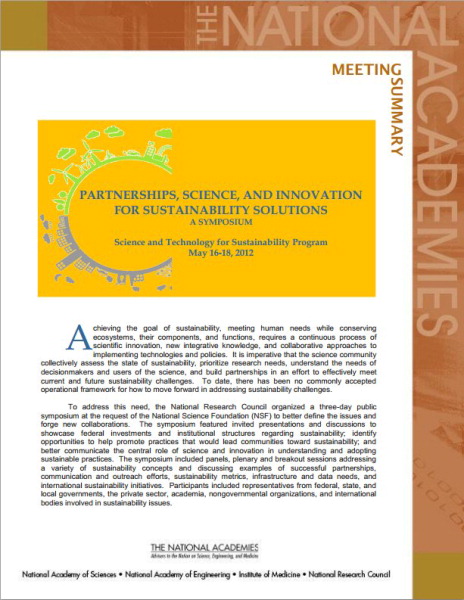 Symposium on Science, Innovation, and Partnerships for Sustainability Solutions
An ad hoc committee under the STS Program held a three day public symposium, May 16-18, 2012, on fostering partnerships and linkages between disciplines, sectors, agencies and nations in sustainability science and innovation. The symposium featured invited presentations and discussions to showcase federal investments and institutional structures regarding sustainability, identify opportunities to help promote practices that would lead communities toward sustainability, and address communication issues needed to recognize science and innovation as central to the understanding and adoption of sustainable practices.
Video
of the sessions,
PowerPoint presentations
, and the symposium summary are available on the STS website. Dissemination activities are being planned for 2013.


Sustainability and the U.S. EPA
An ad hoc committee under the STS program has authored a consensus report, released in August 2011, for the U.S. Environmental Protection Agency (EPA)'s Office of Research and Development (ORD) to help define their efforts to incorporate sustainability concepts into agency programs. This report builds on existing sustainability efforts that ORD has conducted by strengthening the analytic and scientific basis for sustainability as it applies to human health and environmental protection within the Agency's decision-making process. Dissemination activities are being planned for 2013.
September 2013
A Review of the USDA Agricultural and Food Research Initiative
September 5-6, 2013, Washington, DC
Workshop on Development of Unconventional Hydrocarbon Resources in the Appalachian Basin
September 9-10, 2013, Morgantown, WV
Independent Scientific Review of Everglades Restoration Progress
September 9-11, 2013, West Palm Beach, FL
Geoengineering Climate: Technical Evaluation and Discussion of Impacts Meeting
September 10-12, 2013, Washington, DC
A Framework for Assessing Health, Environmental, and Social Effects of the Food System
September 16-18, 2013, Washington, DC
Nutrient Requirements of Beef Cattle (Eighth Revised Edition)
September 17-18, 2013, Irvine, CA
Responding to Oil Spills in Arctic Marine Environments
September 17-18, 2013, Irvine, CA
Emerging Research Questions in the Arctic
September 23-24, 2013, Ottawa, Canada
The Science of Science Communication II
September 23-25, 2013, Washington, DC
The Influence of Global Environmental Change on Infectious Disease Dynamics
September 24-25, 2013, Washington, DC
Distinctive Voices: Geo-Engineering
September 25, 2013, Woods Hole, MA
Determinants of Market Adoption of Advanced Energy Efficiency and Clean Energy Technologies
September 30, 2013, Washington, DC

PNAS Sustainability Science, Special Features
PNAS offers a series of special feature issues that highlight emerging fields in the physical, social, and biological sciences and are edited by leaders in the field. Special Features include a cluster of Perspectives and peer-reviewed research articles. As a service to readers, Special Features are freely available online from the date of publication.
From the August 2013 issue:

To learn more about sustainability activities, both in the STS program and throughout the other boards and committees of the National Academies, please visit our webpage.
Preparation of this update was supported by the National Academies' George and Cynthia Mitchell Endowment for Sustainability Science
Unsubscribe
To stop receiving these emails, use this link to unsubscribe or reply to this message with "unsubscribe" in the subject line.

Questions?
Send questions or comments to Sustainability@nas.edu

Copyright © 2013. National Academies.
500 Fifth Street NW, Washington, D.C. 20001.
Privacy Statement