Reducing Food Loss and Waste Workshop
October 17, 2018, Washington, DC
Registration opens soon

View a list of Sustainability-related meetings at the National Academies of Sciences, Engineering, and Medicine
Roundtable on Science and Technology for Sustainability
January 30-21, 2018, Washington, DC

Symposium at the National Council for Science and the Environment Conference
January 23, 2018 Arlington, VA

The Network for Emerging Leaders in Sustainability (NELS)
October 26, 2017 Washington, DC





September 2013
Table of Contents
We are pleased to present you with Sustainability at the National Academies, a monthly update highlighting activities related to sustainable development from throughout the National Academies. Please visit our website for additional information on these and other activities at http://sites.nationalacademies.org/PGA/sustainability.
The Roundtable on Science and Technology for Sustainability provides a unique forum for sharing views, information, and analyses related to sustainability. The goal for the Roundtable is to mobilize, encourage, and use scientific knowledge and technology to help achieve sustainability goals and to support the implementation of sustainability practices. Through its activities, the Roundtable identifies new ways in which science and technology can contribute to sustainability. What follows is a brief summary of sustainability-related activities being conducted throughout the National Academies.
You are receiving this update based on your participation in ongoing or past activities of the Roundtable. If you would prefer not to receive future monthly updates or would like to be added to the recipient list, please contact Dylan Richmond at 202-334-2489 or Sustainability@nas.edu or visit our website.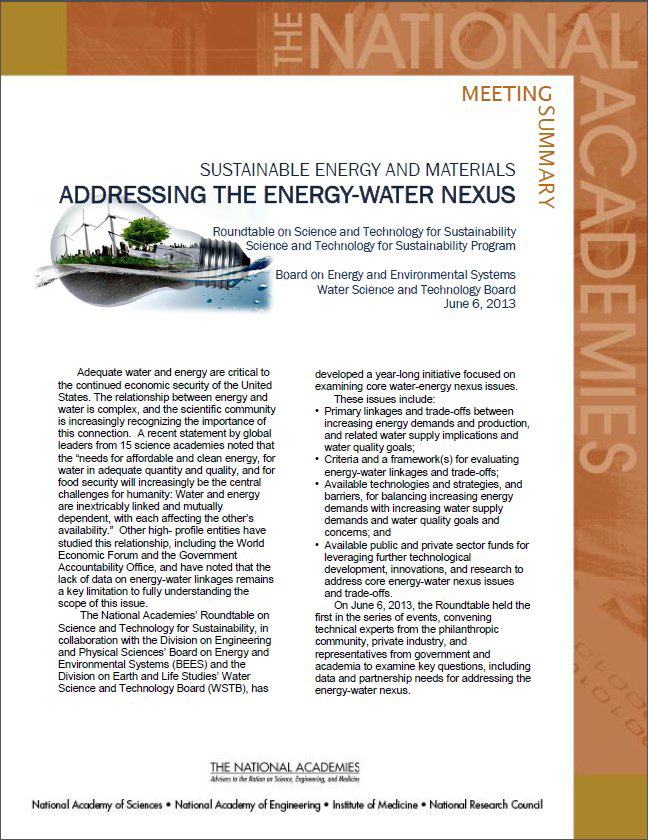 Sustainable Energy and Materials: Addressing the Energy-Water Nexus
As the first event of a year-long initiative, a session was held at the June 2013 Roundtable on Science and Technology for Sustainability meeting in collaboration with the Division on Engineering and Physical Sciences' Board on Energy and Environmental Systems (BEES) and the Division on Earth and Life Studies' Water Science and Technology Board (WSTB). The session featured panel discussions focused on addressing issues related to the energy-water nexus, a key sustainability issue, as adequate water and energy are critical to the continued economic security of the United States. The relationship between energy and water is complex; the scientific community is increasingly recognizing the importance of this connection. The event examined key questions, including data and partnerships needs for addressing the energy-water nexus.
Global Development Goals and Linkages to Health and Sustainability - Workshop Summary
In September 2012, the IOM Roundtable on Environmental Health Sciences, Research, and Medicine established the Global Environmental Health and Sustainable Development Innovation Collaborative to provide an adaptable pathway for discussing sustainable development and for sharing scientific information across the United Nations (UN) system entities, international and governmental organizations, academia, the private sector, and civil society. The innovation collaborative seeks to connect and leverage expertise across a variety of fields related to sustainable development, including economics, energy, environmental medicine, public health, and health communication. Following the 2012 UN Conference on Sustainable Development, the roundtable held a series of webinars to help inform the UN post-2015 development agenda process. The webinars covered lessons learned from the Millennium Development Goals process and offered insights on topics and goals that may be considered for global development frameworks being debated and negotiated.
Health Impact Assessment of Shale Gas Extraction-Workshop Summary
In recent years, technologies have expanded allowing for increased natural gas extraction from shale formations - including hydraulic fracturing. Rural communities have been transformed, public awareness has increased, and regulations have been developed through this expansion. The governmental public health system lacks critical information about environmental health impacts of these technologies and is limited in its ability to address concerns raised by federal, state, and local regulators, as well as employees in the shale gas extraction industry and the general public. Members of the Institute of Medicine's Roundtable on Environmental Health Sciences, Research, and Medicine recognized the need to discuss the human health impact of shale gas extraction through the lens of health impact assessment. Health impact assessments provide a structured process that uses scientific data, professional expertise, and stakeholder input to identify and evaluate the public health consequences of policy and program proposals. The Roundtable held a workshop in 2012 to examine the state of the science regarding shale gas extraction, the direct and indirect environmental health effects of shale gas extraction, and the use of health impact assessment as a tool to help identify the public health impact of shale gas extraction. This document summarizes the workshop.
Evaluating the Effectiveness of Fish Stock Rebuilding Plans in the United States
Fish stock rebuilding plans have proven successful in reducing fishing pressure on many overfished stocks, and stock sizes have generally increased. However, in some cases fisheries have not rebuilt as quickly as the plans projected, due to factors such as overestimation of the size of stocks and incidental catch by fisheries targeting other species. Even when fishing is reduced appropriately for the actual stock size, the rate at which rebuilding occurs will depend on ecological and other environmental conditions. Because of all these factors, it is difficult to make accurate predictions of the time it will take stocks to rebuild. Therefore, rebuilding plans that focus more on meeting selected fishing mortality targets than on adhering to strict schedules for achieving rebuilding may be more robust to assessment uncertainties, environmental variability, and the effect of ecological interactions.
Delta Waters: Research to Support Integrated Water and Environmental Management in the Lower Mississippi River
Concerns about hurricane protection and ecological health in the lower Mississippi River delta have grown in the 21st century, as ongoing challenges have been compounded by events including Hurricanes Katrina and Rita and the Deepwater Horizon explosion. The Water Institute of the Gulf was established in Baton Rouge in 2011 to provide scientific and engineering advice to the state of Louisiana for a variety of coastal restoration, ecosystem management, and hurricane protection projects. The scientific capacity that the Water Institute will build is envisioned to eventually serve communities throughout the lower Mississippi River delta, as well as in large deltaic river systems in other parts of the world. This report from the National Research Council is designed to guide the Water Institute's strategic planning process by identifying research alternatives and opportunities for the Water Institute. The report promotes a systematic human and environmental systems approach to scientific research that supports integrated water and environmental resources management.
Advancing Land Change Modeling: Opportunities and Research Requirements
Urban development, agriculture, and energy production are just a few of the ways that human activities are continually changing and reshaping the Earth's surface. Land-change models (LCMs) are important tools for understanding and managing present and future landscape conditions, from an individual parcel of land in a city to the vast expanses of forests around the world. A recent explosion in the number and types of land observations, model approaches, and computational infrastructure has ushered in a new generation of land change models capable of informing decision making at a greater level of detail. This National Research Council report evaluates the various land-change modeling approaches and their applications, and how they might be improved to better assist science, policy, and decision makers.
An Ecological Approach to Integrating Conservation and Highway Planning, Volume 1
The Transportation Research Board's second Strategic Highway Research Program (SHRP 2) Capacity Project C06 has released a prepublication, non-edited version of a report titled An Ecological Approach to Integrating Conservation and Highway Planning, Volume 1 that summarizes the research approach and major findings of a project designed to help transportation and environmental professionals apply ecological principles early in the planning and programming process of highway capacity improvements to inform later environmental reviews and permitting.
On-site Reuse of Graywater and Stormwater: An Assessment of Risks, Costs, and Benefits
An ad hoc committee will conduct a study and prepare a report that will analyze the risks, costs, and benefits of on-site water reuse of stormwater and graywater and approaches needed for its safe use. The study will address quantity and suitability; treatment and storage; risks; costs and benefits; and implementation. As part of its review, and to help benchmark U.S. standing worldwide, the committee will consider international experiences in onsite stormwater and graywater management, as it deems relevant.

Guidance for NSF on National Ocean Science Research Priorities: Decadal Survey for Ocean Sciences
The committee for the Decadal Survey of Ocean Sciences 2015 (DSOS) will develop a list of the top ocean science priorities for the next decade in the context of the current state of knowledge, ongoing research activities, and resource availability. The DSOS committee's report will present a compelling research strategy for increased understanding of the oceans over the decade 2015-2025.

Design and Evaluation of Safer Chemical Substitutions - A Framework to Inform Government and Industry Decisions
An ad hoc committee will develop a decision framework for evaluating potential safer substitute chemicals as determined by human health and ecological risks. The committee will identify the scientific information and tools required by regulatory agencies and industry to improve and increase consideration of potential health and environmental impacts early in the chemical design process. The decision framework will be capable of integrating multiple and diverse data streams to support early consideration of potential health and environmental impacts as a part of fit-for-purpose decision making. The framework will discuss how risk (hazard and potential for human exposure and toxicity) and environmental impact (ecological risks) can be characterized for chemical substitutions within the context of the full range of benefits and shortcomings of substitutes, and how tradeoffs between these risks and factors such as product functionality, product efficacy, process safety and resource use can be quantified.
Sustainability for the Nation: Resource Connections and Governance Linkages
On June 28, 2013, an ad hoc committee under the STS Program publicly released a landmark consensus report that provides a decision framework for policymakers to examine the consequences and operational benefits of sustainability-oriented programs. The report also recommends priority areas for interagency cooperation on specific sustainability challenges; identifies impediments to interdisciplinary, cross-media federal programs; and highlights scientific research gaps as they relate to these interdisciplinary, cross-media approaches to sustainability. A booklet provides a brief summary of the report. Dissemination activities are being planned for 2013 and 2014.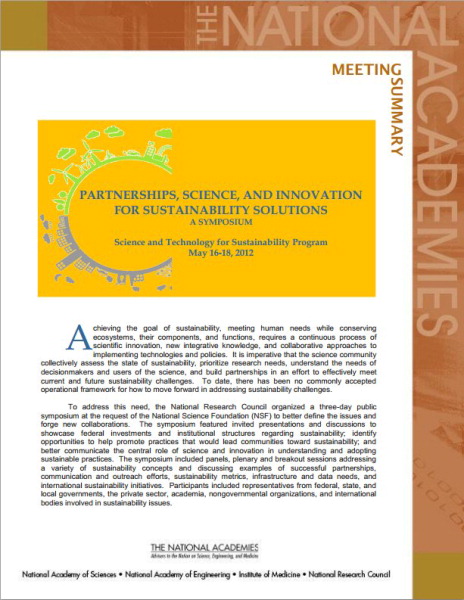 Symposium on Science, Innovation, and Partnerships for Sustainability Solutions
An ad hoc committee under the STS Program held a three day public symposium, May 16-18, 2012, on fostering partnerships and linkages between disciplines, sectors, agencies and nations in sustainability science and innovation. The symposium featured invited presentations and discussions to showcase federal investments and institutional structures regarding sustainability, identify opportunities to help promote practices that would lead communities toward sustainability, and address communication issues needed to recognize science and innovation as central to the understanding and adoption of sustainable practices.
Video
of the sessions,
PowerPoint presentations
, and the symposium summary are available on the STS website. Dissemination activities are being planned for 2013.
Sustainability and the U.S. EPA
An ad hoc committee under the STS program has authored a consensus report, released in August 2011, for the U.S. Environmental Protection Agency (EPA)'s Office of Research and Development (ORD) to help define their efforts to incorporate sustainability concepts into agency programs. This report builds on existing sustainability efforts that ORD has conducted by strengthening the analytic and scientific basis for sustainability as it applies to human health and environmental protection within the Agency's decision-making process. Dissemination activities are being planned for 2013.
October 2013
Guidance for NSF on National Ocean Science Research Priorities: Decadal Survey for Ocean Sciences
October 2-3, 2013, Washington, DC
U.S. Army Corps of Engineers Water Resources Science, Engineering, and Planning: Coastal Risk Reduction
October 8-9, 2013, Mobile, AL
Opportunities to Use Remote Sensing in Understanding Permafrost and Ecosystems: A Workshop
October 8-10, 2013, Fairbanks, AK
Is Community Resilience Real or Fiction?
October 9, 2013, Washington, DC
Design and Evaluation of Safer Chemical Substitution - A Framework to Inform Government and Industry Decisions
October 10-11, 2013, Washington, DC
Assessment of Technologies for Improving Fuel Economy of Light-Duty Vehicles - Phase 2
October 14-15, 2013, Irvine, CA
The NAS at 150: Celebrating Service to the Nation
October 16-18, 2013, Washington, DC
Geoengineering Climate: Technical Evaluation and Discussion of Impacts
October 24-25, 2013, Irvine, CA
Best Practices for Risk-Informed Remedy Selection, Closure, and Post-Closure Control of Contaminated Sites: A Workshop Series
October 30-31, 2013, Washington, DC
PNAS Sustainability Science, Special Features
PNAS offers a series of special feature issues that highlight emerging fields in the physical, social, and biological sciences and are edited by leaders in the field. Special Features include a cluster of Perspectives and peer-reviewed research articles. As a service to readers, Special Features are freely available online from the date of publication.
From the September 2013 issue:

To learn more about sustainability activities, both in the STS Program and throughout the other boards and committees of the National Academies, please visit our webpage.
Preparation of this update was supported by the National Academies' George and Cynthia Mitchell Endowment for Sustainability Science
Unsubscribe
To stop receiving these emails, use this link to unsubscribe or reply to this message with "unsubscribe" in the subject line.

Questions?
Send questions or comments to Sustainability@nas.edu

Copyright © 2013. National Academies.
500 Fifth Street NW, Washington, D.C. 20001.
Privacy Statement