To view this email as a web page, go here.

October 2013
Table of Contents
We are pleased to present you with Sustainability at the National Academies, a monthly update highlighting activities related to sustainable development from throughout the National Academies. Please visit our website for additional information on these and other activities at http://sites.nationalacademies.org/PGA/sustainability.
The Roundtable on Science and Technology for Sustainability provides a unique forum for sharing views, information, and analyses related to sustainability. The goal for the Roundtable is to mobilize, encourage, and use scientific knowledge and technology to help achieve sustainability goals and to support the implementation of sustainability practices. Through its activities, the Roundtable identifies new ways in which science and technology can contribute to sustainability. What follows is a brief summary of sustainability-related activities being conducted throughout the National Academies.
You are receiving this update based on your participation in ongoing or past activities of the Roundtable. If you would prefer not to receive future monthly updates or would like to be added to the recipient list, please contact Dylan Richmond at 202-334-2489 or Sustainability@nas.edu or visit our website.

Network for Emerging Leaders in Sustainability
NELS invites you to attend an upcoming event on Tuesday, November 12, from 5:30-7:30 pm at the Koshland Science Museum (525 E St NW, Washington, DC). George Hawkins, General Manager of the District of Columbia Water & Sewer Authority (DC Water), will deliver remarks. Please register by November 8 if you would like to attend.
The Resilience of the Electric Power Delivery System in Response to Terrorism and Natural Disasters: Summary of a Workshop
This report summarizes a workshop convened in February 2013 as a follow-up to the release of the National Research Council report, Terrorism and the Electric Power Delivery System. The 2013 workshop was a discussion of the previous report's results, what had changed in recent years, and how lessons learned about the grid's resilience to terrorism could be applied to other threats to the grid resulting from natural disasters. The purpose was not to translate the entire report into the present, but to focus on key issues relevant to making the grid sufficiently robust that it could handle inevitable failures without disastrous impact. The workshop focused on five key areas: physical vulnerabilities of the grid; cybersecurity; mitigation and response to outages; community resilience and the provision of critical services; and future technologies and policies that could enhance the resilience of the electric power delivery system.
Best Available and Safest Technologies for Offshore Oil and Gas Operations
This report explores a range of options for improving the implementation of the U.S. Department of the Interior's congressional mandate to require the use of best available and safety technologies in offshore oil and gas operations. In the Outer Continental Shelf Lands Act, Congress directs the Secretary of the Interior to regulate oil and gas operations in federal waters. The act mandates that the Secretary shall require, on all new drilling and production operations and, wherever practicable, on existing operations, the use of the best available and safest technologies which the Secretary determines to be economically feasible, wherever failure of equipment would have a significant effect on safety, health, or the environment, except where the Secretary determines that the incremental benefits are clearly insufficient to justify the incremental costs of utilizing such technologies. This report, which was requested by Department of the Interior's Bureau of Safety and Environmental Enforcement (BSEE), also reviews options and issues that BSEE is already considering to improve implementation of the best available and safest technologies requirement.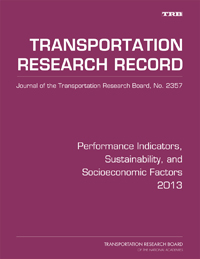 Performance Indicators, Sustainability, and Socioeconomic Factors 2013
The Transportation Research Board's Transportation Research Record: Journal of the Transportation Research Board, No. 2357 consists of 15 papers that explore performance indicators to assess urban transportation systems; performance-based accountability; the greenroads rating system; sustainability and strategic planning performance measures; a strengths, weaknesses, opportunities, and threats framework; environmental justice for minority and low-income populations; urban core transit access to low-income jobs; and accessibility and housing price resilience.
Post-Disaster Recovery of a Community's Public Health, Medical, and Social Services
An ad hoc committee will conduct a study and issue a report on how to improve the short, intermediate and long-term health outcomes and public health impact for individuals in a community of place (as contrasted with communities of faith, identity, etc). The committee will investigate and identify key activities that impact health and public health outcomes in a community of place recovering from a disaster, and develop recommendations for their implementation. In doing so, the committee will consider the determinants of health and how various activities could leverage those determinants to improve health in the post-disaster setting, including the needs of at-risk populations. The committee will do this by identifying (based in part on a literature review of domestic and international disasters) and recommending a series of recovery practices and novel programs most likely to impact overall community public health and contribute to resiliency for future incidents in the short-, intermediate and long-term period during disaster response and following incident stabilization.

Analysis of Costs and Benefits of Reforms to the National Flood Insurance Program: Phase 1
An ad hoc committee will conduct a Phase 1 study to design alternative approaches that could be used to conduct a cost-benefit analysis of the National Flood Insurance Program, as mandated in Section 236 of the Biggert-Waters Flood Insurance Reform Act of 2012. In the Phase 1 study, the committee will prepare a report that designs alternative frameworks that could be used for conducting this benefit-cost analysis (the subject of the Phase 2 study). This Phase 1 report will describe appropriate methods, data-related needs and issues, potential gaps and limitations, and possible outcomes for the actual cost-benefit analysis, which will be planned separately and carried out as the Phase 2 study.

Reinvesting in Inland Waterways: What Policy Makers Need to Know
This study will address the transportation role and importance of the federally funded Inland Waterway System (IWS); its costs and benefits; estimated levels of investment required to achieve a state of good repair and options for funding, and who should pay for the required investment. The study will provide answers to the issues above to the extent possible with existing information and identify gaps in information and knowledge required to address these issues, including uncertainties surrounding external benefits and costs associated with the IWS and freight system more generally.
Best Practices for Risk-Informed Remedy Selection, Closure, and Post-Closure Control of Contaminated Sites: A Workshop Series
An ad hoc committee will organize a series of public workshops on best practices for risk-informed remedy selection, closure, and post-closure control of radioactive and chemically contaminated sites that cannot be remediated for unrestricted release. The workshops will bring together federal and state agency decision makers responsible for contaminated site cleanup and closure decisions, federal and state regulators, key stakeholders, and other technical experts to explore the following topics through presentations, case studies, and discussions: holistic approaches for remediating sites with multiple contaminant source terms and multiple post-closure uses; effective post-closure controls; approaches for assessing the long-term performance of site remedies and closures; and approaches for incorporating a sustainability framework into decision-making regarding site remediation, closure, and post-closure control of contaminated sites.
Sustainability for the Nation: Resource Connections and Governance Linkages
On June 28, 2013, an ad hoc committee under the STS Program publicly released a landmark consensus report that provides a decision framework for policymakers to examine the consequences and operational benefits of sustainability-oriented programs. The report also recommends priority areas for interagency cooperation on specific sustainability challenges; identifies impediments to interdisciplinary, cross-media federal programs; and highlights scientific research gaps as they relate to these interdisciplinary, cross-media approaches to sustainability. A booklet provides a brief summary of the report. Dissemination activities are being planned for 2013 and 2014.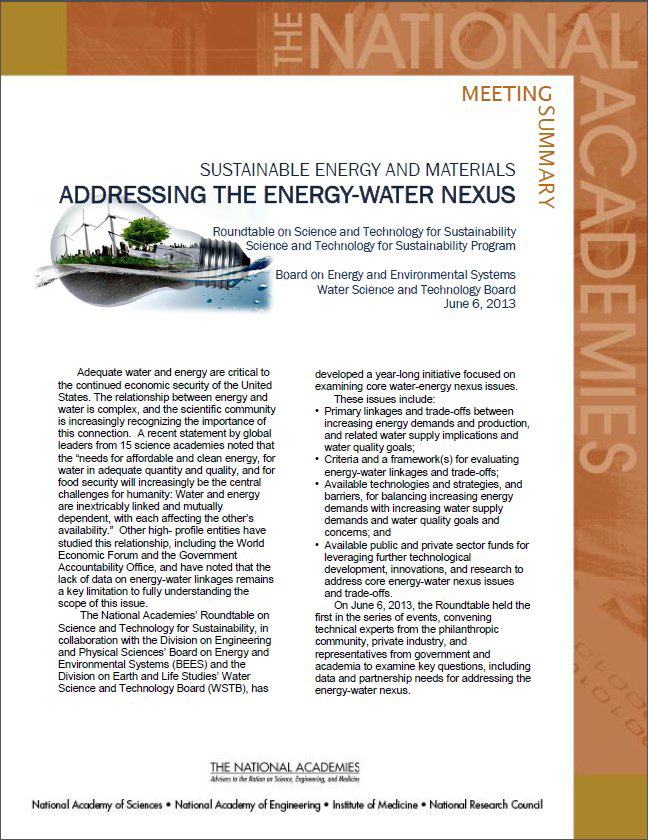 Sustainable Energy and Materials: Addressing the Energy-Water Nexus
As the first event of a year-long initiative, a session was held at the June 2013 Roundtable on Science and Technology for Sustainability meeting in collaboration with the Division on Engineering and Physical Sciences' Board on Energy and Environmental Systems (BEES) and the Division on Earth and Life Studies' Water Science and Technology Board (WSTB). The session featured panel discussions focused on addressing issues related to the energy-water nexus, a key sustainability issue, as adequate water and energy are critical to the continued economic security of the United States. The relationship between energy and water is complex; the scientific community is increasingly recognizing the importance of this connection. The event examined key questions, including data and partnerships needs for addressing the energy-water nexus. Further events are being planned for 2013.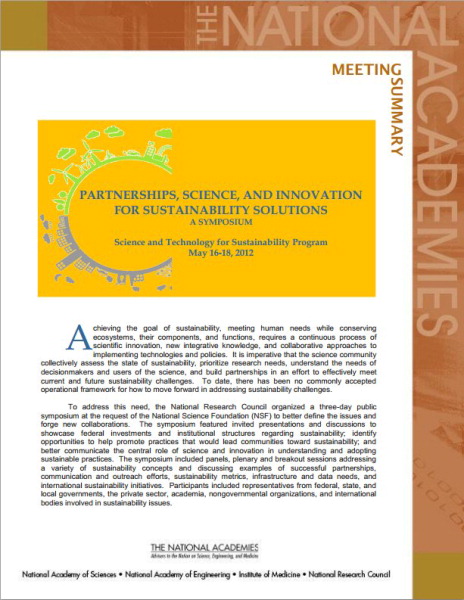 Symposium on Science, Innovation, and Partnerships for Sustainability Solutions
An ad hoc committee under the STS Program held a three day public symposium, May 16-18, 2012, on fostering partnerships and linkages between disciplines, sectors, agencies and nations in sustainability science and innovation. The symposium featured invited presentations and discussions to showcase federal investments and institutional structures regarding sustainability, identify opportunities to help promote practices that would lead communities toward sustainability, and address communication issues needed to recognize science and innovation as central to the understanding and adoption of sustainable practices. Video

of the sessions,

PowerPoint presentations, and the symposium summary are available on the STS website. Dissemination activities are being planned for 2014.
Sustainability and the U.S. EPA
An ad hoc committee under the STS program has authored a consensus report, released in August 2011, for the U.S. Environmental Protection Agency (EPA)'s Office of Research and Development (ORD) to help define their efforts to incorporate sustainability concepts into agency programs. This report builds on existing sustainability efforts that ORD has conducted by strengthening the analytic and scientific basis for sustainability as it applies to human health and environmental protection within the Agency's decision-making process. Dissemination activities are being planned for 2014.
Pathways to Urban Sustainability: A Focus on the Houston Metropolitan Region: Summary of a Workshop
The National Academies' Science and Technology for Sustainability Program organized a public workshop to examine issues relating to sustainability and human-environment interactions in the Houston metropolitan region held in January 2012. The workshop featured invited presentations and group discussion and was patterned after similar workshops held in 2009 on research and development on urban systems and in 2010 on urban sustainability in the Atlanta metropolitan region. This workshop summary addresses themes that arose from the meeting, including energy and air quality management, hazard mitigation, and land use considerations.
November 2013
Assessing the Value of Research in Advancing National Goals
November 5-6, 2013, Washington, DC
Emerging Research Questions in the Arctic
November 5-6, 2013, Washington, DC
A Review of the USDA Agricultural and Food Research Initiative
November 7-8, 2013, Irvine, CA
Identifying and Reducing Environmental Health Risks of Chemicals in Our Society
November 7-8, 2013, Washington, DC
U.S. Frontiers of Science
November 7-9, 2013, Irvine, CA
Network for Emerging Leaders in Sustainability
November 12, 2013, Washington, DC
Distinctive Voices: The Future of Nuclear Technology
November 13, 2013, Irvine, CA
U.S. Army Corps of Engineers Water Resources Science, Engineering, and Planning: Coastal Risk Reduction
November 15, 2013, Washington, DC
Assessment of Technologies for Reducing the Fuel Consumption of Medium- and Heavy-Duty Vehicles, Phase 2
November 21-22, 2013, Irvine, CA
2013 EU-US Frontiers of Engineering Symposium
November 21-23, 2013, Chantilly, France
Post-Disaster Recovery of a Community's Public Health, Medical, and Social Services
November 25-26, 2013, Washington, DC
PNAS Sustainability Science, Special Features
PNAS offers a series of special feature issues that highlight emerging fields in the physical, social, and biological sciences and are edited by leaders in the field. Special Features include a cluster of Perspectives and peer-reviewed research articles. As a service to readers, Special Features are freely available online from the date of publication.
From the October 2013 issue:

To learn more about sustainability activities, both in the STS Program and throughout the other boards and committees of the National Academies, please visit our webpage.
Preparation of this update was supported by the National Academies' George and Cynthia Mitchell Endowment for Sustainability Science
Unsubscribe
To stop receiving these emails, use this link to unsubscribe or reply to this message with "unsubscribe" in the subject line.

Questions?
Send questions or comments to Sustainability@nas.edu

Copyright © 2013. National Academies.
500 Fifth Street NW, Washington, D.C. 20001.
Privacy Statement