November 2013
Table of Contents
We are pleased to present you with Sustainability at the National Academies, a monthly update highlighting activities related to sustainable development from throughout the National Academies. Please visit our website for additional information on these and other activities at http://sites.nationalacademies.org/PGA/sustainability.
The Roundtable on Science and Technology for Sustainability provides a unique forum for sharing views, information, and analyses related to sustainability. The goal for the Roundtable is to mobilize, encourage, and use scientific knowledge and technology to help achieve sustainability goals and to support the implementation of sustainability practices. Through its activities, the Roundtable identifies new ways in which science and technology can contribute to sustainability. What follows is a brief summary of sustainability-related activities being conducted throughout the National Academies.
You are receiving this update based on your participation in ongoing or past activities of the Roundtable. If you would prefer not to receive future monthly updates or would like to be added to the recipient list, please contact Dylan Richmond at 202-334-2489 or Sustainability@nas.edu or visit our website.

Network for Emerging Leaders in Sustainability
On November 12, 2013, NELS hosted George S. Hawkins, General Manager of DC Water. He spoke about some of the projects the agency is undertaking and how these projects will help contribute to a more sustainable DC. If you would like to receive future updates on NELS events, please e-mail sustainability@nas.edu.

Scientific Tools and Approaches for Sustainability
An ad hoc committee, under a collaboration between the Board on Environmental Studies and Toxicology (BEST) and the Science and Technology for Sustainability (STS) Program, organized a meeting on November 21-22, 2013. The meeting focused on examining applications of numerous scientific tools and approaches for incorporating sustainability concepts into assessments used to support EPA decision making.
The Nexus of Biofuels, Climate Change, and Human Health: Workshop Summary
Liquid fuels are a major part of modern life. They supply energy for ground, water, and air transportation as well as power for industrial and farming machinery. But fossil fuels - the dominant liquid fuel in use for well over a century - have many disadvantages. The use of fossil fuels has obvious health downsides, such as emissions of pollutants that are directly harmful to health. The burning of fossil fuels produces greenhouse gases, which contribute to global warming, itself a long-term threat to human health. In the face of these concerns, new policies have been created that encourage the development of renewable sources of energy in general and biofuels in particular. In January 2013, the Roundtable on Environmental Health Sciences, Research, and Medicine of the Institute of Medicine held a workshop on the intersection of biofuels, climate change, and human health. This report summarizes the workshop proceedings.
Environment 2013
The Transportation Research Board's (TRB) Transportation Research Record: Journal of the Transportation Research Board, No. 2362 contains 7 papers that examine the well-being of relocated box turtles during construction of the intercounty connector highway in Maryland; using onboard sound intensity measurements to interpret results of traffic noise modeling; and Virginia quieter pavement demonstration projects.
Carbon Footprint of Supply Chains: A Scoping Study
TRB's National Cooperative Freight Research Program (NCFRP) Web-Only Document 5 defines a standardized, conceptual approach to assessing global greenhouse gas (GHG) emissions of the transportation component of supply chains, critiques current methods and data used to quantify GHG emissions, and outlines a work plan to develop a decision tool to help estimate the carbon footprint of the transportation component of supply chains.
Value and Sustainability of Biological Field Stations, Marine Laboratories, and Natural Reserves in 21st Century Science, Education, and Public Outreach
An ad hoc committee will conduct a study and prepare a report that will review and assess the role of field stations, marine laboratories, and natural reserves (FSMLNRs) in science and engineering research, innovation, education, training, and public outreach and engagement. The committee will evaluate FSMLNR effectiveness as individual entities and as collaborative networks to address local, national, or global challenges; their value as resources for environmental research; and provide suggestions for financially feasible approaches for the sustained operation and management in support of their often multifaceted roles.

Risk-Based Methods for Insurance Premiums of Negatively Elevated Structures in the National Flood Insurance Program
An ad hoc committee will conduct a study of pricing negatively elevated structures in the National Flood Insurance Program (NFIP). Specifically, the committee will review current NFIP methods for calculating risk-based premiums for negatively elevated structures, including risk analysis, flood maps, and engineering data; discuss engineering, hydrologic, and property assessment data and analytical needs associated with fully implementing full risk-based premiums for negatively elevated structures; and recommend approaches to update these data to maintain full risk-based rates for negatively elevated structures
Best Practices for Risk-Informed Remedy Selection, Closure, and Post-Closure Control of Contaminated Sites: A Workshop SeriesAn ad hoc committee of the Division on Earth & Life Studies' Nuclear and Radiation Studies Board (DELS/NRSB), in collaboration with the STS Program, organizes two public workshops on best practices for risk-informed remedy selection, closure, and post-closure control of radioactive and chemically contaminated sites that cannot be remediated for unrestricted release. The workshops will examine best-in-class remediation, closure, and post closure approaches that are being developed and applied by recognized leaders in the community of remediation practice; regulatory practices that promote effective, risk-informed decision-making; and future opportunities to improve these approaches and practices. A first of two workshops was held on October 30-31, 2013 in Washington, DC. An individually-authored summary of the first workshop will be issued by the STS Program.
Sustainability for the Nation: Resource Connections and Governance Linkages
On June 28, 2013, an ad hoc committee under the STS Program publicly released a landmark consensus report that provides a decision framework for policymakers to examine the consequences and operational benefits of sustainability-oriented programs. The report also recommends priority areas for interagency cooperation on specific sustainability challenges; identifies impediments to interdisciplinary, cross-media federal programs; and highlights scientific research gaps as they relate to these interdisciplinary, cross-media approaches to sustainability. A booklet provides a brief summary of the report. Dissemination activities are being planned for 2013 and 2014.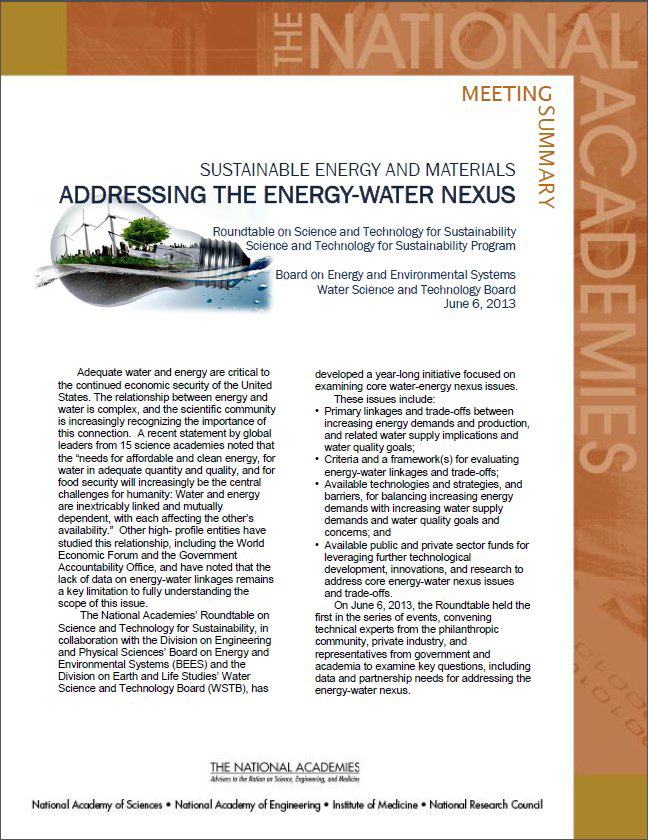 Sustainable Energy and Materials: Addressing the Energy-Water Nexus
As the first event of a year-long initiative, a session was held at the June 2013 Roundtable on Science and Technology for Sustainability meeting in collaboration with the Division on Engineering and Physical Sciences' Board on Energy and Environmental Systems (BEES) and the Division on Earth and Life Studies' Water Science and Technology Board (WSTB). The session featured panel discussions focused on addressing issues related to the energy-water nexus, a key sustainability issue, as adequate water and energy are critical to the continued economic security of the United States. The event examined key questions, including data and partnerships needs for addressing the energy-water nexus. Further events are being planned for 2013.

December 2013
Determinants of Market Adoption of Advanced Energy Efficiency and Clean Energy Technologies
December 2, 2013, Washington, DC
Public Briefing: Abrupt Impacts of Climate Change
December 3, 2013, Washington, DC
Overcoming Barriers to Electric Vehicle Deployment
December 3-4, 2013, Washington, DC
Distinctive Voices: Water quality and natural gas production
December 11, 2013, Irvine, CA
Design and Evaluation of Safer Chemical Substitutions - A Framework to Inform Government and Industry Decisions
December 16-17, 2013, Irvine, CA
A Framework for Assessing Health, Environmental, and Social Effects of the Food System
December 16-17, 2013, Washington, DC
Geoengineering Climate: Technical Evaluation and Discussion of Impacts
December 16-17, 2013, Irvine, CA
PNAS Sustainability Science, Special Features
PNAS offers a series of special feature issues that highlight emerging fields in the physical, social, and biological sciences and are edited by leaders in the field. Special Features include a cluster of Perspectives and peer-reviewed research articles. As a service to readers, Special Features are freely available online from the date of publication.
From the November 2013 issue:
To learn more about sustainability activities, both in the STS Program and throughout the other boards and committees of the National Academies, please visit our webpage.
Preparation of this update was supported by the National Academies' George and Cynthia Mitchell Endowment for Sustainability Science
Unsubscribe
To stop receiving these emails, use this link to unsubscribe or reply to this message with "unsubscribe" in the subject line.

Questions?
Send questions or comments to Sustainability@nas.edu

Copyright © 2013. National Academies.
500 Fifth Street NW, Washington, D.C. 20001.
Privacy Statement