December 2013
Table of Contents
We are pleased to present you with Sustainability at the National Academies, a monthly update highlighting activities related to sustainable development from throughout the National Academies. Please visit our website for additional information on these and other activities at http://sites.nationalacademies.org/PGA/sustainability.
The Roundtable on Science and Technology for Sustainability provides a unique forum for sharing views, information, and analyses related to sustainability. The goal for the Roundtable is to mobilize, encourage, and use scientific knowledge and technology to help achieve sustainability goals and to support the implementation of sustainability practices. Through its activities, the Roundtable identifies new ways in which science and technology can contribute to sustainability. What follows is a brief summary of sustainability-related activities being conducted throughout the National Academies.
You are receiving this update based on your participation in ongoing or past activities of the Roundtable. If you would prefer not to receive future monthly updates or would like to be added to the recipient list, please contact Dylan Richmond at 202-334-2489 or Sustainability@nas.edu or visit our website.

Roundtable on Science and Technology for Sustainability
The Roundtable on Science and Technology for Sustainability held its semiannual meeting December 5-6, 2013, and featured two panels. The first panel followed up on the June 2013 meeting of the Roundtable and delved deeper into the energy-water nexus by using a place-based approach illustrating such issues associated with power plants. The second panel featured discussions addressing issues related to sustainability and public health, as sustainability efforts may affect human health and well-being in complex, crosscutting ways.

Upcoming Workshop: Best Practices for Risk-Informed Remedy Selection, Closure, and Post-Closure Control of Contaminated Sites
The second workshop for this project will be held January 9-10, 2014, at the Keck Center (500 Fifth St NW) in Washington, DC. The workshop will focus on the promotion of effective and efficient risk-informed decision making as well as approaches for assessing long-term performance of site remedies and closures. It will also consider effective post-closure controls and the identification of best practices for improving remediation/closure/post-closure of challenging sites.
Abrupt Impacts of Climate Change: Anticipating Surprises
Both abrupt changes in the physical climate system and steady changes in climate that can trigger abrupt changes in other physical, biological, and human systems present possible threats to nature and society. Abrupt change is already underway in some systems, and large scientific uncertainties about the likelihood of other abrupt changes highlight the need for further research. However, with recent advances in understanding of the climate system, some potential abrupt changes once thought to be imminent threats are now considered unlikely to occur this century. This report summarizes the current state of knowledge on potential abrupt changes to the ocean, atmosphere, ecosystems, and high latitude areas, and identifies key research and monitoring needs. The report calls for action to develop an abrupt change early warning system to help anticipate future abrupt changes and reduce their impacts.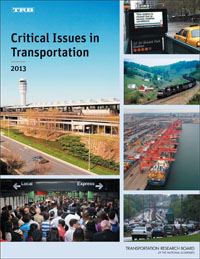 Critical Issues in Transportation: 2013
The Transportation Research Board's Executive Committee periodically identifies a set of critical issues in transportation to focus attention on their likely impact on the nation's economy and quality of life. The discussion of the critical issues identified in this document is intended to facilitate debate and to encourage research leading to their resolution. This report is designed to stimulate awareness and debate and to focus research on (a) improving transportation system performance and resiliency, (b) reducing transportation injuries and fatalities, and (c) mitigating unsustainable environmental impacts.
Mississippi River Water Quality Science and Interstate Collaboration
An ad hoc committee will issue a consensus report summarizing scientific challenges and priorities regarding Mississippi River water quality monitoring and evaluation. The report will be based in large part on presentations and information gathered during a two-day public workshop. This event will include presentations that focus on the science behind understanding Mississippi River basin water quality conditions. The emphasis will be on the science and evaluation of water quality conditions, along with discussion and dialogue about these and other related issues. The geographical focus will be on the 10-state Mississippi River corridor and the northern Gulf of Mexico.

State of the Art and Practice in Earthquake Induced Soil Liquefaction Assessment
An ad hoc committee of the National Research Council will solicit input from the technical community and critically examine the technical issues regarding liquefaction hazard evaluation and consequence assessment. The study will focus on developments since the 1996 National Center for Earthquake Engineering Research (NCEER) and the 1998 National Science Foundation/NCEER workshops on liquefaction issues and consider data including those related to soil properties, site characterization, ground motions, and observations and measurements of soil response (e.g., post liquefaction deformations).
Best Practices for Risk-Informed Remedy Selection, Closure, and Post-Closure Control of Contaminated Sites: A Workshop Series
An ad hoc committee of the Division on Earth & Life Studies' Nuclear and Radiation Studies Board (DELS/NRSB), in collaboration with the STS Program, organizes two public workshops on best practices for risk-informed remedy selection, closure, and post-closure control of radioactive and chemically contaminated sites that cannot be remediated for unrestricted release. The workshops will examine best-in-class remediation, closure, and post closure approaches that are being developed and applied by recognized leaders in the community of remediation practice; regulatory practices that promote effective, risk-informed decision-making; and future opportunities to improve these approaches and practices. A first of two workshops was held on October 30-31, 2013 in Washington, DC. An individually-authored summary of the first workshop will be issued by the STS Program. A second workshop will be held January 2014.

Scientific Tools and Approaches for Sustainability
The Board on Environmental Studies and Toxicology (BEST) in collaboration with the STS Program will convene an ad hoc committee to examine applications of numerous scientific tools and approaches for incorporating sustainability concepts into assessments used to support Environmental Protection Agency (EPA) decision making. Using specific case studies it develops (e.g., environmental media and sector-based), the committee will consider the application of analytic and scientific tools, methods, and approaches in the Sustainability Assessment and Management (SAM) process presented in the 2011 NRC report Sustainability and the U.S. EPA. The recommended process is intended to assess options for optimizing environmental, social (including health), and economic outcomes in EPA decisions. The committee will focus on analytic and scientific tools, methods, and approaches and will not recommend specific policy choices.
Sustainability for the Nation: Resource Connections and Governance Linkages
On June 28, 2013, an ad hoc committee under the STS Program publicly released a landmark consensus report that provides a decision framework for policymakers to examine the consequences and operational benefits of sustainability-oriented programs. The report also recommends priority areas for interagency cooperation on specific sustainability challenges; identifies impediments to interdisciplinary, cross-media federal programs; and highlights scientific research gaps as they relate to these interdisciplinary, cross-media approaches to sustainability. A booklet provides a brief summary of the report. Dissemination activities are being planned for 2014.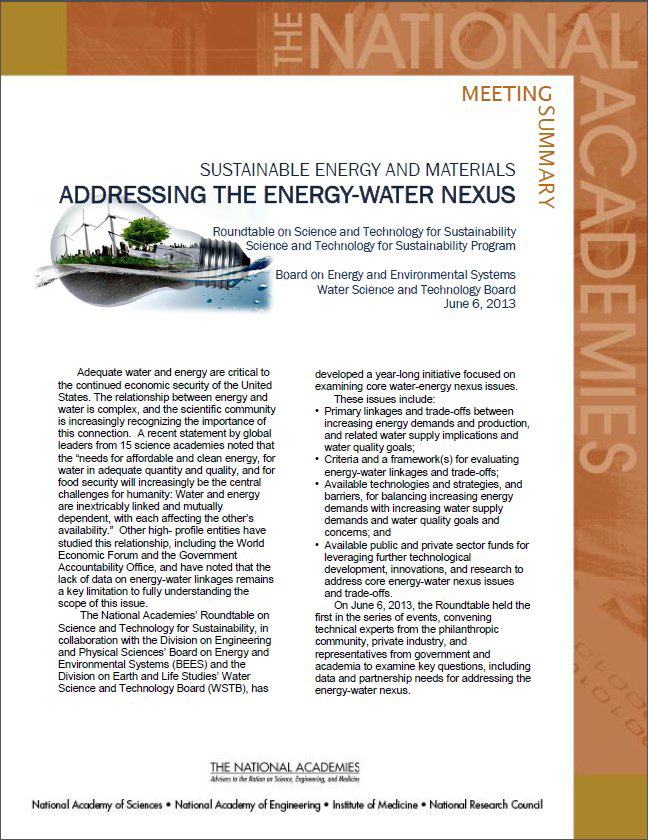 Sustainable Energy and Materials: Addressing the Energy-Water Nexus
As the first event of a year-long initiative, a session was held at the June 2013 Roundtable on Science and Technology for Sustainability meeting in collaboration with the Division on Engineering and Physical Sciences' Board on Energy and Environmental Systems (BEES) and the Division on Earth and Life Studies' Water Science and Technology Board (WSTB). The session featured panel discussions focused on addressing issues related to the energy-water nexus, a key sustainability issue, as adequate water and energy are critical to the continued economic security of the United States. The event examined key questions, including data and partnerships needs for addressing the energy-water nexus. Further events are being planned for 2014.
January 2014
Risk-Based Methods for Insurance Premiums of Negatively Elevated Structures in the National Flood Insurance Program
January 6-7, 2014, Washington, DC
Best Practices for Risk-Informed Remedy Selection, Closure, and Post-Closure Control of Contaminated Sites
January 9-10, 2014, Washington, DC
Abrupt Impacts of Climate Change Webinar
January 10, 2014
Transportation Research Board 93rd Annual Meeting
February 12-16, 2014, Washington, DC
Determinants of Market Adoption of Advanced Energy Efficiency and Clean Energy Technologies
January 21-23, 2014, Washington, DC
Guidance for NSF on National Ocean Science Research Priorities: Decadal Survey for Ocean Sciences
January 23-24, 2014, Washington, DC
Analysis of Costs and Benefits of Reforms to the National Flood Insurance Program--Phase 1
January 30-31, 2014, Washington, DC

PNAS Sustainability Science, Special Features
PNAS offers a series of special feature issues that highlight emerging fields in the physical, social, and biological sciences and are edited by leaders in the field. Special Features include a cluster of Perspectives and peer-reviewed research articles. As a service to readers, Special Features are freely available online from the date of publication.
From the December 2013 issue:
To learn more about sustainability activities, both in the STS Program and throughout the other boards and committees of the National Academies, please visit our webpage.
Preparation of this update was supported by the National Academies' George and Cynthia Mitchell Endowment for Sustainability Science
Unsubscribe
To stop receiving these emails, use this link to unsubscribe or reply to this message with "unsubscribe" in the subject line.

Questions?
Send questions or comments to Sustainability@nas.edu

Copyright © 2013. National Academies.
500 Fifth Street NW, Washington, D.C. 20001.
Privacy Statement