Reducing Food Loss and Waste Workshop
October 17, 2018, Washington, DC
Registration opens soon

View a list of Sustainability-related meetings at the National Academies of Sciences, Engineering, and Medicine
Roundtable on Science and Technology for Sustainability
January 30-21, 2018, Washington, DC

Symposium at the National Council for Science and the Environment Conference
January 23, 2018 Arlington, VA

The Network for Emerging Leaders in Sustainability (NELS)
October 26, 2017 Washington, DC





January 2014
Table of Contents
We are pleased to present you with Sustainability at the National Academies, a monthly update highlighting activities related to sustainable development from throughout the National Academies. Please visit our website for additional information on these and other activities at http://sites.nationalacademies.org/PGA/sustainability.
The Roundtable on Science and Technology for Sustainability provides a unique forum for sharing views, information, and analyses related to sustainability. The goal for the Roundtable is to mobilize, encourage, and use scientific knowledge and technology to help achieve sustainability goals and to support the implementation of sustainability practices. Through its activities, the Roundtable identifies new ways in which science and technology can contribute to sustainability. What follows is a brief summary of sustainability-related activities being conducted throughout the National Academies.
You are receiving this update based on your participation in ongoing or past activities of the Roundtable. If you would prefer not to receive future monthly updates or would like to be added to the recipient list, please contact Dylan Richmond at 202-334-2489 or Sustainability@nas.edu or visit our website.

National Academies' Sustainability Fellowship
The Science and Technology for Sustainability Program (STS) of the National Academies will be hosting two rising college seniors as fellows during the summer of 2014. The fellowship is designed for students to learn about sustainability in the context of science and technology and will provide the opportunity for them to conduct research on a topic based on sustainability science and technology. These fellows will contribute substantially toward the STS Program's activities and will receive a functional understanding of the tools to factor sustainability into policy and decision making. STS Program staff will mentor the fellows to help guide them during their time in the program. Fellows will also be encouraged to learn about the Academies and would have the opportunity to attend workshops and committee meetings of interest during the fellowship. The hope is that these students, who might not have been exposed to sustainability concepts previously, will consider graduate education and professional direction focused on sustainability. More information, including eligibility requirements and how to apply, can be found on the fellowship announcement.
Including Health in Global Frameworks for Development, Wealth, and Climate Change: A Workshop Summary
This report is the summary of a three-part public webinar convened by the Institute of Medicine's Roundtable on Environmental Health Sciences, Research, and Medicine and its collaborative on Global Environmental Health and Sustainable Development. Presenters and participants discussed the role of health in measuring a country's wealth (going beyond gross domestic product), health scenario communication, and international health goals and indicators. The workshop focused on fostering discussion across academic, government, business, and civil society sectors to make use of existing data and information that can be adapted to track progress of global sustainable development and human health. This report examines frameworks for global development goals and connections to health indicators, the role for health in the context of novel sustainable economic frameworks that go beyond gross domestic product, and scenarios to project climate change impacts.
Development of Unconventional Hydrocarbon Resources in the Appalachian Basin: Workshop Summary
Shale gas is the fastest growing source of U.S. natural gas. Most of the oil and gas produced in the United States comes from conventional reservoirs in which hydrocarbons have accumulated in discrete structural or stratigraphic traps below relatively impermeable rock and above a well-defined hydrocarbon-water interface. However, a growing fraction comes from unconventional reservoirs - geographically extensive accumulations of hydrocarbons held in low-permeability rock with diffuse boundaries and no obvious traps or hydrocarbon-water contacts. This report focuses on the main hydrocarbon-bearing geologic formations in and around the Appalachian Basin, including the Marcellus, Utica, and Devonian shales, and their estimated resources, current production levels, and projected output. This report examines the potential effects on surface water and groundwater quality and quantity; potential effects on landscapes, including soil and living organisms, and other environmental systems; and technical and engineering processes for exploration and production.
Development of a Strategic Vision and Implementation Plan for the U.S. Antarctic Program at the National Science Foundation
An ad hoc committee will identify priorities and strategic steps forward for Antarctic research and observations for the next decade, in the context of the current state of knowledge, ongoing research activities, and resource availability. The committee's report will present a compelling research strategy for increased understanding of Antarctica and the Southern Ocean. The report will build upon the high-level scientific questions identified in the report Future Science Opportunities in the Antarctic and Southern Ocean and identify areas of strategic investment in compelling scientific activities that may yield the highest potential reward for Antarctic research over the coming decade. It will also analyze the research infrastructure needed to address the priority research topics as well as the current research portfolio of U.S. Antarctic Program (USAP) investments. The final report will articulate a strategic vision commensurate with U.S. national interests in Antarctica and identify a prioritized suite of science questions or topical areas that the USAP should consider. The report will also outline a roadmap through which the vision and these priorities can be met.

Review of the Edwards Aquifer Habitat Conservation Program
An ad hoc committee will conduct a study and issue three reports that review the many different scientific initiatives underway to support the Edwards Aquifer Habitat Conservation Plan (EAHCP). The committee will focus on the adequacy of the body of scientific information to reliably inform assessments of the EAHCP biological goals and objectives; ensuring that best-available science is utilized. Relationships among proposed conservation measures (including specified flow rates and habitat protection and restoration); biological objectives; and, biological goals form an important science-policy foundation for the EACHP, and will be important background for all three NRC reports. The NRC review will be conducted from 2013-2018. The committee will issue its first report in 2014, its second report in 2016, and its third and final report in 2018.
Best Practices for Risk-Informed Remedy Selection, Closure, and Post-Closure Control of Contaminated Sites: A Workshop Series
An ad hoc committee of the Division on Earth & Life Studies' Nuclear and Radiation Studies Board (DELS/NRSB), in collaboration with the STS Program, organized two public workshops on best practices for risk-informed remedy selection, closure, and post-closure control of radioactive and chemically contaminated sites that cannot be remediated for unrestricted release. The workshops examined best-in-class remediation, closure, and post closure approaches that are being developed and applied by recognized leaders in the community of remediation practice; regulatory practices that promote effective, risk-informed decision-making; and future opportunities to improve these approaches and practices. The first of the two workshops was held on October 30-31, 2013 in Washington, DC. An individually-authored summary of the first workshop will be issued by the STS Program. The second workshop was held in January 2014.
Scientific Tools and Approaches for Sustainability
The Board on Environmental Studies and Toxicology (BEST) in collaboration with the STS Program will convene an ad hoc committee to examine applications of numerous scientific tools and approaches for incorporating sustainability concepts into assessments used to support Environmental Protection Agency (EPA) decision making. Using specific case studies it develops (e.g., environmental media and sector-based), the committee will consider the application of analytic and scientific tools, methods, and approaches in the Sustainability Assessment and Management (SAM) process presented in the 2011 NRC report Sustainability and the U.S. EPA. The recommended process is intended to assess options for optimizing environmental, social (including health), and economic outcomes in EPA decisions. The committee will focus on analytic and scientific tools, methods, and approaches and will not recommend specific policy choices.
Sustainability for the Nation: Resource Connections and Governance Linkages
On June 28, 2013, an ad hoc committee under the STS Program publicly released a landmark consensus report that provides a decision framework for policymakers to examine the consequences and operational benefits of sustainability-oriented programs. The report also recommends priority areas for interagency cooperation on specific sustainability challenges; identifies impediments to interdisciplinary, cross-media federal programs; and highlights scientific research gaps as they relate to these interdisciplinary, cross-media approaches to sustainability. A booklet provides a brief summary of the report. On January 28-29, 2014, the STS Program hosted two sessions to discuss the report at the annual National Council for Science and the Environment Conference in Arlington, VA.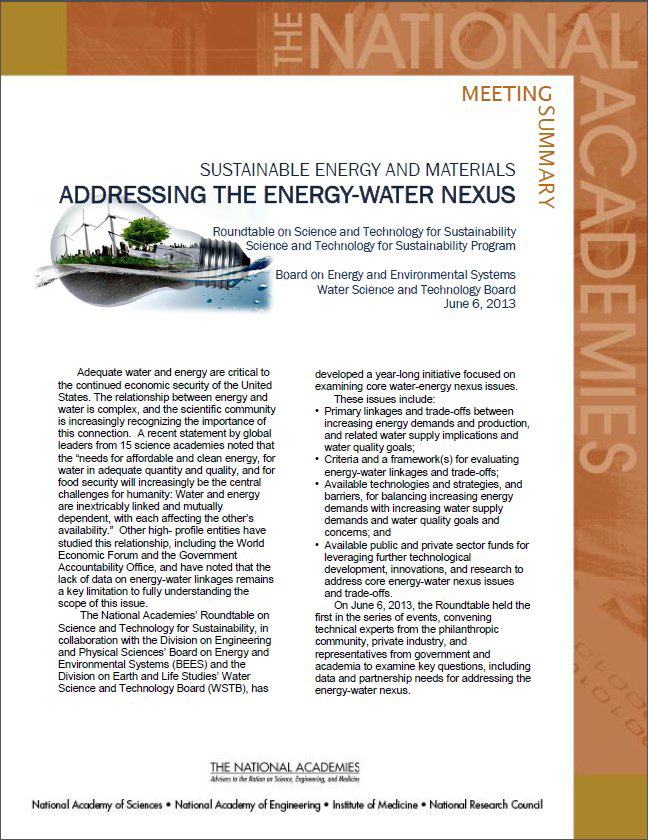 Sustainable Energy and Materials: Addressing the Energy-Water Nexus
As the first event of a year-long initiative, a session was held at the June 2013 Roundtable on Science and Technology for Sustainability meeting in collaboration with the Division on Engineering and Physical Sciences' Board on Energy and Environmental Systems (BEES) and the Division on Earth and Life Studies' Water Science and Technology Board (WSTB). The session featured panel discussions focused on addressing issues related to the energy-water nexus, a key sustainability issue, as adequate water and energy are critical to the continued economic security of the United States. The event examined key questions, including data and partnerships needs for addressing the energy-water nexus. Further events are being planned for 2014.
February 2014
Responding to Oil Spills in Arctic Marine Environments
February 4, 2014, Anchorage, AK
Post-Disaster Recovery of a Community's Public Health, Medical, and Social Services
February 3-4, 2014, Washington, DC
A Framework for Assessing Health, Environmental, and Social Effects of the Food System
February 13-14, 2014, Washington, DC
Strengthening the U.S. Environmental Protection Agency Laboratory Enterprise: Phase 1--Priority Needs, Guiding Principles, and Overall Goals
February 13-14, 2014, Washington, DC
Review of the Edwards Aquifer Habitat Conservation Program
February 13-15, 2014, San Antonio, TX
Intercity Passenger Travel: Opportunities and Issues in Short-haul Markets
February 14-15, 2014, Irvine, CA
Nutrient Requirements of Beef Cattle (Eighth Revised Edition)
February 18-19, 2014, Washington, DC
Measuring What Counts for Disaster Resilience
February 20, 2014, Washington, DC
PNAS Sustainability Science, Special Features
PNAS offers a series of special feature issues that highlight emerging fields in the physical, social, and biological sciences and are edited by leaders in the field. Special Features include a cluster of Perspectives and peer-reviewed research articles. As a service to readers, Special Features are freely available online from the date of publication.

From the January 2014 issue:

To learn more about sustainability activities, both in the STS Program and throughout the other boards and committees of the National Academies, please visit our webpage.

Preparation of this update was supported by the National Academies' George and Cynthia Mitchell Endowment for Sustainability Science



Unsubscribe
To stop receiving these emails, use this link to unsubscribe or reply to this message with "unsubscribe" in the subject line.

Questions?
Send questions or comments to Sustainability@nas.edu

Copyright © 2014. National Academies.
500 Fifth Street NW, Washington, D.C. 20001.
Privacy Statement